First of all, why don't you two introduce yourselves to those of us who don't already know you?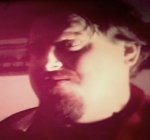 Christopher Roy
PERKOWSKI: I tend to stagger between arty, incoherent experimental films and arty, incoherent pulp faux-exploitation features. I'm incredibly addicted to making these things and just churn them out for my own pleasure and in certain extremely limited cases, other people's pleasure. This one is more aimed at actually entertaining people, promise. I'm drawn to mad dreams, hopeless ambitions, tragic failures, and lots of dirt on the film. I've ended up adapting William S. Burroughs, Edward D. Wood, Jr. [Ed Wood bio - click here], and Alfred Jarry's works into features... and somehow, also some goddamn weird kung fu movie.
ROY: I'm Christopher Roy. How do you do?
Your latest film is called Belly Full of Anger. In a few words, what is it about?
ROY: It's about 75 minutes long.
PERKOWSKI: It's about the savage reality of violence in 1970s Shanghai slash New Jersey, about how most debts can be settled by offering to kill somebody, about a scurvy epidemic that makes oranges incredibly valuable, about Masonic wizards that teleport and transform into stopmotion apples that roll away, and it's about how far you can throw a broken dummy from various angles.
Watching the film's choppy editing, constant changes in picture quality, and erratic dubbing that makes one believe the undubbed movie is about something completely else, I could not help but think "Godfrey Ho" [Godfrey Ho bio - click here]. Is this a comment you can at all live with?
ROY: I'm glad you think that because that was exactly the effect we were trying to achieve. We didn't let the actors see the script or feed them dialog so the 'undubbed' movie's dialog was completely improvised by the actors, so in that sense you are correct. If you could read lips, I'm sure you'd have a good laugh. If you can read lips, please transcribe what they're saying so we can use it as a subtitle track. I beg of you!
PERKOWSKI: It was generally fairly homoerotic, as I recall.
ROY: As far as Godfrey Ho goes, it's both a compliment and an insult. You can't watch shitty kung fu without seeing at least several dozen of his movies so he was an influence, especially the "what the fuck?" moments and shitty European villain aspect, but he liked making movies more than the movies he made.
PERKOWSKI: Or making money from movies. We prefer the strategy of losing money from movies, it requires far more skill.
ROY: Belly was a labor of love. We didn't just buy a movie and throw in a days worth of guys in Ninja headbands.
PERKOWSKI: We are certainly doing that for part two, tho.
What can you tell us about your fascination with bad kung fu flicks in general?
ROY: For me, the fascination began when I was a kid. I think it was WWOR or WPIX that used to show kung-fu movies on Sunday and I really enjoyed them. In High School, Andre and I would watch shitty movies and I came across a tape of Revenge of the Ninja and we both really enjoyed the hell out of that.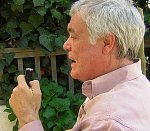 Phil Proctor
PERKOWSKI: What's completely strange is that we only recently discovered that Phil Proctor dubs the lead in that, which makes me ridiculously pleased we come full circle and he plays several voiceover roles in Belly. Synchronicity City with Firesign Theatre sauce on the side!
ROY: Attempting to find a movie in a similar vein, I came across a huge clamshell with the title Mafia Vs. Ninja. I rented it and fell in love within the first 30 seconds. This movie was crammed full of everything that makes a kung fu movie great. It was an obsession and Belly really evolved from it.
PERKOWSKI: Directed by the incomparable Robert Tai, definitely our favorite kung fu director -- cramming his films full of weird stuff, nutty characters, incoherent continuity, delirious action, and corny camera tricks. He packs more madness and entertainment value into ten minutes than most directors do all day...
The particular version we had was badly stamped by Tony Night of the Ghouls/Red Zone Cuba Cardoza at the start, though I doubt he had anything to do with the pitch perfect dubbing. After studying Mafia Vs. Ninja for many years, we sought out his other works - the odd followup, a sprawling mess of a movie cut into various TV and feature film lengths and even working it's way into a late period Rudy Ray Moore shot-on-video abomination called Shaolin Dolemite, was the epic Ninja's Final Duel.
There are a lot of things stolen from that movie, but we were especially nervous about people thinking Belly was just a straight ripoff from Mafia Vs. Ninja. This is before we realized that every kung fu movie has the same plot, and Revenge for _______ with some training montages is hardly an original concept. Plus years of rewriting has twisted it way out of recogniztion, but it still would be interesting as a DVD extra to compare the two films.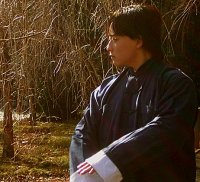 John Yohan
A few words about your lead John Yohan, who just seems to be perfect for his role?
ROY: I think John and Don really did a fantastic job.
PERKOWSKI: They are both amazing, the single funnest experience I've ever had with actors... it was such a fucking blast, I kept it going every weekend or two for a year... not wanting to stop living in that warped world of our own oddly angular design... Yohan and Nguyen had perfect chemistry and bounced ideas and improvisations off each other perfectly, responding as cameras rolled to our odd requests, demands, cajolings... we were horrible, giving not only line readings but doing their voices in real time! They never flinched and nailed things precisely, saving tons of money on film and allowing me to waste more due to my own incompetence and idiocy instead. So hire them now while they'll return your calls!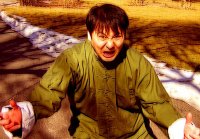 Don Nguyen
ROY: When doing the casting it seemed like we were going to have a hard time finding the leads.
PERKOWSKI: It's what fucked us up the several other major attempts we made to get the project off the ground. And by major attempt we mean half-assed, doomed-from-the-start-and-we-know-it-so-let's-not-try. There was a version that would have been shot on video in 1996. A color 16mm production in Chicago in 2000-1 -- thank Ho that wasn't done, it would've been an unendurable pile of shit with the painfully unfunny actors and dismal chemistry involved. Can you imagine how headache-inducing it would've been on video? There was one more try in LA in 2001 and we got as far as running ads in Backstage and getting the crew and locations together before realizing poverty and having utilities disconnected was the better way to go for the winter.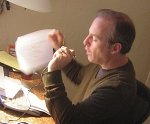 Bob Odenkirk
Chris insisted it would never be done but I am a terribly stubborn person when it comes to things like this, and am glad it sprang to life at just the right time - with the right cast and all the low budget planets aligned... once we had Larry Wu cast, it was time to get it done. Getting the likes of Trace Beaulieu, Phil Proctor, and Bob Odenkirk involved with the voiceovers was the delicious cherry on our rancid drive-in sundae.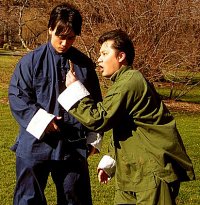 ROY: Yohan nailed it when we asked him to act smug. He did a strut but held back and I said, this time act really smug. That was the moment he became Larry Wu. Don did a great job, though we weren't convinced at first he was Umberto. I think coming from a more traditional theater background, it was more difficult for him dealing with the seemingly nonsensical direction he was receiving. The camaraderie between himself and Yohan smoothed out all the rough edges though. It was great to have actors who genuinely enjoyed working with each other as the leads and I think it shows on screen.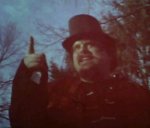 Christopher Roy as Mordechai O'Brien
A few words about your main villain, and who came up with the great name Mordechai O'Brien?
ROY: I came up with the name I believe. I played the role too, unfortunately.
PERKOWSKI: I figured it was the only way we could trick ourselves to start the film at last. I had a fridge full of film and pretended it was a "test." Knowing damn well once I started, it would be impossible to stop and we'd be forced to cast the remaining roles and plow through. So Chris got in the decade old costume, plastered his hair down, and started pointing at things and cackling.
ROY: I didn't want to but I did.
PERKOWSKI: Getting Bob Odenkirk to dub you probably helped the pill go down better, he's absolutely hysterical and I was levitating slightly as he did it... As for the other leads: Umberto Li, I named both to be inexplicable and sonically after the Italian neorealist flick Umberto D. Larry Wu is a combination of the Charlie Wu name in Mafia Vs. Ninja along with our obsession with Larry Fine and the throbbing sensuality, the hairy masculinity of it's very sound: Larry. Just say it out loud and try not to be aroused, ladies. And men. You know you want to. Larry. Larry Fine. Larry. Can you hear Larry calling to you? Watch this movie and discover the solemn truth behind such a powerful name.
Were you shooting the movie after an actual script or did you just make it up as you went along?
ROY: No, there was a decade old script with multiple revisions that we were working off.
PERKOWSKI: Painfully worked out on countless diner placemats.
ROY: Once again, I'm glad you think we weren't. All of this was meticulously detailed. The fact you would even ask proves we did a better job than I thought we could.
PERKOWSKI: I would say the sequel, the second half of the story - is the one with more of the improv, as it was such pleasure to shoot by that point that we just kept adding scenes that kept snowballing along, plus making up stuff when actors were late. I chewed through a lot of hideously expensive to process outdated filmstock like this, shooting things we "might" use or "could be" interesting for sequel purposes.
What can you tell us about the dubbing, and was there much improvisation involved at this point of the filmmaking process?
ROY: Dubbing the movie was a lot of fun. We did improvise some dialog but the majority was from the script. The stuff we did improv and worked into the movie in post is great though: Han Lee's character Master Chung has a lot of new material because we expanded the role for him.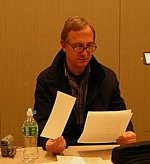 Trace Beaulieu
PERKOWSKI: What I especially loved was when you had difficulty finding a voice for him that was distinct from Larry's, my epic bit of direction: "don't move your upper lip. He's so important he can't be bothered to move his upper lip." We laughed for hours over that voice. Han Lee was meant to play the small part of the boss that tells them to go fill buckets, but we just loved his expressions on camera and decided to just keep filming with him and adding all manner of scenes that segue into the sequel as well... but then what do we do with his original scenes and fights? Do we let that go to waste? Hell no. Nested flashbacks within improbable flashbacks.
ROY: We could probably take any kung fu movie and edit it into Belly. Didn't we think about doing that once?
PERKOWSKI: Yeah, when it looked like we might not be able to pull it off due to terror, potential embarrassment, and seven hundred other films in simultaneous production... I figured we take 6 movies with Alexander Lo Rei standing in as Larry Wu and make Belly out of that bank of footage, shooting small Super-8 inserts for flavor.
No kung fu flick without fight scenes, no bad kung fu flick without shoddy fights. How did you manage to give this scenes just the right tone, and what can you tell us about filming the action scenes in general?
ROY: Shoddy? How dare you. This is truly kung fu at it's finest! We tried to show the brutal reality of actual street level kung fu murder, not that glitzy Hollywood crap. We actually got fight choreographers because we weren't very good at it.
PERKOWSKI: Well, they took care of the first few fights before having actual paying jobs to do so we made sure to watch them carefully and try to approximate it later on. You can um, see the difference, probably. Cough.
Belly Full of Anger ends with a preview for a film called Mouth Full of Blood. Is this by any means genuine, and/or will there ever be a sequel to Belly Full of Anger?
ROY: It's genuine.
PERKOWSKI: We added so much during filming and forgot how a sentence in the script would equal a minute of screen time sometimes, and realized that anything more than 70-80 minutes (and ok, for some people 3 or 4 minutes) would be too much goddamn kung fu to expect people to sit through... so it organically broke off in a fit of celluloid mitosis into two films. Though there is also a screenplay for a sequel actually called A Mouth Full of Blood. Hell, and even scripts and notes for films beyond that with titles like A Bladder Full of Bastard. Amazon.com has 'em if you are critically bored. So, yes -- there's an already filmed sequel ready to seduce your very soul.

Feeling lucky ?
Want to
search
any of my partnershops yourself
for more, better results ?

The links below
will take you
just there!!!

Find Andre Perkowski
at the amazons ...

amazon.com

amazon.co.uk

amazon.de
Looking for imports ?
Find Andre Perkowski here ...
Something naughty ?
(Must be over 18 to go there !)

ROY: One of the titles thrown around a long time ago was A Belly Full of Anger and a Mouth Full of Blood.
PERKOWSKI: Then for a long time it was A Bastard Full of Anger. I made sure to have Phil Proctor's narrator say it that way when the credits don't, mustn't let things go to waste!
Your and your film's websites, and when and where will Belly Full of Anger be released?
http://www.youtube.com/terminalpictures
http://www.facebook.com/album.php?aid=102557&id=1348783559 for an album of stills from the film.
Screenings and subsequent DVD release in 2011.
Contact terminalpicturesinc@yahoo.com if interested in either!
Thanks for the interview!