Your upcoming film The Stalker - in a few words, what is it going to be about?
The Stalker is about a man who's obsessed with one of his neighbors in the three flat apartment complex they live in. He essentially stalks her by watching when she goes to and from work, when she goes out with her friends and figuring out her daily habits. He even goes to the extreme of finding out what kind of lock she has on her door so he can figure out how to pick it. He keeps meticulous notes but there's actually a particularly good reason for his obsession.
What were your initial inspirations when writing The Stalker?
I got the idea for The Stalker when I began to notice that a couple of my neighbors in the apartment complex I used to live in seemed to come home around the same time every day. I thought hmmm... if I was some sort of creep, how would I use that information to my advantage? How can a guy stalk someone without leaving his house? It kind of just took off from there.
Since you've written The Stalker and also star in it: How much of yourself can we find in your onscreen character, are you an obsessive person in real life, and what do you draw upon to bring your character to life?
I can be at times. Ask my wife! I'm very organized with my music collection and everything is in alphabetical order - artists albums categorized by date of release, soundtracks are separate! I have over five thousand CDs and I think I'm one of the only few people left that actually buys CDs! I'm also constantly paying attention to world politics and usually spend at least two hours a day reading up on things from alternative news media sites. All my Facebook friends know this from all my posts! I would just draw from that passion and put a darker spin to it.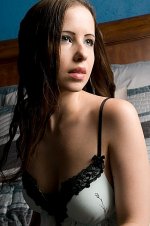 Kaylee Williams
A few words about your co-stars Kaylee Williams and Heather Chilson, and what made them perfect for their roles?
Only a few words? Impossible!
Kaylee Williams is amazing just as a person and such a talented actress! I met her while I was shooting my scenes for Cory J Udler's Mediatrix (which we both were starring in). We've been in two movies together but never had any actual scenes together! We got along perfectly while hanging out on the set and we ended up talking about working on a project together sometime in the future. I'm very flattered that she wants to work with me because I have so much respect for her work. Kaylee has this extremely sweet side to her but then all she has to do is give you this devilish look and you're suddenly scared of what she might do to you! I needed somebody who could pull that off for the role of Sky.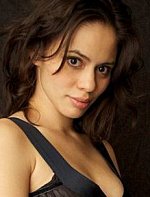 Heather Chilson
Heather Chilson is a talent in her own right. We met while shooting Satanic Panic together back in 2007 and ended up becoming good friends. Heather took a bit of a sabbatical from acting but thankfully she is back. She originally was supposed to play the role of Sadie in my film Afraid Of Sunrise and I was so bummed when she had to back out, so when this role in The Stalker became open, she was the first person I thought of and I'm so glad she accepted and we can work together again! Heather has something about her that makes you want to take care of her which is what her character needs.
The Stalker will by directed by Justin R.Romine [Justin R.Romine interview - click here], whom you have worked with before quite a few times. Why him, how did you first hook up, actually, what's your collaboration usually like? And what can you tell us about your past films together?
Justin was originally attached to direct The Stalker when we tried to make the film last year. Things fell through with funding and in the meantime he moved to LA. When I decided to revive the film again, he recently moved back from LA, so I automatically offered the position back to him since thankfully he was available. We first worked together on the short film Dwelling a few years back and we pretty much hit it off from the very beginning. We have very similar visions of what filmmaking should be and I feel very comfortable working with him. He's my brother from another mother! Justin is an actor's director. He let's you do your thing and doesn't micromanage like some directors do. I remember one film I worked on with him called Recidivism and I was having trouble with a scene and when I told Justin I wasn't feeling it, he took me aside, talked to me very briefly of what the scene needed and I nailed it on the next take. That's what a good director does. He gives you the belief that you can do it.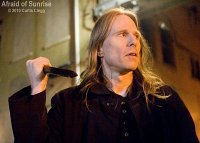 Afraid of Sunrise
After doing those films together I hired him to direct my vampire feature Afraid Of Sunrise which I produced (along with Justin and Don Ford), wrote and starred in. He's definitely one of those go-to directors in my book.
Anything you can tell us about the intended overall tone of The Stalker yet - as in gore vs atmosphere, explicit violence vs subtle suspense and the like?
The first incarnation of the film had a more psychological horror edge to it. It's definitely a film with a slow, suspenseful build up. With The Stalker being a part of the Psycho Street web series, we still kept the psychological horror angle but amped up the sex and violence a bit more! Justin read the latest version of the script and said, "I want a scene where your character pleasures himself to a picture of Sky after he has that dream about her." I said "Justin, there's already a scene where my character is listening to Sky having sex and he pleasures himself" and without a beat Justin answers "I know. I want another scene where he does it. I want this guy to be real creepy!"
As far as I know, The Stalker will be the first instalment in Muscle Wolf Productions/Marv Blauvelt's anthology webseries Psycho Street. Now how did that collaboration come into being, and what can you tell us about the series as such?
I decided to approach Muscle Wolf Productions about The Stalker after seeing a screening of Psycho Street. Muscle Wolf Productions was consistently making films that were reaching an audience and they're just a very laid back group of people who love horror movies. They're true fans of the genre. When I was telling Marv about The Stalker, a light bulb went off in his head and he came up with this concept of a web series that would feature short horror films by local Midwest filmmakers - almost like a Tales From The Darkside. It could be any type of horror film and the only stipulation would be that it either took place in the fictional Psycho Street-town of Kronenberg or if it took place in another location, at least one of the characters had to have a connection to the town. And with the success of Michael Flores' Western X web series we thought hey, this might be the right timing.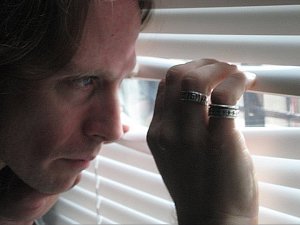 As far as I know, as of now The Stalker is still in its fundraising stages - so what can you tell us about your fundraising efforts?
It's starting out slow right now. We have about a month to go. Fundraising is such a mystery. When I made Afraid Of Sunrise, we raised over three grand through our IndieGoGo pages. People were donating left and right. It almost felt too easy!
When we went to do the first incarnation of The Stalker, we approached Bree Olson's agent about her participating in the film and she ended up agreeing to play the character of Emily (which Heather Chilson now plays). I was so stoked and thought fundraising would be a piece of cake! We have a famous ex-porn star attached to the film! Remember this was around the time of the whole Charlie Sheen craziness so her name was in the press a lot ... but for whatever reason we couldn't get the money! I was even interviewed by Lisa G from Howard Stern's Howard 100 News team about the film and the interview played throughout the day on Howard Stern's channel. That didn't even help! So really, we just want to get people to visit the website, check out the perks and donate. I don't care if it's only $10. Any little bit helps. We have two popular Midwest actors in this film-Kaylee Williams and Jared Degado. I know those two have a huge fan base and we want all their fans to know about this project and support it any way they can.
http://www.indiegogo.com/the-stalker
It might be waaay to early too ask - but any idea when and where The Stalker will be released onto the general public?
If we hit our fundraising goal and have no major kinks, I would expect the film to be available to view online by spring of 2013. We'll also be hitting the festival circuit for exposure.
Let's go back to the beginnings of your career: What got you into acting and making movies in the first place, and did you receive any formal education on the subject?
I've always wanted to be an actor since I was a kid. There were other interests but they all came and went. This one seemed to always stay. I did the usual school plays in grade school and one play my senior year in high school but I never pursued it seriously until I was in my late twenties. I trained at Center Theater for a good five years and The Fourth Wall under Dale Calandra. I took some filmmaking classes while I was at Columbia College but never had a formal education in filmmaking. The first film I produced I kind of flew by the seat of my pants and winged it. I made the film because nobody else was going to. Afraid Of Sunrise ended up being in some film festivals and also won a few awards (2011 Indie Film Festival Director's Choice Award, 2012 Prairies State Film Festival Best Short Film and Best Actor-Andy Schatner). I'm pretty proud of my first effort. I've gotten good responses from those who have seen it.
Can you still remember your first time in front of a movie camera, and what was that experience like?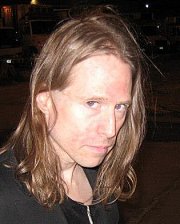 Well, I don't count home movies (lol!), but when I was in film school, all of us in class would help each other out on our projects so we'd all jump in and act if needed. It was very matter-of-fact and so when I acted in a film for someone it wasn't a big deal. There was no nervousness because it was all very business-like because we had strict deadlines. I had a lot of on-camera training at Center Theater and Fourth Wall so by the time I was hired for my first film, I was pretty experienced. I still had a little bit of nervousness that I think every actor gets when you first work on a project, but by the end of the day you get into a rhythm and it becomes very natural. I'm very comfortable in front of a film camera as opposed to being on stage which I don't like as much. I like a more controlled atmosphere although you do get a certain rush doing theater because it's so unpredictable. I just find film work more fulfilling. I grew up watching movies. With film, you have more freedom to experiment and if it doesn't work, you just do another take.
What can you tell us about your filmwork prior to The Stalker?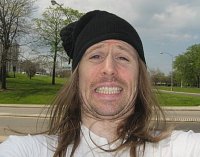 Fugue
Hmm. Let me look up my IMDb profile! A lot of my filmwork prior to The Stalker is in the horror genre. I've done lots of dramas as well but not a lot of comedy. My wife thinks I should do more comedy ever since she saw my performance in Todd Bang's film Fugue. It's her favorite performance out of all she's seen for some reason. I guess she thinks I'm a funny guy! I am a huge fan of horror but I don't want to be pigeon holed as a "horror actor" so after The Stalker I'm going to be doing more dramatic and action oriented films.
Any future projects you'd like to talk about?
Yes! Besides The Stalker I'm producing a dramatic feature film about relationships called Happenstance which I co-wrote with my writing partner and co-producer Theresa Teng. We are both starring in the film as well along with award winning actress and filmmaker in her own right Heather Dorff (What They Say) [Heather Dorff interview - click here] and TV actor Christopher Emerson (House, Miami Medical). I first met Heather when I cast her in the role of Perrey for Afraid Of Sunrise and we've been friends ever since. She is helping out on some of the production duties for the film and her advice has been invaluable. She's produced other films before and I trust her judgement and instincts without question. The film follows three Chicago couples and examines their relationships at various stages. The section Theresa and I are starring in is based on me and my wife's relationship plus some of Theresa's relationship experiences. It was a little weird having my wife read the script because I was pretty honest in my writing. She thought it was great despite the subject matter being close to home. As artists you draw from personal experience and this part of the film examines a relationship that is having trouble and any long term relationship will have those bumps in the road, but the underlying theme is that you can get through it. We shoot the first part at the end of October and will complete the other two sections in the spring of 2013. We are so excited to have legendary camera operator Steve Hiller attached as our D.P. This guy has worked on so many great movies like Rumblefish, The Outsiders, Backdraft, Far And Away and Anchorman!
I really have to give most of the credit for this film getting off the ground to Theresa Teng. We were thinking of waiting 'til next year to start but she was determined to get the first section shot this year and she worked her ass off and ended up putting some of her own money in order to get it done.
I'm also finally getting to work with John Wesley Norton (Not Another B Movie, Doctor Spine, Spades) in October starring in his film Party Of The Dead! I'm really looking forward to that! I also plan to do a Bonnie & Clyde-type movie with Tina Renee Grace once we get a script!
Between acting, writing and producing - what do you enjoy the most, what could you do without? And could you ever be tempted to usurp the director's chair as well?
As much as I find producing to be a challenging and rewarding experience, I would much rather just act. Acting is so much easier! You just show up on set, say your lines and leave for the day! I don't really like writing so much even though people have told me I'm a good writer. I write and produce out of necessity. It's a way for me to show off my acting abilities so hopefully other filmmakers can see me and hire me in the future so I don't have to keep making my own movies all the time! I do have some stories I need to tell so that's what's driving me to continue writing and producing as well. I want to make films that make people think. That challenge people's beliefs. I think every artist has that responsibility to give a point of view. Don't make movies just to entertain. Make me think. Make me question or affirm what I believe in whether it's about politics or what I think about love.
Funny that you should mention directing because Theresa Teng and I will be co-directing Happenstance!
How yould you describe yourself as a writer and as an actor?
When I write a screenplay, I tend to stick to subjects I know. I base many things on life experiences. It's easier and comes out across more honestly. If I need something specific I'm not sure about or technical, I tend to talk to someone who knows more about that subject and get their take. As an actor I'm drawn to darker roles. I'm a pretty laid back half glass full kind of guy but I do have a bit of a dark side. I like to play the hero, but the villain seems to have a lot more layers to their psyche which is fun to explore. It's a safe way to explore your dark side. I think I'm a better actor than a screenwriter but what's weird is I can communicate so much more eloquently through my writing than by talking with someone!
Writers, actors, filmmakers who inspire you?
Joss Whedon is a great writer. This probably makes me cheesy but I'm a huge General Hospital fan and it amazes me how these soap writers can come up with such wild and crazy story lines! I mean they have to come up with five days of material every single week! They don't get a break because the show never goes on a summer hiatus.
Johnny Depp is probably one of my favorite actors. He's a guy who didn't play by Hollywood rules. He did roles he wanted to do, roles that he felt challenged him as an actor despite being offered tons of money throughout his entire career to do the blockbuster Hollywood type movie. Can you imagine Johnny Depp in Speed which he was offered? Even when he did a big Hollywood movie like Pirates Of The Caribbean, he did it for the role and not the money. I admire people who can stick to their principles.
Oliver Stone is a filmmaker that inspires me because of the movies he's done. They make you think and sometimes even hit you over the head with a bat to get a point across! Ed Burns in another filmmaker I admire. He did the whole Hollywood system way of making movies, worked with all these A list actors then decided to not play the game anymore and finance his own movies. Fifteen grand for Newlyweds and it's a great movie! That's how he's working now. He says the only adjustment he has to make is when he writes his scripts since he is working with a limited budget but to have that freedom? Wow! I want to be able to do that!
Your favourite movies?
Too many to list! I love all genres - horror, comedy, dramas, even romantic films if they're done right. Random list: Nightmare On Elm Street (1984), Halloween (1978), JFK, Drive, House Party, The Lost Boys, The Manchurian Candidate (1962), East Of Eden, Giant, Don't Bother to Knock, The Misfits, Serenity, Let the Right One In, Apocalypse Now, Strangers On A Train, Taxi Driver, documentaries like Endgame, Fall Of The Republic, A Noble Lie, Loose Change, Terrorstorm.
... and of course, films you really deplore?

Feeling lucky ?
Want to
search
any of my partnershops yourself
for more, better results ?

The links below
will take you
just there!!!

Find Andy Schatner
at the amazons ...

amazon.com

amazon.co.uk

amazon.de
Looking for imports ?
Find Andy Schatner here ...
Something naughty ?
(Must be over 18 to go there !)

Remakes! For cryin' out loud Hollywood stop already! We know you're all about the money but there are so many original ideas out there that can make you money too! Remakes make no sense and reboots? How are you going to reboot Spider-Man when the last Spider-Man movie came out only five years ago? Why fix something that's not broken? How about re-releasing the original with a remastered print and sound instead? If you're going to remake a movie, remake a bad movie and make it better. That should be the only reason you remake a movie. Let me just throw this out there. Remake Ishtar or The Adventures of Pluto Nash. Those were both major flops. Do some rewrites, change some things around and make them hits!
Your website, Facebook, IndieGoGo, whatever else?
You can contact me on Facebook. Just type in Andy Schatner!
Our IndieGoGo page for The Stalker is http://www.indiegogo.com/the-stalker
Anything else you are dying to mention that I have merely forgotten to ask?
Stop voting for the lesser of two evils! Look what it's gotten us over the last fifty years! Start supporting Third Party candidates. Vote for someone you truly support. Don't buy into this wasted vote mentality. We have two wings of a one party system and until we wake up and realize this, nothing will truly change in this country. Had to be said!

Thanks for the interview!