Your new movie The Forlorned - in a few words, what is it about?
The Forlorned is based on my book by the same title. It's about a young man named Tom Doherty who is lured to a secluded island for a job renovating the old lighthouse and ramshackle outbuildings. What he doesn't know is that the island is haunted by ghost soldiers from the War of 1812.
How did the project fall together in the first place?
I had been told by several directors that my writing was so descriptive they could see every detail. I had offers to adapt my books into films. One in particular liked my work and the rest is history.
Being an executive producer on The Forlorned, what were the main challenges of making the movie from that point of view?
Believe it or not, the hardest part was dealing with difficult people who wanted to interfere out of greed. Also the "office cops" and "tattletale types". It's important for film makers to remember to not let anything get you down. People can be ugly, but you just have to get past it and move forward into positive light. One of the most postive people in my life is my entertainment attorney Ken Suddleson. Ken is the former vice president of Paramount Pictures. Ken brought with him years of experience. Ken was hailed by The Hollywood Reporter's inaugural list of the top 100 most powerful entertainment lawyers in the world - as the vice president of Paramount he personally oversaw over 55 other executives and negotiated all motion picture transactions involving the company. He also founded and implemented Paramount's fellowship program, involving the selection and full time employment of creative talent. Ken negotiated a fantastic deal with our distributor, Maxim Media. I'm just so grateful for his representation and guidance.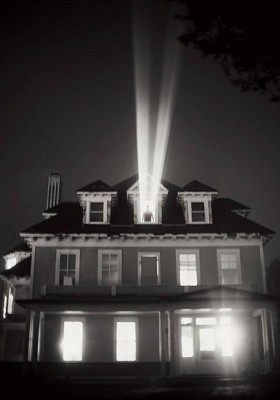 The Forlorned is based on a novel of yours by the same name - so do talk about that one for a bit, and what were your inspirations when writing it?
At the time I wrote it, I was outraged that there were potential bodies of American soldiers from the war of 1812 not repatriated back to American soil. Thankfully, things have changed and those bodies have been repatriated back to American soil.
How does writing a novel compare to writing a screenplay, and which do you prefer, actually?
I love both. Screenplay is a breeze compared to penning a novel. I wrote both the book and screenplay, then Andy Wiest and Ryan Reed adapted it into their own vision.
How faithful does the movie stay to the book, and do take us through some of the major changes (if there are any)?
It's different in many ways as most adaptions are. I don't want to give to much away, but I think fans of my books will be pleased with what Andy has done.
Do talk about your movie's approach to horror!
I prefer a mystery and gothic horror. I am not a fan of blood and guts or demons. I think an intelligent haunting is much more interesting.
What can you tell us about The Forlorned's co-writer and director Andrew Wiest, and what was your collaboration like?
Andy is not my brother by blood but he is in my heart. I expect that we will make a lot more movies in the future. He is a very kind soul who is also a very talented filmmaker. He is very skilled at what he does, and we work very well together. And the editing process went so much faster when the two of us were in the editing room.
What can you tell us about your key cast, and as an executive producer, to what extent were you involved in the casting process?
I was very involved in the whole process. I picked out who I thought was best with the advice of experts - such as Robert Andrus who is just so skilled in this department. It was beyond belief the great cast we have been blessed with. Each and everyone one is endlessly talented.
Do talk about the shoot as such, and the on-set atmosphere!
I loved the old house. The set was absolutely haunted. We had many, many eerie things happen to each of us. Mainly, we were stalked by a woman in white. She would float down the staircase and it was unsettling to say the least. My second novel The Forsakened is based on this experience.
The Forlorned is only about to be released onto the general public - a few words about that?
Yes, on October 3rd it will be released on many venues such as iTunes, Amazon, Google Play and VOD such as Vudu and some select theaters.
Anything you can tell us about audience and critical reception of The Forlorned yet?
So far everyone has loved it which has been such a boost to us all. Some compare it to The Shining while others say it really stands out in the horror genre. A unique story and premise.
Based on your experiences with The Forlorned, could you ever be tempted to produce another movie, and/or any other future projects you'd like to share?
Yes, I have a couple of movies in the works now. I will tell you more about them when they are released.
What got you into writing in the first place, and did you receive any formal training on the subject?
I think you have to be born with a talent for writing. I think it's something that is so deep into your soul that if you don't write, your soul can whither away.
Any past books of yours you'd like to talk about?
I have so many books that are dear to my heart such as my Angus MacBain series. This fun series helps to support childhood cancer survivors. Many of my other books are being adapted into films.
What can you tell us about your writing style, and where do you draw your inspirations from?
I'm a visual writer. I think it's very important to have deep characterization that draws the audience in close to your main characters. A story that takes them on a journey.
Writers, filmmakers, whoever else who inspire you?

Feeling lucky ?
Want to
search
any of my partnershops yourself
for more, better results ?

The links below
will take you
just there!!!


There are many, I love James Cameron's work and James Watkins.
Your favourite movies?
The Woman in Black and lighter movies such as the Haunted Mansion with Eddie Murphy.
Films you really deplore?
Those with no intelligent plot, weak characters or those who use sound and jump scares to set the audience on edge - instead of a good story line.
Your/your movie's website, Facebook, whatever else?
www.theforlorned.com and www.angusmacbain.com/
Thanks for the interview!