Your upcoming movie Scales - in a few words, what is it about?
Joe Harvey - Scales is a claustrophobic thriller that spends one evening with four volatile characters in an apartment, with dark secrets coming to the fore and threatening to spoil the party.
How did the project fall together in the first place, and how did you all come on board? And what drew you to the project, actually?
Nathan Hannawin - I met Joe and Anthony on one of the online film sites, like a job site for the film industry. I saw they had a small ad for someone to direct a script at a reading and potentially lead onto further things. I don't think it actually mentioned Scales or what the film was about, and I later found out that was because they were playing their cards close to their chest, but I thought there was no harm in sending a message. We met up in person at the Curzon and we really got on well. By this point I had a copy of the script and had a chance to read it through a few times and thought it was really good. When we all met up, we just got on really well, and we all share the same energy and passion for the project.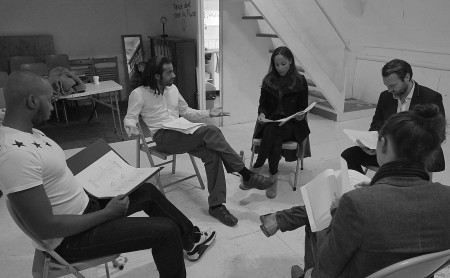 JH - After the success of our first collaboration, Sweetboy, Anthony and I were keen to hook up again. He dropped me a message one evening saying he wanted me to write a film about four characters (a boxer, his girlfriend and manager, an entrepreneur and a drug dealer) in a confined location, giving me free reign on what to do with these varied characters. This concept struck a chord with me and I immediately knew the direction I wanted to take the script in and how I wanted the narrative to play out.
What's the collaboration between the three of you like, actually? And how have you guys first met even?
Anthony Vander - This is my second collaboration with Joe on a feature film. As Joe touched upon, I approached him with the idea of a feature film with four characters in a single location and letting the action play out. He again delivered a fantastic script. I was keen to work on this project as an actor and producer, but we really wanted to find an experienced director who was hungry to create this story, which we found in Nathan.
JH - The three of us have a very productive relationship, which came about as soon as we met for the first time. Myself and Anthony met with Nathan in Leicester Square to discuss him coming on board and straight away we were bouncing ideas off of each other and breathing life into the pages in front of us. Having worked with Anthony before, we are well tuned into each other's way of thinking and have a shared vision. Within the first hour of meeting with Nathan, it became clear that he, too, was tuned into this way of thinking, this style of storytelling. As soon as Nathan left, Anthony and I shared a wide-eyed glance, as we knew we had found our director. We are in communication on an almost daily basis, making sure we are all on the same page as we get closer to the production of this film.
Nathan, what can you tell us about the film's intended look and feel?
NH – As Scales is all set in one location with four characters, the dynamic and interaction between each of them is essential. I have always had the idea that the apartment they are in will become the fifth character as well; their relationship with the building changes throughout the course of the night, just the same way the relationship between them changes. I think that this should come across from the script, so there is no need to be overly forceful with it either.
All being in one apartment does pose some limitations too, but limitations can be an essential part of the creative process. When we all first met, we spoke about films such as Rope, Repulsion and Reservoir Dogs, and how these films work their few locations so well, so in some ways you will be able to see these influences. I am trying to be purposefully vague, as I don't way to give too much away but I think the main point is that as the story progresses, so will the look and feel of it.
Anthony, where do you see the challenges of making Scales a reality?
AV - There is always a challenge on any film you are working on, but I guess this feature film being made on a zero budget will make the challenge an even greater one, which I am relishing. We are making this film through crowdfunding, as it is the most accessible way to simultaneously raise funds and build an audience. With Scales, this is a step by step process and once we have finished our IndieGoGo campaign, we will move onto the production process.
What can you tell us about your projected cast, and why exactly these people?
AV - We have a cast in place. I will be playing the role of Darnell. We have Jamie Bannerman, who will be playing Adam. His credits include Dead Fred, One Glorious Sunset and EastEnders. Kamal Simpson will fill the role of Keith. Kamal's credits include the award-winning Never Let Go, Benidorm and After You've Gone. Maria will be played by Nicola Roffe, who has starred in Fast Girls, EastEnders and The Secret World of Sam King. We all gelled during the rehearsed reading and each cast member is inspired, supportive and motivated. We are all trained in both stage and screen acting, and all have experience across all mediums, which is ideal because, although this is a great film script, its foundations can be likened a stage play.
Your film takes place over one evening in one apartment - so do you have your locations locked yet even, and what can you tell us about the advantages but maybe also challenges of making a movie in a very limiting, enclosed space?
AV - We are currently looking at a variety of different locations. We know we can't cut any corners with this element of pre-production, so while we haven't found our chosen location yet, we will take our time to make sure we find one that best represents Joe's vision. As Nathan mentioned, the singular location becomes the fifth character in this film. The tense nature of this thriller relies on us turning the location into a boiling pot, where the action plays out between these four characters. Among the challenges of making a single-location film, I think the most important is keeping the audience engaged, but with the script and Nathan's direction, I have full confidence that we will deliver a great film.
As far as I know, you're currently in the process of raising funds for your movie - so what can you tell us about your campaign?
AV - We've taken to crowdfunding to get our film made, as not only is this a platform where we can raise funds but we can also build a fan base and immerse them in the film for the entire journey. We have some fantastic perks on offer and our campaign has been met with an incredible reception - we have reached over 50% of our target with 20 days left to go.
https://www.indiegogo.com/projects/scales-feature-film-entertainment#/
Once the budget's in place, what's the schedule, and even if it's waaay too early to ask, any idea when the film might be released yet?
AV - We are looking to start filming in late-February/early-March, with the intention of rounding up post-production by the summer.
Any future projects you'd like to share?
JH - I have a first draft of another screenplay ready for Anthony, which is a feature-length adaptation of his short film Hooligan, which he took to Cannes in 2012. I am also developing a concept for a feature length comedy. Sweetboy, Hooligan and Scales have lots of dark humour weaved throughout a sinister narrative. To avoid earning a reputation as a sociopath, I'm going to buck this trend and go for an out-and-out comedy, before inevitably returning to the laughs in the face of misery which I love writing about so much!
NH - Future projects - I do, but nothing I can divulge yet. Earlier this year, I was DP for a cult horror, UK:18, directed by Andrew Tiernan, who was our exec on Sleaford Mods - Invisible Britain. I believe UK:18 will be out next year, you can see a teaser for it here: https://www.youtube.com/watch?v=3VbkQ6KU3EI
AV - My film The Tutor is currently in development. I have full confidence that we will shoot this feature length drama sometime in 2017. https://www.youtube.com/watch?v=fiIBI4yI1Fk
Your/your movie's website, Facebook, IndieGoGo, whatever else?
You can check out our online presence via the following links:
IndieGoGo: https://www.indiegogo.com/projects/scales-feature-film-entertainment#/
Facebook: https://www.facebook.com/Scales-144846255932347/
Twitter: Scales (@ScalesFilm2016) | Twitter
Anything else you're dying to mention and I have merely forgotten to ask?
NH - First of all, a massive thank you to everyone who has contributed, shared, liked, etc., the project so far. It's a huge task to get a donation from someone when it may be a year until they see the final project, but anyone who does is not only supporting us but supporting the coming generation of film too, as well as the entire indie film movement.

Feeling lucky ?
Want to
search
any of my partnershops yourself
for more, better results ?

The links below
will take you
just there!!!


JH – As well as echoing Nathan's words, I'd like to acknowledge that there's a lot we can't say about Scales, as the less the audience knows going in, the better. Audiences were quick to praise the unexpected turns and tonal shifts in Sweetboy, and we have upped the ante with Scales, so brace yourselves.
Thanks for the interview!