Your new movie Hawk and Rev: Vampire Slayers - in a few words, what is it about, and what can you tell us about your character in it?
I would describe it as Scooby Doo meets Lost Boys with a bit of Napoleon Dynamite. And a sprinkle of The Notebook - which I have yet to see but I hear great things.
What did you draw upon to bring your character to life, and how much Ari Schneider can we find in Rev?
Sure. Thereís definitely more than I would care to admit of Ari in Rev. I think what I like most about that character is heís kind of an enigma. Heís supposed to be the mild-mannered more zen, pacifist side of the duo, but as the plot thickens, if you will, heís just as manic if not more than his agresssive buddy Hawk. I would say thatís somewhat true for me, maybe not the enigma part, although it is fun for people to think thereís more going on behind those eyes than there really is. I like to come off, especially when I used to date, as this really confident cool and laid back dude and, as much as I aspire to be that fictional guy, those who get to know me see Iím a pretty anxious and nerdy goof - which is equally if not more lovable and I think the meddling of those two is what makes Rev fun. Thereís definitely no cool about him just from the get-go, the glasses alone which I could barely see out of, but he does think of himself as a peaceful warrior. Because heís a complete almost cartoon-like goof and creepy and sweet and innocent and itís fun to just heighten the heck out of those parts of myself. It often feels like Ryan and I are trying to top each other with how creepy the other one is.
How did you get involved with the project in the first place, and how did you end up being a producer on Hawk and Rev: Vampire Slayers as well?
Ryan Barton-Grimley [Ryan Barton-Grimley interview - click here] and I have worked together for almost 10 years on specs, sketches, and this is our second collaborative feature so we go pretty far back. I was studying at the Guildford School of Acting in England when he met my sister and they got married, so thatís how we met, and apparently you become brothers when that happens, by law, and then we decided letís play and itís nice that your bro-in-law is one of your best buds.
To what extent could you identify with Hawk and Rev: Vampire Slayers' approach to both horror and comedy?
Comedy is my comfort zone whether Iím being funny or I think Iím being funny. I fall back a lot on improv when thereís an opportunity or if there are moments of banter. Ryanís definitely more the horror aficionado. I do enjoy horror films way more than I did probably 10 years ago where I had a harder time appreciating them beyond the scares or even just allowing myself to be that vulnerable and get scared, but it wasnít until I saw how you could really do a lot of fun things with that genre besides jump scares. And then of course you have films like Tucker and Dale vs Evil and Cabin in the Woods, and I love pulling from different genres and playing with that. I think the bar has been set high for horror in the past decade or so, especially in the indie market so itís fun to play what ďis considered horrorĒ and spin it into something really silly and hopefully quirky.
What were the challenges of bringing Hawk and Rev: Vampire Slayers to life from a producer's point of view?
Oh man, where to start. I mean weíre running a crew of less than 10 on set, most time as little as 5 max, in terms of camera, make up, etcm so everybody has to be doing something pro-active at anytime, that usually means juggling multiple tasks. When I wasnít on camera as Rev, there was a multitude of logistical things to be done just in making sure weíve got taillights by whatever time weíre out of a location, or ferrying props, crafty. The real fun of producing came afterwards where the creative side gets to shine in regards to the score, post-production, coming up with fun ideas for the credits and taglines, poster, etc.
You're also co-responsible for Hawk and Rev: Vampire Slayers' score - so do talk about making the music for the movie for a bit!
Yes. That was a blast. My very good friend Robby Elfman who co-composed all the original themes like the opening 80s kill themes, all the original vocal ballads, the western chantsÖ he is a musical force to be reckoned with and probably the most talented arranger I know. Weíve been friends since childhood and heís just the type of dude who can pick up what seems like any instrument and follow along whatever idea youíre toying with or just take what youíre trying to do and make it sound coherent and better. We have a fun marriage in that respect since weíve jammed since we were kids whether it be comedy songs, or short form sketches and commercial specs, and heís scored our features before. This was the first we worked on a feature as actual songwriters and composing the soundtrack together as opposed to me ďoverseeing itĒ, and that certainly is my happy place. Weíve worked on other projects together as well and he just never ceases to amaze me.
What can you tell us about Hawk and Rev: Vampire Slayers's director Ryan Barton-Grimley [Ryan Barton-Grimley interview - click here], and what was your collaboration like?
This is was our second feature as both producers and I think we definitely learned where to kind of let the other person shine and stay out of the way. Ryanís the director, so the buck stops with him, but with Hawk and Rev: Vampire Slayers he pretty much deferred to me in regards to finalizing a lot post decisions or at least being receptive to other ideas where some directors, especially being the writer as well, will have such tunnel vision of what they want, thereís no room for creative input which I think in a project like this is impossible, and Ryan and I I think know where our strengths and weaknesses are, so that was fun to be able to play very much out of the box or have a certain level of free reign whether in regards to the music and music design, or even character choices. I have to give Ryan a lot of props for ďsurrenderingĒ creative in certain parts to allow that input which is not something a lot of people get to experience and so I certainly took him up on that and just went to town ,and I was happily surprised on how many ďyes andsĒ I got from him, just to be an improv nerd.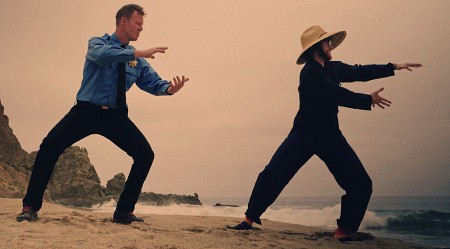 Hawk and Rev: Vampire Slayers wasn't the first time you've worked with Ryan Barton Grimley - so what can you tell us about your previous collaborations, and how did the two of you first meet even?
We shot some really fun commercial specs in Portland years ago which was a blast, and silly little web sketches that actually come to think of it fall in line with some of the humor in Hawk and Rev: Vampire Slayers. We even had a two man improv team for a while. So, ya know, I think at the time I had finished acting school and was doing Second City and then Ryan was doing improv as well so we had a lot in common in regards to what made us laugh or what we thought would be fun thing to write or shoot.
Back to Hawk and Rev: Vampire Slayers - what can you tell us about the shoot as such, and the on-set atmosphere?
Itís like Olive Garden. When youíre here youíre family. We def have a very safe and fun environment just from the fact that we all mainly really like each other as people and thereís no real tool. I think with that comes a risk of that level of too much comfortability at times so that when you butt heads, which, to my memory, didnít happen often, but can feel like more than just creative differences. It can be hard to remind yourself that even though itís indie and we all love each other and we have each others back, this is a passion project and everybody here is giving a 110% so at the end of the day whatever creative squabbles might pop up, weíre still making a movie and not just hanging out though for fun, even though when weíre at our best it does feel like weíre just hanging out. At the end of the day weíre very dedicated, come rain or come shine, and the differences are mainly for the sake of the project. We give everything we have to it. I missed my own bachelor party because of exhaustion and the flu from our last pick-ups in Malibu, which I donít blame Ryan for but he is responsible.
Any future projects you'd like to share?
In regards to Ryan and I, Ryan wrote a little David Lynchian psychological horror film that we shot last year and looking forward to wrapping that up. The post should be fun. Iím currently collaborating with some awesome people in my life on some bucket list projects because why not, things are kinda slow right now, lol. One of them is a musical series thatís always something I wanted to try and pitch, and itís kind of got a life of its own right now so Iím grateful to be engulfed in the music joy of that. My wife writes so Iíve been collaborating with her a bit.
What got you into acting in the first place, and did you receive any formal training on the subject?
Thatís a great question. I did receive formal training in the UK at the Guildford School of Acting (BA-HONS) which was like boot camp for actors, and definitely kicks you into shape cause they donít mess around over there. And then did what a normal Shakespeare thespian does when he returns to the states and joined the Second City improv theatre so Iím all over the place but I think itís just something that I naturally felt comfortable with, that was kind of part of the storytelling. Doing justice to a story. Playing. I mean I just like playing with other people. The endorphins rush of being vulnerable and transparent and being able to listen. Cause I struggle with listening and patience in real life, and it all just slows down in front of the camera. Thatís the most eloquent way I could describe it.
What can you tell us about your filmwork prior to Hawk and Rev: Vampire Slayers?
Full length feature-wise, aside from our previous feature Elijahís Ashes, which was something completely different, played an introverted adman whoís boyfriend breaks up with him in very beginning of the film, dealing with the death of his father and his sexuality, and his homophobic idiot brother, beautifully played by Ryan - most recently, I had a small but featured role in Sebastian Lellioís Gloria Bell alongside Julianne Moore and Rita Wilson, and that was a trip and you know meeting your heroes and them being cooler than you thought. Did some fun TV stuff this past year beforeÖ everything, so this has been a busy past couple years, I became a father a year and half ago and booked some awesome gigs and collaborated with great peeps, so yeah.
How would you describe yourself as an actor?
Willing to shave. I would love to do a western. Iím adaptable.
Actors (and indeed actresses) who inspire you?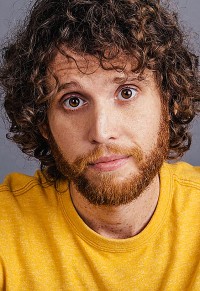 Feeling lucky ?
Want to
search
any of my partnershops yourself
for more, better results ?

The links below
will take you
just there!!!


Kathy Bates, Denzel Washington, Jeffrey Wright, David Thewlis, Viggo Mortensen, Alan Rickman. I mean it always, Gary Oldman in Leon, that made horrible look fun. Charlize Theron.
Your favourite movies?
Unforgiven, Jaws, Dr. Strangelove or: How I Learned to Stop Worrying and Love the Bomb, The Abyss, This is Spinal Tap, Coming to America, Tommy Boy.
... and of course, films you really deplore?
I canít help it, Titanic. But I did say The Abyss.
Your website, social media, whatever else?
I tweet - @thearischneider. You can IMDb me, also there's the Clumsy Tiger Productions Facebook page.
Anything else you're dying to mention and I have merely forgotten to ask?
I got my nose broken in clown class but Iím not sure how you would know to ask that.
Thanks for the interview!