Your new movie Hawk and Rev: Vampire Slayers - in a few words, what is it about?
Hawk and Rev: Vampire Slayers is about Hawk, a paranoid loser night security guard, and his journey to save the small town of Santa Muerte, CA, USAÖ from vampires, and finally get accepted for the hero he knows he is. Along the way, he ropes his best friend Rev, a peaceful groundskeeper, Theo, a selfloathing writer, and a poly-amorous mis-identified goth band into the process. From there, things get a lot more complicated, ridiculous, bloody and of courseÖ HEROIC!
What were your sources of inspiration when writing Hawk and Rev: Vampire Slayers?
My inspirations were a strange blend:
1) Hitchcock - all of it. Itís in everything I write. I canít get away from it :)
2) Revisionist westerns like A Fistful of Dollars, The Good, the Bad, and the Ugly, The Wild Bunch, DjangoÖ
3) 80s heroic action movies - Die Hard, Lethal Weapon, Cobra, Big Trouble in Little ChinaÖ
4) 80s campy horror - Evil Dead, An American Werewolf in London, Maniac Cop, Gremlins, Tremors...
5) 80s adventure - Lost Boys, Goonies, Beverly Hills CopÖ
Do talk about Hawk and Rev: Vampire Slayers' approach to both horror and comedy!
The approach to comedy was my favorite blend, grounded but strange, thrown-away but over-the-top:
1) keep dialogue fast, thrown-away, combative and very Shane Black with lots of zingers and banter grounded in character, so the characters all sound real, but slightly off. Have their bigger moments come from character and their strong point of view to break it up.
2) Keep the physical comedy dumb, gross and over-the-top as a counterpoint to the nice banter, to break it up and add more surprises for the audience. Basically lure them in and hit them on the head :)
The approach to horror was pretty much the same:
1) Start with some seemingly realistic stuff, make it visceral, so that it smelly real enough for the audience to have real stakes when theyíre watching, some fear, some empathy.
2) Then very quickly throw it right over-the-top into absurdity and turn it into comedy in the most fun/worst way possible so you could get a 2 for 1 with the gore :) Itís always a surprise for the audience to suddenly find themselves laughing at someone losing a leg/head, etc. Itís fun!
Hawk and Rev: Vampire Slayers does feature its fair share of gruesomeness - so why don't you talk about the bloody bits in your movie for a bit, and how were they achieved?
The idea from the very beginning with the gruesomeness was to always keep it a bit scary, just enough to have it smell real, but then really make it more fun, light and go to the absurd. We used a mix of practical - real fake blood, body parts, etc - then supplemented with CGI blood for maximum goriness and absurdity.
A few words about your overall directorial approach to your story at hand?
My approach is to always over-prepare and then be happily surprised if extra stuff happens. With this specific story, I storyboarded the living daylights out of it. We were shooting 2 camera coverage and I wanted it to feel very specific and not thrown together in the edit. I love center/side framing. I love the formalism of the Japanese directors, Ozu and Kurosawa, who obviously inspired Wes Anderson, Edgar Wright, and David Fincher. So with that in mind, I wanted enough formalism and detachment to give it a snappy style and accentuate the weirdness and comedy, but not so much to get in the way of the humor or more importantly, the scarier stuff. So it was a balance on all that.
You also play one of the leads in Hawk and Rev: Vampire Slayers - so do talk about your character for a bit, and what did you draw upon to bring Hawk to life? And did you write him with yourself in mind from the get-go?
The inspiration for Hawk came from all the toxically macho guys I grew up with that were also painfully fragile and immature. Theyíre man-children with big ideas and bluster, but are still just children. This tended to be a genre stereotype in eighties films. I love it and itís a great springboard to comedy. These guys just take themselves sooooooo seriously and are sooooo tunnel-vision. Itís very easy to make fun of them. If anything you have to pull it back or it just becomes mean :) And I definitely wrote the character with myself in mind. I did flirt occasionally with casting someone else, but at the end of the day, I knew I could nail it more specifically, so I took one for the team :)
What can you tell us about the rest of your cast, and why exactly these people?
Well, Ari Schneider [Ari Schneider interview - click here] who plays Rev is my brother-in-law, so weíve been working with each other in some capacity for years. Heís always in everything I do as an actor and pitches in with everything from producing, music, writing, general creative molding and even counseling when Iím losing my damn mind. SoÖ yeah. Then, the rest of the cast are all folks I know personally, or Iíve worked with before, either through a personal connection or the indie-comedy-improv scene in Los Angeles (Upright Citizens Brigade or Groundlings). I basically cast folks I thought were great talents, fun to work with and good people. Then I rewrote the script a bit to fit each actor, so it really felt natural to them specifically. It was important to me to have great actors who look like real people and not ACTORS from the 90s, Baywatch style. I canít stand that. Itís so much funnier to me when I feel like I could know the character, like they may live around the corner, so I always go for that in casting. I also go for a very specific personality type that is a bit more easy-going and adventurous, so we can have more fun on set and not walk on egg-shells :) NO DIVAS! NO BRATS!
A few words about the shoot as such, and the on-set atmosphere?
Iíd say the the on-set atmosphere was fun, but also pretty serious. Great actors, comedic ones specifically, tend to be very serious about the comedy. Additionally, the shoot was quite challenging. We had a tiny budget of 1 shoe-string and 3 hamburgers, one being vegan of course. Naturally, we took locations that were donated, so scheduling was very challenging and we even got shut down at some point before we could shoot our ending. This forced me to re-write the location for the big ending showdown - and lucky for everyone, it turned into a really nice opportunity to do a couple rounds of pick-up shoots. Of course we were shooting at night, it was freezing, especially with all the fake blood spraying about. It got pretty sticky! So people got sick, Ari even missed his stag party on the last round of pick-ups because he got so sick. It was pretty nuts. But at the end of the day, I was amazed at everyoneís dedication to the film and finishing it off. They obviously knew it was something special and I really appreciate all their hard work and contributions to the film. They say it takes a village to make any film, but with an indie film - it takes a village of damn warriors!!!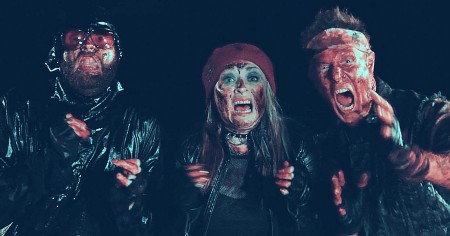 The $64-question of course, where can Hawk and Rev: Vampire Slayers be seen?
Right now weíre playing a nice blend of horror/genre film festivals and normal ones as well. New Orleans Horror Fest and San Antonio International are next. You can buy a ticket and watch during the screening time from anywhere as theyíre all digital now. Distribution-wise, we should be everywhere, on every service, possibly even a bunch of drive-ins by next spring. You can always check https://www.hawkandrev.com for where itís playing. Itís usually pretty up to date on the screenings available.
Anything you can tell us about audience and critical reception of Hawk and Rev: Vampire Slayers?
Audiences have always loved Hawk and Rev: Vampire Slayers. From the very first test screenings in our living rooms all the way to the WORLD PREMIERE at Dances With Films, and now into some of the amazing reviews weíre getting - folks love this film. Itís a fun watch. Itís really heartfelt. Itís got something for everyone without sacrificing its soul. Itís a universal film that can be translated into any language and someone will get it. That was always my goal. Be true to the film and make it fun!
Any future projects you'd like to share?
Listen Carefully is the next film. Itís already shot and is nearing the end of post-production. Itís basically Jacob's Ladder for new parents. Itís darker and more mind-bending than Hawk and Rev: Vampire Slayers, but is still a ton of campy/pulpy fun. I play a new father, Andy, whose newborn baby gets kidnapped, and Ari [Ari Schneider interview - click here] plays the voice of the kidnapper that tortures Andy through a very cute owl-shaped baby monitor. Itís really funny in a darkly humorous way, like Funny Games or Goodnight Mommy. Itís messed up in the best way and hopefully weíll be talking about it a lot next year. Obviously, Iíd like to shoot something new this fall, but Covid is making that next to impossible and very scary, so - maybe something animated?
As far as I know, you entered the filmworld as an actor - so what made you want to become an actor, and did you receive any formal training on the subject?
I received a ton acting training from some of the best film acting teachers in Hollywood. I was also part of multiple theater companies over the years and most importantly, I did improv training for years at both Groundlings and Upright Citizens Brigade. This really trained me to think on my feet as both a performer and director. It trained me to think about logistics and story and theme and then just jump right into character without fear. It was the best thing I ever did! I recommend it to all actors. I did get into UCLA on a theater scholarship, but I canít sing or dance, so that fell by the wayside pretty quick :)
You eventually branched out into writing, directing, producing and whatnot - so what was the idea behind taking that step? And what do you enjoy most, what could you do without?
Mostly I started writing because I wanted to perform my own stuff. And also because nobody would cast me in anything good. Additionally, I was always really into visual art growing up, so the process of directing was just very natural to me. I started making shorts, all terrible of course, and then some music videos and then webseries and then finally took the plunge into features. Itís the ultimate challenge as a director/writer/performer to do a feature. You have to build everything and then wrap it up in roughly 90 minutes. You have to be very specific in the form. I love it! Itís so challenging to me. Every part of the process turns on my creative and my analytical side. Itís very full-filling. The one thing I will always do - hopefully - is directing. When itís my own project, obviously Iíll play a role and write, because why not, but in the real world of Hollywood, I think I offer the most as a director. And I have no problem working on other folksí scripts, working with other actors, etc, thatís easy stuff. So yeah, all that.
What can you tell us about your filmwork prior to Hawk and Rev: Vampire Slayers, in whatever position?
My first feature film was The Truth - writer/director - a home invasion thriller starring John Heard, Brendan Sexton III, Danny Baldwin. I was very green. It did well in distribution, but didnít really reflect my sense of humor and ultimately Iím not happy with it, but thatís life.
My second feature film was Elijah's Ashes - co-writer/director/Kevin - a tiny indie comedy about homophobia that played a ton of festivals and won a ton of awards. Ari [Ari Schneider interview - click here] played the lead role of Lawrence Shaw and I played the supporting role of Kevin, his numbskull homophobic older half brother. I love this film creatively and knew I was onto a new way of working once this was complete and out.
My third feature film was Repatriation - lead role of Chad/producer. This little drama about stolen valor was my friend Doug Muellerís directorial debut. I helped him produce and played the lead role of Chad, a guy pretending to be a soldier on his first night back in a small midwestern town. It was a great learning experience. We shot in Dubuque, IA on location for a few weeks with a small crew and fantastic actors from Chicago. It gave me a lot of confidence to play a lead role and carry a film.
My fourth is Hawk and Rev: Vampire Slayers. Fifth is Listen Carefully.
Filmmakers, writers, actors, whoever else who inspire you?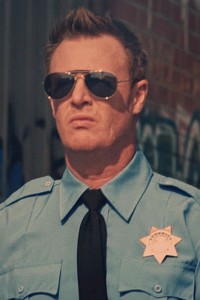 Feeling lucky ?
Want to
search
any of my partnershops yourself
for more, better results ?

The links below
will take you
just there!!!


I love Kubrick and his process. I aspire to that level of detail and specificity. I also love Spielberg and the sense of wonder he brings to everything. I love British comedy, all of it. I also love the Japanese writer Murakami and the surreal nature of his relationships. I also love really nerdy science stuff like physics and neuro-psych stuff. Iím basically an information junkie. It helps me build the worlds :)
Your favourite movies?
The Shining, 8 1/2, Magnificent Seven (OG), Die Hard, Lethal Weapon, Goonies, Jaws, Alien, Manhunter, Bill and Teds, Brazil, all Monty Python.
... and of course, films you really deplore?
I hate really pretentious dramas that try to be deep and artsy - barf, gimme a break. There are too many to name :)
Your/your movie's website, social media, whatever else?
Website: https://www.hawkandrev.com
Facebook: https://www.facebook.com/HawkandRev
Instagram: https://www.instagram.com/hawkandrev
Twitter: https://twitter.com/HawkandRev
IMDb: https://www.imdb.com/tt3425300/
Anything else you're dying to mention and I have merely forgotten to ask?
Iím an immigrant from Zimbabwe, trying to live the American dream. Iím an example of why we need to let new folks in, to keep the voices and opinions and stories diverse and rich. So there :) Thanks!
Thanks for the interview!