Your new movie Jumper - in a few words, what is it about?
Jumper follows a distressed crisis negotiator who attempts to rescue--off the ledge--a young man who questions his sexual identity.
What were your sources of inspiration when writing Jumper?
The seed of the film came to me last August. I was stuck in heavy LA traffic and heard on the radio the news of a jumper who was standing on the top of a downtown high rise and threatening to jump. I started to think about what could drive a person to not only decide to end his or her life but also do it in such a public manner?
To what extent can you actually identify with your lead Jack, and sympathize with the issues M.J. is dealing with?
The idea of Jumper allowed me to revisit some dark moments of my life in a creative way. On a personal level, identifying with Jack, most people have experienced a truly low moment in their lives. A moment where they felt rejected by society, their community, a lover, or possibly their own family, that it led them to rejecting themselves. Jumper tackles the topic of suicide. I personally contemplated suicide a couple of times in my life. Luckily, I didn't follow through but I've always been intrigued by what drives a person to that decision as well as the method they choose to execute it.
As for M.J., I believe he is ultimately seeking acceptance. Acceptance of oneself and others. In a way, they are both seeking the same thing for different reasons.
With Jumper largely filmed on a rooftop - what were the challenges there, from both a logistical and creative point of view?
Our main priority was to ensure safety of the cast and crew, so they are free to optimally perform.
The creative challenge was choosing angles that convey the height as well as the isolation of the characters both internally and externally. Luckily our director of photography, Shakeek Bin Afzal, is athletic and limber and, through various yoga positions, was able to contort to accommodate various tricky shots.
What can you tell us about your directorial approach to your story at hand?
I wanted to tell a story that featured Middle Eastern characters dealing with issues that are rarely discussed in our culture. I also wanted to show these characters in a non stereotypical framing.
A general theme of how most humans suffer in silence while projecting a different emotion externally. Everyone you meet could possibly have a volcano brewing inside them and you wouldn't have the least inclination until they reach their eruption point. In which case it may be too late.
Each character in the film initially appears in isolation until they are forced to interact with one another. And eventually feeling accepted by the other.
You also play the lead in Jumper - so what did you draw upon to bring your character to life, and have you written Jack with yourself in mind from the get-go?
As I mentioned earlier, I drew from dark moments of my life and infused in Jack's character. I am an internal person in real life and I used that with Jack as well. I did write Jack with myself in mind. As a positive and optimistic person, I wanted to leave Jack with a hopeful open ending. I believe that life is ultimately about choices and we can always make new ones that would change our course for the better.
Do talk about the rest of your cast, and why exactly these people?
Mico Saad [Mico Saad interview - click here], who plays M.J. and is my producing partner was a a catalyst in the making of Jumper. He pushed for the creation of the project as well as connected me with our DP, Shakeel, whom he worked with for several years prior. He also poured his heart into his character and showed vulnerability that made for a memorable acting debut. I was impressed by his dedication and hard work in preparation for the character.
Rasha Mohamed [Rasha Mohamed interview - click here], who plays Jack's boss, Nola Rimes, and is a co-producer on the project, connected with me several months earlier as she was seeking advice from like minded Middle Eastern Hollywood actors. I was impressed by her ideas and work ethic. She's also a strong screenwriter in her own rights. So, she immediately came to mind when I was casting the role. I knew she can convey the strength and empathy of Nola. She also didn't shy away from helping in various capacities during and after the production.
I am very grateful for them both to have chosen to be part of Jumper.
What can you tell us about the shoot as such, and the on-set atmosphere?
It was really amazing. Since we are an indie production, everyone helped in various capacities which stretched our budget 10 fold. I generally love to create a collaborative environment where the main objective is to tell a great story in the best way we can. All ideas and contributions from cast and crew are welcome.
Aside from the heavy topic of the story, we had a great time during the shoot. There was a lot of laughter and high fives and a general sense of pride that we are making something out of nothing.
The $64-question of course, where can your movie be seen?
We just started our festival run and we are grateful that the first time Jumper will be seen publicly will be at The American Pavilion Emerging Filmmaker Showcase in Cannes as well as the Short Film Corner.
Jumper screenings:
Sunday, May 19th 4 p.m. - The American Pavilion Emerging Filmmaker Showcase
Wednesday, May 22nd 12 p.m.- Marché Du Film – Palais G
As we get into more festivals there will be more screenings in the near future and we'd be happy to share those as they come.
Anything you can tell us about audience and critical reception of Jumper yet?
The feedback has been overwhelmingly positive. We honestly didn't expect that when we were developing and shooting the film. We were mainly focused on honoring the story the best way possible.
Monika Skerbelis, director of The American Pavilion Emerging Filmmaker Showcase said, "Jumper is selected for the American Pavilion Emerging Filmmaker Showcase because of its timely subject matter, wonderful characters and unflinching looks at suicide and the "Q" in LGBTQ."
Any future projects you'd like to share?
We are currently in post production of two comedy shorts, Receive and The Pitch. I am also developing a dark comedy thriller feature film as well as a couple of TV pilots.
As far as I know, you entered the filmworld as an actor - so what got you into acting in the first place, and did you receive any formal training on the subject?
As a teenager, my dream was to become a rockstar. I fronted a couple of heavy metal bands in Egypt before moving to the States to pursue that dream. Then I sort of fell into acting by doing a small role in a short film which ignited my love for the craft. I lived in Chicago at the time and pursued acting full force by taking classes, doing theater and improv.
Then I moved to LA to pursue acting full time. I've been very fortunate as I have worked with many of my idols, such as Clint Eastwood, Bradley Cooper, Jeff Daniels and many more. It's been an amazing journey.
How would you describe yourself as an actor, and some of your techniques to bring your characters to life?
For me, acting is the culmination of everything I've done in my life so far. My life in Egypt, being a tour guide there, playing in heavy metal bands, working in corporate America, doing standup comedy, writing, editing, directing, it all feeds into my acting.
All these experiences come through here and there in every character I play. I play myself in the situation of the story.
Eventually, you also picked up writing, producing and directing - what prompted that move?
I've always been a writer, I just never claimed it until several years ago. When I was in elementary school in Cairo, I participated in a short story competition and won first place and was given the prize at a big reception by Susan Mubarak, Egypt's first lady at the time. Also, writing lyrics and poetry during my band days helped my word economy when writing dialogue.
While I love acting, I love creating and I don't want to stand still in between acting work. That's why I started creating my own content. To provide opportunities for myself and others.
What can you tell us about your filmwork prior to Jumper, in whatever position?
As an actor, I have appeared in American Sniper and several indie features and shorts as well as many primetime TV dramas, such as NCIS: New Orleans, The Looming Tower, Scandal, Madam Secretary and several others.
My first produced script was Toppled - https://youtu.be/M4Eu0_SGTeU - which was directed and co-produced by my talented friend Paul DeNigris who also helped us with some visual effects for Jumper.
I also wrote, produced and directed many sketch comedy videos and some commercials for a YouTube channel I used to manage.
Jumper was my directorial debut, followed by Receive and The Pitch which I write as well.
Filmmakers, actors, whoever else who inspire you?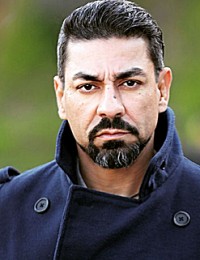 Feeling lucky ?
Want to
search
any of my partnershops yourself
for more, better results ?

The links below
will take you
just there!!!


Filmmakers that inspire me, Steven Soderbergh as he is constantly renewing and challenging himself to not fall in a status quo. Also, Quentin Tarantino for his rebellious and authentic voice.
Actors, Woody Harrelson who's simple approach to complex characters is always mesmerizing.
Musically, the late Ronnie James Dio was the catalyst of me becoming a rock singer. I am also inspired by the brilliance of the legendary George Carlin who's command of the language was poetically impeccable.
Your favourite movies?
Just one? The Good, The Bad and The Ugly.
... and of course, films you really deplore?
Knowing the amount of work and energy put into making a film, I can always find something to appreciate in a movie. Even if it's simply what not to do. But I really think we need to slow down on sequels and try try to create new stories with new heroes.
Your/your movie's website, Facebook, whatever else?
You can learn all things Jumper here: https://www.facebook.com/JumperShortFilm/
or here: https://aymanation.com/
Anything else you're dying to mention and I have merely forgotten to ask?
If you have a story that you believe in, don't wait till someone hands you an opportunity. Take it upon yourself to tell that story because it chose you and no one else can tell it through your unique filter.
Thanks for the interview!
All movie stills and behind-the-scene shots by Shakeel Bin Afzal.