Your new movie Jumper - in a few words, what is it about, and what can you tell us about your character in it?
Jumper is about distressed Middle Eastern crisis negotiator Jack Salama who reports to my character, Senior Agent Nola Rimes. Just as Jack decides he cannot continue with his own life, Nola orders him to rescue a jumper off the ledge, but he is no condition to do so. Nevertheless, Nola doesnít take no for an answer because she knows that Jack is the only one in the unit that can pull this off. Her compassion for Jack is apparent without her having to communicate it. Jack gives in, only to find himself on a rooftop with another Middle Eastern young man (M.J.) on his wedding day. Jack quickly realizes that his negotiation tactics wonít apply to this case and that heíd have to connect with M.J. in a way heíd never connected with another jumper before. They both find themselves at the edge of the world, and here, the story takes on another color.
What did you draw upon to bring your character to life, and how much Rasha Mohamed can we actually find in Nola Rimes?
Nola is a strong, confident woman who doesnít let anyone deter her from reaching her objective. She is hard on herself and always needs to prove herself. After all, she's in a workplace that is dominated by men. However, there is a softer, more vulnerable side to her. Nolaís character helped me tap into own strength and vulnerability. My previous career was in the financial industry, also a very male-dominated sector so I had to work harder because I was a woman. I moved up the ladder until I was in the same conference rooms as C+ suite individuals. Also, growing up at home, I observed my motherís strength and confidence. As immigrants from Egypt, both of my parents felt that to succeed in America, we had to work harder than everyone else. They taught us to be strong, but they didnít teach us to be vulnerable, because that was a sign of weakness. It was only when I started acting that I discovered the world of vulnerability.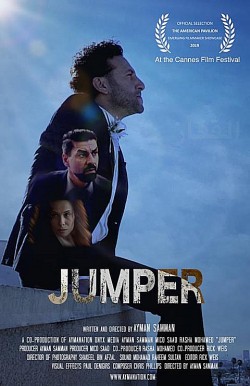 How did you get involved with the project in the first place, and to what extent could you identify with its subject matter?
Iíve always been intrigued by what it takes to be successful and Iím never afraid to reach out to people whose work I admire so I can learn from them. So I reached out to Jumperís director Ayman Samman [Ayman Samman interview - click here]. However, at that time, Jumper wasnít even on the radar. But I had admired his work as an actor and for taking on roles that donít reinforce the stereotypical on-screen Middle Eastern characters who are portrayed as enemies of the state. He is also Egyptian-American like me, which is a rare combination in Hollywood. I learned about his experience, challenges and what it takes to succeed in the industry. I also discovered that his vision aligned with mine. We both wanted to create art that represents our community in a light that humanizes us. Basically, tell authentic stories of Middle Eastern ďpeopleĒ, not monsters. Months later, when Jumper was conceived and Ayman shared the script with me, I instantly signed up. First, because I felt that the subject matteróthe struggles of the Middle Eastern LGBTQ communityóneeds to come to the surface. And because the message of acceptance
and tolerance really resonated with me. As an immigrant seven-year-old child, who did not know the language or culture of this land, I only wanted to be accepted and loved in my new home, America. But I had to accept myself and own my identity first. I identified a lot with M.J. in this respect.
What can you tell us about Jumper's director Ayman Samman [Ayman Samman interview - click here], and what was your collaboration like?
Ayman was the kind of director that climbed the rooftop ladder last. Ok, let me explain. Most of Jumper was shot on a rooftop and we had to climb and descend a very narrow rooftop ladder, many times, while carrying our gear. That was frightening because I recently cured my acrophobia by climbing Half Dome in Yosemite, and I was afraid that I would relapse and not be able to finish the shoot, But Ayman made sure that wouldnít happen. He ensured everyoneís safety, before he took to the ladder. That to me, tells a lot about a director. Before anything, he is a human being. Ayman also knows exactly what he wants and how to communicate it. Having worked with directors whom clearly didnít know what they wanted to reach, or knew what they wanted, but didnít know how to communicate it, I appreciated that in him. However, we still worked in a collaborative atmosphere and shared our own ideas of how to best serve the story. Collaboration was key to him, and thatís what made working with him such a pleasure.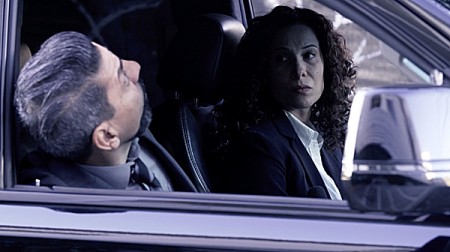 Do talk about the shoot as such, and the on-set atmosphere!
I read once that the most fun Anthony Hopkins had was on the set of Hannibal. I was astonished, considering how eerie the film was. Jumper emulated that because we had so much laughter telling a very difficult story. Mico Saad [Mico Saad interview - click here] (star/producer) kept us laughing while on the ledge. His energy was contagious. Shakeel Bin Afzal (director of photography) and Mohamad Raheem Sultan (sound) are such wonderful human beings and so much fun to work with. I mean if youíre not having fun, then why are you in this business? Something else was that we were only a five-person cast/crew, and all are people of color. Three of us are Egyptians (Ayman, Mico Saad and me). Iíve never been on a set with such a demographic. There was a common thread that bound us together.
Any future projects you'd like to share?
We have two short films in post-production that Ayman and I co-wrote, starred in and produced with Mico Saad, Receive and The Pitch. Iím also working on a screenplay about Executive Order 13823. This order aims to keep Guantanamo Bay Prison open, reversing Obamaís executive order to close it in 2016.
What got you into acting in the first place, and did you receive any formal training on the subject?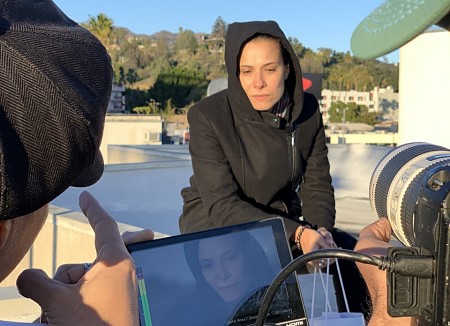 When I decided to become an actress, I believed that in order to succeed in this unfamiliar territory, I first had to set my purpose. And that was to give a voice to the Middle Eastern, Arab and Muslim community that has been portrayed in American media as ďthe otherĒ. The seed for this started when I published my masterís thesis in Mass Communication and Journalism which was a content analysis of the portrayals and images of Middle Easterners, Arabs and Muslims in American media. The findings were astonishing because there is no other group in America that has constantly been vilified like this group of people since silent films. African-American, Italian, Jewish and Latin communities have seen their share of stereotypes and negative images on the screen, but that has changed and continues to change. But our portrayals havenít. Although the images changed, the negative messages didnít. According to the media, we are the enemy, the ďotherĒ, the villain. We are barbarians that need to be civilized and only America can do that. As for women, we were previously portrayed as harems, exotic and belly dancers. That has morphed into images of women who are oppressed, submissive and weak. At that time, I concluded that one of the reasons that the ďrealĒ us is absent from the media was because very few Middle Easterners worked in the media and they were not decision makers. So I guess all this was in my subconscious, and finally it poked my conscience and said hey, this is important to you, do something about it. So I decided to be one of those people that fill that gap in the media. Because thereís no better person to tell your story than you. So I enrolled into acting school and that was the first step.
What can you tell us about your filmwork prior to Jumper?
I actually started acting only a year and a half ago, and at that time I was focused on theater and working on my craft. Since then Iíve been in three theater productions. As for film, I have starred in a few shorts, co-written and produced two. Iím currently developing my own short film, which I plan to direct.
How would you describe yourself as an actress, and some of your techniques to bring your characters to life?
Well, when I started acting, there was a voice inside my head that told me that I entered this industry too late and that I should just quit now. I told my acting coach about my concerns because I felt lost. He said something that silenced this voice forever. He said that being a latecomer was actually to my advantage, because I had a life prior to acting. And that I would be able to channel my experiences and breathe life into my characters, whether good, bad or ugly. I guess I would describe myself as a medium. But the most important thing is that I give myself the freedom to continue exploring different parts of my character, even if Iíve already my made my choices. For example, in a play that I just finished, I discovered something completely new in two of the characters that I played, in that last week of production, so I readjusted and made different choices. I felt more authentic.
Actresses (and indeed actors) who inspire you?
Viola Davis, Taraji P Henson, Meg Ryan, Tracee Ellis Ross, Dustin Hoffman, Denzel Washington, Joaquin Phoenix.
Your favourite movies?
La vie en rose, Dead Ringer, Rope, Sleepless in Seattle, Rain Man, Memento.
... and of course, films you really deplore?
Any film that deliberately aims to make America the savior of all humankind.
Your/Your movie's website, Facebook, whatever else?
Instagram: @RashaMohamedHere
Twitter: @RashaMohamedNow
Jumper Trailer: vimeo.com/332312323
Facebook: facebook.com/JumperShortFilm/

Feeling lucky ?
Want to
search
any of my partnershops yourself
for more, better results ?

The links below
will take you
just there!!!


Anything else you're dying to mention and I have merely forgotten to ask?
Taking Jumper to Cannes Film Festival was such an honor that we had not anticipated. I am grateful to have had the opportunity to work with such an incredible team who cared about the story and about each other. The energy that we put into Jumper was what helped bring it to the international community. I am grateful for it all.
Thanks for the interview!