Your new movie Silence & Darkness - in a few words, what is it about?
The movie is a quiet thriller about two sisters, one blind and the other deaf, who live in the country with their father, who appears to be mentally unstable. And the question that drives that plot is, whereís mom?
What were your sources of inspiration when writing Silence & Darkness?
The script was reverse engineered, meaning I wrote it knowing the resources I had available to me, which included everything from the actors to the locations to the props on set. So, inspiration was actually derived from my limitations. I crafted the story around them. I think itís great to have limitations that force you to focus on what kind of story you want to tell.
Of Silence & Darkness's three lead characters, who can you actually identify with the most?
Thatís a great question. The truth is, I identify with each of them since they all came from me. Yes, even Father. I am the first to admit that the actors brought enormous depth to each character, making them far richer than they were on the page or in my head. I wish I was as smart and curious as Anna or as trusting and talented as Beth, but if Iím being honest Ė Iím probably closest to Mrs. Bishop.
What can you tell us about Silence & Darkness's approach to the thriller genre?
The goal, which dictates the approach, is first and foremost to tell a compelling story. Once I had the story mapped in my head, I could then turn to the tone and atmosphere and how I wanted the story to unfold. It was a bit accidental this story fell under the thriller genre. I never set out to make a thriller. I just had this idea of how I wanted the audience to feel while watching this odd family dynamic play out. My intention was that, for the duration of the film, the viewer would feel like someone was lightly pressing on his/her Adamís apple. How scenes would unfold, where to put the camera, when to cut, etc., all hinged on my desire to maintain that feeling. Naturally, I was aware we were playing into certain tropes of the horror/thriller genre. However, we made many choices to flip such tropes on their head, such as: not having a score, not having jump scares, barely any blood on screen, etc. Yet, it still somehow falls nicely into the Ďthrillerí space.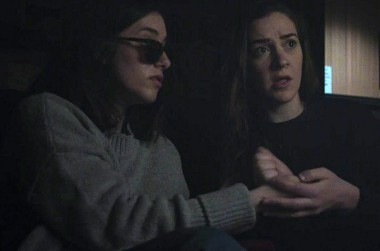 Do talk about your overall directorial approach to your story at hand!
My approach as a director is simply to do my utmost to serve the story that was written. At the same time, I remain open to new ideas that arise while in the course of filming. Both the actors and the crew made many suggestions as to what a specific character might do in a specific situation. Omar Nasr, our DP, and I spent much of our time on set discussing where to place the camera in order to maximize the performances of the actors and to maintain a consistent tone.
Given the respective challenges of your two female lead characters, how hard was it to find the right actresses for the roles?
Iíll start by saying that Mina Walker and Joan Glackin are not blind or deaf. However, casting them wasnít hard. I wrote the film with Mina (Anna) and Joan (Beth) in mind. I knew them personally and knew they would be able to do these characters justice. Watching them play Anna and Beth was probably my favorite aspect of making the movie.
What can you tell us about the rest of your movie's cast, and why exactly these people?
Jordan [Jordan Lage interview - click here], who plays their father and the townís doctor, is phenomenal. I was introduced to him via Joan and Mina Ė he was one of their acting professors at the Atlantic Acting Studio in New York. I saw him in a David Mamet play and knew he would be perfect.
As for Sandra Gartner (Mrs. Bishop) and Ariel Zevon (Mrs. Long), they are local Vermont actors, which is where we filmed. So, like what often happens in movies, their casting was based on practicality. They were great for their respective roles and available. We enjoyed having both on set.
A few words about the shoot as such, and the on-set atmosphere?
The shoot was an amazing experience. We filmed for 18 days in a small town in Vermont. Iím purposely not giving the name because I feel the people there might not want their townís name tainted by this kind of movie. Every person we came into contact with was nice and eager to participate, bending over backward to help us, whether by donating props or allowing us to film in their shops or places of business. This film was made on a tiny, tiny, tiny budget. The actors and crew all slept in the very house that is the familyís house in the film. It was a five-person crew film, including my mom, who was on set and helped with the catering. It felt like an intimate summer camp.
Anything you can tell us about audience and critical reception of Silence & Darkness?
We screened at the DC Independent Film Festival to a full theater. And I remember afterward someone saying that we created the Ďmost evilí character they had ever seen on screen, which I took as a big compliment. As for critical response, weíve heard from many people in the indie/arthouse community, as well as hardcore horror fans who have enjoyed the film immensely. I think Silence & Darkness has the potential to reach a broad audience if given the chance.
Any future projects you'd like to share?
Everything is so up in the air this past year. But I do have a few features that I would like to see made, as well as a mini-series Iíve been working on for the last year. I canít really say more than that. I hope I get a chance to keep making movies and hope to see them in a theater someday.
What got you into filmmaking in the first place, and did you receive any formal education on the subject?
I was definitely the kid who watched way too much television and movies. My family are big movie-buffs. I was watching The Sopranos at age ten, and when I was twelve, I remember my grandfather bringing me to his home in Jerusalem for the sole purpose of screening The Big Lebowski for me. He was trying to teach me what not to become in life. But I just came away thinking this is the greatest movie Iíve ever seen.
As for making films, my high school in Israel had a film program. So I started making short films when I was fifteen, and after my mandatory military service, I attended NYUís Tisch School of Film and Television Production, which is where I met the cast and crew of the film.
What can you tell us about your filmwork prior to Silence & Darkness?
This is my first feature film. Prior to Silence & Darkness, I made a couple of shorts; both were comedies that played at several US festivals. They were a lot of fun to make, and you learn a lot every time you make a movie, no matter the runtime.
How would you describe yourself as a director?
I donít want to pigeonhole myself, so Iím not going to say Iím a genre director. I hope to make many movies, and I hope each one is different. I also write, so, at present, I find it hard for me to detach writing from directing, although there are scripts written by other writers that I believe I could take and make the story my own.
Filmmakers who inspire you?
Iím equally inspired by a filmmakerís process as I am with their films. So here are a few that I find inspiring in both regards: Stanley Kubrick, Lynne Ramsay, Yorgos Lanthimos, Emir Kusturica, Francis Ford Coppola, and Iím Israeli and love talking about Israeli creatives. Joseph Cedar is a fantastic writer/director, and I was lucky to work with him on his last movie Norman with Richard Gere, who is so much fun and heartbreaking to watch. Everyone should see his films.
Your favourite movies?
Probably the hardest question to answer. I love Dr. Strangelove, or: How I Learned to Stop Worrying and Love the Bomb. My writing partner and I always talk about how Silence of The Lambs is a perfect movie, so Iíll put that on the list. And I have to go with The Big Lebowski because itís great and it makes me think of my grandfather. And Kusturicaís Time of the Gypsies, probably the first movie that made me realize you can do anything in movies.
... and of course, films you really deplore?
I donít deplore any movie unless you count torture/snuff films. And the Minions movie.
Your/your movie's website, social media, whatever else?
Check out silencedarknessmovie on Instagram!

Feeling lucky ?
Want to
search
any of my partnershops yourself
for more, better results ?

The links below
will take you
just there!!!


Anything else you're dying to mention and I have merely forgotten to ask?
Iíd be remiss not to give thanks to the entire cast and crew that worked on this film. Because the film was made with so few people, it feels like the process was much more collaborative than on a 100-person set where hierarchy is king. This film belongs just as much to Pablo Burn, my producer and creative brother, Omar Nasr, whose ability to utilize natural sunlight is always astonishing to watch, Colton Fordyce, our editor and always the smartest person in the room. I donít think I could have made the film if I didnít know he would be the one putting it together. Sam Beneitone, our sound designer, who added a layer of texture to the film that I think at many points outweighs the visuals. And, of course, Mina, Joan, and Jordan, to whom Iíll forever be grateful for bringing these characters to life and elevating every scene.
Thanks for the interview!