Your new movie Silence & Darkness - in a few words, what is it about, and what can you tell us about your character in it?
Itís been a while since we shot the film, but to the best of my recollection, itís about a newspaper tycoon whose dying word ďRosebudĒ has the world scrambling to decipher its meaningÖ
Um, not to give anything away, but our film is really about two young sisters (Mina Walker & Joan Glackin), one deaf, one blind, who are attempting to decipher their own family mystery about what really happened to their deceased mother and why their physician father seems to have an inexplicable agenda of his own. Anything less cryptic would spoil a viewerís enjoyment. The role I play, that of the father/doctor, is as dedicated a loving parent as he is to the science of his profession.
What did you draw upon to bring your character to life, and how much Jordan Lage can we find in him? And given your character isn't exactly "father of the month", to what extent could you even identify with him?
Aside from what Barak [Barak Barkan interview - click here] provided in the script alone that I could identify with to play the role - his curiosity, dedication, professionalism, ethos, traits of which I think I possess to varying degrees -, the primary thing I had in common with him is that I have a daughter myself who was 12 at the time of shooting, and to whom I was and still am devoted selflessly. The scenes where I could draw upon that aspect of my personal relationship to her - singing Under My Skin, educating the girls about disease, etc. - were the ones that resonated the most with me. As I said, he has an ethos, odd as it is, but itís essentially a dedication to principle, which I felt I could tap into, though his principles diverge somewhat from my own.
How did you get involved with the project in the first place?
My involvement in the film came about from Mina Walker & Joan Glackinís recommendation of me to Barak. They had been writing students of mine a year previously at New York University and graciously suggested my name to Barak as a possibility for the role.
What can you tell us about Silence & Darkness's director Barak Barkan [Barak Barkan interview - click here], and what was your collaboration like?
Barak and I got along pretty well, I thought. It was basically, ďOK, weíre gonna do this unsettling thing today,Ē and I would ask ďWell, Barak, whatís my motivation?Ē And heíd say ďThe millions youíll make in deferred payments when this becomes a cult film in two decadesĒ and Iíd say, ďOK, make the checks out to my daughter.Ē When we got bored of talking about motivation, cinephiles that we are, weíd talk about movies we loved. I recall he was partial to Russ Meyer films; I tried unsuccessfully to school him in Fellini, Renoir, Ozu, and Dreyer. Heíd never heard of them. Iíd say, ďWhat did your $400k in tuition get you at NYU?Ē
Do talk about the shoot as such, and the on-set atmosphere!
The on-set atmosphere, most of which took place at the Barkan family compound in Warren, VT, was generally collegial. I was the old, experienced fart among the youngsters, so naturally they hung on my every word and begged me to tell them stories about working with Don Ameche, Sidney Pollack, and Charles Durning. After hours of anecdotes and answering questions, Iíd retire for the night, leaving them to drop acid and try to identify the constellations. Personal time was spent going for long walks on the dirt roads of Vermont, endlessly going over the song Under My Skin, both singing it (as best I could) and signing it. I had a great ASL coach who worked with me on the film - Monique Holt - to whom I am indebted for her patience and skill in translating my dialogue into sign language, so I could communicate to Joanís character.
Any future projects you'd like to share?
Future projectsÖ Iím currently shooting a recurring role in HBOís Succession, their 3rd season which we just began filming at the end of 2020. And Iíve got another independent film coming out this year at some point, Rushed, in which I play a corrupt, asshole senator. Heís a Republican. Coincidence?
What got you into acting in the first place, and did you receive any formal training on the subject?
What got me into acting was my mother and aunt taking me to theater and movies as a kid, so blame them. Seminal films that made me go ďThatís what I want to doĒ were watching Mark Lester and Jack Wild in Oliver! when I was 5 or 6, and then a few years later, seeing Gene Hackman in The Poseidon Adventure and The French Connection. After that, there was no going back. I went to New York University to study acting and wound up in a class for two years taught by David Mamet and his pal William H. Macy. Whatever talent can be said that I possess should be attributed to them.
What can you tell us about your film and TV work prior to Silence & Darkness?
I always only wanted to make movies. Studying acting for the stage was my way in, so I thought, and itís a medium I happily lingered in for much longer than my bank account could tolerate. Fortunately, Iíve been able to toggle back and forth between theater and film & television slightly lucratively for the past couple of decades, but I like to think my low key style lends itself more so to the minutiae-exposing subtleties of the camera. I prefer the less is more approach to acting, taking my cue from actors such as Trevor Howard and Anthony Hopkins, two artists whose jockstraps I could never even hope to imagine carrying.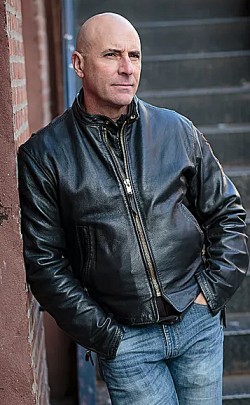 For me, honestly, film & TV were media where I could earn enough to make ends meet. At this point in my life, that is an impossibility if I were just to do theater. Film & television have the extra incentive of residuals, which can help to boost a yearís total income, unless youíve worked for HBO. My theater roles have been more artistically rewarding, but only a fraction of audiences have seen me in a David Mamet play - of which Iíve done many - compared to junk like HBOís Oz or Huluís The Path. Prouder accomplishments among TV and film stuff are Mametís films, Huluís The Looming Tower, HBOís Boardwalk Empire, the various LAw & Order permutations, and CBSís Madam Secretary.
Having worked both on feature films and TV series, how do these sets compare, and which do you prefer, actually?
Film sets are easier than television sets, less stressful. There isnít the time crunch that you have on episodic, unless itís a bare-bones indie. Barakís film was not stressful at all. It was rather family-like, with a skeleton crew, and Barakís mom Nathalie cooking for us. We even celebrated Passover dinner together one night. A lovely memory.
Besides appearing in front of the camera, you've also done your fair share of theater work - so what can you tell us about that aspect of your career?
I did a bajillion plays with a theater company I helped to found at the end of my NYU days, the Atlantic Theater Company. Weíre in our 36th year of existence this year. I did roles and plays with my company I never would have had the chance to do elsewhere. For that I am grateful. It sucks though that thereís no filmed record of the best of those productions. Cíest la vie, as the Albanians say. Iím proudest of the opportunities Iíve had to perform in David Mametís plays. Iíve performed in close to 30 of his plays, on stage and on the radio, in multiple productions such as American Buffalo and Glengarry Glen Ross. It literally does not get any better.
One other thing about my theater work. Though I may have made it sound like the lover Iíve spurned, as it is with so many young loves, itís where I have the fondest memories and where I had the most rewarding experiences. Nothing Iíve done in film & television compares to the thrill of the best roles Iíve been lucky enough to have performed on stage. I suspect at this stage in my career thatís unlikely to change. But if an enterprising film director has other thoughts, my representation is Entertainment Lab in New York & LA.
How would you describe yourself as an actor, and some of your techniques to bring your characters to life?
My guiding principle as an actor was to always be as truthful as possible, as veristic as possible, within the parameters of the style of a piece. Are you asleep yet? Iíll continue while you nap. What always attracted me to a performer was their sense of truth. If they made me forget they were acting, I was in thrall to them, and I strove to emulate that quality with varying degrees of success. To do that - Iíll be brief here, I hope - I figure out what the hell it is exactly Iím doing in a scene, making the dialogue, as tortuously contrived as it sometimes could be, sound as natural as possible, and committing to it in as dynamically a way as I could without making the audience think ďOh, stop with the overacting!Ē Thatís it in a nutshell. Itís what I always found most appealing in actors I liked. Those whoíve been touchstones for me
Actors (and indeed actresses) who inspire you?
The abovementioned Msrs. Howard & Hopkins, Geraldine Page, Dunaway, Hackman, De Niro, Pacino, Hoffman, Roy Scheider, Robert Shaw, Redford, Plummer, Brando (sometimes), Giulietta Masina, Celia Johnson, Jean Arthur, James Stewart, Judy Davis, Jane Fonda, Denzel, Olivier, later Charles Laughton, Michelle Yeoh, Zhang Ziyi [Zhang Ziyi bio - click here], Chow Yun Fat.
Your favourite movies?
I have a lot of favorite movies, but hereís the top whatever: Chinatown, The Godfather, The Godfather Part II, The 400 Blows, Jaws, The Umbrellas of Cherbourg, Brief Encounter (Lean), La Strada, The Bicycle Thief, The Towering Inferno, The Poseidon Adventure, Casablanca, Black Sunday (Frankenheimerís), Marathon Man, Mean Streets, Raging Bull, Lawrence of Arabia, Jean de Florette/Manon of the Spring, Days of Heaven, The New World, Close Encounters of the Third Kind, Midnight Cowboy, The French Connection.
... and of course, films you really deplore?
I donít really deplore any films. Or maybe I just donít think about ones that I do. Too much goes into the making of a film that Iím loath to badmouth any knowing what it takes to get something up on the screen.
Oh all right. The superhero movies. Iíve zero interest in them.
Your website, social media, whatever else?

Feeling lucky ?
Want to
search
any of my partnershops yourself
for more, better results ?

The links below
will take you
just there!!!


You can find out whatever you might want to know about my professional credits at jordanlage.com. Any other of my social media sites are a complete waste of your time.
Anything else you're dying to mention and I have merely forgotten to ask?
Oh, I love to travel. If Barak wants to make another movie in Vermont, or say Israel, Iím happy to play somebodyís grandfather.
Thanks for the interview!