Your new movie Tales of Poe - in a few words, what is it about?
Tales of Poe is an anthology feature based on the writings of Edgar Allan Poe. We adapted 3 of his stories: The Tell-Tale Heart - written and directed by Bart Mastronardi. The Cask of Amontillado written and directed by Alan Rowe Kelly. And Dreams, directed by Bart Mastronardi and based one of Poe's poem of the same name with a script co-written with Michael Varrati.
Edgar Alan Poe is one undisputable great of horror of course ... but still, what drew you to his writings, and to the stories represented in Tales of Poe in particular?
Bart Mastronardi: Since I was able to read I have been fascinated by stories of the macabre. I was introduced to Poe's writings in high school and I remember I couldn't read enough of his work. His approach to writing is artistic, dark, gothic style and vivid. Poe is more psychological and character driven. When I wanted to make a new movie, a short film, I wanted to adapt a source of literature. I had worked with actress Debbie Rochon [Debbie Rochon interview - click here] and knew I wanted to direct her in something. The Tell-Tale Heart was the perfect story to do with her in. The Tell-Tale Heart is my favorite of Poe's work. The Cask was something I thought would be great for Alan, but I gave him two of Poe's stories to decide on, the other being Masque of the Red Death. With budgetary constraint Alan chose to do The Cask, which feels so much more the style of Tales of Poe. Poe's poem Dreams is a beautiful poem that he had written and it is unknown by many. It contained all of the aspects Poe was known for and it is just so lyrical. I knew it would be a challenge to make it into a short. It is rare filmmakers make movies based on poems, but working with Michael Varrati as he adapted it was a dream.
Related to the last question, how did the project fall together in the first place?
Alan Rowe Kelly: Tales of Poe is Bart's brainchild. Originally he wanted 3 tales directed by three different directors and I wanted in! Once he agreed, I had him pick which stories he thought appropriate to my style of filmmaking, so he offered me The Cask of Amontillado or Masque of the Red Death. I love Masque of the Red Death but quickly realized that it would need a larger budget to convey the colorful, grandiose background of the story. At the time I was trying to develop a script for myself and Randy Jones (The Village People) for another anthology, but my story wasn't jelling and I put it on the back burner. Once I read The Cask of Amontillado, I immediately realized that this was the answer to completing that tale. It was a definite sign to me that we were on the right track. Bart received funding through Nicole Alexis Kane to do The Tell-Tale Heart. We filmed that and spent many months together in the editing room. The following year we were both hired as line producer and cinematographer for Mike Watt [Mike Watt interview - click here] & Amy Lynn Best's latest feature Razor Days. Thanks to that film and Mike and Amy's enthusiasm on viewing The Tell-Tale Heart, they put us in touch with Robert Kuiper who funded many of their features. We made proposals and, after Robert viewed The Tell-Tale Heart, he gave us the green light to complete the rest of the film. Amy Lynn & Mike came onto The Cask as producers and also appeared in supporting roles. We owe them a debt of gratitude for their help. It's not everyday you find filmmakers willing to help other filmmakers out of shear kindness and belief in what you do - VERY rare!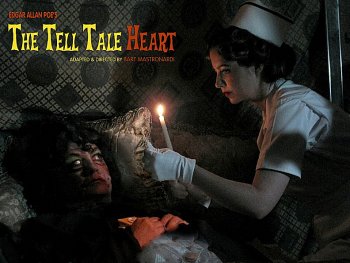 Bart: I truly wanted to create an anthology film that was different than many of the other anthology films out there. Going into a more classic style of movie making and having it feel like a classic Hollywood film and book of literature is where my mind went when thinking it out. I thought that by bringing on different directors to the project it would allow us to do just that. Since I was creating Tales of Poe I thought it be a great idea to be the first to make The Tell-Tale Heart and the rest would follow after me. Alan then went on to make The Cask. Once the other directors were unable to make their Poe adaptions due to budget constraints did Dreams come about. The film will always tell you what it needs and Tales of Poe only wanted these 3 pieces for this film. Looking at what Alan and I were able to produce and direct, I can say it is a beautiful film.

When writing your respective stories, to what extent did you actually feel forced to stay true to Poe's writings, and what were your other sources of inspiration of course?

Alan: I never felt forced by his writing. I was actually inspired by it when it came to re-adapting The Cask. I did know it would be viewed widely and whatever liberties we took in expanding the stories and characters would be watched by the discerning eyes of Poe aficionados. Will both the Poe enthusiasts AND the horror fans enjoy it? We did feel a responsibility towards the writings but also not make ourselves slaves to it by producing another carbon copy. In my mind, what Roger Corman [Roger Corman bio - click here] created with his Poe series in the 1960's was so brilliant, why bother even attempting to touch it? So Bart & I brushed off the slates in our heads and used the stories as templates for the films we really wanted to make. That's what readapting is all about - a fresh new approach. You have to make it yours. Poe's writings leave so much open for interpretation and we didn't want to fall into the gothic, 'corset cinema' stylings of so many previous films. Our goal was to create something unexpected and different. Bart and I worked very closely and in different capacities for each chapter. Bart would direct The Tell-Tale Heart and I would follow his direction as an actor and see to his needs as production designer and art director. Then I would direct The Cask and Bart would become my chief cinematographer and producer. On Dreams we collaborated on all the creative areas to ensure Bart's vision. We passed the hat of responsibility for each chapter so the pressure would not be solely on one person ALL the time. And that is a very comforting feeling having another shoulder to lean on and know they're watching your back as well.

Bart: When writing an adaption to any writer's work I feel that you have to keep true to a degree. The skeleton of the story must be there, but making a movie you have to remember that it is a visual story for the audience. Keeping it cinematic is the challenge. When I began adapting The Tell-Tale Heart I knew this story has been done cinematically many times theatrically, on radio etc. I needed to bring something that others had not done. I read a great book on Martin Scorsese and he happened to discuss adaptation and his exact words were: "Keep it cinematic!" I kept Poe's story but began putting my own muscle on the skeleton: 1950's, Old Hollywood, silent aged film star, insane asylum, deranged nurse. All this just layered what Poe had already written. I only embellished for cinematic purposes to visually tell his story. On Dreams Michael Varrati [screenwriter] had the task of creating an original story out of a poem, which was quite challenging. Michael wrote a beautiful script. Once I was directing Dreams it just spun itself through the costumes, sets, performances, editing, sound and all great ways to visually bring it to life. "Keep it cinematic!"

What can you tell us about your third writer, Michael Varrati, and what was your collaboration with him like? And given he has taken the associative route to tell his story, what were the challenges to put this into pictures?

Bart: Michael is an incredibly hard working writer. He loves writing, so to ask him to adapt Dreams into a short screenplay was such a great way to collaborate with him. Michael and I have been friends for years, so I knew how he worked. We would have discussions on other filmmakers, movies, art and writers who inspired us to create the world of Dreams. With our discussions Michael went off and then wrote Dreams. Michael put so much beauty into the piece that Poe had given us in his tone. Dreams is a beautiful and tragic story filled with surrealism and fantasy. The challenge for me was to then take what he wrote and fit it into a budget, which looking at the film works so greatly. Since Alan was also producing Dreams with me, we spoke about how to make costumes and sets on the budget we had.

What can you tell us about your overall directorial approach to your stories at hand? And since you both had a hand in the making of each other's segments, to what degree did you share creative control in one another's films?

Alan: In respect to theme, plot and characters, we both took off in our own directions by changing locations, character genders, time periods and adding a more surreal touch. Poe has been adapted on film each decade by the dozens since silent pictures So it was challenging to find a new approach and tell it through both of our individual filmmaking styles. For The Cask I wanted a story of betrayal, deceit and revenge. So instead of 2 main characters, I developed 3 and put them into a twisted love triangle. I wanted a strong ensemble cast and had the events take place during a wedding celebration on a vineyard estate. Bart looked at the sets, characters and locations and lensed it into a giallo. He approached the lighting with an Argento-esque Euro styling; bold colors, indirect beams of light in blues, reds, indigos, greens and golds. He distorted his lenses and used a lot of hand held movement (there's no arm steadier than Bart's…lol!). As artistic as I am, Bart is equally so with his camera. I would never hold him back from a new idea while shooting and I always give him free reign because I know his eyes will capture the beauty of the moment, be it terror, dread, sadness or joy. He paints with his eyes and I love the atmosphere he created for The Cask. Creatively, making Tales of Poe was so very gratifying. I've worked with Bart for 10 years now and we have been fortunate enough to share and create on many features and shorts since then. Our approach to filmmaking is very different and yet very much the same - if that makes any sense! Lol! We do tend to finish each other's sentences on set and balance each other's stress levels very well. When Bart is in charge of a production, I gladly follow his lead to provide him with everything he needs. Working with him has been one of the great pleasures of my career. So as for art directing on The Tell-Tale Heart and Dreams, I will let him elaborate…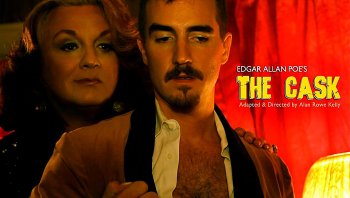 Bart: First off working with Alan is one of the great pleasures in this business. This man works! And he works damn hard. In this business that is a rarity to have with a collaborator and business associate. I am truly blessed. I love making movies the same way Alan does, so that creative passion we have to make Tales of Poe comes from our own love of movies, art and our work ethics. Whether the budget was high or low we would figure out how to create the visuals and use cinematic techniques to tell our stories. Alan and I have worked together for over 10 years on each others projects and various projects for other fellow filmmakers. We understand one another's needs and wants on our projects. We also listen and know what the project needs. I may come up with something and he might be able to transform it into something better and vice versa. A director's job easy: "yes" or "no". We are there to serve the needs of the project. The best thing about it is that we balance each other out creatively on the project. There is no ego here between us. We want what is best for the project, not for our careers. We know that if the project is successful then we have moved our career forward. Either way we are going to make movies regardless, so by sharing each other's strengths we do can only benefit our work. Working on Alan's film as cinematographer as he directed and acted in is a great experience because he trusts me and with Alan there is no ego involved to crush the work. He simply wants what is best for the project. As myself a director, he too trust me enough to offer any performance advice I can give since I am also behind the camera seeing the role form. When I am directing, Alan, is there to do the same for me when challenges arise on set. At the end of the day we walk away laughing and totally satisfied with what has been wrought for the day's work.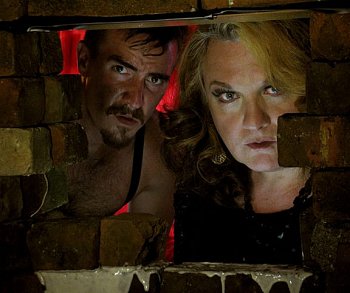 Alan, you have played lead characters in two of the three segments - so what can you tell us about your characters, and what did you draw upon to bring them to life?
Alan: I have to admit I was very lucky to fulfill two of my acting dreams with this film. Peggy Lamarr in The Tell-Tale Heart was a great character to play and Bart made it very easy for me - he is a stress free director (Plus I got to lie in bed for 3 days, so no complaints here! Lol!). To create the image for this faded movie star as an aging, one-eyed, bed ridden crone we did several make up tests to see what would work and we decided less was more. He had me watch Sunset Boulevard for a character reference, but not to copy or replicate. We used lots of old professional photographs taken of myself when I was quite young to use as set pieces and a reminder of "what once was". Originally, Peggy had a lot of dialogue scenes that we shot. But once in the editing room we realized they would pull the audience away from the lead character's (Debbie Rochon [Debbie Rochon interview - click here]) point of view. So we scrapped them. Peggy has only 5 lines throughout the entire segment. But that was all that was needed. Her image and the atmosphere Bart created was more than enough to make the audience uncomfortable. Bart's main instruction to me was to play her down. Nothing too over the top or campy. Peggy had to be theatrical, but pathetic, and he guided me through that beautifully.
For Gogo Montresor in The Cask, I depended on Bart once again as cinematographer to personally direct me in giving a controlled performance. I already had a cast of 10 lead and supporting actors to direct and also 20 extras to handle for the wedding reception scene. So I leaned heavily on Bart to make sure I wouldn't over exaggerate my reactions and mannerisms or rush my performance while being filmed. I wanted to create that "black widow" feel once my character's true nature is revealed. So I looked to performances like Barbara Stanwyck in Double Indemnity, Bette Davis in Another Man's Poison and Simone Signoret in Games for inspiration. And thanks to Bart's watchful eye and discipline with me, I feel I've given my best performance to date.
What can you tell us about the rest of your key cast, and why exactly these people?
Bart: When I work with actors I work with talent first. All of these actors come from great performances that want me to cast them, but I do not want them to repeat what audiences are familiar with from them. They are actors first and I respect their craft and their ability to approach a role of a character. Tales of Poe will be known for its strong performances from all of the cast involved. I, like Alan, am most proud of our cast. Alan and I are fortunate enough to have worked hard enough in our business to be able to reach out to dedicated actors and have them say yes to Tales of Poe. Second, many of these actors are considered to be the horror's genres finest and very well respected veterans of the genre. There are many new actors involved, too, Broadway actors, up and coming actors etc. For The Tell-Tale Heart Debbie Rochon [Debbie Rochon interview - click here] became my muse. Debbie is a most respected actress in our genre. To have the opportunity to work with her on a piece such as this was an honor. She is a professional and we would talk on the phone and email each other what we thought was going to work best for her role. In a heart beat I would work with her again as she is a strong actress in our genre. I knew that when I went into making Tales of Poe, as did Alan, that we wanted the performances to be top and above the hole that horror always seems to get criticized for. I always enjoy working with actors on the set and rehearsing with them because they are why the films are alive. It is performance. To work with Lesleh Donaldson, who is in my opinion a major force of performance in The Tell-Tale Heart, was a great experience because Lesleh does her homework. She truly brings it when she creates a character. These are actors I enjoy working with. Alan Rowe Kelly - I wrote Peggy Lamar just for Alan. I knew with him and Debbie working together this would be a tour de force performances for them both. In my first film Vindication, Alan played Urbane. a blind prophet, which he took home a Best Supporting Acting Award for ath The Terror Film Festival. Alan can get into a role. A great character actor who knows how to take the role beyond the page. The same is true for Desiree Gould, David Marancik and Joe Quick. Everyone on board knew we were making something more than just a stereotypical horror piece, we all wanted greater. Dreams' cast was simply a dream. This is where Tales of Poe separates itself from The Tell-Tale Heart and The Cask. Dreams is a silent film, no dialogue, so much emphasis was placed on eyes and performance art. Dreams' lead actress, Bette Cassat, carries the whole film and God bless Bette as she stood with Dreams for the two years it took to make it. She is just beautiful and has such subtlety to her approach to the character of the Dreamer. Bette is a strong actress. I am blessed to have her in the film. Cartier Williams, one of the most talented tap dancers today, delivers a very haunting role. As does Brewster McCall, Andrew Glaszeck and Collin Cunliffe. Now the three main ladies of Dreams is beyond words for me as I, like many of us, grew up watching them in the greatest horror films to date. Amy Steel, where do I begin? She hasn't been on screen for many years and to have her say yes to Dreams was quite the boyhood crush come true. Amy's role is the Mother of Dreams in two ways: that of the reality mother and that of the dream mother, is the film's only spoken voice over. Amy had to use her motherly instincts here. In real life, Amy is a wonderful mother of two beautiful daughters, and I know when working with her she would always go to them for reference. It is an emotional role for her, and she certainly is credible here. I kinda thought it was Ginny from Friday the 13th Part 2 all grown up. Caroline Williams plays the Angel of Dreams. For five years Caroline and I have been searching for a film to work on together and Dreams was it. Caroline's performance here is a total opposite of what perhaps most would come to expect from her - her role as Stretch in Texas Chainsaw Massacre 2. Here she is much more subdued in her performance. She grabs the silent film performance and delivers. She has the most beautiful eyes and she delivers just by looking at you. She and Bette worked so well together on Dreams. Adrienne King truly is a most dedicated actress and, like Amy and Caroline, a pleasure to work with too. Adrienne reached out to me after hearing about Tales of Poe and wanted to know if there was a role for her. Well of course I am not going to turn her down. Michael wrote such a part for her that anyone looking for Alice from Friday the 13th Part 1 will only see the opposite. Here she is more Mrs. Voorhees. The Queen of Dreams is certainly a role that required a lot of attention as the main antagonist to Bette's character. Anything that character needed Adrienne went for. Watching her work certainly inspires me, too, because she delivers a character driven by pain and anger. Adrienne was such a joy to work with that I brought her back for another role in Dreams as a creepy nurse and she gives two totally different performances. Just amazing on all the actors performances. I can go on and praise them so much as the entire cast worked damn hard. I am happy when they are given their credit for their performances.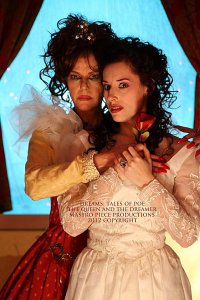 Alan: I have worked with many of the same actors for years on my films such as Zoe Daelman Chlanda, Susan Adriensen [Susan Adriensen interview - click here], Carl Burrows, Douglas Rowan, Tom Lanier & Jerry Murdock - their talents are extremely versatile. I always try to include them in everything I do and give them something different to play because I know they will always give 100% of themselves. As for my leading men Randy Jones & Brewster McCall, I really grabbed the brass ring! I needed men with real charm, virility and camera presence. I have known Randy Jones for many years and aside from his fame as an entertainer and one of the original Village People, I discovered a very talented actor - down to earth, easy to work with and talk to - a true "Southern Gentleman". Brewster McCall I met while doing a stage reading in Manhattan. He is the full package - great looking, sexy, talented, warm, generous and always available on set. He's got "IT". They are the type of actors that you can look right into their eyes and see the mechanics at work. So to be bookended by both of them made my job as an actor so easy and our offscreen relationships allowed us to bring our personal chemistry to the screen. I'm always thrilled when reviewers sight our actors for their fine work. It gives me great satisfaction that I did my job.
Do talk about the shoots as such, and the on-set atmosphere?
Alan: Our sets were always professional but we never had that heavy atmosphere of urgency to get it done on the first take. Our main goal was to be totally prepared for each scene and treat that as the ONLY scene. That's why it took 3 years to film. We spent our budgets on each chapter as if it were a separate feature. We still had a lot of fun and that is mainly due to the magnificent cast and crew and their belief in us. Since we were low-budget, we knew from our past films that total respect to anyone working with us was key - and great food! We were blessed with all who came on board. There were no "stars" - just wonderful, hard working, talented people. I couldn't think of anything worse than having someone walk off our set and say "Never again!" The banquet sequence in Dreams was the most ambitious and stressful for Bart and me. We spent a month on costumes, a week building the set, and then 5 days shooting that scene from every possible angle. Having Adrienne King giving all she had while cheerleading us at the same time inspired us to go even further. But the same must be said for the entire cast. They were patient, enthusiastic, always obliging and ready to go! It makes you want to work harder for them.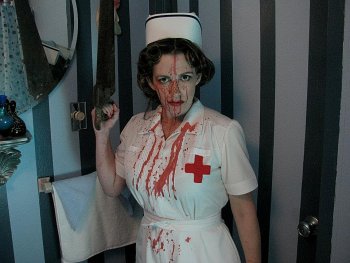 Bart: As Alan said, the working atmosphere was completely professional, but we had a great time making it. Lots of laughs but truly a dedicated seriousness to everyone's work. We all worked hard to make sure that we didn't let the budget hinder us in any way. Every person who worked on the film gave so much. Alan and I as producers wanted to make sure that when the cast and crew arrived that they felt comfortable, fed properly, had a relaxed atmosphere and could leave knowing that they had a great place to go and play for a few hours. Producing a film also means to ensure the family is taken care of. It took a while to make, but Tales of Poe is completed because of the dedication of everyone who stuck with us as the film was being made. Yes, the Queen of Dreams banquet scene was perhaps the most stressful as it was a huge undertaking. When we finished that scene I remember driving everyone to the hotels, we took the set down, packed it all away, cleaned up and Alan was the last to drop off. As we were at a red light he turned to me and said, "You and your bright ideas." We laughed so hard for about 30 minutes. That is Tales of Poe.

A few words about critical and audience reception of Tales of Poe so far?

Alan: RELIEF! Lol! I have single-parented all my features up to this film and something always got lost in the translation due to myself being the only person manning the helm and eventually running out of steam. You simply can't do it all and having a partner as talented and CALM as Bart has not only enabled me to become a better director and producer, but also properly see to the film's end result with promotion, proper placement in film festivals, screenings and eventually distribution. I think the combination of our talents has proved successful and the reviews we're receiving have been wonderful. It is very gratifying that viewers are enjoying it.

Bart: When a child is born all you want if for the kid is to be healthy and grow up happy. But we all know people will certainly tell you their opinion of your child, which can be so nerve wracking. As of now the response has been so favorable to Tales of Poe. This is a blessing! I am sure there will be some negative but overall the response has been quite positive. Working so close with Alan on Tales of Poe has made the process of this journey so much easier. We are blessed with Tales of Poe in all ways. If people enjoy it that just makes the film even better.

Any future projects you'd like to share - and are you intending to ever shoot any more Poe?

Alan: We each have features in mind that we want to make and a Tales of Poe II is certainly one of them! We're also discussing a very fun idea for a Christmas horror movie in the vein of Black Christmas. But who knows what will happen after Tales of Poe is released? We'll just have to wait and see.

Bart: SLEEP! LOL Yes, Tales of Poe V.2 will certainly go into production once Tales of Poe V.1 goes into distribution. 2 stories are already nailed down for the film and a few surprises for Tales of Poe V.2 The Christmas movie will be a joy to make as it is going to be big slasher film! Finally, a slasher film! More is coming.

Your/your movie's website, Facebook, whatever else?

Our official website is: www.talesofpoefilm.com

Official Trailer is: http://youtu.be/GTUR0tRU1U4

Facebook - https://www.facebook.com/pages/Tales-of-Poe/198251596914233

Twitter - https://twitter.com/talesofpoefilm

Instagram - http://instagram.com/talesofpoefilm

Anything else you are dying to mention and I have merely forgotten to ask?

Feeling lucky ?
Want to
search
any of my partnershops yourself
for more, better results ?

The links below
will take you
just there!!!

Find Tales of Poe
at the amazons ...

amazon.com

amazon.co.uk

amazon.de
Looking for imports ?
Find Tales of Poe here ...
Something naughty ?
(Must be over 18 to go there !)

Alan: We could certainly us a lot more LIKES on our Facebook page! Our goal is to reach 10,000 to ensure potential distributors that we're doing our marketing and promotion correctly and the more numbers we can raise, the better our chances for more widespread viewings internationally.
So please give us a LIKE on https://www.facebook.com/pages/Tales-of-Poe/198251596914233
Bart: Yes, please support Tales of Poe by checking out and LIKE our Facebook page for Tales of Poe, Twitter and Instagram. Spread the word. www.talesofpoefilm.com. Write to us and let know your thoughts.
Thanks for the interview!