Your upcoming film Razor Days - in a few words, what is it about?
Razor Days was originally conceived as "the final girl ten minutes later". Rather than focusing on the villain and the dead bodies, I thought it would be more interesting to pick up after the end of a horror movie. How would Sally Hardesty (Marilyn Burns in Texas Chainsaw Massacre) put her life together? Or would she be able to at all. So the script brings three women together, all survivors of traumatic events, to see how their individual healing processes mesh with each other as they seek a violent closure.
What were your sources of inspiration when writing Razor Days?
The idea came from Berni Wrightson's cover for Twisted Tales #1 – a woman fleeing an ax-wielding psycho wearing a bandolier of human heads. But when I started down the obvious path, the idea became less interesting than the aftermath. So as I fleshed out the story I wanted to tell, I listened to Wes Craven's commentary on The Last House on the Left first, to see how he was able to tell such a frighteningly real story. Then I turned to movies like Bergman's Persona and Altman's 3 Women for the basic themes of female personality-transference. Finally, for the look, I watched Terence Malik's Badlands and shared my ideas with the cast and the DOP Bart Mastronardi. Everyone gave their feedback and we took it from there. (Hey, you asked.)
How would you describe your directorial approach to your subject matter?
Before Razor Days I was more of a technical director, if I could even be called that. First and foremost I'm a writer, so my attitude is "the script is what I want. Do that." I don't always relate to actors, so I'm never sure what they need. When I realized that I was up against the wall with this movie, that the actresses would need more than just "Do that again only better", I started reading interviews with directors to see if I could learn any techniques they use. Clint Eastwood, for instance, never calls "Action". He doesn't like the phrase because the actors tense up immediately on that command. He quietly signals the cameraman to roll then calls "When you're ready", and lets the cast ease into the scene. John Huston, one of my chief inspirations, rarely directed at all. "If you hire the right cast, there's little left for you to do but make sure they're standing in the right place." Finally, I called William Richert (A Night in the Life of Jimmy Reardon, Winter Kills), who I'd interviewed for a (hopefully) upcoming book. He told me that the best thing to do is to make sure I look relaxed. If I'm tense about anything—the schedule, the weather—the cast will pick up on that.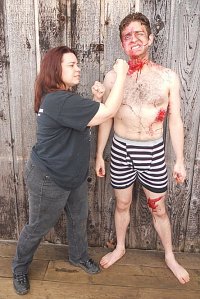 How far do you go concerning gore and violence in Razor Days?
Every script I write is much gorier on the page than what winds up on screen. Sometimes it's due to time or budget restriction, but usually the movie dictates the content. We used live squibs during most of the gunshot scenes, and Scott Conner came up with a couple of gruesome "aftermath" effects, but for the most part we all decided that the violence itself would be more powerful out of frame. Most of the intense shots come from holding on the protagonists' faces while the violence occurs just off frame. If it were a different movie, if it were truly a I Spit on Your Grave-type of film, we'd have gone much, much harder. But this didn't want to be a gag film. It's horror in the sense that no matter what you believe happened to the women in the past, what they're going through now is just as horrific. The movie is about personal damage, not action figure monsters.
A few words about your three leading ladies?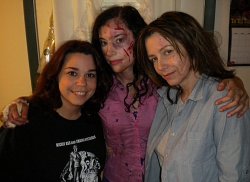 Amy Lynn Best, Bette Cassatt,
Debbie Rochon
The script was written with Amy Lynn Best and Debbie Rochon in mind. They were the driving force during each draft phase, giving invaluable input all the way. Amy and I have been together for half our lives, so I knew anything I put in there, she'd nail it or improve it. Debbie, as well, has been an incredible friend and talent. I knew that each one would need a different manner of direction, which we discussed beforehand. I also knew that the two of them would give the mathematically-impossible 1000% once the cameras rolled. Most of the scenes were shot scripted and then adlibbed. And the adlibbed scenes always had the best intensity.
Bette Cassat was the unknown element. We'd been searching for a Rena for years and came close a couple of times but schedules wouldn't allow, or other reasons would prevent the union. Having been through this situation before, we knew that was the universe guiding us towards the right choice. It happened on every movie we've ever done. If the stars don't align it really is because the right person is still out there. Bette came recommended to us for years by Eric Thornette (Shockheaded), who had finished working with her on a gothic period piece called Sweet and Vicious Beauty. In fact, he'd given us a rough cut of that movie that the house had promptly eaten minutes later. When we were coming down to the wire—the shooting schedule was set, working around the crew and cast's availability—Sweet and Vicious Beauty magically reappeared. And we were blown away by her performance. She can play a variety of emotions on her face without saying a word and that's just what we needed, since Rena is the most damaged of the three and maybe even the most dangerous. Bette was the perfect, indispensable third element.
What can you tell us about the rest of your cast and crew?
My producer and DOP have become indie royalty in a very short amount of time. I'd known Alan Rowe Kelly [Alan Rowe Kelly interview - click here] for years and he was always supportive of the script, even after he became the industry darling for I'll Bury You Tomorrow and A Far Cry From Home. Bart Mastronardi composes shots like paintings, as he did on his first feature, Vindication. We talked for a long time about what the movie would be and then they made that happen.
We couldn't have asked for a better Executive Producer. Bob Kuiper was the publisher of the second generation of Sirens of Cinema Magazine and had hired me as the Editor, as I'd worked on the previous incarnation with Hugh Gallagher. Bob and I worked hard to figure out how to communicate with each other, since our backgrounds and focus was so different. But he loved the script for Razor Days and when we pitched it to him, he asked "How much would you need?" We told him and he said "Okay". And then we said, "What do you mean 'okay'? That's a shitload of money!" But he believed in it and it was something he wanted to be a part of.
For the majority of the shoot, it was a seven-person show. The cast pitched in and schlepped equipment, the crew filled in as extras in the background. For ten days it was Amy and I, Debbie, Alan, Bart, Bette, Bette's husband Chris Mindel, David Marancik, Scott Conner and Michael Varrati. Some of the Happy Cloud clan pitched in when they could, but since we were shooting throughout the week, it was difficult for many of them to work consecutively because of work schedules. Still, the days we had Mike and Carolyn Haushalter and Jim Steinhoff, who've supported us for the last ten years, were the ultimate family affairs.
Before Razor Days, you made a film with the irresistible title Demon Divas and the Lanes of Damnation. You just have to talk about that one for a bit! And why of all places did you set Demon Divas and the Lanes of Damnation in a bowling alley?
Demon Divas was the fastest shoot we've ever had, from concept to completion. We were on the way back from some con and we got a call from Tara Frank, a friend of ours (who wound up playing "Infinity") who had been principal hair and make-up on a couple of other projects we'd worked on. Her mother and step-father owned a bowling alley in Kittanning, PA, not too far from where they shot The Mothman Prophecies and My Bloody Valentine 3-D (which was actually wrapping as we began). Her mom, Sandy, was tired of hearing from others in town how great it was that a movie had been shot in their restaurant or on their street. "You have to shoot in our bowling alley!" she insisted.
The first thought was to remake Sorority Babes in the Slimeball Bowl-o-Rama, but why remake something if you can do something original? Or, at least, original enough to offset what you're paying tribute to? So Demon Divas became our "scream queen" movie, with Brinke Stevens, Amy, Debbie, Lilith Stabs and Robyn Griggs. As well as ten other major characters. We shot in six days, literally tearing pages of script out as we went along, and Sandy and her husband Bob Hall came aboard as associate producers, providing not only the space but the catering and housing as well. (This is set for an official Amazon and Netflix release in October thanks to Wild Eye Releasing.)
A few words about your vampire movie A Feast of Flesh, and your take on the vampire genre as such?
Again, coming back from some unsatisfying film festival or other, Amy turned to me and said, "We need to sell out now. We should do something with vampires in a brothel."
"Okay, what's it about?"
"Vampires," she said. "In a brothel."
So the intention was to do that, but I have a tough time selling out. I like storytelling. I like characterization. So I unfortunately burdened the surefire sell of an idea with plot and subtext. I borrowed a lot of stuff that I'd written for a vampire fiction magazine called Dreams of Decadence so I could play with the idea that vampires don't fear religion, they fear faith. Whatever you believe in, that's your protection against these creatures. So if Bill Homan's character is one of those "anything for a buck" mercenaries, he can literally fend them off with a dollar bill. Also, I never use the word "vampire" in the script. I was also smart enough to make sure they didn't sparkle, even though vampires wouldn't do such a thing until a few years ago, when horror was murdered by Stephanie Meyer.
What can you tell us about your debut feature as a director, The Resurrection Game, and lessons learned from that experience?
Not to pimp myself but I've talked about this experience endlessly, particularly in the Res. Game Annotated Screenplay. The gist is that we gave no thought to the idea that it couldn't be done. We were shooting BDV era (Before Digital Video), on film, using Vietnam War-used equipment. I didn't direct so much as just point and babble. All we did was take what we'd learned in film school, business courses and the Art Institute and slapped it down on the table saying, "what can we do with this?" There was little thought of "can't" or "shouldn't". We just did. Then I worked on and tweaked that miserable thing for ten years.
How did you get into filmmaking in the first place, and did you receive any formal education on the subject?
I had the same start most people my age had: a love for movies and limited means of completing them. I didn't get my first VHS camera until I was a sophomore in college, so I was stuck with whatever the schools had to offer. Fortunately, I enrolled at Pittsburgh Filmmakers, starting off on Super-8mm and got to work on other people's movies. Film School is invaluable—you need to learn not only how to use the equipment, but what comprises film history before you can make your own. You learn how to look at movies critically. Not just, "aw, man, that effect is so fake!" But "what is this shot trying to say? What is the director conveying here? What's the subtext of this scene? Where's the light coming from?" I learned editing from Tony Buba, who worked with Romero on Martin, Dawn of the Dead, Knightriders. I got to physically cut film—years before digital editing was affordable—and you get the feeling for where to cut when you're dealing with tiny frames of film. Our senior thesis project was to take a short film from script to answer print, which was expensive as hell, but taught you everything, every step of the way.
After Filmmakers I wound up working at WRS Film and Video Labs, where they tried to slowly poison me with war-banned chemicals for three years. But I also learned optical printing, film inspection, negative handling, physical animation. I even worked in the vault for a while, handing the original negs for Night of the Living Dead and The Pit and the Pendulum. I worked on the restored print of Some Like It Hot for its first DVD release and made a new internegative from George Stevens' original WWII footage, including one haunting night alone in the lab where I had to print his Buchenwald footage frame-by-frame.
I'm not saying that you have to have that sort of immersion to make movies, but it instills a love and respect for the physicality of the medium as well as an appreciation for the electro-chemical magic that goes into it. For a film addict like me, I could have spent years wandering around in those vaults—we had nearly every print MGM had ever produced—until the owner embezzled everyone's medical insurance and was indicted. Horrible place to work if you didn't love movies. Actually, horrible even if you did.
Besides directing your own scripts, you have also scripted your wife Amy Lynn Best's movies Weregrrl, Severe Injuries, and Splatter Movie: The Director's Cut. What can you tell us about these films and Amy Lynn Best, the director?
Amy is a much better director than I am in terms of dealing with actors, getting awesome performances from them, and just relating to them in general because she is a trained actress and a photographer. When we work together, I'm usually behind the camera, creating shots, but she's creating the scene. She also knows how to add energy to a scene, even during talking heads shots like in Splatter Movie. I think she's been criminally underused in the business because there are very few things for which she's not a natural talent. She's had cameos in movies where suddenly the movie becomes about her because of her presence. She acts with her eyes, as well, instead of just going blank and waiting for her line, like many self-named "scream queens" I could mention. She's also beautiful and striking and yes, I felt this way before we were married and still do.
A few words about your production company, Happy Cloud Pictures?
Happy Cloud Pictures was founded in 1997 by Amy, Bill Homan and me for the express purpose of producing The Resurrection Game. We've produced five features, a dozen shorts, a number of documentaries and co-produced carefully-chosen projects of industry friends. After the face-ripping scene at the head of A Feast of Flesh, one of our associates came up and said that we had no right calling ourselves Happy Cloud Pictures any longer. We consider ourselves part of the "Second Wave" of indies, which include Andy Copp, Eric Stanze [Eric Stanze interview - click here], Chris Seaver, that came after the "First Wave"—the VHS masters who cornered the home video market, like Tim Ritter, Ron Bonk, J.R. Bookwalter, Kevin Lindenmuth and Scooter McCrae. I think we have a good reputation in the industry because we've never screwed anyone over and because we're still around a decade or so later. We've made ourselves regulars at Cinema Wasteland and you can find us there twice a year, right inside the door. People got used to seeing us and that brings with it a grandfathered respect.
You have also written a handful of novels right? And you have also written for numerous publications on (horror-)film, and are the editor of Sirens of Cinema-magazine. A few words about that aspect of your career, and how did it all start?
As I've stated, I consider myself first and foremost a writer (and an editor second). I've been writing professionally since I was 20 and have been published all over the world, in five different languages. This was during the nadir of the print magazine world, where you could still make a living writing for literary and genre mags, as well as an "entertainment journalist" for the movie magazines. My first regularly paid gig was for a magazine specifically distributed to Texas strip clubs, so I was free to write about or interview anyone I wanted. That got parlayed to head writer at Femme Fatales for a few years, hand-picked by Fred Clarke (thanks to Jasi Cotton Lanier and Debbie Rochon) and a great few months at Cinefantastique. I was the "American Correspondent" for The Dark Side, worked for Draculina, Alternative Cinema, Gauntlet, Black October, etc. For a while I was almost supporting myself as a writer before the bottom fell out.
I actually set out to be a novelist but got sidetracked by the movies. A lot of my stuff found a perfect home at The Twisted Library (formerly Library of the Living Dead), including the Res. Game novelization, its upcoming sequel and my original novel, Suicide Machine. Around this time, we created the Happy Cloud Publishing imprint to reprint and publish other projects, including Europa's Cry with artist Michael Apice.
I prefer writing simply because it's something I can do on my own. First time through is only for me, for my satisfaction, before I tweak for "an audience". But because so much of my longer work is either self-published or through the Twisted Library, "my audience" isn't very specific and will honestly seek out anything I write, even if they hate it, and tell me that it wasn't what they were expecting. It's the ultimate form of self-gratification that can occasionally make others happy too.
You are quite obviously a big fan of horror cinema. Why, and your favourite kind(s) of horror? Directors who inspire you? Your favourite movies? And of course, films you really deplore?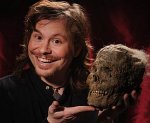 I'm not specifically a horror fan. I love horror movies but I will watch just about anything. To tell the truth, my favorite directors aren't of the horror category or are something in between. The ones I derive the most inspiration from are John Huston, Billy Wilder, John Sturges, Howard Hawks, David Cronenberg, the Coen Brothers and Peter Greenaway. I know I'm supposed to say Sam Raimi or George Romero, but I always pull inspiration from movies that are outside the horror realm, as I illustrated above. Splatter Movie was equal parts Best in Show, Performance and Inland Empire (even though I'm not a huge Lynch fan). A Feast of Flesh is Savage Streets, State of Grace, A Prayer for the Dying, and The Devil Rides Out. Severe Injuries poked fun at every slasher movie we could think of, but the dialogue structure and situational humor was pure His Girl Friday, Bringing Up Baby and Psychos in Love. Res. Game was more The Maltese Falcon, The Glass Key and Miller's Crossing than it was Dawn of the Dead.
Honestly, I think that's why a lot of first-time indie horror movies trip up. A lot of filmmakers working in horror either forget that there are other kinds of movies out there or feel they have to stay pure to the genre and immerse themselves in Video Nasties. I had a conversation with a guy at Wasteland that started with:
"Dude, I just started a movie that's gonna show everyone in here what horror really is."

"Is it about a bunch of kids who hate each other who go into the woods to smoke pot and then die one by one?"

"Yeah, but that's only part—"

"Seen it."

"Not like this. Our kills are fuckin' sick!"

"Are you killing them with math? Otherwise: seen it. What the hell is it about?"
Don't be afraid to use all the tools in your toolbox. If you really loved The Hangover, think about why you liked it and don't be afraid to steal from it, even if you are making "the next" Murder Set Pieces or August Underground. Actually, the latter is a good example. Fred Vogel wanted to make a very realistic portrait of a pair of psychos who could be anyone's neighbors, which is why his structure is genius. In between these horrible situations are shots of the killers on vacation or getting beaten up at a rave. It's been copied all over the place since then, but Fred wasn't afraid to break the mold. It isn't The Devil's Rejects all the way through.

Feeling lucky ?
Want to
search
any of my partnershops yourself
for more, better results ?

The links below
will take you
just there!!!

Find Mike Watt
at the amazons ...

amazon.com

amazon.co.uk

amazon.de
Looking for imports ?
Find Mike Watt here ...
Something naughty ?
(Must be over 18 to go there !)

Your website, Facebook, whatever else?
I'm hard to avoid:
Anything else you are dying to mention and I have merely forgotten to ask?
In addition to Scott Conner (The Deadliest Warrior) above, we've had the opportunity to work with some amazing effects artists over the years including Eric Molinaris (Black Sun), Jerry Gergely (Babylon 5), Gino Crognale (Sorority Row), Lee Wildermuth, Carlos Savat and last but far, far from least, Don Bumgarner (The Dread), who has been providing effects for us since 2004. I really do want to thank Jerry and Eric, especially, for the students they hand-picked from their own classes at the Douglas Education Center/Savini School of Special Effect Make-Up. That's the best reason we stick to horror: the magic the effects guys bring to shoots.
Thanks for the interview!