Your upcoming movie A Grim Becoming - in a few words, what is it about, and what can you tell us about your character?
Michael, thank you for the opportunity to speak to you and your readers around the world. It's an honor. Yes, I do have a small role in director Adam Steigert's A Grim Becoming - http://www.imdb.com/title/tt2441174/ -, a dark comedy about a man who witnesses The Grim Reaper taking a soul and is forced into becoming a Reaper himself. I play the father of the young man whose death sets the chain of events in motion.
As far as I know, you and your on-screen wife Melantha Blackthorne [Melantha Blackthorne interview - click here] have changed your characters quite a bit from their original concept - so how did that come about, and since we're at it, what was your collaboration with Ms. Blackthorne like?
Melantha Blackthorne - http://www.imdb.com/name/nm1520852/ - is sexy, funny and talented - we hit it off right away. Melantha and I played husband and wife - written as rather plain. Adam was open to us adapting the characters for a better fit, and Melantha had the idea of making them a bit deviant, but in an innocent way; sort of like a middle-class Morticia and Gomez. The next thing I knew I was feeling up Devanny Pinn [Devanny Pinn interview - click here] - http://www.imdb.com/name/nm1922788 - at a funeral and licking peanut butter off of Melantha Blackthorne's fingers. I really do love my job.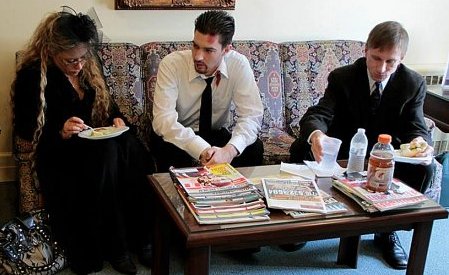 Melantha Blackthorne, Brandyn T. Williams, Bill Oberst jr
All that in mind, what did you draw upon to bring your character to life?
I enjoy characters that push the boundaries of accepted behavior; people not bound by societal norms. That can play out in very destructive ways or very endearing ways. In this case it was the latter. I live a very quiet and sedate real-life, so it is cathartic for me (and, I hope, for the audience) to create a fantasy world where the rules do not apply.
How did you get involved with the project in the first place?
My manager Matt Chassin (who is quite indispensable to me) called and said "You're going to be in this movie." I have learned to do what Matt says - life is easier that way. And, of course, he was right. When I got the script I was delighted.
What can you tell us about your director Adam R. Steigert [Adam R. Steigert interview - click here], and what was your collaboration like?
Adam is a very driven young man, which I mean as a compliment. In this business you have to be driven or you don't make it. He is not only cinematically proficient, he is an actor's director, very open to collaboration, so of course I loved working with him. Adam's company, Deftone Pictures Studios, is on the rise. This guy is more proof that there are talented filmmakers thriving outside of Hollywood.
What can you tell us about A Grim Becoming's brand of humour, how easy was it to adapt to it, and since we're at it, what can you tell us about your own sense of humour?
I find the absurd funny. My tastes have always run more to the bizarre in humor, so the dry wit of Adam's script and the weirdness that Melantha [Melantha Blackthorne interview - click here] added to our characters was right up my alley. In general, horror film sets are always oddly humorous places, anyway.
Do talk about the actual shoot and the on-set atmosphere for a bit!
Indie horror is a small world, so as usual, there was a lot of camaraderie. Devanny Pinn [Devanny Pinn interview - click here] and I are friends who have worked together before - it is always fun to be with her. Melathana and I had adjoining bedrooms at the guest house, so we had time to laugh and get to know each other, too. It is always helpful to have those relationships with people you're going to be close to on-screen. The atmosphere was relaxed and the food was great. Truthfully, all that actors talk about on set is is food, the business and sex.
Any future projects beyond A Grim Becoming you'd like to talk about?
Thank you, yes. I have three feature leads being released in the first half of 2014:
Children Of Sorrow - http://www.imdb.com/title/tt1942828 - from director Jourdan McClure and After Dark Films will be released on March 4th by Lionsgate. I play a cult leader. The film has already won some awards. The trailer is on the IMDb page.
Coyote - http://www.imdb.com/title/tt2385041 - from director Trevor Juenger will be coming a few months after. It is a blend of arthouse and horror that critics are comparing to the work of Lynch and Cronenberg; very bizarre. There's a sneak peek clip at http://vimeo.com/78862331
Circus of the Dead - http://www.imdb.com/title/tt2782232/ - from director Billy Pon premieres at Texas Frightmare Weekend in May with a release to follow. I play a necrophiliac clown (yes, you read that correctly.) A teaser trailer is at http://www.youtube.com/watch?v=MOhbKuGg3gk
I have about a dozen others in post-production. I'd invite folks to please visit my IMDb page at http://www.imdb.com/name/nm2454994/ to see what is coming up. Messages on the message board are welcome - I read them all.
What got you into acting in the first place, and what can you tell us about your training as an actor?
I was a fat kid, a smart kid, an ugly kid and a sissy kid; all in one kid. I got the heck beat out of me on a regular basis until I learned how to do two things: box and act. I had a good jab, but I lacked the power punch to make it as a fighter, so I became an actor. I think if you scratch any entertainer, you will find a misfit kid right beneath the surface.
Can you still remember your first time in front of a movie camera, and what was that experience like?
Yes, I can. It was in 2007 and the role was General W.T. Sherman in the docudrama Sherman's March. I had made my living as a professional stage actor for 14 years and had never done a lick of camera work. It was terrifying. I knew nothing. Perhaps I know more now, but one is never sure. The audience decides that.
What can you tell us about your filmwork prior to A Grim Becoming?
IMDb sums it up pretty well on it's Actor Trademarks page about me (http://www.imdb.com/name/nm2454994/
bio#trademark): "Oberst usually plays murderers (his roles always involve violence and frequently sexual menace;) known for a lean muscled physique, an unusually prominent ribcage and a scarred face with piercing eyes. Plays macabre, menacing characters with an undercurrent of melancholy." I am sometimes (charitably, I hope) described as a "one-man horror movie machine" (google it!). There's a lot of hyperbole there, but some truth, too. I do like to work.
Besides movies, you've also done quite a bit of theatre - so how does performing on stage compare to acting in front of a camera, and which do you prefer, actually?
As a trained stage actor who made his living trodding the boards for a decade and a half, I never thought I would say this: I prefer camera work now. The unblinking intimacy of the camera both frightens and excites me. One can lie a bit onstage and still pass. Not so with the camera. If you don't tell the camera the truth, it will look elsewhere.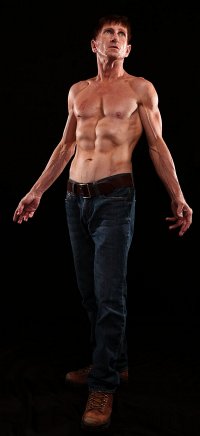 Feeling lucky ?
Want to
search
any of my partnershops yourself
for more, better results ?

The links below
will take you
just there!!!

Find Bill Oberst jr
at the amazons ...

amazon.com

amazon.co.uk

amazon.de
Looking for imports ?
Find Bill Oberst jr here ...
Something naughty ?
(Must be over 18 to go there !)

How would you describe yourself as an actor, and some of your techniques to bring your characters to life?
Like most guys, I am visually-oriented, so I need a mental picture of the character first. I want to know what the guy I am playing looks like, how he walks, etc. Then I want to know the lines. Then I want to know the blocking. Then I want to know where my light is and how I can help the camera and my castmates to make the shot work. Once I know those things, the rest comes out of my heart and my head. Jimmy Cagney really did have it down to the essentials: "Stand on your mark, look em in the eye and tell the truth."
Actors (or indeed actresses) who inspire you?
Lon Chaney, Willem Dafoe, Harvey Keitel, Humphrey Bogart, Daniel Craig... I will stop there for brevity's sake but the list goes on and on, of course.
Your favourite movies?
Horror: The Exorcist
Non-Horror: Jesus of Montreal
... and of course, films you really deplore?
Well, I deplore my performances in a few, that's for sure! But I can honestly say that I don't truly deplore any films. Being in the business and seeing how much work it takes to make even a bad movie, I try to find some redeeming quality in any film. I may not enjoy the subject matter, but I can always be charitable and find something that is done well.
Your website, Facebook, whatever else?
My IMDb page is my online headquarters: http://www.imdb.com/name/nm2454994, I appreciate FB likes there. My Twitter is https://twitter.com/billoberstjr and my Facebook is https://www.facebook.com/ActorBillOberstJr - thank you for asking.
Anything else you are dying to mention and I have merely forgotten to ask?
As Mark Twain said "It's a terrible death to be talked to death." So I will quit while I'm ahead and just say thank you.
Thanks for the interview!
It was my pleasure. I enjoy SearchMyTrash.com - there's always something interesting here!