Your upcoming movie Blaze of Gory - in a few words, what is it about?
Blaze of Gory, in itself, is 10 separate stories and so it isn't specifically about anything as each story is different. Although, they are all based around extreme gore, there's a lot of blood! All in all though, the whole project is based around the fact that I was only 12 when I wrote the first story.
The project had its initial start when you gave horror director David V G Davies [David V G Davies interview - click here] a story that you wrote when only 12 years old, and the story apparently freaked him out! True story? And if yes ... how the heck did you achieve that?
Yes! I was dubious at first as I was never very confident and I didn't think that my stories were good enough for Dave, but once he said that he was freaked out, it boosted my confidence incredibly. At first I wasn't even going to send him my stories but it astonished me that Dave wanted to turn them into films. Honestly, I have no idea how I did it, I guess I'm just another level of sick!
Blaize with David V G Davies
So how did all of this develop into a movie anthology, and what has your collaboration with David V G Davies (who is not only producing but also one of the directors of Blaze of Gory) been like so far?
As I said before, Dave read my stories and told me he'd love to be able to turn them into films, which, for me, was just amazing and it has been an amazing experience so far. It's something that I will be proud to be able to put on my CV and it has been an amazing confidence boost for me. Dave is brilliant to work with and he has put his all into this project which I am really grateful for.
So what were your main inspirations for your stories? And where does all this gruesomeness come from?
I couldn't really pinpoint a single thing that has inspired me, if I'm honest I have no idea where I have got any of my ideas from. I used to watch horror movies from a really young age which has probably contributed to it. My mum never used to let me watch them so I would sneakily watch them behind her back which made me engage more in them. I have also always been interested in CSI and Criminal Minds etc. I think that everyone has the ability to write gruesome things like I do because we see it in the world everyday, but most others just suppress the feelings or express them through other means such as art.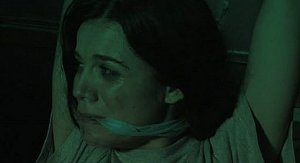 The Beer Cellar
As far as I know, you will also direct one of the stories, right? So can you tell us anything about your episode (The Beer Cellar) and the directorial approach you're going to take yet?
I did direct The Beer Cellar, and seeing as I had never experienced that before it was fantastic. It was brilliant to be so involved in the film and to be able to have had it filmed exactly the way I wanted it filmed. I took the 'I want' approach as I wanted it to turn out the way I wanted. The people I worked with were lovely and I'd love to work with them again.
What can you tell us about the other directors on the project, what made them perfect for Blaze of Gory - and how were they chosen and how do you think they will bring their flair to your stories?
If I'm honest I don't really know that much about the other directors as Dave chose them but I completely trust his judgement. Obviously I know Dave and I know that he is perfect for it because he can visualize exactly what I want. I am incredibly excited to see what take each of the directors have had on the stories that they have been given.
Also, do talk about Blaze of Gory's cast for a bit!
The cast that I have met and that I know are fantastic! They are all amazing at what they do and I feel so privileged to have them to have said yes to work on my stories. I have formed some friendships throughout this project that I know are going to be lifelong and that I am eternally grateful for. All of the cast that have taken part are amazingly talented as well.
Some of the episodes of Blaze of Gory have already been shot. So have you seen any of the material so far - and what's it like to see your own words come to life?
I have only seen trailers etc. but what I have seen is astonishing and it is crazy to see my stories come to life like they have as when I wrote them I could only ever imagine them as being letters on a page that have come out of my mind. But here I am now with them all being turned into films. I think it's every writers dream to have their stories come to life and I can't believe that I have managed to realize my dream before I'm even 18!
When can we expect to see the film released onto the general public?
Hopefully the film will be released this year but as of yet I do not know exactly when.
What started you writing and what drew you to horror of all genres?
I have always loved writing and was always writing stories from a young age, I have always loved the way you can write whatever you want because no one can judge you for a story because even if it relates to you in some way, if it is fiction, no-one will know. I don't know what drew me to the horror genre, I just really like being able to freak people out with words, I love the way words can be so powerful. I like being descriptive too and I have always found that horror and thriller stories are always the best to be descriptive with.
Writers, filmmakers, whatever else who inspire you? And your favourite movies?
I absolutely love writers such as Peter James, Eoin Colfer and Stephen King. I like films that make me feel sick - which is hard - such as The Serbian Film which made me physically sick. And films such as Creep and I Spit on Your Grave. I love the film Martyrs, the plot twist is amazing and the story behind it is amazing because it represents so many things.
... and of course, films you really deplore?

Feeling lucky ?
Want to
search
any of my partnershops yourself
for more, better results ?

The links below
will take you
just there!!!


I can't stand films like The Fighter, and films that involve fighting and/or animals dying - that's something I really can't deal with.
Your/your movie's website, Facebook, whatever else?
https://www.facebook.com/blaize709
https://www.facebook.com/goryblaze?fref=ts
http://www.imdb.com/title/tt2267578/
https://twitter.com/BlazeofGoryfilm
Anything else you are dying to mention and I have merely forgotten to ask?
Nothing that I can think of!
Thank you for the interview.
Thanks for the interview!