Your upcoming movie Blue Noon - in a few words, what is it about?
Cassandra Sechler: Blue Noon is a surreal, experimental horror film that will be comprised of several segments by different directors--some in color, others in black and white, some more linear in narrative while others more abstract, all paying homage to Jean Rollin and Jess Franco with the mysterious murderous seductress from the sea (played by the same actress in all of the segments), following her character through time.
My particular segment that I am directing in Blue Noon is a story filled with doom, superstition, mystery, splendor, the occult, eroticism, and death, exploring the unforgiving qualities of love, the struggle to understand these desires, the violence of passion, the sadness and frustration of what it is to be immortal, and the acceptance of fate.
Scott Barley: Well everybody's individual segment is quite unique, but it is unified by an overarching protagonist and similar narrative tones and influences. My individual segment deals with time, existentialism, grief, and unexplained events.
Salem Kapsaski: My segment is set in the late 1930ís and is loosely based on Francoís Eugenie De Sade. Itís about a Libertine author and his daughter who fall into the Sirenís lure. There are many personal and autobiographical elements hidden deep within the subtext of the story. While I canít speak for everyone I do believe that existentialism, solitude and longing play a strong role in several segments.
Chris Marsh: I can only speak with authority on my segment, which seems to be the closing act of the overall film. Set in the future, a clash of forces takes place inside a white room. It is a room where the past and future collide to bring about something new. I like the concept of fusing any part of history I want, be that characters or locations, there are no rules when creating a film story so I tend to just pick events and characters up whenever I want and the fun part is when they are brought together in an in act.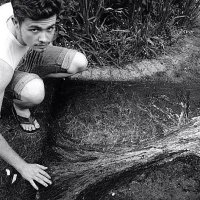 Scott Barley

Salem Kapsaski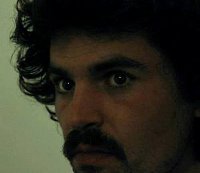 Chris Marsh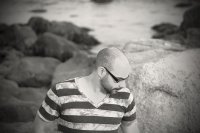 Jesse Richards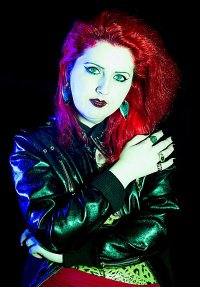 Cassandra Sechler

How did the project come into being in the first place, and how did you all get on board?

Scott Barley: Jesse and I were talking about Franco's death on the day he died, and there was a whisper of a suggestion that Jesse wanted to create something indebted to him, and Rollin, but we weren't sure what it would be. Very quickly, these discussions escalated, and in just a couple of days later, we had a crazy amount of ideas going around, with Salem and Cassandra too. That's how it started, from my perspective.

Salem Kapsaski: Jesse Richards asked me last year if I could submit a short-film for his gothic multi media project the phantoms came to meet him which I dealt with some similar ideas that were now reborn in Blue Noon. Sadly I was busy shooting Spidarlings and could not make the deadline. So of course when Jesse asked me if would be interested in being involved in a collective film homage to Jess Franco and Jean Rollin I instantly said yes.

Cassandra Sechler: I came on board after Salem invited me to join the project earlier this year. At the time Jesse, Salem, and Scott had been bouncing around ideas, and I was ecstatic to join them. From there, through new members and group discussions, the film has arrived to where it is now, and it is still developing.

Chris Marsh: I was requested by Cassandra to join in, this was after scott, salem, jesse and florian were onboard. So I'm the runt of the litter it seems.

As far as I'm informed, Blue Noon is not an anthology movie in the traditional sense of the word - so how will all of you filmmakers get under one roof then?

Salem Kapsaski: One of our very first decisions was to not make this an anthology film in the traditional sense but rather a continuous story of one immortal character throughout the ages as envisioned by different directors. While the film is still presented in segments and even different cinematic styles, itís amazing how in-sync we were as a group developing the basic arch and character and common threads that run through all our segments. I have never felt such unity working on a project with other beforeÖ and I doubt I ever will again. Itís a unique experience for me.

Cassandra Sechler: I can see where Blue Noon could be categorized as an anthology film since there are multiple directors, but I would describe Blue Noon more so as a collaborative feature that brings various directors with different styles but similar filmmaking ideals together to tell a single abstract story. So, even though each director has a different style and time period that they are exploring, I feel that there is an interconnectedness within the group and that we have similar methodology and are all on the same page in regards to the overall vision that weíd like to keep strong in the film.

In the end, as a whole, I see the segments beautifully stitched together to flow in a surreal, dreamlike way.

You describe Blue Noon's intended style as avant-garde and remodernist - please do elaborate!

Jesse Richards: Well I think itís important to note that all of the filmmakers participating have their own style, philosophy and process (and so for me Iím not sure about those labels - but labels can sometimes work as a shorthand), but at the same time I think there is a familiarity between all of us. For instance I think youíd have to make some very serious threats before most of us would use something like a shot list or story board, and even with that some might choose death first. I think Cassandra has a screenplay for her segment because a cast member asked for one, but Iím pretty sure she said sheíd never used one before on her films, and I think for the most part none of us are super-excited about screenplay writing. That's my impression at least. I think we all really love improvisation.

Scott Barley: I would rather not label the film such things, since everybody is doing their piece differently, but we are all aiming for this to be a brave project, and for it to be art, not just straight forward porn rubbish. My own segment is in some ways tied to remodernist cinema in the ideology behind the camera, but it is also very much influenced by the likes of Philippe Grandrieux, Gyorgy Feher, Michelangelo Antonioni, Ingmar Bergman, and Stan Brakhage.

Also, your film is described to be based on the works of recently deceased cult Euro-filmmakers Jess Franco and Jean Rollin (two favourites of this here website) - so what do you find so appealing about the oeuvre of these two men?

Salem Kapsaski: Only very few artists have played such a big part in my life as Jess Franco. There is so much more to his work than just sleaze. Francoís films are full of light, aesthetic, sensuality, humour and passion. His name should be all the way up there with the cinematic greats like Bunuel and Tarkovsky. A Virgin among the Living Dead is one of my all time favourite films, and I have been strongly inspired by various shots and set-ups from his films and used them in my own - whether I intended to do so or not. Rollin is another director that is very dear to me. Losing both of them in such a short period of time was a big blow.

Cassandra Sechler: Both Francoís and Rollinís films are so conceptually and visually rich and deal with some of the darker aspects of humanity and sexuality, while incorporating an eclectic range of characters. Their films also have killer soundtracks, creative costume and set design, elements of fantasy, camp, and horror that I undeniably adore.

I find myself most inspired by A Virgin Among the Living Dead, The Iron Rose, Night of the Hunted, Lips of Blood, The Living Dead Girl, and Requiem for a Vampire, especially with this project. There will be a few easter eggs in my segment referencing the directors that I am sure Franco and Rollin fans will pick up on.

Jesse Richards: For me, these guys are really, really important. I think even among their fans, these guys get shat on a little bit, getting dismissed as silly, or sleazy (which sure they can be at times), but to me there is something remarkably honest, authentic and very brave about their work. They both had the guts to directly address their obsessions, passions, fetishes and nightmares in their films. Itís really not an easy thing for an artist to do - and especially when it comes to sex. Maybe it was more acceptable in the 70ís than it is now, but even so I donít think it was ever easy. Salem I think said they should be seen as just as important as Tarkovsky and Bunuel, and I totally agree with him on that. One thing I would add to that - as much as I love Tarkovsky, he is near the very top for me - Tarkovsky never had the guts to deal with sex properly, and I just canít understand how one can totally avoid that in their art.

Scott Barley: For me, it is very simple - that beauty can come from dark places. Perverse beauty is still beauty, and sometimes its ethereal quality makes it all the more beguiling.

Probably a bit of an immature question, but on behalf of all men (at least) among my readers: The work of both Franco and Rollin included more than its fair share of nudity and sex - so how far will Blue Noon go in that direction?

Salem Kapsaski: Blue Noon is going to be a very erotic and sensual film. The amount of nudity will differ in each segment, but there is going to be a fair share of graphic sex and pushing personal boundaries. Not to mention incest and necrophiliaÖ so basically a film for the entire family! Itís a shame we could not work a goat in there somewhereÖ oh well maybe next time.

Scott Barley: Like I mentioned previously, each filmmaker's segment is unique, and will push boundaries in different ways. Some will incorporate more sex and nudity - but all segments will push boundaries to some degree in different ways, on a filmic level.

Jesse Richards: And so speaking of sexÖ. So we will each deal with that on different levels. For me in my piece, I think it is vitally important to deal with this at an explicit level. The explicitness of the nudity and sex in my piece will be very much in the tradition of the films we are paying homage to, but at the same time, even though the sexual content will be very explicit in places, Iím not really interested in doing things like cutting to long close-ups of penetration, which is, well, kind of boring after a minute or two, at least from a filmmaking/artistic perspective.

Now that being said, I think that for the most part in my piece I think the actors should really be sexually intimate with each other; that the sex scenes are real (as in many Franco films and some Rollin ones), but still done in a way that allows for poetry... One of the things that has really bugged me is this idea that violence at nearly any level is socially acceptable in media and art, but at the same time this is not true about how we depict sexuality, and to me this is a stupid, ridiculous hypocrisy. So for me personally, it is important in my segment of this film to depict the sexuality realistically (at least realistically within the style of the film), and the violence in a more toned down fashion. At the same time, I understand that this is a horror film, so I won't cut out the violence completely, but choose to focus on blood rather than guts as much as possible.

Also one of the things that really matters to me (but I didn't plan on while writing the notes for my segment) is that my piece breaks certain expectations and "acceptable" depictions of sexuality: the women in my piece are sexually empowered more than the men, that there is an explicit sex scene between men in an erotic horror film (this is typically a big no-no), that an Indian man (typically desexualized, at least in American media) is shown as sexual rather than asexual, that there is an interracial relationship where neither person is a white person... etc. I didn't construct any of that deliberately with any plan or agenda, but saw it there after I wrote it, and am happy that those things are in there. There are probably other things in it that I haven't noticed, but the things I have noticed, make me happy about it.
As far as filming approach for me it will be long takes and mostly steadicam: Andrei Tarkovsky, Bela Tarr, Claire Denis, Jia Zhangke combined with visual elements inspired by Edvard Munch as well as some post-impressionist painters, maybe a little Egon Schiele too.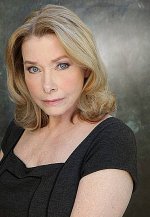 Lynn Lowry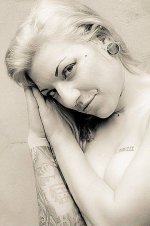 Sophia Disgrace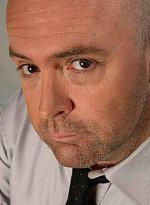 Sean James Sutton
Do talk about your cast for a bit, and how did you get them and why exactly these people?
Jesse Richards: The casting choices are directly related to the bravery of the people cast and their ability for them to take on the content within; while also being able to convey authenticity and emotional truth. In some cases that will mean trained actors, and sometimes non-actors. As you might imagine, finding people who are both very brave and authentic is not an easy task.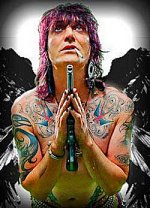 Gypsy Lee Pistolero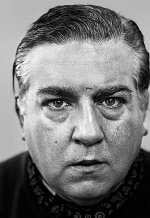 Theodore Bouloukos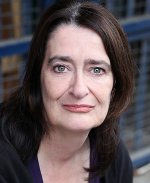 Kathy Trevelyan

Cassandra Sechler: I am searching for people who not only look the part and have the chops but also have an interest in the horror genre, a passion for their craft, determination in their work, and a desire to contribute to the story. For my segment in Blue Noon, so far I have cast Lynn Lowry, Theodore Bouloukos, and Kathy Trevelyan as well as Gypsy Lee Pistolero and Sophia Disgrace [Sophia Disgrace interview - click here] - all wonderfully talented actors who embrace enthusiasm for the project and respect for the subject matter. I canít wait to work with all of them and Iím truly excited to see what they bring to the table.

My cast is still growing, and many roles will be open to local extras closer to the time of the shoot.

Salem Kapsaski: I wanted to make a film with Sean James Sutton for a long time. He did a voice cameo in Spidarlings as Edenís dad because distance and budget did not allow me to put him in the film physically. Iím also going to work Theodore Bouloukos, who is a brilliant actor.

So when are you going to shoot, and any idea when and where the film might be released onto the general public yet (and I do know it's waaay too early to ask)?

Cassandra Sechler: Much is still reliant on budget, for example the ultimate homage would be to actually shoot on 16mm! So as we figure out finances and seek producers, that is a huge goal of ours.

While we are in the midst of configuring all the details, we do plan on beginning production in 2014 and if possible would love to figure out distribution when the time is right so that this passion project can reach its awaiting fans.

Any future projects beyond Blue Noon you'd like to share (both solo and as a collective)?

Scott Barley: Well so far this journey has been great, and I hope it continues that way, and that we work together in the future, but that discussion hasn't come up yet - we are very much focussed on "now", and getting Blue Noon made. As for solo projects, I am starting to sew ideas for a longer piece, which will partly document a man suffering with depression, but using a very loose and somewhat surreal framework. It will be very much an audio-visual experience. I had been keeping notes on the idea for over a year, but nothing was gelling, but finally the idea truly materialised from listening to the band Throbbing Gristle.

Jesse Richards: Weíve only really focused on this film, and I really enjoy working with all of them very much and hope there will be something else in the future. I think we are really comfortable with each other. For me personally, the next projects Iím interested in doing are an adaptation of a Knut Hamsun story; an adaptation of Rainer Maria Rilkeís only novel; and maybe a film of Hamlet, which I directed in the theatre about 15 years ago and would love to revisit.

And if in the event that Hammer Films ever came knocking and asked me to a Frankenstein-film, you bet your ass I wouldnít turn that down, as long as I had creative control and final cut. Always loved Frankenstein and his monster. But itíd probably be pretty much impossible to beat Boris.

Cassandra Sechler: Working with everyone in this project has been a joy, and I donít doubt that more collaborative efforts will be in the mix after this film is a wrap. Right now I am focused on the present with Blue Noon and its near future.

As far as solo projects go, this summer I am working on a couple feature films that will be out in 2014: I will be co-directing several scenes that I helped write for Heidi Mooreís Dolly Deadly as well as working alongside Craig Jacobson on his film Elliot. I am also in the midst of writing a feature called Acrotalk and organizing an exhibition for an ongoing travelogue series of mine titled Proof That it Happened.

Chris Marsh: At present I am still working on my main short film Rhombus (http://rhombus2013.tumblr.com/), but after Blue Noon I intend to try and get my first feature off the ground Liquid City AKA Night of the Demons. This film despite its title will not be an all out horror, more an abstract horror dealing with current UK and Global themes such as the breakdown of the modern family, joblessness, addiction, money and greedy companies. That and demons of course.

Feeling lucky ?
Want to
search
any of my partnershops yourself
for more, better results ?

The links below
will take you
just there!!!

Find Blue Noon
at the amazons ...

amazon.com

amazon.co.uk

amazon.de
Looking for imports ?
Find Blue Noon here ...
Something naughty ?
(Must be over 18 to go there !)

Salem Kapsaski: I do believe that future collaborations will follow between members of the group. Though so far nothing has yet been discussed. As for solo projects; Iím currently working on putting the final touches on my upcoming Horror Musical Spidarlings [Spidarlings interview - click here] and started writing a horror script loosely based on Medea that I want to pursuit after Blue Noon. There are also two film projects by Dennis Prather that Iím going to be involved in. One is called Voodoo Exotica and we managed to attach some great names to the cast, weíre just struggling to raise the money get the ball rolling. Iím also going to play a small role in The Vampire Controller by Eat Cake & Worship Satan and Martin Daniels which is currently filming in London.
Your/your movie's website, Facebook, whatever else?
Official Website: http://bluenoonfilm.com/
Facebook: https://www.facebook.com/bluenoonfilm
Twitter: https://twitter.com/BlueNoonfilm
Thanks for the interview!
Salem Kapsaski: Thanks again for the great questions Mike. And for your continuous support to truly independent cinema.