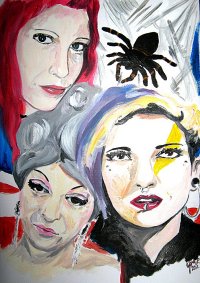 poster art by Saralynn Palladino
Your upcoming film Spidarlings - in a few words, what is it about?
At its core I believe it's about young people having to deal with the consequences of not being able to make it in a society they never wanted to be part of to begin with, who don't have the job opportunities they are hoping for, and about getting caught up in a system where you can't survive if you don't want to meet the requirements of a "standard life".
How did the project come together in the first place, and what were your inspirations when writing Spidarlings?
A lot of it is based on real life experiences; I guess my biggest inspirations for the script came from all the unsympathetic and creepy people I have encountered in my life who eventually formed themselves into several characters of the story. For example all the landlords I ever had melted into one character.
Among other things, Spidarlings is also labelled a musical. Why, what music are we to expect, and would you consider yourself a fan of musicals as such?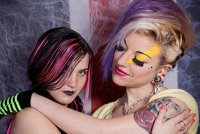 I've always been a fan of musicals, I grew up watching Fred Astaire movies and for a while I wanted to become a tap dancer. When writing Spidarlings I thought the story demanded a really cool and original soundtrack. I envisioned every character in the film to have their own song in a different musical style suited to their personality and background, but for a long time I just couldn't find a composer who could fully grasp the ideas behind it. At some point I heard the song "Spider in Love" by the Belgium group Two Russian Cowboys and I fell in love with it. Eventually we were able to contact them and they turned out to be amazing people and liked the concept of Spidarlings. So after we established that we are "partners in crime" they gave us the permission to use the song for free! I almost gave up on the idea of making it a musical until I met Jeff Kristian. I found working with Jeff to be a unique experience, because he's not only a brilliant composer and song-writer, but he really got under the skin of the story and has given a lot of colour and emotion to the plot.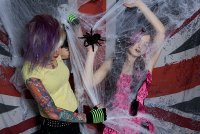 Fear of spiders is a very widespread if not entirely rational phobia. To what extent do you play on that in Spidarlings?
The choice of spiders was not based on the general arachnophobia but because I have always been fascinated with spiders, they are quite endearing little creatures.
How would you describe your movie's brand of comedy?
When I first showed the script to a friend of mine he told me that the humour is too "mean spirited" - I don't know if that is a correct assertion, there is certainly a lot of black humour in there but I personally believe that it's more camp and tongue-in-cheek.
What can you tell us about your directorial approach to the story at hand? And do you see yourself more as a visual, a narrative or an actor-centered director?
Although I started in theatre I believe that my approach to directing is more visual. With Spidarlings I wanted to achieve an almost cartoony and artificial look and feel.
A few words about your leading ladies Rahel Kapsaski and Sophia Disgrace [Sophia Disgrace interview - click here], and why did you choose them in the first place?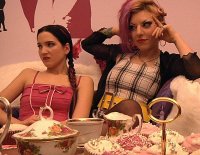 Rahel Kapsaski, Sophia Disgrace

Tiffaney Wells
Sophia is a very interesting, intelligent and sensitive artist and is also a sweet and charming person. She has added a lot of emotions and expression to the character of Eden by being able to explore and comprehend Eden's character in all layers. I'm so happy that we found her and it is amazing to work with Sophia.
I have worked with Rahel before on different projects, and she is a marvellous actress with great comical timing, I wanted her to play the role of Matilda from the very beginning and she became very involved in the creation of the character.
Of course, you also have to say a few words about the glamorous Tiffaney Wells and the very unique flavour (s)he brings to your movie?
Tiffaney Wells is a real Star, not only on stage but in every aspect of her life. She was wonderful to work with. Tiffaney has got an incredible voice and created an unforgettable atmosphere on set from the moment she walked into the room as Gena.
What can you tell us about the rest of your cast and crew?
In my whole life I have never worked with so many creative, passionate and enthusiastic people on a single project. I feel very lucky to have met people like Kjell De Kerpel, Allan Groves, Suzanne Coleman and of course Theofilos Vandoros, who will play Ticks and is a very well-known director and theatre and TV actor in Greece. We had a few setbacks during casting and I also had a very interesting response from a former Kubrick actress who had originally auditioned for the role of the fairy godmother! I knew Lynn Ruth Miller, who plays the fairy godmother now from previous years at the Edinburgh Fringe. Our crew came together one by one. We are like a big family with a lot of trust, passion and fun, and I hope we will be together on many future projects to come.
The $64-question of course: When and where will Spidarlings be released?
Beginning of Post Production is scheduled for end of April. We are still looking for a foreign distributor but are planning to have the film ready for selected Festival screenings this summer.
Let's go back to the beginnings of your career: What got you into filmmaking in the first place, and did you receive any formal education on the subject?
When I was seven years old my grandfather took me to see Full Metal Jacket - the experience completely blew me away and it had been my dream ever since to be involved in film-making. I originally studied to become a sound engineer but it never enticed me in the same way that film has, and although I'm not a believer of Film Schools I eventually switched to Film Studies at the New York College in Athens.
From what I know, your first film as a director was the short My Head Hurts. What can you tell us about that one?
My Head Hurts was a Horror Short I made when I was 13 for a short film competition that took place in Stuttgart, Germany. We shot most of the film in two nights and I edited it myself straight from the camera to video tape. Because I didn't have the equipment or know-how I needed, I was rather unhappy with the finished result at the time; but it was my first film so I think of it as a learning process.
Other movies of yours you'd like to talk about? Any future projects?
I have several film projects in mind that I want to pursue in the future. It all depends on how I can finance them and which project we can afford to start on our own if we don't get any funding.
Besides making movies, you are also involved quite a bit in the theatre scene. Want to talk about that aspect of your career?
My mother is a theatre producer so I was introduced to the world of theatre at a very young age. When I was 18 I started to do light design for various plays in London, Athens and Edinburgh and got to work with great directors like Andy McQuade who now runs the Second Skin Theatre and Victor Sobchak, a friend and mentor who has accepted to play the role of "The Bear" in Spidarlings. I think that working in fringe theatre has also helped me to be more inventive and spontaneous and was a good training on how to create something on a very small budget under constant pressure. I certainly love theatre as much as I do cinema and I appreciate both for what they are. I have only acted on stage once when I played Ian Brady in an adaptation of Fassbinder's "Pre-Paradise Sorry Now" and directed several plays, my latest being called "That Abortion Play" written by the brilliantly satirical Greg Moulder. After Spidarlings I am planning to stage a new play called "Cat Killers" and take it to the Edinburgh Fringe Festival. It is play about abuse and how abuse is perceived by society. That is sadly all I can reveal about it at this point.
Your production company is called Àpres-Vague. Could you please explain the name, and your company's mission statement?
The name is inspired by the movement of the Nouvelle Vague together with the image of the after-shocks that occur after an earthquake or seaquake. So Après Vague in a way stands for the vision of a New Wave of Independent Cinema and will hopefully also create a lot of after-shocks.
I've read somewhere that you have also been production assistant on Giallo by Dario Argento. Since I know many of my readers are fans of his, you just have to talk about that experience for a bit!
I've only worked on set for a couple days but it was the most amazing experience of my life, I'm a huge admirer of Mr Argento work. On my way to Italy I thought of the millions of questions I would ask him if I get to talk to him, but once there I found myself much too shy to ever approach him.
But I got an unbelievable and invaluable insight to a big production and the chance to see one of my idols at work.
Directors who inspire you?
There are so many fantastic directors whose films, style and approach to cinema inspire and fascinate me, I am a big admirer of Fassbinder, Cassavetes and John Waters. But the biggest inspiration and encouragement comes from directors like George Kuchar and Joe Christ, who have managed to create original and honest cinema on a Nano-budget and against all the odds.
Your favourite movies?

Feeling lucky ?
Want to
search
any of my partnershops yourself
for more, better results ?

The links below
will take you
just there!!!

Find Salem Kapsaski
at the amazons ...

amazon.com

amazon.co.uk

amazon.de
Looking for imports ?
Find Salem Kapsaski here ...
Something naughty ?
(Must be over 18 to go there !)

This is always a hard question to answer. My current Top 10: Freaks, Love Streams, In a Year with 13 Moons, Phenomena, Themroc, Polyester, Orphée, Daisies, A Virgin Among the Living Dead, Santa Sangre.
... and of course, films you really deplore?
I hate films with an overly reactionary or moralist attitude.
Your website, Facebook, whatever else?
http://www.facebook.com/Spidarlings
http://www.twitter.com/Spidarlings
http://www.youtube.com/spidarlings
Anything else you are dying to mention and I have merely forgotten to ask?
No, I think we covered it all.
Thanks for the interview!
And thank you! I've been a fan of (re)Search my Trash for a while and am I'm looking forward to reading future reviews and interviews.