Your new movie Carga - in a few words, what is it about?
Carga is a movie about choices, survival instinct and a group of people trapped in the dark world of human trafficking.
With Carga being a film about human trafficking - is any of it based on actual events, and how much research did you put into the subject before writing the script?
When I returned to Portugal after studying in Amsterdam I started directing documentaries focused on social issues and, of course, migration. At that time I had contact with several real stories from migrants and refugees. That was the big influence that moved me to write the script. I have also read a lot of real cases and since we have a partnership with a Portuguese NGO that works with survivors from human trafficking networks I had access to a lot of information on the subject.
(Other) sources of inspiration when writing Carga?
I think that my experience while living in Amsterdam also was a source of inspiration. While living there I understood that sometimes what we believe is something legal can hide very cruel realities, for example, the situation of the women in the red light district…
Of all the key characters in Carga, who could you identify with the most actually, and who the least, and why?
All the characters have parts of myself, so it's difficult to choose. While writing and working with the actors we give them several layers because I wanted to work in the grey areas that every human being has. So my answer to this question is that I can identify with all of them and also with none, mostly because no one ever admits that under certain circumstances you can do whatever you need to do to protect yourself or the ones you care about.
What can you tell us about your directorial approach to your story at hand?
I wanted the audience to be in the shoes of those characters. Carga is like a window to that universe and to a reality that is ugly, but that needs to be seen. My main focus was on the actors' direction, on the mood that the locations that we filmed gave to the story, on the colors we used in the wardrobe and art direction, and, of course, on all the cinematography.
Do talk about your key cast, and why exactly these people?
When I write I always imagine the actor that I want to play the role. It's like I am writing for each one of them. In Carga, since this was my first feature film I was worried that the actors wouldn't accept the project because they didn't know me, all of them have a lot of experience, are well-known in Portugal and, of course, some of them on an international level. When they read the script all of them accepted. All of them were chosen because I really like them as actors and as human beings and I can't imagine other actors playing these roles. We have remained friends since them.
A few words about the shoot as such, and the on-set atmosphere?
It has been really exciting and stressful, of course. We filmed in an area in the center of Portugal during 54 days, and I had the opportunity to also work with several local actors and get the community involved. These people made the crew and actors feel very welcome. That good mood after the shoots helped the actors to be at their best while filming. I believe that it is really important to have that kind of safe environment when you're working on tough subjects like this.
Anything you can tell us about audience and critical reception of Carga?
It has been really well received by the audience. The production company in Portugal also distributed Carga, this was the first time they're doing that and they managed to have the film at the top 5 of 2018's most seen Portuguese movies. The audience really connected with the film, especially women. It premiered at 26 theaters all over the country and was there for 5 weeks. Right now Carga is having special sessions for schools and small villages in a way to promote the cinema in small communities and public debate about the subject of human trafficking. Concerning the critical reception I feel that we got a lot of support from part of the film critics, but especially from the press that has done an amazing job not only talking about the film, but also on the theme of human trafficking. We also received two nominations for the most prestigious Portuguese awards from our Portuguese Film Academy, and several different awards in Portugal. On an international level the film has been sold to more than 10 countries and has been released in the USA, of course, and presented in some festivals getting good reviews in Italy and UK. For the next months we still have a lot of good news to announce.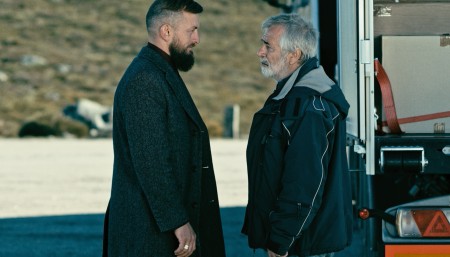 Any future projects you'd like to share?
I am right now preparing my next film that talks about courage, fierce and hope. It's different from Carga and it will be a huge challenge and responsibility since I want the film to be a tribute to the person whose story inspired me. The main subject is something that like human trafficking is neglected and remains most of the times in the shadows… I want to bring it to the light.
What got you into filmmaking in the first place, and did you receive any formal education on the subject?
Since I was a kid I was addicted to films and passed many hours watching several different movies daily. Later I was at a point that after a family tragedy I didn't know what to do with my life and I decided to pursue my dream of becoming an director and make a difference with my movies. I left everything behind and went to SAE Amsterdam to study directing. That experience was the best I could have ever had, not only because of the school experience but also for the opportunity of learning from people like, for example, the awarded director Karim Traidia that made me understand the importance of working with actors and the whole psychological process behind it. In Amsterdam I understood that the movies that I want to write and direct need to have also a "mission" behind them, and when I returned to Portugal I was totally focused on that.
What can you tell us about your filmwork prior to Carga?
I have written and directed two short films that got some awards. The first one is Boy that's focused on schizophrenia, and the second one is Emptiness that's a story about suicide and depression. Those shorts have been produced independently and allowed me to direct my first feature film.
How would you describe yourself as a director?
I am obsessed with psychology and the inner self of human beings. All my characters need to have different kinds of layers. They need to be real and I need to know everything about them and their motivations. I am also, of course, obsessed with working with the actors, shots, sound and colors because I believe that everything needs to be sensorial and to have a reason to be in the film. I am really focused on details.
Filmmakers who inspire you?
I will only name four because the list of the ones that inspire me is huge: Kubrick, Hitchcock, Ińarritu and, of course, someone that I learned a lot from: Karim Traidia.
Your favourite movies?
City of God, The Pianist, Amores Perros, The Shining and Vertigo are part of my top list, but there are many others since I'm truly addicted to films.
... and of course, films you really deplore?
There's no one I can highlight, but it is really hard for me to watch something that doesn't make me think.
Your/your movie's website, Facebook, whatever else?

Feeling lucky ?
Want to
search
any of my partnershops yourself
for more, better results ?

The links below
will take you
just there!!!


You can check more about me at www.facebook.com/bruno.gascon.3 or at www.instagram.com/brunogascon, about Carga at www.facebook.com/cargamovie

and www.instagram.com/cargamovie and about our company at www.caracolstudios.com.

Anything else you're dying to mention and I have merely forgotten to ask?

I think that you touched all the relevant topics. I just want to send a message to everyone that will read this: Believe me, human trafficking is real, is not only a third world problem and anyone can be caught in it.

Thanks for the interview!