Your film Bunnyman - in a few words, what is it about?
The whole concept of the film, Bunnyman, is the contradictory nature of having something innocent, that represents good doing something very bad i.e. Mickey Mouse with a giant knife is more scary then a homeless man with a giant knife.
What were your inspirations when writing Bunnyman?
I wanted to make a unique horror film. Loving the slasher genre, I knew no one had done a film with a giant white bunnyman. When I realized that there was a opportunity there, I started thinking about the film. I came up with the idea of having a giant white Bunnyman listening to classical music as he tortures someone with a chainsaw. That idea inspired me, because it was so out there, and I felt that was a creative idea that I just had to get on film.
How would you describe your directorial approach?
To be honest, it's fractured. I want to spend as much time working with the actors, rehearsing etc. but I am not able to. As a producer on the film, I have to worry about permits, signing waivers, locations etc. that I am compromised as a director since I can't only focus on the actors. The producing aspect isn't the only thing that distracts me either, for example we don't have a production designer, so although the actors are important, I have to worry about everything else that appears on the screen, the sets etc. However to be fair, everyone on set was doing multiple things. Joshua Lang had five jobs at any given time, and my effects guy Michael Cronin was holding the boom mike when we didn't have effects in the shot.
In essence, Bunnyman is a slasher movie. A favourite genre of yours, and your genre favourites?
The more obvious ones such as Friday the 13th, Nightmare on Elm Street etc. However, I also like the more obscure horror films, I love Phantasm... and a couple of guilty pleasures like The Stuff, Chopping Mall, and Freddy vs Jason.
One question that might be very obvious: Why a bunny costume?
I have not seen any other horror films with a giant bunny costume, so that's why I stuck with that costume. If you think thematically, the costume is white, so it represents a pure color, innocence. It also contrasts well with blood :) Another reason, is that the costume stands out, which was evident when I was promoting the film at a horror convention. You have tons of people dressed as zombies, and no one bats a eye. However, when a giant white bunny covered in blood comes out, it stands out. You don't see that everyday, and it gets a reaction from people.
Another example when we were shooting the sunset shot in Bunnyman, we were right off a highway leading up the side of a mountain. People would drive for miles, and not see another car. However, they would turn the corner on the side of the mountain, and nearly slam on their breaks because there was a giant white bunny standing amongst the woods with a chainsaw. The costume just stands out.
You play the titular Bunnyman yourself, and also do so at conventions to promote your film, right? What can you tell us about playing the Bunnyman?
I almost fainted a couple of times in that costume at E3, because I was so determined to get on live TV. Which I did, check out the Attack of the Show-Bunnyman clip on youtube! I also had 3 year old fake blood seeping out of the costume, melting from the heat, and running into my eyes, which blinded me on the left side. So it's not as glorious as one would think :) I am also 6'3" so when you add the costume on, I'm 7ft tall. So at E3 you have a lot of short Asians there, which meant I had fun chasing after a few of them, scaring most of them since I towered over them.
Now here's a stupid question I have made up especially for you: How important do you think are chainsaws in today's horror?
There is a primal fear factor with just the unnerving sound of a chainsaw running. I mean, it will cut you like a machete will, however it's that added noise that I think registers subconsciously with the audience. With that being said, I think it's just as relevant as it was in the 70's and 80's. I think it's a great weapon to cut people up with :) The concern however is that the second you put that in a film, people will say you are copying Texas Chainsaw Massacre... which annoys me, because a chainsaw is featured as promitely in Evil Dead 2, and Army of Darkness yet they don't say those films copied Texas Chainsaw. So in my opinion, it's a perfectly viable weapon to use in a film.... it just has some baggage with it.
Bunnyman's hilarious last line, "We're gonna need a lot of therapy" - how did you come up with that?
That's just my sarcastic sense of humor coming out... stating the obvious with a wink and a smile. There's no story behind it, sorry... I just have a tendency to have these random lines of humor that hopefully helps endear the audience to the characters.
Let's leave the present behind at the moment and head on to your past: What got you into filmmaking in the first place, and did you receive any formal training on the subject?
I just love movies. I had a few bumps in the road growing up, and movies were a way to escape. I was always intrigued by the idea that you can create this whole world in film that doesn't exist other then what comes up in your mind. The idea of creating a visual representation of that is fun, and I like the idea that I was able to create something in this world that wouldn't have existed otherwise. In regards to training, I went to film school. However, that was only a small factor learning how to make films. The rest came with making my earlier films, learning what works and doesn't work. The negative in that, is you learn in a public forum, and let's be honest, the internet is like a pit of angry dogs just waiting to rip you a new one. So to give that a positive spin, you are politely informed on any aspect you need to work on to hone your craft :)
A few words about Shadows of the Dead, which was I believe your debut feature?
It's not a great film, by any stretch of the imagination, but it is something I am proud of. It represents a lot of things to me. It was my attempt to do something creative, by making a zombie love story which I still think is a more unique approach to a horror film. It however backfired on me, since the horror fans hated the love aspect to it, and the drama/romance crowd hated the zombie part, so I pissed off two genre fans instead of appealing to both. The film represents a younger version of myself personally, since I had this ideal of young romance and love. Having grown up a little, and being more jaded about love, finding the right one etc. I have no interest in exploring that aspect in film anymore. Now I just want to blow shit up, and kill people in films :) - in other words, there ain't no love in Bunnyman! Finally, Shadows of the Dead introduced me to the wonderful world of distributors and their creative talents in regards to "marketing expenses".
What can you tell us about Shattered Lives?
The main lesson I learned from Shattered Lives is that I got too ambitious. The film was supposed to be a anthology of three stories, like Creepshow. However after the first day of filming, I realized I was fucked, since there was no way we could shoot three stories within the shooting schedule. So, after the first day of production, I was forced to re-write the script, take out one story completely, and combine the two stronger stories into one... which is to say, this is not the way to make a movie. I also realized as we shot the film, that the clowns were one of the stronger aspects of the film, so I added additional scenes of the clowns, trying to give them as much screen time as possible. There was a lot of drama on that set as well, from arriving on set to see a ambulance carrying off one of the crew members, to being kicked out of one location (due to no fault of the production), to trying to find little people and convincing them to be in a movie. The little people were not actors, so I was conscious of having to rely on make up, and dubbing their voices (with my own voice distorted) to make a performance out of them.
While Bunnyman has its weird title character, Shattered Lives has two weird clowns - intended parallels (or am I seeing something that's not there to begin with)?
Just my attempt at trying to be unique within the genre. Shattered Lives had little evil clown people, how often do you see that in films?
Any other films of yours you'd like to talk about, any future projects?
Bunnyman 2! I feel there is a still a story to still tell with the Bunnyman character. I want to apply the mistakes I made on Bunnyman 1 to make Bunnyman 2 an even better slasher film! I also like the idea of doing a sequel, the creative challenges to justify the existence of a sequel etc. One thing I did not anticipate, was the challenge of contending with everyone's schedules, and I realize now firsthand why you don't have returning actors in sequels. I do like the challenge of trying to build the Bunnyman brand name, and create a franchise with Bunnyman. I also want to push the contradictory nature of something innocent doing really bad things i.e. more blood and gore !
After Bunnyman 2, will be Blood Angel, which deals with the Nazi Occult. I want to get one more slasher film under my belt, and then into some more high concept films.
When making movies, you pretty much do it all yourself, writing, directing, producing, editing, even a bit of acting. What are your favourite aspects of the moviemaking process, what could you do without?
I loathe the producing aspect, I really do. The part I love the most is editing. I like that I can lock myself up in a room, and re-write the entire story, fix problems, come up with creative solutions which are all dependent on my creative abilities and nothing else. This is opposed to producing, which I am constantly constrained by having no money to make a film.
Directors who inspire you?

Feeling lucky ?
Want to
search
any of my partnershops yourself
for more, better results ?

The links below
will take you
just there!!!

Find Carl Lindbergh
at the amazons ...

amazon.com

amazon.co.uk

amazon.de
Looking for imports ?
Find Carl Lindbergh here ...
Something naughty ?
(Must be over 18 to go there !)

Tim Burton and Ridley Scott. I really respect the imaginative worlds they create within their films.
Your favourite movies?
My first and true love is science fiction... I just can't make films in that genre since I don't have the budget, however that is my long term goal. With that being said, my favorite films are the original Star Wars trilogy, the Alien films, the Terminator and Predator films, and of course Blade Runner.
... and of course, films you really deplore?
I don't find any artistic merit in torture porn... and I'm happy to see that subgenre subsiding. I'm also not a fan of the lost footage subgenre. If you just plop down a camera on a table, and hit record... that's not filmmaking to me. Where is the technique of lighting, the art of cinematography is lost in these type of films.
Your/your films website, Facebook, whatever else?
A No One Cares official website: www.anocproductions.com
Bunnyman on Facebook: www.facebook.com/pages/Bunnyman/140212319369623?ref=ts
Anything else you are dying to mention that I have merely forgotten to ask?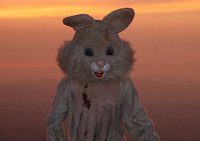 I just wanted to thank everyone who helped make Bunnyman! It means a lot to receive support from fans of Bunnyman, and it helps keep us motivated to make more films. Filmmakers are human beings as well, and what goes hand in hand with being a creative person is being sensitive. Filmmakers are not immune to criticism which I would wish the internet forums would be cognizant of. A filmmaker, or an artist I feel has a need to make something not just out of self realization, but a wanting to share something that represents them. They are sharing something with you, the audience. Even a four year old realizes when someone shares a cookie with them, if they don't like it, they say no thank you. You don't take the cookie, break it into millions of pieces, and throw it back into the giver's face. I think if someone doesn't like a filmmaker's movie, or a artist's painting, or a musician's song that this person should go make something that speaks to himselves, rather then wasting his time attacking someone else's work.
Thanks for the interview!
Thank you for the opportunity !