Your upcoming movie Zombie Massacre - in a few words, what is it about, and what can you tell us about your character in it?
Zombie Massacre reaches above the normal genre of drooling zombies looking for a quick snack on a human. It ventures into the consequences of man's greed for power and control through germ warfare, which sadly gets out of hand. Of course, it still contains the tension, action, blood and gore that an audience expects to see, but done to an exceptional level.
I portray General Carter, who appears as the villain of the piece, but the guy considers what he is doing is for the good of his country. He has a passion in his heart to be the best and to do what is right, although one manís right is another manís wrong. The audience can judge for themselves as to whether or not Carter is the villain.
You're playing a military man in Zombie Massacre - is that something you can at all relate to from personal experiences and the like, and what did you draw from to bring your character to life?
I have always been a much disciplined person in whatever I do and how I live my life. Over the years I have worked as a fitness teacher and my clients have expressed that I was like a military soldier, pushing them to their limits. So I would say that the aspects of my nature are very disciplined and military, even to the extreme some would say, ha ha.
At a younger age I was a member of the Army Cadets, so through these experiences and character traits I developed Carter.
How do you actually prepare for playing a villain ... and being a villain in a zombie movie, how do you upstage your undead co-stars?
The preparation for being a villain comes from the development and understanding of Carter's intent and drive. It was a case of developing a back story to get him from A to B so that he was a living whole rounded character and not just a two-dimensional fictional villain. He is not your stereotype villain with shaved head, scars and tattoos. He is more dangerous than that, as he is a father, a husband, a friend etc etc, yet also a callous killer. To make it worse he is also power hungry and thrives on control, which makes the mixture very potent.
So in my portrayal of Carter, I was not playing the villain, I was being the man and his nuances. Everything else that followed was the natural progression of the reactions to each situation that arose. Just as we all do in reality. It then just comes down to the perception of the beholder of the situation as to whether or not Carter is a villain or just a highly motivated individual.
Is the zombie genre a genre you can at all relate to, and some of your genre favourites?
Zombie Massacre has been my baptism of fire, ha ha. It has opened up my eyes to how many films and fans of zombies there are out there. Of course I have watched zombie movies over the years, but I could give or take them, but with Zombie Massacre appetite has been whetted.
I must admit I am a lover of the old Hammer Horror House-movies. The black and white tends to add to the fear factor, and of course sometimes showing less is more. Sadly a lot of the modern horror films today spoil the genre by trying too hard to show too much violence and gore. Zombie Massacre gets the balance just right, and it has a story to it.
How did you get involved in the project in the first place?
I saw the call for actors on Casting Call Pro and applied as I do with many acting jobs every day. My first reply was for me to tape a couple of small scenes that had been sent to me from Marco and Luca [Marco Ristori and Luca Boni interview - click here]. Watching the footage back from my digital camera I assumed that I would not stand a hope in hell chance of being called for an audition. But as fate would have it they saw some potential in me, ha ha. I was then asked to attend an audition in London for the role of the General. I set to work this role was going to be mine, ha ha. I went out and bought some army trousers and a black tight tee shirt and set about learning the scenes.
Within the audition scenes, Carter presents files to the Secretary of Defense. These files contain information about certain mercenaries that Carter has selected to do the job. So I researched the actors who had been cast as these characters and proceeded to compile actual files for each as I knew this would be a trump card to play at the audition. It seemed to work, ha ha...
A few words about your directors Marco Ristori and Luca Boni [Marco Ristori and Luca Boni interview - click here], and what was your collaboration like?
Now here are two exceptional individuals. As a team they are the perfect fit and balance. Their passion for their work is what won me over at the audition. Here were two directors who not only wanted good actors but who wanted to connect on an emotional level. At the audition and once on set they knew how to listen to the actors who felt free to share their own ideas and reasons for their characters actions and reactions. They treated each and all as friends and they got the best out of us all. I thank you both for your professional direction, for your support and especially for your friendship. I look forward to hopefully working with you both on many more future projects.
What's it like shooting in Italy, and to what extent does an Italian filmset differ from a British one? And what can you tell us about the on-set atmosphere as such?
What can I say about Italy apart from beautiful, beautiful and beautiful. Of course the heat can be a bit of a hindrance, but hey, I suppose itís better than the cold wet English weather, ha ha.
I found that the atmosphere differed a lot on set as each and every cast and crew member seemed to be smiling and relaxed and nothing was too much trouble, although getting a cup of tea was deemed as impossible, ha ha. I suppose each set whether in the UK or Italy will differ sometimes good sometimes not so good, but my experience on the set of Zombie Massacre is one I will never forget and would live through again day after day. It was like being at home with family and friends.
If there was ever a Zombie Massacre II - would you be up for doing it?
Now thatís not a difficult answer. YES YES YESÖ bring it on, Marco and Luca!
Let's go back to the beginnings of your career: What got you acting in the first place, and did you receive any formal training on the subject?
When I was a young boy I wanted to be an actor, but didnít know how to go about it, so when I left school I trained as a carpenter. After several years I decided to enter amateur dramatics, as I was a very shy person back then and still can be. At the age of 20 years I decided to go to private drama lessons and started to take examinations in them. One year later I left my job and attended Drama College where I studied drama and dance for 4 years fulltime. After leaving college I have continued to work in theatre and progressively more into film of late.
Do you still remember your first time in front of a movie camera, and what can you tell us about that experience?
My lesson from that was, oh how wooden I looked. My mistake then was trying to act. With being a theatre actor for so many years I was used to making everything large and expressive, but now gladly I realize that less is more and an actorís naturalism is what makes good viewing.
What can you tell us about your filmwork prior to Zombie Massacre?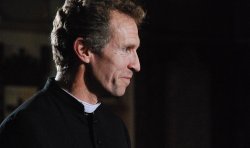 Saint Dracula 3D
For the past couple of years prior to Zombie Massacre I have been developing my skills as a film actor through low budget and student productions. Some of them have been a lesson in regrets but I am happily to say they have mostly been a perfect training ground.
You just have to talk about a few of your upcoming movies (and your roles in them) in more detail:
Saint Dracula 3D?
I portray a small role of The Vicar, who tries to protect one of the young victims of Dracula. It was not so much of a deep role as Carter, but a very good experience and also nice to play a gentle character.
Henry the Fourth Part Two?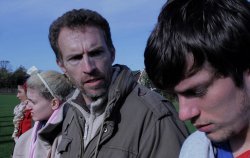 Henry the Fourth Part Two
This film was a dawning point for me as a film actor. The depths of emotion that I managed to reach portraying Henry showed me new sides that I had not seen in myself on camera before. Again the directors on this worked as a perfect team and lots of freedom was given to the performance of the actors.
Henry the Fourth Part Two is a modern adaption of the Shakespeare tragedy, and it sees Henry trying to keep his family together after the death of his wife and the daunting prospect of a terminal illness. This is one to pull at the heart strings.
Mayhem Behind Movies?
Here we have one for the laughs. A zombie movie which makes fun at of itself.
I play the role of Hank, a stereotypical American all-time hero, yet not to be taken seriously as there is a twist in the tale.
Any other future projects of yours you'd like to talk about?
As usual in this business, itís a never-ending flow of applications and auditions. There are a few things floating about in the pipeline, but nothing that I want to shout and scream about just yet.
Very much in general, how would you describe your approach to acting?
I would say I approach acting as I approach everything in my life, and that is very detailed and with the intention that if something is worth doing then it is worth doing 110%. I focus upon the emotions of the character within the script and build the method from there. Drawing upon my own experiences and then trying to link them with the character's. I have always said that professionalism is a state of mind it has nothing to do with how much money you earn for each role.
Actors who inspire you?
Daniel Day Lewis, Anthony Hopkins, Pete Postlethwaite. To me they touch the essence of the emotion of each character they portray.
Your favourite movies?

Feeling lucky ?
Want to
search
any of my partnershops yourself
for more, better results ?

The links below
will take you
just there!!!

Find Carl Wharton
at the amazons ...

amazon.com

amazon.co.uk

amazon.de
Looking for imports ?
Find Carl Wharton here ...
Something naughty ?
(Must be over 18 to go there !)

The Ladykillers - and I mean the old British one. The humour is just fab. The Crucible because of the drama and emotion. Also Last of the Mohicans. Stardust for the romance and 50 First Dates.
... and of course, films you really deplore?
The Grudge scares me silly. I canít stand films that have excessive violence and swearing in an attempt to capture an audience. To me it shows a lack of imagination.
Your website, Facebook, whatever else?
www.spotlight.com/7017-8943-6547
www.uk.castingcallpro.com/cv/carl.wharton12
Anything else you are dying to mention and I have merely forgotten to ask?
As always I continue to move forwards, onwards and upwards, and would be very happy that those reading this article try to circulate it as much as possible and any casting directors, please feel free to contact me through Spotlight.
Many thanks for your time, Mike.
Thanks for the interview!