Get A Foundling on iTunes now:
https://itunes.apple.com/movie/a-foundling/id597983356?v0=9988&ign-mpt=uo%3D1
Even though you have already answered this question in your last interview [click here], could you bring us up to speed and tell us in a few words what A Foundling is about?
A Foundling is about two Chinese sisters in the Old West who find the crashed wreckage of an alien spaceship in the desert and discover a wounded baby alien inside.
What I particularly liked about A Foundling was the detailed depiction of the relationship between the very dissimilar sisters Virginia and Mattie. Was this in any way based on personal experiences?
No. Not a personal experience. When writing, I think it's important to create characters that are opposites of each other as opposites create the most tension and help make the story more interesting. I didn't want it to be a man-woman story because those are kind of cliché. It would be forced to then be a love story, or a story about a man saving a woman or a woman saving a man – quite boring. By making the story about 2 girls, you can explore personality conflicts and create tension without falling back on boring gender clichés.
Between the bible-thumping Virginia and the free-spirited Mattie, who do you feel closer to?
I don't think Virginia is a Bible-thumper, she is just religious because she was raised that way. While I, personally, am an atheist I feel closest to Virginia because we both have very "puritan" values. On the other hand, Virginia is quite smart and resourceful. I'm very much a wimp and would be very grossed out by all the icky alien wounds and gore that are in the movie. So in that way, we are quite different.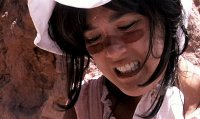 Nora Jesse
We have already talked about your Virginia Cindy Chiu in our last interview [click here], but what can you tell us about Nora Jesse, the woman who plays Mattie?
Nora is awesome. She came to an audition for another project I was doing a few years before A Foundling. I was immediately struck by the very natural way she plays a character and all the nuances she brings to a role. While Nora wasn't right for that particular project, I knew I wanted to cast her in a movie someday. So when I sat down to write the script for A Foundling, I wrote it with her in mind. So let that be a lesson to all you actors – don't be discouraged if you don't get the part, the director might call you back for another movie a few years later.
There is one key scene of the plot that's not in the film, and that's Virginia helping Mattie escape from the brothel. Now I don't think the film is lacking anything in the least without this scene, but was it ever filmed, or would you have filmed it provided you had a bigger budget?
If I could do it over again, I WOULD film that scene. You have to understand, that when I wrote and made A Foundling, I was going through my "minimalist" phase where I was obsessed with minimalist films and minimalism in filmmaking. Check out my short films Hardwood Floors and Class on my IMDb page to get an idea of what I'm talking about. I was obsessed with making scenes where almost nothing was happening, yet there would be this underlying tension that would freak people out. Hence, with my minimalist-obsessed aesthetic I was crazed with the idea of opening this weird, sci-fi/western film with these extremely tight close ups of the two girls talking to each other and you feel this tension, but your not entirely sure where we are or what is going on. I love that kind of thing.
That said, I'm totally over minimalism now. You can't expect to sell a film to a distributor where nothing happens in the first 5 minutes. Some distributors just turned the thing off when they saw how it opened. So if I were to do it again, I would totally start with an action-packed rescue scene with lots of suspense, blood and violence. I know it means I'm "selling out", but I feel like if going with an action-packed opening scene gets more people to see the movie, than it's worth the "artistic sacrifice". Plus, shooting action scenes really shows off your chops as a director.
Anyway, I'm writing a book now and the very first scene in the book is a beheading and the first chapter ends with full-blown carnage. I've grown as an artist in that way, I suppose.
How big was your influence on the design of the alien, which is pretty much the driving force of your movie?
I drew the original character design of the alien and a great make up artist named Jenn Rose came up with the tribal make up designs. I also sewed the costume myself. The face was all thanks to Simpat Beshrian who rocked at getting it on and off everyday. Most of the design was developed in a way to maintain the cute factor while also making it easy to take on and off.
Whether you like it or not, and whether it's appropriate or not (and I don't think it is), A Foundling will be (and probably already has been) compared to Steven Spielberg's ET at some point due to its subject matter. A comparison you are at all happy with?
I don't think anyone has compared it to ET, but if they did I think that would be awesome. Steven Spielberg rocks. But if people go into this movie, they shouldn't expect ET. This is a weird film that is more of an exploration of the 2 female characters, rather than a sci-fi flick.
A Foundling was your feature debut as a director. Lessons learned from it?
Lots! Don't shoot on location! Next movie will be shot in LA – ideally on sound stages. The weather and the far-away location almost killed us.
Pack lots of adventure, blood, and gore into the first 5 minutes. Slow-starting movies just don't sell.
DO hire great actors (there is where I succeeded) and hire a great DP and crew (I also got lucky there).

Feeling lucky ?
Want to
search
any of my partnershops yourself
for more, better results ?

The links below
will take you
just there!!!

Find Carly Lyn
at the amazons ...

amazon.com

amazon.co.uk

amazon.de
Looking for imports ?
Find Carly Lyn here ...
Something naughty ?
(Must be over 18 to go there !)

Based on your experiences with A Foundling, do you have the desire to ever direct another feature film, and/or other future projects you'd like to talk about?
Right now my main focus is writing my novel and we'll see what I decide to do after that. My book is a post-apocalyptic epic that has a lot of excitement, mystery, horror, gore, a love triangle, robots etc… It's a blast to write and it will be even more fun to read, I hope.
Your website, Facebook, whatever else?
A Foundling will be released soon on DVD, I PROMISE. Please keep checking our facebook page here: https://www.facebook.com/home.php#!/pages/A-Foundling/
113242872051563
Also check out our website: www.afoundling.com (I am currently switching servers, so if it is not presently working, you can view the website at: www.themojaveexperiment.com).
Anything else you are dying to mention I have merely forgotten to ask?
I'd love for people to check out my art on DeviantArt: http://carlylyn.deviantart.com.
Thanks for the interview!