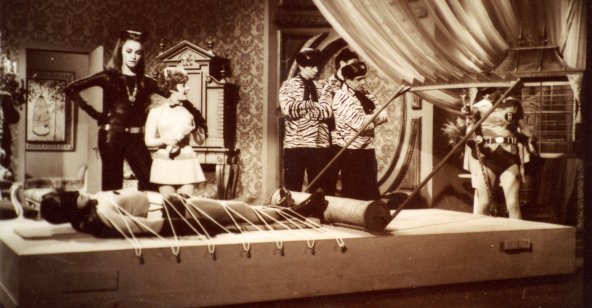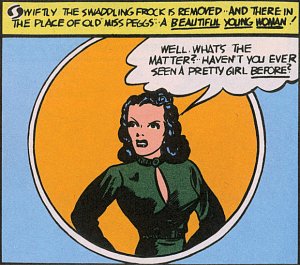 Catwoman's first appearance, Batman No. 1 (1940)
Before we dive right into the 60's and the Batman TV-series, do talk a bit about Catwoman's origins and her introduction into the comics?
The Catwoman was created by Bob Kane and Bill Finger. She made her debut in Batman No. 1 (1940) as a jewel thief called The Cat. In her first adventure she did not wear a costume but was illustrated as a dark-haired beautiful woman. It was not until Batman No. 3 (1940) when The Cat wore a brown cat's head mask, orange dress, red cape and high heel shoes. Over the years her costume has changed numerous times. Right from the start there was an attraction between Batman and The Cat. The Cat tempts Batman by saying, "Why don't you come in, as a partner with me! You and I together! You and I-King and Queen of crime! We'd make a great team!" Of course Batman declines The Cat's offer but aids her escape from a launch. Her real name would be revealed as Selina Kyle in Batman No. 62 (1950).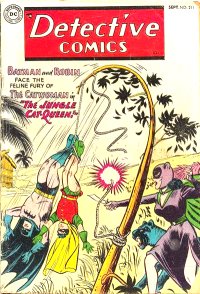 Detective Comics No. 211 (1954)

I've read somewhere that Catwoman retired from the comicbooks due to the (then newly installed) Comic Code in 1954 - care to elaborate, and anything you can tell us about her final adventure?

Catwoman violated a few of the rules established by the Comics Code Authority:

"Criminals shall not be presented so as to be rendered glamorous or to occupy a position which creates the desire of emulation." Also, "In every instance good shall triumph over evil and the criminal punished for his misdeeds". Catwoman was certainly a regular offender of these two rules!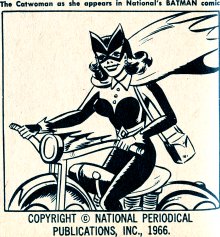 The Batwoman mistaken for the Catwoman from Castle of Frankenstein No. 9 (1966)
Her last encounter with Batman and Robin was titled The Jungle Cat-Queen from Detective Comics No. 211 (1954). The plot involved Catwoman, a gang of criminals, stolen diamonds, a gorilla and the Dynamic Duo wearing animal-skin clothing. At the conclusion of the story the criminal gang is captured but Catwoman escapes riding her pet leopard.
Her place, in Batman's life, was taken by The Batwoman [Batwoman article - click here]. She was actually wealthy heiress, Kathy Kane, and made her debut in Detective Comics No. 233 (1956). It was only years later in Detective Comics No. 311 (1963) we discover what became of The Catwoman. Boredom had caused Tom Blake to give up his successful career as an animal trapper. He glanced at his pet black panther Felina which reminded him of The Catwoman. Tom Blake remembered her as was one of Batman's greatest adversaries until she "retired". Soon afterward he launches a criminal career as The Cat-Man and falls in love with The Batwoman. When Catwoman did reappear in the comic books the stories were reprints of her earlier adventures.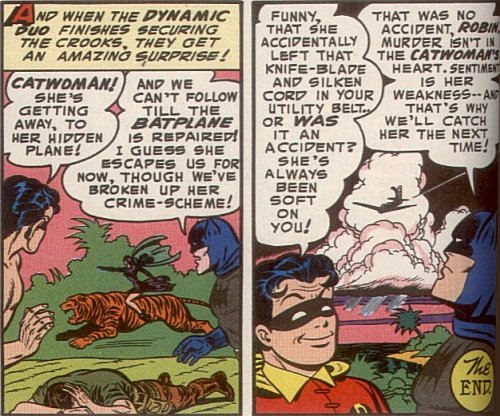 Detective Comics No. 211 (1954)

So how was Catwoman introduced into the Batman TV-series?
The Catwoman was first mentioned in the program's ninth episode, Zelda the Great. Batman deduces a female criminal is causing trouble and Robin exclaims "The Catwoman". The Caped Crusader dispels this notion stating "Impossible she's safely up the river". Originally executive producer, William Dozier, had Suzanne Pleshette in mind as Catwoman but apparently negotiations with the actress fell through. The Princess of Plunder was forgotten for a while until Julie Newmar was cast in the role. She made her debut in episode 19, The Purr-fect Crime.
I think we have to once again take a detour here to explain 1960's Batmania to younger audiences who know Batman primarily as a humourfree guy with pointy ears who barks a lot!
Oh how I wish the Batman in today's comics was less of that "humor free guy". In my opinion he is much too dark, violent and grim. The television series was written on several levels for the viewing audience. It had colorful action for the children and the theatre of the absurd for the adults. Batman was wildly popular shortly after the program's debut and related products were found everywhere. The series also launched Batman's comic book sales into the stratosphere after years of dismal returns. A new Batman daily and Sunday comic strip debuted and The Catwoman was one of the first criminals to appear in the weekday version.


Batman daily strip, July 1966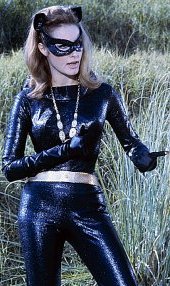 Julie Newmar
So what can you tell us about Julie Newmar and her rendition of Catwoman?
In her initial appearance Julie Newmar portrayed the Feline Felon as pure villainess seeking the lost treasure of Captain Manx. There was no hint of any romantic feelings between Catwoman and Batman in her first two-part episode. She was a sexy felonious female slinking around in her all black costume with hip-hugging gold belt. Originally Julie was given a different costume to wear (probably based on one worn in the comic book) but she designed the version which graced the television screen.
Do talk about the romantic allusions between Newmar's Catwoman and Adam West's Batman for a bit!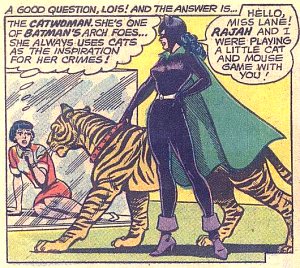 Lois Lane No. 70 (1966)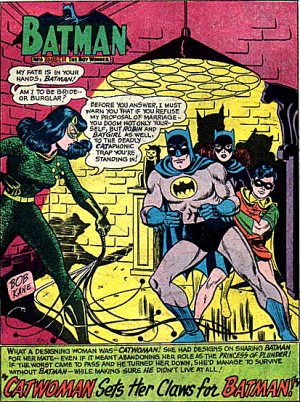 Batman No. 197 (1967)
I suppose to give the Catwoman character more personality in the program, writer Stanley Ralph Ross added her attraction to Batman. This relationship between the two characters originated in the comic book series. In the episode, Hot Off the Griddle she informs Batman he would be the only man worthy of her. Robin says, "Holy lovebirds I think she's sweet on you Batman." From this point on Julie Newmar's Catwoman was schizophrenic regarding her actions towards Batman. She would put him a death-trap but yet ask him for a date when she got out of prison! Julie Newmar stated in an interview that although the audience was fascinated with the romance between Batman and Catwoman she was not for it. The actress called Catwoman's attraction to Batman a "tease".
As far as I know, Catwoman made her return into the comicbooks in 1966 in Lois Lane #70 - do talk about that one and her development in 1960's comicbooks (as opposed to TV) for a bit!
Lois Lane No. 70 (1966) was published at a time when Batmania swept the country. DC Comics obviously wanted to capitalize on this and had bat-characters appear in different comic books. Catwoman returned in The Catwoman's Black Magic in a bizarre story where she hypnotizes Superman's girlfriend into impersonating her. Lois Lane, as Catwoman, does battle with The Penquin and the real feline felon turns The Man of Steel into a cat! The story was continued in the following issue titled Bad Luck for a Black Super-Cat. Batman and Robin capture the Catwoman, and Lana Lang, with the magic of a cat's paw, changes Superman back to normal. In this two-part adventure Catwoman wore a purple costume and cape with a cat shaped cowl.
Catwoman, as Selina Kyle, makes a cameo appearance near the end of Detective Comics No. 369's Batgirl Breaks up the Dymanic Duo (1967). Following this cameo she returned, wearing yet another new costume, in Batman No. 197 (1967). The Princess of Plunder wore a green version of Julie Newmar's television attire. This issue's story was called Catwoman Sets Her Claws for Batman. Catwoman seemingly reformed to win the love of the Caped Crusader. She saw Batgirl (Barbara Gordon) as a rival for Batman's affections. By the story's end Catwoman was back to her criminal ways and off to jail. She next appeared, mainly for an extended cameo appearance, in Batman's Gangland Guardians for Batman No. 201 (1968). Catwoman also popped up, wearing her purple costume, in Worlds Finest No. 169 (1967), but oddly enough she turned out to be the magical imp, Bat-Mite, in disguise! Aside from a few reprints of her earlier adventures DC Comics did not utilize Catwoman much during the run of the television series.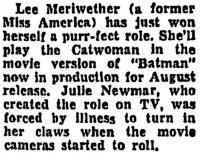 May 15, 1966
Any explanation for why Julie Newmar did not appear as Catwoman in the big screen Batman from 1966?
If you watch the biographies of Julie Newmar, the Batman series and Catwoman, each gives a different reason why the actress did not appear. Burt Ward (on the Batman-movie DVD) and several writers claim Julie was filming the movie MacKenna's Gold. However this movie was being filmed in 1967. Other explanations include "she was working on another project at the time", "wanted more money" or the vague "unavailable". When Lee Meriwether, who played Catwoman in the 1966 film was interviewed for Starlog magazine, the article stated, "The role was being recast for the movie because Julie Newmar, the series' original felonious feline, was having back problems." If you research the movie, at the time it was being filmed, articles do mention Julie had an "illness" or "injury".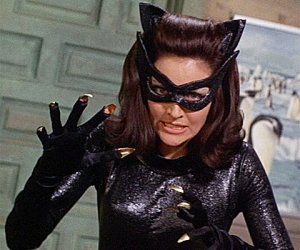 Lee Meriwether
So do talk about Lee Meriwether's performance in the Batman-movie for a bit, and how did her take on Catwoman differ from Julie Newmar's?
This is a touchy subject for me having been very active in theatre. One of my favorite roles was portraying Harry MacAfee from Bye Bye Birdie. During rehearsals people came up to me and said something like, "Oh you will be a great Paul Lynde". I would never to try and copy someone else's performance. It turns out the audience liked my spin on the frustrated father. Lee Meriwether's performance as Catwoman has garnered mixed reviews. Many criticize her for being a "wholesome" Catwoman. Yet, in the film, she slaps a pirate, throws her pet cat in the air using it as a weapon, and stops Batman in his tracks by threating to kill a woman. Wholesome? Unfortunately too many compare her to Julie Newmar's interpretation, which is unfair.
Jeff Bond, in his review of the Batman film for the movie's soundtrack, called her performance "adequate". He added "but sadly sanitized Lee Meriwether, who lacked the sultry, ambiguous sexuality of statuesque Julie Newmar from the TV series." Hal Lifson's remarked in issue 22 of Model and Toy Collector: "If you force yourself to view Meriwether's Catwoman on its own level, rather than solely in comparison of Newmar's version of the sexy villainess, her performance is the bright spot of the Batman movie, particularly as Miss Kitka, the soviet reporter from the Moscow Bugle (actually Catwoman in disguise)." Issue No. 4 of The Amazing World of DC Comics (1975) featured a review of the television series by Carl Gafford. Gafford called Lee Meriwether's take on Catwoman "huskier" with a "more arousing performance". I feel Gafford's opinion is the most accurate considering Catwoman was written as a ruthless criminal while her disguise as Miss Kitka feminine and alluring. The actress said of her interpretation of the villainess, "She (Julie Newmar) was a sexier Catwoman than I. I was more businesslike, a no-nonsense cat. Julie had that incredible dancer's body; when she sat, everything was perfectly aligned." Co-producer Charles FitzSimons said of Lee Meriwether's performance, "She was a different version, but she was sensational."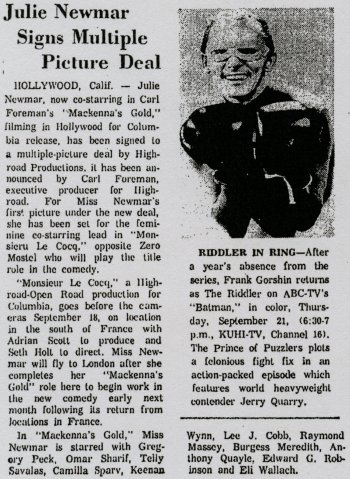 September 17, 1967

Eartha Kitt did take over for Batman's final season. Any idea why neither Julie Newmar nor Lee Meriwether were called back?

By June 1 of 1967 newspapers were reporting Julie Newmar had been cast in MacKenna's Gold. By September of this same year the press announced the actress had signed to a "multiple picture deal" with Highroad Productions. Upon completing MacKenna's Gold she would be flying to London. Fans have speculated Julie Newmar could have returned to the role if she desired. There have been other reasons given for her absence which include the introduction of Batgirl, her dislike of the developing romance between Catwoman and Batman and the slashed budget in the third season. I contacted Julie Newmar, through her website, and the reply (whether actually from the actress or her representative) was negative to these theories. From what I have researched 1967 was a very busy year for her which did not include time to do additional Batman episodes.

Lee Meriwether's absence has been a tricky one to uncover despite my contacting several Batman historians and the actress's website. Lee's representative's state she was asked to return but was filming The Time Tunnel series. However, by the time the cameras rolled on Eartha Kitt's episodes (reportedly in October of 1967), The Time Tunnel was out of production. I discovered Lee Meriwether did appear on an episode of the ABC series Iron Horse which aired on December 9, 1967. This was the same month Eartha Kitt's first Catwoman episode was broadcast. The Iron Horse commitment may have prevented her from appearing on Batman. Another theory is the hiring of a new Catwoman would provide the program with much needed publicity. The casting of Eartha Kitt as The Queen of Criminals, who was known for being a versatile performer with a feline nature, earned several press notices in newspapers across the country.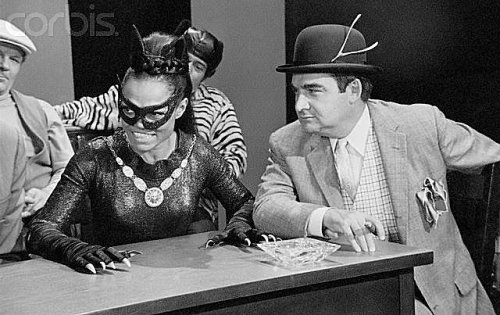 Eartha Kitt as Catwoman, with Pierre Salinger


December 10, 1967
So what can you tell us about Eartha Kitt's rendition of the character?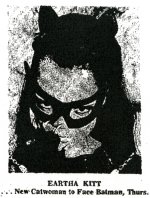 December 14, 1967
Eartha Kitt , in the press, was called a "fetchingly ferocious" Catwoman. In her debut episode, Catwoman's Dressed to Kill Robin says to Batman, "Do you think she'll kill Batgirl?" Batman replies, "Or worse Robin, or worse!" Yipes! That about sums up this latest Catwoman to pounce on Gotham City. I adored Kitt's feline mannerisms and what her distinctive voice brought to the role.
For the third season, Catwoman's romantic involvement with Batman was pretty much dropped - any explanation for that?
Television historians have stated the romantic involvement was dropped due to Eartha Kitt being African-American. Television audiences, at the time, were not ready to embrace a relationship between a man and woman of different races. However can you honestly see Kitt's portrayal of The Princess of Plunder asking Batman for a date? She would have shredded Batman's costume to bits with her claws if he landed in her arms!
To what extent did Julie Newmar, Lee Meriwether and Eartha Kitt at all profit from their stint as Catwoman in later years?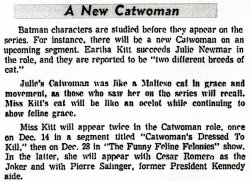 November 27, 1967
Eartha Kitt said playing Catwoman helped make her "a successful name" again and people continued to recognize her because of the role. Julie Newmar and Lee Meiwether are popular guests at various comic book conventions mainly due to their association with Batman. To each actress's credit, they have never tried to disassociate themselves from the role. The Catwoman is too memorable a character to even try and run away from.
Your favourite Catwoman-episodes of the Batman TV-series?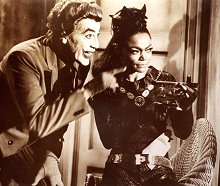 Cesar Romero as The Joker and Eartha Kitt as The Catwoman
My favorite episodes are The Purr-fect Crime and Better Luck Next Time, which was Julie's first two-parter, and Catwoman's Dressed to Kill with Eartha Kitt, but I do have another memorable Julie Newmar moment: At the conclusion of the episode Batman Displays His Knowledge, a newly captured Catwoman sits with her parole officer Bruce Wayne. Catwoman says to Bruce Wayne, "It's too bad we couldn't get to be better friends, Mr. Wayne. A good parole officer should also be a friend." Emotional instrumental music is heard and it looks as though Bruce Wayne realizes he has blown his chance to reform her. "I'd like to be your friend", he replies. Catwoman responds, "There's no room for another man in my life Mr. Wayne. You're nice but my heart belongs to Batman. Goodbye". This is a very memorable moment in the relationship between Julie Newmar's Catwoman (her last scene) and Bruce Wayne/Batman. It was performed realistically without any of the camp humor which permutated the series after its first season. In The Joke's On Catwoman I love the way Eartha Kitt explains how her cat-whiskers would strangle Batgirl to a doubting Joker (Cesar Romero). "Those cat-whiskers, a fiendish invention of mine. They automatically contract when placed in close contact with the heat of the body---gggrrowwll!" My favorite Catwoman scene in the film occurred when she is looking through a periscope and begins to meow. A pirate, standing next to her, hears the feline sounds and stares in astonishment.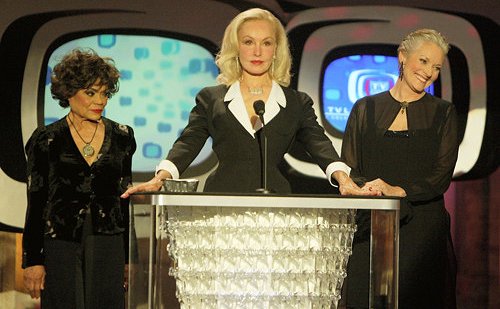 Eartha Kitt, Julie Newmar and Lee Meriwether at the TV Land Awards (2004)

Catwoman has since the 1960's graced the big screen three times, portrayed by Michelle Pfeiffer (Batman Returns), Halle Berry (Catwoman) and Anne Hathaway (The Dark Knight Rises) - anything you want to say about these three portrayals, also in comparison to the series of old ... and any other (official or inofficial) portrayals you'd like to talk about?
I enjoyed Michelle Pfeiffer's performance as her tougher edge on the character suited the serious nature of the film. However I would have preferred an explanation how meek Selina Kyle transformed into the athletic Catwoman. A brief scene working out in a gym? Halle Berry played the role in name only and her rendition had nothing to do with the Batman mythology. I did not bother to see Anne Hathaway's interpretation. She was not called Catwoman in the film and this was enough to keep me away. The various animated versions have all portrayed Catwoman suited to their different time periods.
So what do you think have Julie Newmar, Lee Meriwether and Eartha Kitt contributed to Catwoman as we know her today?
If it was not for the popularity of Batman television series and feature film, Catwoman may have remained in retirement. The same could be said for The Riddler, who only appeared in two stories from the 1940's until the television series brought the character to national prominence. If Julie Newmar's portrayal did not grab the audience's attention in her initial appearance, The Catwoman's revival would have been short-lived. Lee Meriwether and Eartha Kitt's renditions contributed to the character's visibility.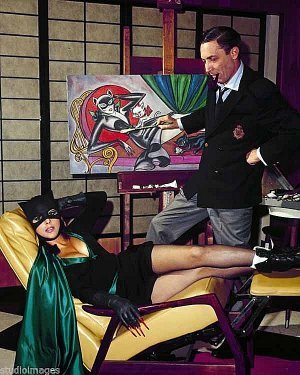 Bob Kane with a model dressed as Catwoman
Online as well as offline sources to learn more about Catwoman?
There are numerous sources available online for all of Catwoman's incarnations. I followed the character's adventures beginning with her career in 1940 until shortly after DC Comics' mini-series, Crisis on Infinite Earths. When this story concluded, her history (and costume) seemed to change every other month! Too confusing for me.
Anything else you want to talk about and I have merely forgotten to ask?
I always get asked, out of the three actresses who portrayed her from 1966 to 1968, who is my favorite. I preferred Eartha Kitt's answer when asked the same thing. She said, "I don't categorize, because we are our own individual selves."
Thanks for the interview!