First of all, why don't you introduce yourself to those of us who don't already know you?
I am Charlie Vaughn. If you google me, I am not the Charlie Vaughn that has a band, nor the pilot who flew across the globe… there is even a picture of a gravestone from 1877 with my name on it. I need to clarify, cause sometimes people get confused. I get crazy comparisons to celebrities... Everyone from Edward Norton (flattering), Hugh Grant (very flattering), and David Spade (horrifying). But I would love to be compared to Madeline Kahn. No one has been able to fill her shoes… and I think the time is right for me to take that title. But I consider myself a documentary filmmaker who also writes, directs, and acts. What can I say… when you grow up in Iowa, you go into farming. When you grow up near Hollywood, you go into film.
You have only recently starred in the film Corporate Cutthroat Massacre. A few words about the film and your role in it?
I play Bernie Andrews, a mild-mannered kiss-ass who—along with his coworkers, is asked to stay the night at work until some reports are turned in. I immediately hit up the office drunk, get snookered, and when fired, decide to stay at work to win back the bosses' affection. It offered me some moments of comic relief, which I really relish. In my day-to-day life, I am my own comic relief, so it's no surprise those are the parts I get cast in. I once had a casting director tell me I had the sex appeal of a pencil - to which I queried, "8 inches long with a pink tip?" She asked me to leave.
What can you tell us about the film's director Creep Creepersin [Creep Creepersin interview - click here]?
I have known Creep since high school actually, though we were not friends. In high school, he scared me a bit. He was on the football team, and looked like the type of guy who would beat me up. It wasn't until he started frequenting the video store I worked at that I got to know him. He always rented the most outlandish titles, and that's when my respect for him began. But it wasn't until I had gone away to SF State to study film and had moved back to my hometown that we got reacquainted. He had married a friend and former coworker of mine. I absolutely adore Creep and his wife. I have spent many hours at their house watching moronic clips on YouTube, or movies, etc. I want them to adopt me. I think it would be neat for them to have a son who is older than they are. Makes people take notice, right?
Creep and his wife are easily two of the funniest people I know… but their humor is the type that is subtle, sly, and witty. I can't tell you how many times I have lost my sh*t at the things they said. It's nice to be friends with people that independently ended up in the same field. I don't know anyone who works harder than those two.
You have recently also made Brothers Cannibal with Creep Creepersin. A few words about that one?
We started shooting but the lead actor broke his leg—not my fault—then when we resumed shooting the lead actress had gotten pregnant—definitely not my fault. So I believe we will finish in January.
... and you are also presently co-writing Bad News Beavers with Creep Creepersin which you'll be starring in, right? Is there anything you can tell us about that one yet?
Well, a distribution company that specializes in Gay and Lesbian features approached Creep. They were interested in having Creep pen a Gay or Lesbian horror movie, provided he had some input from a real live gay. Naturally, I am the gayest person he knows. We spent some time hashing out ideas, and we decided to go the lesbian route for two reasons… I have never seen an out-and-out lesbian horror movie… and since 13 year-old boys also are horror fans, I thought they would rather watch lesbians running around rather than some screaming queens. Creep agreed, and I think he was probably more interested in writing some lesbian characters in peril… plus, we wanted to try to empower female characters in horror rather than just make them the victims. This certainly wasn't some epiphany on our part, but we wanted to add some strong females to our story… and who would be stronger than a softball team of lesbians called the West Hollywood Beavers? That's how he came up with the title Bad News Beavers. I had suggested Lesbi-ana-rama, but Bad News Beavers is much more fun—not to mention easier to spell. As usual, the film has the gore and crazy characters that Creep is known for, with some very, very funny dialogue. And yes, I play the team mascot, Lance, a sharp-tongued gay man. I felt honored that Creep asked me to play Lance… But I think that's the way he works. He finds it easier to write roles when he has particular people in mind.
Leaving the Creep behind for now: Is it true you are also working on a documentary about blind homosexuals - and could you elaborate on that one for a bit?
Yes, my other hat in filmmaking is doing documentaries. I got interested in doing a piece about sexuality and vision, since so much of my sexuality is based on what I am visually attracted to… I thought, wow, if I was blind, would I still be gay? Are there gay blind people out there? I began to do some research and found that not only is there a gay/blind community out there, but not a single film about this segment of the gay community. I have found 3 absolutely incredible and inspiring people that I have included in the film. We are still shooting it, and plan to have it done by next year.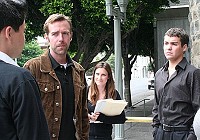 directing Flight to Sinai
Speaking of homosexuals: You just have to talk about your coming-out-musical Flight to Sinai!
Flight to Sinai was a short musical that I directed in 2008. I was taking a screenwriting class at SFSU, when the producer, Aaron Zaragoza, pitched the idea in class. It was about a Gay Christian teenager who comes out to his parents and gets sent to a camp to reverse his sexuality. I am gay, and Christian, and understand the complexities and questions that people have surrounding sexuality and spirituality, and I wanted to see the best possible outcome for the project. Originally, I was hired as casting director—having had previous experience casting a horror movie called The Clique. As the project progressed, Aaron kept looking for the perfect director, and finally offered it to me. I then had the task of writing the screenplay. While not a perfect film, I am extremely proud of it because everyone who sees has a different take on it. It definitely sparks conversations, which is what I was hoping for. My background is in comedy and acting, but I decided to switch gears and make documentaries, which ultimately ended up with me helming a musical. So certainly no one was more surprised than I about that turn of events.
How did you come up with the musical approach for the film, and is musical a genre dear to you?
I love musicals, and don't have a shred of musical ability. Singing in public is one of my greatest fears, though I do force myself upon audiences at various karaoke nights at gay bars. They say comedians are frustrated rock stars, and vice versa. But the decision to make Flight to Sinai a musical was not my idea… the composer Dustin Manuel had written the short story and the songs, I merely wrote the screenplay and directed it.
On Flight to Sinai, you have served triple duty as not only actor but also co-writer and director. How stressful was that, and which part of filmmaking do you like the most?
I love, love, love working with actors. I love acting in films, and I love rehearsing scenes. So much can be discovered during the rehearsal process… and not many films directors I know of really take the time to work with actors. That is one thing that many film schools overlook in teaching filmmakers. My background in acting makes working with the actors fun. However, I gave myself a chunky scene, which in retrospect was a mistake. It was so hard to wear the director's hat as well as the actor's. I now have profound respect for people like Woody Allen and Clint Eastwood who do it all the time.
Any other films you have worked on you'd like to talk about?
One of my proudest movie roles was being an extra in Ed Wood. What's better than meeting Johnny Depp playing a legendary B-Movie film director [Ed Wood bio - click here] with Tim Burton directing. This buxomy extra was sitting next to me, and she was flirting like crazy with Depp. She said, "Oooh, Mr. Depp, can I bum a cigarette?" He gave her one, turned to me, and said, "You want one kid?!" Like a moronic 16-year-old goodie two-shoes, I honestly answered, "I don't smoke." One of the huge regrets I have in my career. Just think where I may be had Johnny and I shared that cigarette. Another thrill of my extra-work was doing a film at Roger Corman's studio in Venice Beach [Roger Corman bio - click here]. He had these words of inspiration posted around the halls of the studio. But instead of things like, "Teamwork," or "Believe," they said things like, "Remember, Little Shop was shot in 2 days," or "We discovered Jack Nicholson."
Do you have any formal training in acting or directing?
I have acted in about 30 plays, as well as taken everything from stand-up comedy classes to improv to dramatic acting classes. My advice to any aspiring director is to take an acting class. Not only will you meet actors hungry for work, but also it gives you tremendous insight into what an actor goes through when working on a film. Acting on camera can be incredibly stressful. Many directors don't know how to work with actors, or see actors as merely chess pieces on their set. Yet, actors—like everyone else involved in the movie—are the directors' collaborators. That's why I am making movies instead of painting. Painting is solitary… filmmaking is a collaboration. Also, learn diplomacy. This will take you far in whatever you decide to do.
What did get you started in films in the first place?
I played soccer and did theater growing up. You can guess which one I was better at. Acting gave me a chance to get over tremendous shyness. I would be much more comfortable performing in front of 300 people than talking to 1 person. I was in fact so shy as a kid, that people would ask me my name. When I would say "Charlie", often people would mishear me and say, "Johnny?" Too shy to correct them, I would merely nod my head "yes." Acting offered an escape from that… and I guess people in my hometown would have rather seen me on stage than one the field. But once during a soccer game I got the chance to act. The star player and I looked exactly alike. My team had gotten into the playoffs, when suddenly the star player fell ill. The coach got it into his head to put me in the star's uniform, and run around the field, serving as a distraction… so that the other team would be covering me. His one direction was, "Whatever happens, DO NOT KICK THE BALL!" Well, halfway through the game, the ball was lobbed towards me, and by instinct I went to kick it. I missed, and thus brought an end to the charade.
In high school, my parents thought a fun job would be to do extra-work in movies and TV. Since we lived close to Hollywood, I got a lot of work. Since at that time I wanted to only be behind the camera, I would spend my time watching the crew instead of the actors. But I got to appear in many infamous TV shows and movies, like Baywatch (3 episodes), What's Love Got to Do with It?, Prehysteria 3, and Batman Forever.
Any future projects you want to mention?
One of the actors in Flight to Sinai and I are writing a script called, Cockblock. It's an ensemble comedy about 8 people who are attending a Sex Addicts Meeting. They meet, fall in love, but can't have sex… so tensions abound. We plan to tackle social satire and mix romance with slapstick.
Your website, MySpace, Facebook, whatever else?
http://www.imdb.com/name/nm1218863
http://www.facebook.com/profile.php?ref=profile&id=11713187
http://www.producingawareness.com (My Gay/Blind Documentary)
Actors (or indeed actresses) who inspire you?
Walter Matthau was amazing. Leslie Nielsen is a genius. So versatile. I like actors who can do both comedy and drama. Clint Eastwood, Gene Hackman. I love my actresses… Rosalind Russell, Mae West [Mae West bio - click here], Bette Middler, Dolly Parton. Yes, I have some gay tendencies.

Feeling lucky ?
Want to
search
any of my partnershops yourself
for more, better results ?

The links below
will take you
just there!!!

Find Charlie Vaughn
at the amazons ...

amazon.com

amazon.co.uk

amazon.de
Looking for imports ?
Find Charlie Vaughn here ...
Something naughty ?
(Must be over 18 to go there !)

Directors who have influenced you?
You mean besides Creep? Hmm, Alfred Hitchcock and John Waters. Both sit at totally different sides of the filmmaking spectrum… yet I have tremendous admiration for both. Psycho is a nearly flawless film. Beautifully acted, beautifully shot, and I feel just creepy after watching it. John Waters is a master at social satire, and I respect him for his nontraditional casting. His characters are always offbeat, but also, John is a terrific author. I am reading his book, Crackpot, which is just terrifically funny.
Your favourite films?
Harold and Maude is a wonderful story of an unlikely romance. I think the humor is so subtle, and Ruth Gordon is so great. I love silent slapstick… Harold Lloyd, Buster Keaton [Buster Keaton bio - click here], Charlie Chaplin. Movies that I can watch over and over are Hairspray, Clue, Psycho, 9 to 5, Halloween, Auntie Mame, The Women, Flight to Sinai, heehee.
And of course, movies you've really deplored?
You know, I don't hold grudges… so when I see a bad film, I tend to not remember it.
Anything else you are dying to tell us and I have merely forgotten to ask?
I have had the good fortune of appearing in the first two videos for a new group called AB & the Sea.They are a San Francisco-based rock group… helluva nice group of guys… and the videos are very fun. I know their songs are on iTunes, but not sure when the videos will be released. Also, I play a futuristic rogue cop in a SciFi film called Trash and Progress, (http://www.trashandprogress.com) soon to be released.
Thanks for the interview!