Your upcoming movie Bring on the Rain - in a few words, what is it about?
For April, the annual rainfall is no mere coincidence but a welcome event during which her beloved mother comes by to say hello. Now, instead of tears of sadness, there are tears of joy, for her mother's presence dwells within her forever and always. This story may elicit a tear, but it will fill you with joy – a renewal of the love that transcends tragedy and, in its place, will spread hope and renewal.
What were your initial inspirations for dreaming up Bring on the Rain, and is any of this based on personal experiences? And what convinced you to make this into a movie?
My mother passed away when I was in my 20s. I had 3 children 5 years old and younger at the time, and I lived a block away from her and my father. She and I had gotten to be very close and we spent most of our time with each other in person and on the phone. When she passed away suddenly, I was devestated. A close friend described me as someone "who is like a candle and their flame has been blown out". The first year anniversary of her death there was a terrific thunderstorm and I remember sitting on a carport crying, watching the torrential downpour and not being able to speak because the heartbreak and tears were so heavy. She and I shared a tremendous love for the rain and I felt that it was as if the world was telling me it was sad for me and my loss.
Every year after I started to realize that I continued to get rained on no matter where in the world I was at on the anniversary of her passing away. In time, I started to realize it was not a sad coincidence, but a "hello" from her and I began to look forward to that day in hopes of her letting me know that she was still with me. I have told many people this story and those I have shared it with have relayed to me how special it is and how it touched their hearts. From there, I thought I would let someone else make the movie, but I felt no one else would be able to put the love into it that I can. So, here I am, making a movie J who would have thought?
You also will play the lead in Bring on the Rain, right? So what can you tell us about your character, what will you draw upon to bring her to life, and how much Chauna Mae can we find in April?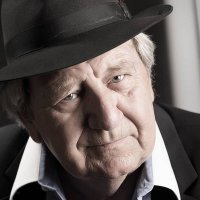 Michael Harrelson
This movie is based on my own personal experiences, so it is very close to my heart. You will find a lot of me in the main character, April. I hope that when it is finished I feel I have given the best performance possible. I am my own worst critic AND this is based on personal experiences which make some pretty large personal goals to meet.
Anything you can tell us about the rest of your key cast and crew yet, and why exactly these people?
Currently Michael Harrelson (http://www.imdb.com/name/nm2204540/?ref_=fn_al_nm_1) [Michael Harrelson interview - click here] is cast as Michael the Angel. Not only is Michael the most respected Arizona actor that I know of, but he is a kind soul who believes in a higher power which will aid in the depth the audience will feel from his character in our project. I am honored that he has accepted the role and look forward to making him proud of the final project.
What can you tell us about the intended look and feel of your movie?
There will be some past and present footage throughout the movie to help tie things together and the ultimate goal will be to reach an emotional place in the viewer so that when the movie is over they will leave the movie feeling hopeful and inspired – and begin to look for their own signs.
Where do you see the major challenges on the production side of things?
I have never made a movie before so the challenges are pages long J The one thing I do know is that I am smart enough to realize when I don't know something and to find someone else who knows more than me. Right now the challenge is to find those that love the movie idea as much as I do and that have the skillset needed to help get this movie completed.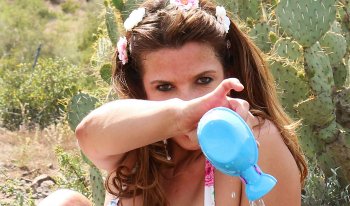 photo by KJ Photographyaz
So what's the schedule for Bring on the Rain, when will it go into production ... and even if it's probably waaay too early to ask, when will the film be released onto the general public?
We plan to have a fund raising campaign so that we can make sure to pay all involved in the project. It may not be a lot of money, but I do not want anyone to have to work for free on this project. I hope to begin filming the fall of 2015.
Any future projects beyond Bring on the Rain you'd like to share?
None other than Bring on the Rain currently.
You have recently also starred in Love a la Carte - so what can you tell us about that one and your character in it?
My character is a house wife who is going through her own midlife crisis. The making of the movie taught me a lot about indie movie making which should help me some with Bring on the Rain.
How did you get involved with the project in the first place?
I auditioned for it at Good Faith Casting in Phoenix, Az.
What can you tell us about your director Tim McSpadden [Tim McSpadden interview - click here], and what was your collaboration like?
Tim is very dedicated to the project Love a la Carte. He stopped at nothing to get what he wanted out of the movie, and I saw several instances where he felt let down yet he never quit. Our collaboration was of a love/hate relationship I guess lol. We had some great experiences and also our disagreements but that is just part of the creative process.
A few words about the shoot as such, and the on-set atmosphere?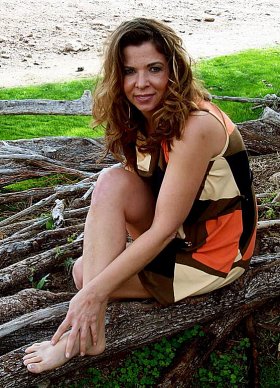 photo by Tiphania's Photography
I was fortunate enough to get to travel to beautiful locations all across Arizona and also California for the filming of Love a la Carte. When we shot the scene at Havasupai Falls we had to hike a lot to get to the location. One spot was a horrendous climb on a very unstable "staircase" on the side of the canyon wall. Getting down to the bottom of the waterfall and wash area was scary enough but before we ascended after the shoot it began to rain. We took cover of course and waited for the rain to pass by. I had a heavy backpack (we all carried gear for the shoot) and as I was climbing out on this rickety, wet staircase that was stories upon stories high and nothing to catch you if you fall, my backpack decided to swing to my side as I was scaling a high step, swinging my entire body over nothing but the ground located stories below. My heart was pounding out of my chest, and it took every ounce of strength I had to pull myself back to the safety of the canyon wall. The stair case was wet, the rails were wet, and all I could see in my mind was me falling to my death on the ground beneath me. My right hand and right foot are all that kept touch on the wall and stairs... Even thinking about that experience makes my heart pound to this day.
What got you into acting in the first place, and did you receive any formal education on the subject?
It was actually accidental. I had a business owner who wanted me to take some professional pictures to advertise their business with and the photographer Frank Simon informed me that I should consider other alternatives as well, which I did.
What can you tell us about your filmwork prior to Love a la Carte and Bring on the Rain?
The largest project I had the opportunity to be featured in was the filming of Piranha 3D. It was directed by Alexander Aja in Lake Havasu, Az. I spent 2 weeks there for the filming and learned a tremendous amount about large scale productions. I have had the opportunity to work in commercials, television, and other indies as well.
How would you describe yourself as an actress, and some of your techniques to bring your characters to life?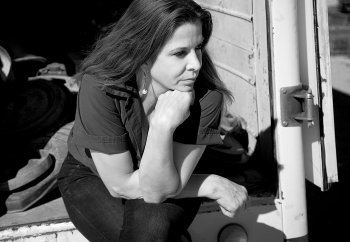 photo by Tim Toms
I think about how I would feel if it were me in the situation the character is going through and how I would react in real life. For Piranha 3D it was difficult to imagine being attacked by a school of flesh eating piranha, so I pretended the water was acid that was burning my skin and that thought made it more realistic to help to bring it to my character.
Actresses (and indeed actors) who inspire you?
Will Smith – quality of character, and Adam Sandler – dedication to self and family and friends
Your favourite movies?
Ghost, 300, Gladiator and Rat Race J
... and of course, films you really deplore?
There are many films that I do not personally like to watch (Saw for example) but I do not deplore any at all. I am impressed they made it to the finish line in making their production.
Your/your movie's website, Facebook, whatever else?

Feeling lucky ?
Want to
search
any of my partnershops yourself
for more, better results ?

The links below
will take you
just there!!!

Find Chauna Mae
at the amazons ...

amazon.com

amazon.co.uk

amazon.de
Looking for imports ?
Find Chauna Mae here ...
Something naughty ?
(Must be over 18 to go there !)

On Facebook you can find us at https://www.facebook.com/BringOnTheRainmovie
On Twitter you can follow us at @BringonRain
Our website is just beginning to get built, but it is http://www.raindanceproduction.com/
Find me on Facebook at https://www.facebook.com/chaunamae
My IMDb is http://www.imdb.com/name/nm3386679/?ref_=fn_al_nm_1
Anything else you are dying to mention and I have merely forgotten to ask?
The Facebook page for Bring on the Rain has some wonderful experiences others have gone through that have been shared in the comments section. I encourage everyone to read the comments and also post your own if you have one to share. They are very touching and show us that this is not just something Chauna has experienced, but is worldwide. I hope you follow along by "liking" the movie page and that you enjoy our finished product. Thanks for reading, everyone! J
Thanks for the interview!