Your new movie Undatement Center - in a few words, what is it about?
It's a short comedy/drama about a man who attempts to come back into the dating world, only to find out he must have a résumé in order to do so.
What were your sources of inspiration when writing Undatement Center, and is any of this based on your personal dating experiences?
It's very much based on my own personal dating experiences. I was trying out online dating last year, which I was extremely dissatisfied with because of how impersonal it was and every date felt as though I was on a job interview. In fact, one of the humorous interactions that happened in the film had actually happened to me with a woman asking me where I see myself in five years. It was questions like that which prompted the idea of the film and I began writing it. Ultimately, I'm a big fan of surrealism, be it a drama, horror, comedy, etc. I find my films tend to lean towards that style one way or another these days, so it felt right to write it in a kind of surreal setting with offbeat and absurdist humor to both satirize the society of dating along with the drama underneath it all. I'm a firm believer in comedy being played as though it's a drama with subtle writing and performances.
Undatement Center is mostly restricted to just one location - so do talk about your location for a bit, and what were the advantages and also challenges making the movie there and keeping things interesting?
The location we shot in was at the River South Center in Quincy, MA. It's owned by the fine folks at Stories by the River, who had co-produced the film (Mikel J. Wisler & Kristina Kaiser). I approached them with the idea and script. They really liked it and decided to collaborate with my own company, Stories in Motion, to produce the film. With this collaboration, they had this location which they use for events, film screenings, etc. It had the right look of an office-like setting or DMV, which is exactly what I wanted for the film. So, it was nicely convenient to have at our disposal. That was one advantage, and also the major advantage was being able to come in the day before shooting to light the set and pre-rig it and set-design in. We literally walked in the next day and just began to shoot. It made things incredibly simpler to handle and I was actually able to focus on directing my story and actors rather than having to worry about the lighting and waiting for it to be set. It was done. Then, each day after shooting, we could walk away with everything still set up and come back the next day and continue.
The challenge to keep it interesting, I found, was making sure we kept the camera moving whenever possible whether it was utilizing dolly shots, slider shots, panning, tilting, etc. Anything we could do to keep the energy high throughout. I think the editing also helped in that a great deal to keep it flowing without the location wearing out its welcome.
What can you tell us about your overall directorial approach to your story at hand?
My overall approach was to keep the comedy as straight as possible and focus on everything under the surface in the script and the drama. As mentioned before, I think comedy works best when played as a drama. So, it was important for me to make sure that all the cast members kept it a consistent tone throughout in how they performed and still get the message across that I wanted to say.
Do talk about your key cast, and why exactly these people?
We held auditions for these roles. What we were looking for were people who could convey emotion while also carrying a light sense of humor. T
revor Duke, who played Jack, came in and auditioned for us and really blew us away. I've known Trevor for a little bit at that time and he had directed some short films, written some stuff and has worked on sets in the camera department and also been an editor. I had no idea he also acted and I believe this was his first speaking lead role. So, when he came in and read, I was very impressed by his confidence, how emotive he could be, how well he took direction, and how funny he was able to be. So, it became clear that he was right for it.
J.D. Achille, who played Lindsey, I had known for a couple of years and had seen her acting before and always thought she was talented. We invited her to audition. She currently lives in New York, so she sent in a video audition, which I normally find can be very hit or miss because you're not there giving the actor feedback. That being said, she was wonderful. She carried a lot of charm and sass, which is exactly what I had pictured the character of Lindsey to be.
Randy Veraguas, who played Shelly, came to me as a recommendation from Mikel and Kristina who had worked with her on a couple of occasions. They had shown me a film that they did with her that Trevor directed and I thought she was wonderful. She had this great comic ability about her that felt right. The funny thing was that the role was initially written as a man, but there was no reason why it couldn't be female, so I rewrote the role as a female and Randy gave her the name of Shelly. A lot of the ideas of what to put on her desk and how she dressed were all of Randy's ideas, especially the seashell necklaces, which I thought were a brilliant idea.
What can you tell us about the shoot as such, and the on-set atmosphere?
We shot for three days. It was one of the best times I ever had on a set. The atmosphere was a ton of fun with lots of laughs and everyone pitching in creativity to help make the best film possible. Everyone was on their A-game and dedicated fully.
Another very recent film of yours is The Deja Vuers - so what's that one about?
The Deja Vuers is a short comedy about a man who experiences deja vu when he spots a woman sitting on a park bench - a woman he remembers from a dream but has never met. When their paths finally cross, a portal opens which takes each of their lives in unexpected directions.
Your personal take on deja-vus, prescient dreams, and everything else that's touched upon in The Deja Vuers?
I feel that dreams and deja vus are sort of our perception of how we either see life that we don't fully express or something that we wish to have, but never get. Some of these can have a lot of hidden meanings that I think are very fascinating. I'm also often told that I'm an old soul and that I was born in the wrong era. I tend to somewhat believe that. In that sense, I related to the character of Chuck a little bit.
What can you tell us about The Deja Vuers' writer Jason K. Allen, and what was your collaboration like?
It's really funny how our collaboration started. At the time, I was editing a short film, Beyond the Grid, for a local filmmaker. I had asked him where he found the script for this film as I thought it was very good. He told me about a website called InkTip, where scripts are optioned to producers and directors. So, I signed up and started browsing through scripts and saw the synopsis for The Deja Vuers and it sounded really interesting and right up my alley, so I had to read it. I contacted the writer, who turned out to be Jason. After looking through his website, I saw that Jason had also written Beyond the Grid. It was so ironic. So, I read the script I thought it was quirky, weird, funny and somehow kind of moving with lots of layers. I was very excited about it. I bought the script from Jason and later that year, I shot the film.
Working with Jason was great. I would send him rough cuts and he always gave me great feedback while also giving me the creative freedom as a director to try different things that I saw in the story and wasn't afraid to hear my ideas. He was also very instrumental in sending me different film festivals to send the film to that he's either had success in or feels would enjoy the film.
Do talk about your movie's look and feel for a bit!
I really wanted a dream-like look with the lighting being as clean as could be and the shooting being almost Wes Anderson-like. I had my cinematographer on the project, Evan Schneider, take a look at some Anderson films for the visuals and I took some screenshots as well. It was Evan's idea, for example, to begin with a drone shot from above and coming in. Looking at it now, it feels right because it brings the audience into this dream world.
What can you tell us about The Deja Vuers' key cast?
The cast for this was outstanding. These were all people whom I either worked with or knew of and wanted to work with them. These were people I hand-picked for this project.
Christie Devine, who played Morgan, is a good friend of mine and I had seen her act a few times and have always been impressed by her. I had never worked with her as a director and had wanted to, so I asked her to play the part. She's wonderfully talented, with a great sense of humor, and an all around professional.
Kris Salvi, who played Chuck, I knew for quite a while. He's a very talented actor and writer and was a great fit for this role. He is a riot. He always brings a ton of laughs to the set and is a true actor's actor, especially in how he prepares for a role.
Craig Capone, who played Elias, I met at a film festival where I had seen a film he was in and thought he was wonderful. He is a true consummate professional on the set and also very talented.
JP Valenti, who played the Repairman, I knew and worked with a few times but never directed him. He has a background in commercials, film, TV and much more. He brings a lot of experience and talent to any project he's on.
Again, do talk about the shoot and the on-set atmosphere?
The shoot was a lot of fun, but also somewhat difficult because we were shooting outdoors in the fall. The sun would always leave us very early or would hide behind a tree, leaving us with very little light to work with. Then there were times where we had too much light that it was uncontrollable. So, my cinematographer, grip, and PA built this outrageous rig that was basically a black shower curtain to block all the bright light and we had reflectors to bounce light. It looked like such a silly operation, but it worked.
Then, of course, when you're outdoors you deal with the nature of sound from traffic to wind and more. We had a unique situation though in that we not only had all of that stuff but also a nearby zoo, which I didn't think was that close, where you can hear animals making noises and ruining quite a number of takes. I thought for sure we would have to ADR the whole film, but to my amazement, we didn't after all. To combat those issues, we had a boom mic in addition to a lav mic on each actor. Plus, we were working with dual channels which gave us the ability to choose which mic to use during editing based on the decibel we recorded in. So, we had at least 4 microphones recording in one shot alone that featured three characters at a time. It was thanks to the close proximity of the lav mics and the number of back-ups that we had that saved us from having to do a lot of post mixing.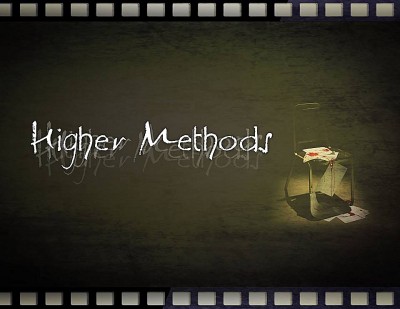 You've recently also produced Nathan Suher's Higher Methods [Nathan Suher interview - click here] - so what's that one about?
Higher Methods is a dark drama feature about fame and the price one pays to achieve it. Matt, is an actor whose sister goes missing years prior. His search for her leads to a fanatical theatre group, whose leader employs horrifying methods in sharing the art of performance. What follows for Matt is a descent down the rabbit hole until he cannot determine what is real and what is fiction.
How did you get involved with that project in the first place?
I had been friends and worked with Nathan for a number of years. He's a great guy and always enjoyed working with him. He and I have a similar sensibility in filmmaking that seems to make us work well together. He initially asked me to come on board as a 1st assistant director, but later felt that he needed further assistance and asked me to co-produce it with him in addition to my 1st AD duties. It was easy for me to say yes not only because I would be working with Nathan, but I have been wanting to produce a feature as I felt it would be a great learning experience for me for when I make my own feature some day. It was also easy to say yes because I fell in love with the script when I read it. It was absolutely brilliant.
Being a director yourself, how hands-on or hands-off are you as a producer, also when it comes to creative decisions?
I would only make creative decisions when Nathan would ask me or if I felt there was something important that needed to be addressed. Otherwise, I think I was mostly handling scheduling, keeping the set aligned, and making sure everything ran smoothly throughout. I did help a little bit in the casting, which was one of the few creative decisions I had. My approach was to be hands-off so that Nathan had the breathing room he needed as a director to do his job. I would step in only when necessary.
Perhaps related to the last question, what can you tell us about your collaboration with Higher Method's director Nathan Suher [Nathan Suher interview - click here]?
During the pre-production phase, Nathan and I along with our 2nd AD, Evan Schneider, would meet on a regular basis to discuss the schedule, scout locations, and ultimately create a unified front where we were all on the same page and understood how it was best to run the set. On the set, like I mentioned, I would let Nathan direct and do his thing and would step in only when I had to like if there was a question that needed to be answered that I couldn't answer or keep him in tune on the time and also make sure we have all the shots he wanted.
So what can you tell us about that shoot as such?
It was an exhilarating experience. There were days where we were on fire and had an absolute high creating magic and some days were tougher, but it was a blast. I learned a ton in 14 days of shooting than I probably did in the past year doing my own films. I have to admit that I walked away from the film feeling rather emotional. I went through a bit of a mourning period as we were all like a family. We had a lot of laughs but also discovered a lot about the characters within the story than we realized during the planning process. I made a lot of friends that I would easily work with again.
The $64-question of course, where can all these movies be seen?
Both The Deja Vuers and Undatement Center are on the festival circuit. Undatement Center was just submitted to various festivals this week, so we're waiting to hear on those. The Deja Vuers has been doing very well on the festival circuit, so far. It has been accepted into 7 festivals and won 3 awards at the West Coast Film Awards (Best Actor: Kris Salvi, Best Picture, and Best Comedy). It will be screening at the SENE Film, Arts & Music Festival in Rhode Island at the end of April, Silicon Beach Film Festival in Marina Del Ray, CA, and at the Short Film Corner at Festival de Cannes in France.
Higher Methods is currently in post-production and is shaping up very nicely.
Any future projects you'd like to share?
Currently, I'm in pre-production on a short crime/drama written by Kris Salvi called Bent, which begins shooting this month. I'm also planning another project for the summer. Other than that I've been continuing my writing as well by way of short screenplays and also my first feature film.

Feeling lucky ?
Want to
search
any of my partnershops yourself
for more, better results ?

The links below
will take you
just there!!!


Your/your movies' websites, Facebook, whatever else?
Website: http://storiesmotion.com/
Facebook: https://www.facebook.com/Stories-in-Motion-316989045002591/
Twitter: https://twitter.com/Chris_Esper
IMDb: http://www.imdb.com/name/nm3282917
Anything else you're dying to mention and I have merely forgotten to ask?
I also have a book that I wrote last year about filmmaking called The Filmmaker's Journey. That can be found on Amazon both on Kindle and in paperback: https://www.amazon.com/exec/obidos/ASIN/B01F6J3W5O
Thanks for the interview!
Thank YOU as always for the continuous support!