Your upcoming movie Please Punish Me - in a few words, what is it going to be about?
The film tells the story about Scottie, a man who's tired of his luck. Life is too good for him. Whenever anything good comes to him, everyone else around him receives the negative side of his positive gain. So, he seeks to be punished for his "curse".
How did the project come into being in the first place, and how did you get involved with it?
Tom Paolino, who's a very talented actor, had come up with the story. He wrote the initial script a few years ago. It was originally titled House of No. I don't fully recall how he came up with the concept, but I do know that he drew some of it from his own personal experiences of living in Los Angeles. The script had been sitting around for a few years and nothing was happening with it. Then, one day, in the summer of 2012, I got to meet Tom at a film screening and we quickly hit it off. He was asking me about the stuff I had been doing. At the time, I had only directed films that I had written myself, but I wanted a new challenge of sorts. I wanted to direct a film that wasn't my own writing, but by someone else. So, Tom had told me about the script and he sent it to me. I read it and really liked it. We met and talked further about it. That's when I decided for it to be my next film.
What can you tell us about your collaboration with Please Punish Me's writers Tom Paolino (concept) and Rich Camp (screenplay)?
Again, Tom already had the story in mind. He told me about it and I agreed to do it. I then showed the script to Rich Camp, who's a good friend of mine and screenwriter. He specializes in comedy. I showed him the script and both he and I felt it needed some work in the story and the humor. So, Rich and I met. He gave me his ideas and I interjected some of mine. Very little of the original concept changed. Rich simply went to another level with the story. He gave it more depth and character development and of course added more humor. He would send me drafts of the script and I would make my notes and then I would send it to Tom for his input. At one time, we also did a rough table read with the three of us, the producer and I got some actors to read the parts. Rich made some notes and went back until we finally came to final draft that we were all happy with.
To what degree does the film's message apply to your own life?
Very closely to my life, I would say. I just graduated from college and it's rough out there, trying to find a job. I came out of college afraid of what was going to happen next. I studied film and, like any creative field, finding a permanent job in the field is very hard. Sometimes you find people who give up their dreams and settle for something else. Something that they don't like. Despite that though, it works out for them. They find success, but yet they're not happy. It happens to a lot of people. Either reality kicks in and they feel it's time to find a living or they found a job as a way of living until their dream job comes, but it doesn't. This is what the main character, Scottie, goes through. He lost his dream of being a cartoonist along the way. Now, he has job he hates, but yet he's finding much success. While everyone around him, who actually try hard, are not finding any success. Thus, he feels he must be punished. I, myself, fear of getting that dreaded 9-5 job that I don't like and losing my dream of being a filmmaker. It's a positive film that will have many laughs and a message that everyone can relate to. It's a film about doing what you love and how one shouldn't settle.
What can you tell us about your directorial approach to your story at hand?
Like my previous films, my approach is bring out the personal side of the story. I want to have the actors draw their character's feelings from their own personal experience. However, all my previous films have been quite dramatic and have had a serious tone to them. With this being a comedy, my approach is going to remain the same, but bring out the funny side of the drama. A comedy is a drama in disguise, I think. The trick here is to show that. Both Tom and Rich have a funny script here and whole situation in the story about this guy wanting to get punished for having good luck, essentially, is funny all by itself. My approach is bring out the comedic side of that, without losing the poignancy of it and message it carries.
How would you describe Please Punish Me's brand of humour, and since you do have a background in standup comedy (right?), how would you describe your own sense of humour?
Please Punish Me is a dark comedy. Rich, himself, has sort of a dark and twisted sense of humor, So, all the humor comes from him, really. I'm more the emotional/dramatic person when it comes to my own writing. Yes, I did do stand-up, but for an extremely short time in high school. At the time, I wasn't quite sure what it was I wanted to do with my life. I had always loved film since childhood, but it never occurred to be that I could be a director. Since childhood and into my teens, I drew an interest in acting, comedy, film, writing, photography, animation, puppetry, etc. You name it and I probably tried it in high school. Stand up, for me, was somewhat successful, but I discovered it wasn't truly what I passionate about. I was passionate film and found that I could combine everything I love into one medium.
As for my own sense of humor, it's so opposite of the film, oddly enough. I do enjoy dark comedy very much, but I don't consider my own humor to be dark. My sense of humor is all over the place. I have a little bit of silly in there. I think that comes from the fact that I still enjoy watching cartoons, The Muppets and sitcoms and movies that were before my time. There's also a bit of dry humor. It ranges in different areas, I think.
Anything you can tell us about your intended cast yet, and why exactly these people?
We haven't done any casting yet. We'll be holding auditions at the end of June.
As of now, the film is still in its fundraising stages, right? So what can you tell us about your fundraising efforts?
Right now, we're raising funds on IndieGoGo. I had successfully raised the funds on the site for my last short film, Still Life. So, I decided to do it again. We're looking to $4,900. The funds will go towards locations, craft services, equipment rental, production design and of course the cast and crew. If anyone wishes to donate, here is the link: http://www.indiegogo.com/projects/please-punish-me-short-film/x/641610
Once the funds are raised, how do you plan to proceed, and any idea when and where the film's going to be released (and yes, I know it might be waaay too early to ask)?
It's hard to say at this time, but because it's a short I'll probably go the usual route. We'll send it out to film festivals, perhaps have a screening in my area and hopefully distribution. Fortunately, I have a contact with Twistflix who had distributed my last film, Still Life. So, that could be a possibility. Who knows?
Any future projects beyond Please Punish Me?
Absolutely. There may be one more short that's being written by another friend of mine. Then, there's my first feature film, which I've been in writing for quite a while now. It's still in the early stages, but I've been putting a lot of thought into that particular project.
What got you into filmmaking in the first place, and did you receive any kind of formal training on the subject?
As mentioned earlier I've been into the arts, particularly film, since I was a kid. As a kid, I always thought I would grow up to be an actor/comedian like Robin Williams (he was always my favorite) or that I would be a writer or animator. I was always into creating something. I tried my hand at writing a screenplay when I was 10. I had seen Ghostbusters and I was also into robots, so I wanted to try to write a sci-fi/comedy in that vein about a boy and his robot and they fight aliens. I sent the 30 page script to Columbia Pictures (since they produced Ghostbusters), hoping they would make it. It got sent back to me, of course. It was fun, though. I also got into film just by going to the video store (This is when they had VHS tapes! Remember those?). I used to rent so many movies and would be on IMDb for hours just looking up all this trivia and history. By the time I was in my teens, I became quite a movie buff and my taste in certain movies developed. Eventually, I went to college at New England Institute of Technology in Rhode Island. This is where I trained in film and video production.
What can you tell us about your filmwork prior to Please Punish Me?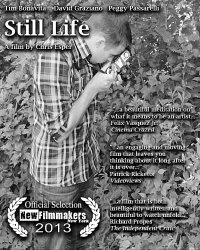 When I was college, I started to network around New England and worked on different movies doing camera work, editing, production assistant work, etc. This included working on Rich's own feature film, Gotta Find Barry. I was his intern and worked as part of the camera team. This is how we developed our friendship and our working relationship together. As for my own work, I made a couple of short films while in college. A few of which went to a couple film festivals and did quite well. However, my first "professional" film out of school was Still Life. Again, it was a personal story. This one was about a photography student who struggles with his thoughts about his creativity and talent. It's very much based on myself and my growth as an artist and how I always questioned myself. The film has, not only gained worldwide distribution from Twistflix, but was recently accepted into New Filmmakers New York Film Festival which is next month. It also received critical acclaim and was very well received by audiences wherever I showed it, including getting a standing ovation at it's premiere. It was very rewarding.
How would you describe yourself as a director?
I find myself to be a very personal director. All the stories I tell usually come from my own experiences in life. It's funny how Please Punish Me came right after Still Life. The latter was about myself learning and growing as an artist and the former is now about keeping that alive. I made Still Life at a time where I wasn't sure about myself and my work and if I was good enough. Now I'm making this film in a time where I no longer question my abilities, but now I'm questioning how to make it possible without losing it along the way and settling for something I don't enjoy. So, it's like the next chapter of my own life.
I also consider myself to be a visual director. I love to compose camera shots and think about its movement. I also enjoy thinking about the lighting and what mood I want to set with it. I also enjoy thinking about how the film should be edited and such. Before I shoot anything, I always have the movie in the head shot by shot. A clear visual picture as to what I'm looking for.

I'm also pretty story-driven. I do consider myself a better director than I am a writer, but if I'm given a script, I like to pick it apart and see where the story arcs are, the character development takes place. I enjoy things like that. Working with actors is fun to discover these things. I'm certainly not an actor's director, but that story-driven side of me helps me to work with the actors successfully.
Filmmakers who inspire you?
So many. These are the clichéed choices, but they really do inspire me. Martin Scorsese is one. He's my favorite director. His passion for film is so contagious. I love listening to him talk about how he makes his films. Listening to him speak about Raging Bull and of course watching it is what made me want to be a director. Plus, his visual style is fantastic as are the stories that he chooses, and how he executes them is just amazing.

Alfred Hitchcock and Stanley Kubrick are also my favorites for reasons I don't need to explain. I'm also inspired by Walt Disney, Jim Henson, Charlie Chaplin, David Cronenberg and so many more.
Your favourite movies?
That's a tough one. My favorite movies change so many times. At this time though, I would say that these are my top 10 favorites:
1. Rocky
2. Raging Bull
3. King Kong (1933)
5. The Godfather
6. Cinema Paradiso
7. Psycho (1960)
8. City Lights
9. Vertigo
10. The Shining
... and of course, films you really deplore?
That's tough to say. I haven't really found a movie that I hated or strongly disliked. There are some movies I just thought were so-so, but I always find redeeming qualities in almost any movie I see. I guess I find it hard to really hate a movie since I know how much goes into making one. Even movies that I know are bad, I'll find a lot of unintentionally funny things about it.
Your/your movie's website, Facebook, IndieGoGo, whatever else?

Feeling lucky ?
Want to
search
any of my partnershops yourself
for more, better results ?

The links below
will take you
just there!!!

Find Chris Esper
at the amazons ...

amazon.com

amazon.co.uk

amazon.de
Looking for imports ?
Find Chris Esper here ...
Something naughty ?
(Must be over 18 to go there !)

My personal website is www.chrisesper.webs.com. There, you can see my previous films, music videos and other things I directed.
Here is my Facebook like page: https://www.facebook.com/pages/Chris-Esper-Director/316989045002591
The Please Punish Me Facebook page: https://www.facebook.com/pages/Please-Punish-Me/496180797105097
Again, the IndieGoGo page: http://www.indiegogo.com/projects/please-punish-me-short-film/x/641610
Here's the Twistflix link to see Still Life. Subscribe to the site for as little as $5.93 a month to see the movie along with other independent films: http://www.twistflix.com/films/?film=26
Anything else you are dying to mention and I have merely forgotten to ask?
I hope anyone reading this considers donating to the film. It's a personal story for all of us making it and want to inspire audiences and get our message out there and of course make them laugh. It can't happen though without your help. Every little bit helps. As little as $5 will help make this movie happen. If you donate, there's also many perks including getting a copy of the movie when complete and even being in it!
Thanks for the interview!
Thank YOU! It was my pleasure!