Your new movie Phantoms of the Fog - in a few words, what is it about?
Phantoms of the Fog is essentially an Italian-horror-inspired short film with a nod to those cheesy Vietnam War action flicks produced throughout the world during the 80s. The story follows a lone American soldier traipsing around the Vietnam jungle, in search of a way out or an answer as to why he's there. He encounters traces of other soldiers -- possibly in the same situation -- and the body of a dead VC guerrilla. Beyond the confusion, there seems to be something more going on.
With Phantoms of the Fog being a loving hommage to low budget Italian horror and war movies from circa the 1980s - what can you tell us about your love for films of this kind, and some of your genre favourites?
It's no secret that I am a big fan of Italian cinema of the 60s - 80s, but I believe the 80s are when the horror and action genres reigned supreme. What I enjoy most about Italian horror is the atmosphere! The cinematography, score, and substance all combine to form something amazing not captured by anything else in the world! The same for the action films -- even those films possess a unique quality that makes them far superior to the (supposed to be far superior) films of today! The over-the-top action and music are the epitome of 80s action. Unfortunately, those days are gone. In terms of specifics, there are just too many good films out there... I'd be afraid of leaving something out. I don't think I'd be revealing anything new, considering the Italian staples like Lucio Fulci [Lucio Fulci bio - click here], Joe D'Amato [Joe D'Amato bio - click here], Bruno Mattei [Bruno Mattei bio - click here], Sergio Martino, Ruggero Deodato [Ruggero Deodato bio - click here], Umberto Lenzi [Umberto Lenzi bio - click here] etc. would all be involved!
Other sources of inspiration when dreaming up Phantoms of the Fog?
It may be strange to have a favorite war, but I've always been attracted the Vietnam War... the time period, the geographic area, the culture, the weapons / planes, etc. As a hobby, I've wasted away many hours studying the war for no real reason other than that interest. With that said, the actual Phantoms of the Fog story came about thanks to the old army radio and other Vietnam war-era items I had access to. I figured, they're there, so why not do something with them. The uniform worn by the lead is also period, though probably never left the USA (pre-1967, maybe not the most practical, but best-looking, with white name tape and yellow "ARMY" lettering which would make you just a little more visible target for the enemy). Also included is a hint to another strange interest of mine -- criticality / nuclear power / nuclear weapons -- which is a clue as to what's going on in the story. SPOILER: The keen observer may notice the soldier's call-sign is "Buster Jangle". Operation Buster Jangle was a nuclear weapons test program that included the Desert Rock I, II and III exercises. In these tests, American soldiers were positioned within close proximity to atomic blasts and as such, were exposed to radiation -- you know, kind of like the Gov't testing on its own people without regard for their safety.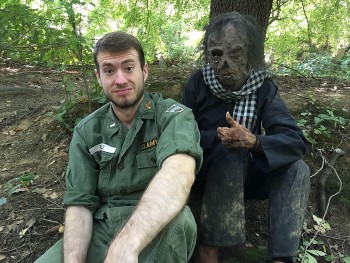 Do talk about your movie's approach to horror for a bit!
As I mentioned, I am more about atmosphere than that which most horror fans of today want -- over-the-top blood, gore, and nudity, fast chopshop editing, shaky shots, and heavy color grading. For capturing atmosphere (which I hope I do successfully), I like to use slow dream-like shots, long pans/tilts, lots of b-roll, and good sound design, but of course, the musical score is probably the most critical part in capturing atmosphere. And with Phantoms of the Fog, Luca Coscarella certainly hit his mark! In terms of the actual story, I feel the idea of the soldier being stuck in a trap while a zombie slowly approaches makes for some good tension. He literally has to choose the way he wants to die... but things may end up differently. And in the end, the implied blood and gore requires the viewer's imagination. I believe the mind should be stimulated and active, not stagnant by having everything spelled out on-screen. The viewer should be involved with the story.
What can you tell us about Phantoms of the Fog's zombie, how was it conceived, and to what extend were you involved in the creation?
I usually do it all myself, but I'm admittedly not too good with special effects. I made the zombie mask myself and think it came out well, first sculpting it out of clay and then simply making the latex mask. I've always been more a fan of those terrible looking zombies, such as those in Burial Ground, as opposed to the "pristine-applied-makeup" style of zombies of today. Clearly, Burial Ground was a big inspiration. Interestingly and perhaps grossly, the hair on the zombie is actually my own -- collected after many weeks of brushing (I have long hair!) What's even more funny is that I have blonde hair, so I spray painted the hair black! The clothing the zombie wears is the typical VC black pajamas uniform -- actually purchased straight from Vietnam where they still wear that style of garb even today.
With Phantoms of the Fog being mainly an outdoors-movie - where was it filmed, and what was it like shooting there?
While most of those 80s Vietnam War flicks were filmed in the Philippines, that was just a little beyond my $0 budget! So, the short was actually filmed in the jungles of... my hometown here in the USA, Philadelphia, Pennsylvania (with some b-roll shot in the jungles of... Palmyra, New Jersey). I say jungles in jest as this area is very densely populated. It's certainly not tropical, but the deciduous woods were lush and green enough to do the trick. To be honest, shooting was actually quite difficult but you have to do what you have to do. It was shot in the dead of summer, with temperatures being 90+ degrees Fahrenheit and very humid. Complicating matters, when shooting outside, one is always at the mercy of the weather. No matter how much you watch the weather forecast and plan ahead, it's never right... so twice, we got caught in the rain. All the while, many mosquitos made a meal of us and I got bit up by chiggers... but that is the price to pay to get the shots you need! I must really commend Karen, as I believe she had it worse, being trapped in a hot latex mask (which had no eye holes, by the way, and very minimal breathing holes)!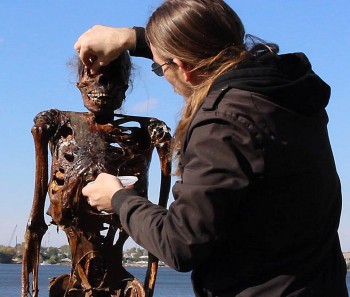 A few words about your overall directorial approach to your story at hand?
I'm generally pleased with the film, but there are certainly things I wish could have done better. My biggest complaint, as always, are the special effects, which are lacking. Also, in the end, some scenes came out dramatically different than how I envisioned (due to difficulties of doing what I wanted to do - the office scene for instance, I was reduced to a tiny corner in an office and was unable to have much diversity in the shots). I also think some clues in the story will be missed by just about everyone. For instance... SPOILER: The zombie's hands are tied with a bootlace. The spike goes through the soldier boot. In the end, we learn that solider killed himself by choking himself with his bootlace. So with that said, you can understand why I put those things in there -- but in the film, it's not so clear. But then again, did the soldier really choke himself or did the project director imagine it? That's another one of those things that I include to involve the viewer.
What can you tell us about your cast, and why exactly these people?
I generally work with people that I already know or local aspiring actors -- such as film students. My films are very low budget, and as such, I can't expect a seasoned or experienced actor to be too interested (especially with the type of films I produce). I would rather help aspiring actors or students so they can at least get some experience, no matter how small or low budget, or at least some content for their demo reels. The lead, Ryan Fargo, was a local aspiring actor who answered an ad for the part. Karen Lynn is actually my wife who has been involved with a number of my shorts. Terry Reilly has been involved with a number of them as well. As far as the soundtrack goes, it was actually supposed to be done by someone else but that fell through. At the last minute, I luckily found Luca Coscarella's amazing Burial Ground cover song on YouTube and contacted him. He was interested and that's how he got involved! I am very happy with the music he composed -- he did amazing work! As for the rest of the crew -- it is all me and only me!
Do talk about the shoot as such, and the on-set atmosphere!
Quite honestly, I don't have too much to say! If there is just one person in the scene, it was probably only me and one actor on set shooting. If we were there for a while, we were probably a little miserable thanks to the heat. All in all, it actually took a few days to shoot the outdoor stuff simply because it was so hot and tiring. With that said, it was also a blessing that most of it was shot outside because I didn't have to mess around with lighting, which kept things simple. It's always difficult doing it all yourself -- looking into the camera, seeing something that needs to be fixed, running around positioning lights and props, looking back into the camera, unhappy with the alignment, moving the camera, moving the lights again, etc, etc, etc. It's tough when all of that is you!
The $64 Dollar question of course, where can your movie be seen?
Phantoms of the Fog, along with most of my other short films, is available for free online viewing on YouTube at: youtu.be/xZj8LsPwfTs -- it will also be a part of an upcoming Vestra Pictures / Schlock Films anthology film Drive-In Grindhouse. An alternate edit will be part of a Underground Gorellectors Films DVD featuring a number of my short films.
Anything you can tell us about audience and critical reception of Phantoms of the Fog?
The short has been well received by fans of Italian horror and those who understand/appreciate what I'm doing. While I've read no critical reviews, I imagine any fan of modern horror might not dig it, but I'm okay with that. I understand what I'm doing is for a select crowd! The best thing I've read so far was a review which stated the film "could be described as a Lucio Fulci achievement based on a script by Bruno Mattei and Claudio Fragasso." This is the ultimate compliment for me -- though I totally disagree, because nothing I can do could even come close to those Italian icons!
Any future projects you'd like to share?
I'm currently working on a project called Garden of Souls. It's about 90% finished but I'm being held hostage by a location at the moment, so there's a delay that I'm not too happy about (which I should be used to, because there are always delays and problems). This film will be quite different from anything I've done before -- an experiment really -- as it will be a silent horror film in the vein of Nosferatu, Haxan, Faust, maybe some Intolerance thrown in. I can't say it'll be as amazing or over-the-top as some of those titles due to budgetary constraints and the fact it's not 1918 anymore, but I'm trying. I'm trying to keep it as authentic as possible, which includes simplifying the special effects and cinematography, reducing the quality, etc. Why a silent film? Because they don't exist any more and I like them! Believe it or not, I am a big Mary Pickford and D.W. Griffith fan -- they were the inspiration for this project.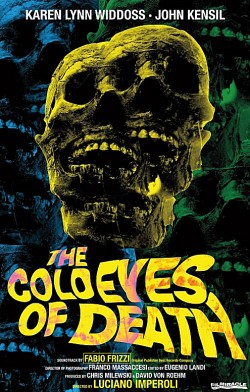 What got you into filmmaking in the first place, and did you receive any formal education on the subject?
I have no formal education or training in filmmaking. What got me into it in the first place was my disgust for the current state (at the time, and now) of film. I really try not to be too negative, but I dislike just about anything post-1992 or so. Gone is the style of atmosphere, good cinematography, and imagination. I'm big on camerawork, and today, it's just completely different than years ago. One would think it would be enhanced by technology, but in my opinion, with the progression of technology, good cinematography has been replaced with lackluster and unimaginative jerky shots, with no thought about lighting, and that ends up being way too color-graded in post. Of course there are some exceptions, but as a whole, that's what we have! I certainly understand that times change, but no one seems to be trying to capture the atmosphere of yesteryear, as much as everyone loves it, so I figured, why not give it a try. Having given it a shot, I can say it's admittedly a lot harder than I thought, especially with no budget, but I don't understand why films with a budget still can't capture it! I can't say I'm totally successful with what I set out to do, but at least I try!
What can you tell us about your filmwork prior to Phantoms of the Fog?
Just about everything I've done is inspired by Italian cinema and as such, I try to capture that essence (I'm sounding like a broken record now). My first foray into all of this was a short film, The Cold Eyes of Death, which was shot in 2013. To make it special and more authentic, I contracted Italian composer Maestro Fabio Frizzi for the score. Violets Bloom at an Empty Grave, my second short, also had an original Frizzi score as well as minor participation from Silvia Collatina (House by the Cemetery) and Franco Garofalo (Hell of the Living Dead and my favorite Bruno Mattei film, The True Story of the Nun of Monza [Bruno Mattei biography - click here]). Looking back now, I feel I totally wasted their talents, because at the time, I had no idea what I was doing and the films are admittedly quite terrible, haha... but they are what they are! I should remake them in the future. After those came Help Me Have No Human Ways (inspired by the Heaven's Gate cult), World of Shadows (inspired by the last films of Guilio Questi -- that is portrayed and filmed by the same person at the same time), Ghosts of Eden Hall (inspired by some local Philadelphia history), and Welcome to the World Dear Child (my least favorite film -- good idea, poor execution). I then directed a few horror anthology film segments for Vestra Pictures / Enchanted Architect / Trash Arts -- A Taste of Phobia, Poe IV: The Black Cat, and Philia. I think my Poe IV segment, House of the Black Cat, is the piece I'm most proud of out of everything I've done. To me, it totally captures the essence and atmosphere of those Italian horror films I love. Of course, it's not without its flaws, but as a whole I think it's my favorite! I think that brings us to Phantoms of the Fog (unless you want to count a very short documentary I did called TMI2: The Entry about the Three Mile Island nuclear power plant accident. I had much planned for it, but most of it fell through so it ended up being something much smaller).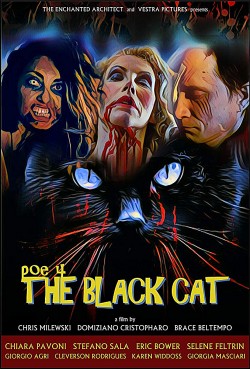 How would you describe yourself as a director?
Perhaps a director that tries make the best out of what he has and what he can do. Sometimes it's not easy, but I always say "I'll make it work!"
Filmmakers who inspire you?
Of course, many of the Italian staples like Fulci [Lucio Fulci bio - click here], Mattei [Bruno Mattei bio - click here], Martino, Lenzi [Umberto Lenzi bio - click here], Bava [Mario Bava bio - click here] etc. are all big influences, but I like to also mention some lesser known directors like Angelo Pannaccio, Demofilo Fidani, and Mario Imperoli. I also love Jess Franco and often state that my filmmaking sloppiness is my Franco influence coming through! As of late and probably the strangest, but Mary Pickford and D.W. Griffith have been quite inspiration and influence -- especially in terms of my new project Garden of Souls. Now, having listed all of those names, I will say my biggest influence without a doubt is Joe D'Amato [Joe D'Amato bio - click here]! In my opinion, he is the world's greatest director and cinematographer! From his horror films to cheesy dramas, I love them all!
Your favourite movies?
This is always the hardest question to answer because I think it depends on my mood, but if I had to choose, I think my all time favorite movie is Romolo Guerrieri's La Controfigura (a.k.a. The Double). I love everything about that movie -- the locations, cinematography, talent, and of course... the atmosphere. Some other horror-esque favorites are Voices from Beyond (yes, that is my favorite Fulci film... with Door to Silence being next), Death Smiled at Murder, Death Laid an Egg, All the Colours of the Dark, and A Virgin Among the Living Dead. I also dig spaghetti westerns. I've seen hundreds, but Death Played the Flute and Law of Violence are my favorites (the bottom of the barrel lowest of the low budget). In terms of silent films, for those who care, I'm not ashamed to admit my favorite is Maurice Tourneur's Poor Little Rich Girl... but I love just about all of the Mary Pickford films. Probably strange, considering how dramatically they contrast with horror! I am big on the Biograph shorts, but D.W. Griffith's Intolerance is also a masterpiece, very well worth mentioning! Once sound came in, during that time period, my interest wanes.
... and of course, films you really deplore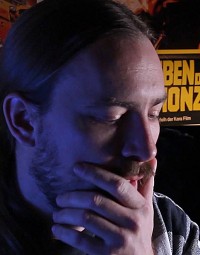 Feeling lucky ?
Want to
search
any of my partnershops yourself
for more, better results ?

The links below
will take you
just there!!!


Without singling out any one person or film -- I'd say about 98% of the movies out there are essentially garbage! They generally lack atmosphere or anything else that sets them apart from everything else out there. And thanks to technology, anyone can be a filmmaker (and that's the group I probably fall into, haha, though I hope not). Like the music world, it's just flooded with too many filmmakers and too much stuff. Of course, anyone can do as they please, but you know what I mean. I don't want to sound negative, but it really seems that's the current state of things! That's not to say I don't appreciate the hard work and effort someone may have put into their project -- strictly speaking about indie filmmakers and not some big business big budget Hollywood productions. Hollywood productions are just business and I don't care about them!
Your/your movie's website, Facebook, whatever else?
Facebook: https://www.facebook.com/chris.milewski.357
IMDb: https://www.imdb.com/name/nm6190848
YouTube: https://www.youtube.com/channel/UCyKWJ1KMyb8KSLj1dCEqvCA
Website: http://filmiracle.blogspot.com
Anything else you're dying to mention and I have merely forgotten to ask?
The only thing I'd like to say is many thanks to you for the interview and your interest in my work! It's always a joy to know at least somehow out there understand and enjoys what you're doing. I truly appreciate it!
Thanks for the interview!