Your new movie A Stranger Among the Living - in a few words, what is it about?
Itís about a young teacher who has a dream thatís a premonition of sorts, which helps him avoid a school shooting, but soon after, he begins getting stalked by these creepy figures who want to finish what death started.
One of the central points of A Stranger Among the Living is survivor guilt - what inspired you to base your film on that condition, and have you done any research on the subject?
It was something that came organically to the story. If someone managed to avoid a disaster like this, how would they feel? I did do a lot of research. I watched a lot of interviews with survivors of tragedies such as this. YouTube is such a wonderful resource on this. I think itís something thatís just now getting out into the mainstream since we seem to have shootings every week these days. Itís getting hard to ignore and, hopefully, weíll start doing something about it.
(Other) sources of inspiration when writing A Stranger Among the Living?
Even the title itself comes from the tagline of Carnival of Souls, so I could say thatís a huge inspiration. That film is one of the greats, and I started working on this film because I wanted to do something similar to that. Thereís another great similar film called Sole Survivor from the 80ís that inspired me a lot along with films like Messiah of Evil, The Sentinel, The Stepford Wives, The Fog, The Innocents, and Letís Scare Jessica To Death. They were all so moody and creepy, and that was the kind of mood I wanted to bring to this movie.
Do talk about A Stranger Among the Living's approach to horror for a bit!
This is probably my moodiest horror film. Blessed Are the Children had a little bit and Triggered was more of a dark comedy, but this is my first bonafide mood piece. I wanted the whole film to feel really dark and oppressive like stepping into someoneís nightmare. The only real nightmare sequence is the first 10 minutes of the movie, but I wanted that mood to last throughout. Sort of like how, when you first wake up from a really weird dream, it takes a little while to shake that mood off.
A few words about your directorial approach to your story at hand?
Itís definitely my darkest and most dramatic film. There are a lot of raw human emotions at play and I wanted to take everything as seriously as possible, so I was fortunate to work with some excellent actors who I could usually just let loose. For the first time, Iíd start playing some games with my actors so that I could help them hit just the right notes. Iíd get them to play some scenes a few different ways so that we could find little nuances that we might not have found otherwise. Even though itís a dark story, Iím always looking for the humor in everything, so Iíd sometimes make them play a really dramatic scene and look for the humor in it and, sure enough, theyíd usually find a moment or two that they could mine for a little humor instead of making the entire scene so oppressively dark.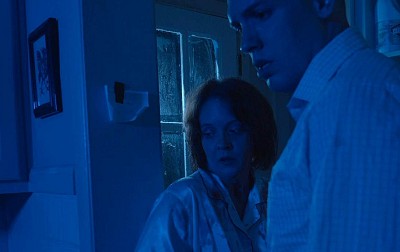 You also appear in front of the camera in A Stranger Among the Living - so what can you tell us about your character, what did you draw upon to bring him to life, and did you write Jarvis with yourself in mind from the get-go?
Jarvis was a lot of fun. Iíd started writing the script years ago after having a dream that inspired the opening of the film and I kept getting stuck about 30 pages in. I had no idea where to go with it, because it seemed like it was so dark and so depressing that I didnít really want to keep going. I knew the film needed a little injection of humor and energy and thatís where Jarvis came along. He tries so hard, but he really does mean well and it was fun to play someone like that. He reminded me of a lot of actors Iíd met over the years, so I used a few pieces from this one person and a few from this other person and put him together that way. I had no intention of playing Jarvis, but I couldnít find anyone who quite got what I was going for with the character, so it got down to the wire and I figured I could give it a go. I enjoyed it a lot more than Iíd expected and it was nice to have one less actor to have to worry about. I knew what I wanted, so I didnít have to try to direct a performance out of anyone. On an indie film set, having one less thing to worry about can be a lifesaver.
What can you tell us about the rest of A Stranger Among the Living's key cast, and why exactly these people?
Iíve worked with a lot of the cast before, because I love having a sort of film family. It makes it easier to communicate what you want, because itís like we all have our own language now. Keni Bounds, Eric Riggs, Cheryl Abernathy, George Mayronne, and Claire Mayronne have been in all my films thus far, and it was nice to work with Meredith Mohler again after Triggered even though her part was so small in this. We were so lucky to find Jake Milton, Will Lovorn, Vicky Posey, and Shari Plumlee. They were joys to work with and brought so much to their roles. I remember Vicky and Shariís auditions being so spot on that I was taken aback a bit. It was like theyíd gotten into my head and understood exactly how I pictured every line delivered, every facial expression - it was unreal. I like having my rep company of sorts, but I always like adding new people to the mix with each film to spice things up and, hopefully, theyíll be in other films in the future.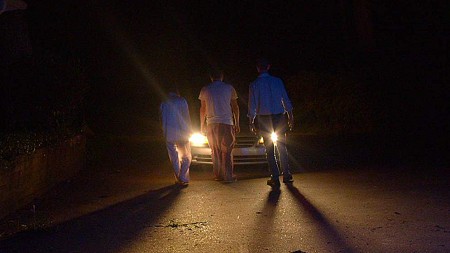 Do talk about the shoot as such, and the on-set atmosphere!
It was pretty relaxed. The shoot lasted about a month, but since most of the actors were more local, it was a bit more relaxed, so we didnít shoot every day and we had a few breaks. Everyone was nice and professional, but we definitely had our laughs. There wasnít any drama except one day when we discovered weíd only secured a certain part of a location and we werenít allowed to shoot the rest of what weíd originally planned. Thankfully, we moved that stuff to a different location and what we ended up with was creepier and more atmospheric anyway, so it was a win-win. Indie films are full of little surprises like that which annoy you at first, but if youíre able to adjust and roll with the punches, they can be blessings in disguise.
The $64-question of course, where can A Stranger Among the Living be seen?
Right now, itís touring film festivals around the world, but hopefully, we can get it widely distributed by the end of this year or early next year. Be sure to follow our social media pages to see where itíll be playing near you.
Anything you can tell us about audience and critical reception of A Stranger Among the Living?
So far, itís been wonderful. People really seem to be responding to it like Iíd hoped and that makes me so happy. I hope audiences and critics keep enjoying it.
Any future projects you'd like to share?
I just completed a play that was based on a one act I workshopped last year thatís a full-on comedy, and Iím really excited about that, but Iím not sure what its future is at the moment. Maybe Iíll try to stage it myself or maybe Iíll turn it into a film script. Iíve been outlining like crazy and have quite a few ideas for the next film, but, right now, itís about trying to figure out which one to pick. After a while, one usually calls out to me a little louder than the others and thatís the one I end up focusing all my energy on.
What got you into the filmworld to begin with, and did you receive any formal training on the subject?
Iíd play with my action figures in my room and tell stories even as a kid. I always loved any form of storytelling. Iíd make really awful movies with my friends over the weekends starting in 5th grade by using my familyís camcorder and improvising everything. They werenít very good, but we sure had fun making them. I ended up attending UNCSA in Winston-Salem, North Carolina to study filmmaking and spent 4 years there, meeting some great people and learning the more technical side of filmmaking.
What can you tell us about your filmwork prior to A Stranger Among the Living?
There are a lot of things I would have done differently. The first movie I really claim is Blessed Are the Children, and that has some great scenes and performances, but I donít think it works 100% as a movie. It has a lot of flaws, but I think I got better with Triggered. To me, that had a stronger script and I knew what I was doing a little more. Plus, it was fun to really play with the comedy and try to create a different mood. With A Stranger Among the Living, I feel like Iíve finally made something that really looks and feels like a movie. Itís definitely my most mature film. At least Iíve been hearing that Iím growing and getting better. Thatís all one can really ever hope for as both a storyteller and a human being. If youíre not constantly getting better, whatís the point?
How would you describe yourself as a director, and how as an actor?
As a director, Iím usually pretty hands off with the actors. I like for them to come up with their characters by themselves unless they just go off in some bizarre direction I donít think is right. I direct them the way Iíd want to be directed as an actor.
I wish I could say I have some big process as an actor, but I just read the script and try to put myself in the characterís shoes. Iím not big on research and all that stuff. If you start overanalyzing everything, it stops being fun and it feels like every choice has been determined beforehand. A lot changes when you meet your scene partners, too, so you have to adapt to them and actually listen them and feed off their energy. I just try to connect on an empathic, human level. Itís the same if Iím doing a drama or comedy.
Filmmakers, actors, writers, whoever else who inspire you?
Oh, boy! There are so many. Iíve been mostly inspired by those auteurs like Wes Craven, George Romero, John Carpenter, Brian De Palma, Dario Argento, and even John Cassavettes (though heís not a horror guy). Growing up, I knew I wanted to be like them. Every moment of their films has their stamp and personality all over it and I love that about them. Each film felt personal and Iíve discovered thatís what makes a watchable movie a lot of times. There has to be a personal reason that youíre telling the story. It canít just be ďI want to make a movie about a killer on the loose or a movie about a drug addict.Ē There has to be something in the story that you relate to that makes it personal.
Actor-wise, Iíve always admired Phillip Seymour Hoffman. That man never struck a false note in his entire career. Allison Janney, Ellen Burstyn, Sandy Dennis, Jessica Lange, Jennifer Jason Leigh, Toni Collette, Gena Rowlands, Sissy SpacekÖ there are so many.
Your favourite movies?
Carrie is probably my favorite. I know every word, inflection, and music cue. Halloween, Death Becomes Her, Heathers, Suspiria, Deep Red, Demons, Dressed to Kill, Carnival of Souls, Mulholland Drive, The Sound of Music, Alice Sweet Alice, Terms of Endearment, 9 to 5, Singiní in the Rain, Meet Me in St. Louis, and Friday the 13th among others.
... and of course, films you really deplore?
Oh, I donít know. I donít really ask for much. Just give me one interesting character or one semi-creative set piece and Iíll feel like I didnít completely waste my time. Even a lot of really bad movies are still entertaining in some ways. I think the only truly awful movies are the ones that have no heart or passion whatsoever. Theyíre the ones that are the cold, cynical cash grabs where you can tell no one involved in the films has any care for the final product. Everyoneís just doing it for the paycheck. These are usually incredibly forgettable and, to me, thatís the worst sin a film can commit. At least a really awful movie can be memorable and make us feel something. When you walk out to the parking lot afterwards and canít remember a thing about what you just watched - thatís a bad movie.
Your/your movie's website, Facebook, whatever else?

Feeling lucky ?
Want to
search
any of my partnershops yourself
for more, better results ?

The links below
will take you
just there!!!


We have a Facebook page which is www.facebook.com/astrangeramongtheliving and an Instagram which is @astrangeramongthelivingmovie and a Twitter which is @StrangerAmong. Give us a follow or like on those to keep up with whatís going on with the movie. Weíre always posting where itíll be playing each month and fun stuff like that.
Anything else you're dying to mention and I have merely forgotten to ask?
I think that about covers it. Thank you so much for this opportunity. I hope everyone checks out the movie and enjoys it.
Thanks for the interview!