Your new movie Triggered - in a few words, what is it about?
Triggered is about a teenage girl whoís always looking for a cause and a reason to stand out and she ends up gaining the attention she always wanted - from a legendary serial killer whoís been terrorizing her town.
What were your sources of inspiration when writing Triggered, and was any of it (not the killing spree I hope) based on personal experiences?
Iíve definitely encountered some people like Callee in my life. Thankfully, most of them have been online and not in person. Iím fascinated with people who donít seem to have a sense of humor and take everything so seriously. There just has to be something broken upstairs if you know what I mean. I was mainly fascinated with what makes people like that tick. You hear so many stories these days about high school and college kids freaking out about the tiniest little things. In fact, I think it was an article I read about someone calling the sushi in their school cafeteria ďcultural appropriationĒ that really got the ball rolling on this. Iíd been working on another screenplay which was more of a supernatural film and I was having a difficult time in the 2nd act and I read this article and couldnít stop laughing. Iíd had another idea about a spoiled teenage girl who fakes an attack by a killer for attention and, when I read this article, a lightbulb went off and I decided to combine the two together to really create something worthwhile.
To what extent could you identify with Triggered's lead Callee actually - or Ian or any of the other characters, for that matter?
People always ask me which character I am in everything I write and, honestly, thereís a bit of me in every character. I can relate to Callee wanting to do the right thing, I can relate to Ian being socially awkward and not feeling comfortable in this body, I can relate to Zac not wanting to rock the boat for fear of being made fun of himself. Theyíre all me to an extent. I think what makes Callee so interesting is that her main need is so universal - itís the need to be noticed and appreciated. We all have that. Maybe not to the extent that Callee does, but that really helped me tap into her character and not make her just a psychotic monster. I really do feel for her, because I think she does want to do whatís right a lot of the time, but the way she goes about it is incredibly misguided.
With Triggered being a slasher movie of sorts, is that a genre at all dear to you, and what do you think will make your movie stand out of the crowd?
There are definitely a lot of really fun slasher elements. I adore the subgenre, but Iíve never been terribly interested in doing a straightforward ďa gaggle of friends go off into the woods and die one by oneĒ slasher. I think they can be a blast but I always like to make my movies ďabout something.Ē Not issue movies necessarily, but I always want to bring a little bit of the real world into it. My last film, Blessed Are the Children, was very much about religious extremism and a womanís right to choose. Triggered, to me, is about social media, not stomping on our allies, outrage culture, and the need to be seen which are all very serious issues, but by wrapping them up in the package of a slasher film, I think it makes the message easier to digest. Thatís the great part about horror films - you can bake in all these messages that never feel preachy.
At least for me, Triggered has also a comedic twist to it - do you at all agree, and if so, do talk about your movie's brand of humour for a bit?
Humor is very important to me. Even Blessed Are the Children had moments that are very funny in between scenes of suspense. I decided to go almost full-on humor this time and I had a blast. I love comedy as much as I love horror and I think they do go well together. If youíre able to laugh along with the absurdity of the situations with the characters, it makes the moments of horror and suspense all the more intense. Thereís nothing worse than watching a movie that takes itself so seriously. You feel like youíre being lectured at. I know, at first, many people were concerned that this might be a mean spirited film based on the concept alone. They thought we were advocating violence against social justice warriors or than social justice warriors were crazed psychos. It was very important for me to get the tone right and not ďpunch down.Ē We donít make fun of any one group in particular. If anything, we kinda make fun of everyone. We definitely have some fun with the Tumblr generation who seem perpetually offended by everything, but we also make fun of the religious right and their own ridiculousness. I think itís pretty balanced. Thereís not really any character in this movie whoís squeaky clean.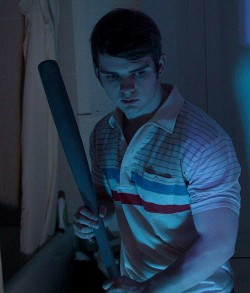 What can you tell us about your overall directorial approach to your story at hand?
I thought it was important to play everything very straight. The two characters who are the heart of the movie to me are Ian and Gloria. They need to be the audienceís eyes and ears. They say a lot of the things that weíre thinking and you need a character or two like that in a movie like this to balance out all the ridiculousness or it just becomes goofy. That was the main thing I was trying to stay away from. I didnít want it to become too cartoony. I think that, with this script, it could have easily been like a live action cartoon, but Iím glad we managed to stay away from that and ground it in some truth. I think that was the main thing I wanted to bring to it - a sense of truth and realism.
Do talk about your key cast, and why exactly these people?
I love my cast. I brought a lot of Blessed Are the Children alums back, because I loved working with them and itís interesting because they all play the exact opposite of what they played in Blessed Are the Children. I thought that would be fun. It really shows their range. I placed a few ads online to cast many of the roles and that was pretty tough for the first few weeks. I remember getting auditions from men in their 40s and 50s wanting to play Ian or Zac and I was like ďwhat is wrong with you guys? Do you really think youíre right for this role? Youíre a father of 3.Ē The women were, somehow, easier to cast. We got so many great auditions that it was easy to place them in certain roles. For Callee, most everyone got one aspect of the character down, but they didnít get everything I knew I needed. Iíd worked with Meredith Mohler on a production of the musical Gypsy and I had the feeling that she could do it and, sure enough, hers was the only audition that got every aspect of the character down pat. Plus, I remember her actually scaring me and unnerving me during her audition and that was a huge plus. It came down to two guys for Ian and one was really great, but he was just too Ken doll-ish for the role. I wanted someone who was quirky and interesting, and Jesse Dalton is so talented and has this really expressive face and just got the humor of the script. It was an easy choice. I knew I wanted someone really special for Gloria. In fact, the role of Gloria and the principal were originally two different roles and we were looking for two known actors to play those roles. Iíd seen Amanda Wyss in a great movie called The Id where she played a mentally unhinged woman living with her abusive father and Iíd been dying to work with her after seeing and, sure enough, I was in contact with that filmís director, Thommy Hutson, and he arranged for her to read the script and, before I knew it, she wanted to do it. It was surreal. Itís strange directing someone whose work youíve always admired. It makes you feel like an idiot. I mean, what are you going to tell them that they havenít already heard? They know what theyíre doing. Thankfully, she seemed to see the character the same way as I did and there was no conflict or need to correct anything she did. She was a blast to work with and took it very seriously even with our crew of, like, 3 people. Iím sure it was a bit of a shock to get to the set and see just how low budget we were, but she was a great sport.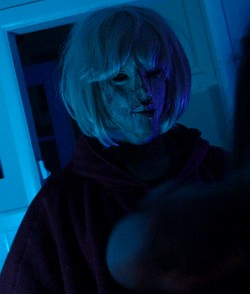 A few words about the shoot as such, and the on-set atmosphere?
It was a really short shoot and it was far more ambitious than Blessed Are the Children and we had far less time to shoot it, too. There was a digital memory card glitch on certain days of the shoot which made us have to reshoot a few bits or cut around some of the damaged bits, but everyone was in good spirits even as I was pulling my hair out behind the scenes. It was shot in October with a few days of reshoots in March, so the weather was fairly pleasant throughout. Poor Jesse got sick towards the end of the first shoot and then again at the start of the reshoots. He was such a trouper, though. I remember everyone being willing to help out and there was no huge drama to speak of. I do remember hating the night we spent at this church that was doubling as the interior of the school. We only had one night to get all the school interiors, so I was running around like a chicken with its head cut off. Thankfully, all but two of the scenes we shot that night turned out well, but it was a very long night and everyone was exhausted.
The $64-question of course, where can your movie be seen?
Triggered is going the film festival route and has its first date planned for June 24th at the Texas Theatre in Dallas, Texas as part of the Fears For Queers Film Festival. Hopefully, after that, itíll tour around and land a distributor whoíll have it out within a year or so.
Anything you can tell us about audience and critical reception of Triggered yet?
So far, the critics have been lovely and seem to get the humor in the film. Iím so thankful for that. I actually havenít seen it with an audience yet. My first time will be on July 12th, so Iím equal parts excited and terrified. You really never know if a movie like this is worthwhile until you see it in front of an audience.
Any future projects you'd like to share?

Feeling lucky ?
Want to
search
any of my partnershops yourself
for more, better results ?

The links below
will take you
just there!!!


Iím working on several scripts at the moment. One is supernatural, the other is a very creepy and disturbing V.C. Andrews-esque family thriller, and thereís another thatís sort of a mix of the two. Thereís always something cooking in my brain.
Your/your movie's website, Facebook, whatever else?
The Facebook page is: http://www.facebook.com/FindURSafeSpace and the Twitter/Instagram is @Triggeredmovie
Anything else you're dying to mention and I have merely forgotten to ask?
Thanks so much for the interview. This has been a blast. And be sure to check out Triggered if it plays a film festival near you.
Thanks for the interview!