Your film Booley - in a few words, what is it about?
Booley is about the mental and moral breakdown of a typical honest suburban husband and father.
Honestly, to what amount is Booley's titular character based on yourself and your own experiences, and to what extent can you identify with him?
Angus Booley is a charater that lives inside my head, like a bad angel on my shoulder. Anytime some asshole races ahead of me in a parking lot to get a better spot or some ingnorant, wilderbeast of a human sits next to at a movie theater just to talk on the phone, I hear this little voice "Wouldn't it be great to just run that person over when they get out of the car?", "What if I got up from my seat in the theater, sat in the row behind this dick and just strangled the living hell of him?" - but the reality and my own sense of right and wrong kick in and stop these thoughts. But we all think it.
The self-empowerment-guy - now where did that inspiration come from?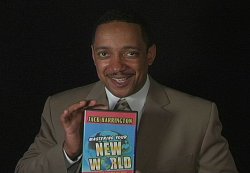 Christopher Mann
I'm not really sure. When I came up with the idea for Booley, I thought it would be fun to sorta have a character that keeps appearing, telling the audience where the story is going. I felt that the motivational speaker re-appearing like segments of a bad infomercial would be cool to do.
(Other) sources of inspiration when writing Booley?
Totally. The whole idea for Booley was inspired by the film Falling Down with Michael Dougles. I loved the idea of this everyday guy who has just had it up to his eyeballs with all the typical bullshit that people tolerate everyday.
How would you describe your directorial approach to your story at hand?
Booley was written a year after I tried to raise money for a film that I wrote titled Bitter Heart. Bitter Heart was gonna cost us in the $100K budget range to produce. We were unsuccessful in raising the money. I wrote Booley as an ultra-low budget idea because I wanted to get back out and make a movie. The overall direction of Booley was dark with a sense of humor. This is how I was feeling at the time. Angry but able to laugh at myself. Booley is a failure and that is how I felt when writing it. I wanted this feeling to be present in the film. The handheld, reality feel to the shooting style, the lack of good lighting and the real feel editing. This made it dark. The quirky, toungue in cheek music and Tome Detrik's handling of the character gave it the laughability.
I have described Booley, among other things, as a "delightfully biting, subversive satire" - a comment you can at all live with, and how would you describe your movie's brand of humour?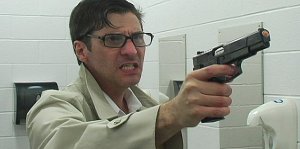 Tom Detrik
Booley was a satire. Your comment was honest and true. Everyone in Booley was a complete stereotype. With these stereotypes I could take a stab at real life and poke fun.
A few words about Booley's lead Tom Detrik, and how did you find him and what made him perfect for the role?

Carmela Hayslett
Tom Detrik came to an audition of my short film The Wish. He took the lead role in that as Mr. Calverone. After working with Tom I realized how much of a diverse character he was on and off camera. Tom Detrik's volume knob goes to 11 when it comes to screen presence. He can take a pretty vague idea I have of a character in my script and put his own thoughts and feelings into them. He understands how to develope the person in the story from an acting point of view and make the character BLOW UP. This is what I like most about Tom. This is why I cast him in everything I do. He's a director's dream.
What can you tell us about the rest of your cast?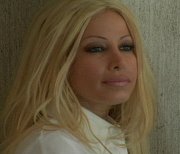 Gina Lynn
Carmela Hayslett [Carmela Hayslett interview, click here], my wife but my girlfriend at the time, played Rose Booley. I wrote the character for her. It was a model of how she described herself as a teenager to me.
Christopher Mann, was an actor I saw in a friend's film, Jersey Justice. I loved Christopher's smoothe delivery of lines and felt he was best to play Jack Harrington.
Gina Lynn was cast as Dakota, the pretty blonde alpha girl in the film who constantly picks on Rose. Gina Lynn was actually a really good actress. She seemed to have fun with the role. I get scorned by many reviews for casting Gina Lynn since she's obviously much older than a high school student. DUH! Most high school students in TV shows and movies never look the age. This was on purpose, once again to play the stereotype, not of life but of media in general.
Would you like to talk about the actual shoot and the on-set atmosphere for a bit?
Booley was a fun film to shoot. There wasn't a lot of technical things we were worried about like lighting and perfectly composed shots because I was going for a more run and gun style. The scenes were very comical and over the top which made it a hilarious set. The jokes never stopped.
As far as I know, Booley has only just been released. What can you tell us about audience and critical reception so far?
We tried to go self distro with Booley but were very unsuccessful at this. It's impossible to get your film through so many doors because you need to have a distributor to open them for you. Stores, online retailers, V.O.D. - these are all facilitated by a distributor. During that time between then and now - having a release with Brain Damage Films - Booley has gotten a lot of mixed reviews. Some people love it. Some people trash it. Booley is a very low budget film and some people can't get past that. The people who love it love it for the right reasons. It's camp.
Let's go back to the beginnings of your career: What got you into filmmaking in the first place, and did you receive any formal education on the subject?
I graduated from the University of YouTube. I don't have any certificates or degrees on my wall. I honestly have met a lot of film students and graduates of some so-called prestigous schools and they don't have a clue. They do have a pretty piece of paper to hang up though. Filmmaking is an art, a business, and a crap shoot. The only way you can learn the skills and get your chops is by doing. I got into this whole rat race because I always wanted to do scores for films. But it seems that is impossible unless you make your own movies. Funny thing is, when I dug my hands deep in the belly of the beast I learned how much of a filmmaker I always was. I loved to write, I loved taking charge and being accountable for that. I never waited for someone to to say "hey wanna work on my film?" I'm too impatient. So here I am.
What can you tell us about the filmwork leading up to Booley?
Not much, I wrote and produced a film called Belial in 2006, went on to directing The Wish, and then there was Booley.
At least according to IMDb, you have made quite a few films since Booley - want to talk about those for a bit, and any future projects you'd like to share?
Deer Crossing is my latest film. Deer Crossing was a little bit higher of a budget at $50K. We cast Ernie Hudson and Doug Bradley for the film and gained a global distribution deal with Osiris Entertainment. Deer Crossing is more of the kind of film that I will probably be known for. It's had mass global exposure since its release. Deer Crossing is a much more serious film with a lot more risk-taking scenes. There is a lot of content in Deer Crossing that really disgusts and pisses people off. It's not a film for everyone.
I co-directed Eliza's Diary, a short film that my wife Carmela [Carmela Hayslett interview, click here] wrote, co-directed, and starred in. This is a throwback to the old horror shows like Twilight Zone and Tales from the Dark Side. People really seem to dig it. We had a great reception for the film at the International House in Philadelphia. The total budget was $500. LOL.
I did another short called The Realighnment of Tavish. This also starred Tom Detrik as a schytzofrantic prisoner in the future who gets a pardon from a judge to redeem himself and go back in time to undo his crimes. He doesn't of course. I made that short for the contest on YouTube where you could have a chance to win a half Million and work with Ridley Scott. After seeing Prometheus I'm glad I lost.
Besides making movies, you have also scored quite a few, both your own and films by others - so what can you tell us about Christian Grillo, the musician?
I've been a musician since a child. Like the movie thing, I was self taught. Music is a part of everything I do. My films are shot to rythems in my head (I'm being serious). I actually have the scores infesting my thoughts when I write and shoot. I can't help it. Everything is music to me. When I see things I hear it. A car crash, a squirrel running across the street, a leaf falling from a tree. My mind instantly hears music like some insane demon who wistles a melody in my ear to provide some sorta soundtrack to life. Yeah I'm nuts. I have few music videos on YouTube on my channel, "MRPotent", if you wanna hear some of my newer stuff.
How would you describe yourself as a director?
I love this question. The word "Director" has been glorified, abused and sodomized. The land of Hollywood has made being a director sound like being a rock star. That's why so many people want to be one. Guess what it's not. They should call it a "film manager". You're like the guy with his own fast food restaurant who runs around and wears the tie and yells at the fry cook to cook the fries faster. At the same time you have to be able to come up with this sensational burger that everyone wants to eat. I'm that guy.
Now, if you wanna talk about the kind of director I strive to be: I like to make movies that get reactions. Good or bad. I don't give a shit. Nothing makes me happier than to see a woman take her husband by the arm, pulling him from his seat and saying "that's it... I had enough." SCORE! (it's happened). That's me. I want a reaction. I know someone else in the theater is gonna say the opposite. "This fucking movie is sick... I love it." Either way I get a reaction. Not for gore or trying to out torture some poor person in a scene but for the mental reasons. The things we don't talk about. The things you shouldn't say. The things that are too taboo. I want people to know when they watch a film by Christian Jude Grillo, that they're not safe anymore. Bazinga!
Filmmakers who inspire you?
My favorite filmmakers aren't always the ones whose movies I love. I love Robert Rodriguez. His movies, some good some bad. But him as a filmmaker. Love him. He don't give ONE SHIT. He makes the movies he wants, how he wants, where he wants with who he wants. My kinda dude. As far as what directors do I like artisticaly (this doesn't mean I like them as a person) Ridley and Tony Scot, (a true loss). Adrian Lynne. David Lynch. Those are my favs. They make the kind of films I wish I could.
Your favourite movies?

Feeling lucky ?
Want to
search
any of my partnershops yourself
for more, better results ?

The links below
will take you
just there!!!

Find Christian Grillo
at the amazons ...

amazon.com

amazon.co.uk

amazon.de
Looking for imports ?
Find Christian Grillo here ...
Something naughty ?
(Must be over 18 to go there !)

Most people think my favorite films are gonna be horror movies. Wrong again. My favoite three films are True Romance (written by Quentin Tarantino, directed by Tony Scott) - BEST MOVIE EVER MADE. Blue Velvet (David Lynch), Lolita (Adrian Lynne). Oh and I loved Bronson.
... and of course, films you really deplore?
Prometheus. Rocky Horror Picture Show (sorry). Grease (yeah I hate musicals go figure). Any movie with John Travolta or Nicholas Cage. And all the goddamn Hollywood remakes.
Your/your movie's website, Facebook, whatever else?
Mrpotent.com, Christiangrillo/Facebook.
Anything else you are dying to mention and I have merely forgotten to ask?
Yes, Apocalypse Kiss - my next film. This film is going to be the pry bar that will break open the Hollywood door and let all the mutants and misfits in to destroy everything inside ; )
http://youtu.be/M48fIiBZeS0
Thanks for the interview!