Your upcoming movie The Dooms Chapel Horror - in a few words, what is it about?
The Dooms Chapel Horror is the story of a man returning to his childhood town after many years to face the people that sent him away after the accidental death of his beloved brother which he was blamed for. Itís a story of revenge.
How did the project come together in the first place, and how did you wind up producer?
I teamed up with my director friend John Holt for a 48 Hour Film Competition in Paducah, KY, our hometown, in 2009. We had a ball, and after he asked if I wanted to produce a short film he had a 12 page script for called The Hunt. I loved the script and we made it in January 2010. It has won several honors from film festivals and has almost 50k views on YouTube. It also made an Ain't it Cool list of top 10 found footage horror shorts. We decided to make a feature version of The Hunt because of all the great feedback it was getting. So we gave the idea to a writer friend of ours named Jason Turner and he ran with it. He returned with The Dooms Chapel Horror and we rolled cameras in May 2013.
To what extent could you identify with the film's horror theme and approach, and is horror a genre you're at all fond of?
I think everyone can identify with the feeling of revenge. Most donít act on it, its what makes us a civilized people. Itís why we like to watch stories about people that do, so we can live vicariously through them. We approached it as a horror film we grew up watching in the 80ís. We were all big fans of Jason, Freddy, Pumkinhead, Halloween and the rest, and those movies were about the characters and story as much as they were about the killer. Horror films today have gone into torture porn and one upping the last one with how many inventive ways we can rip apart a body. Theyíre gimmicks, they aren't about anything, and you normally canít remember the characters' names after. Every time I hear the name Nancy, I think of A Nightmare On Elm Street. Thereís a reason for that. You cared about her as a character and that comes from good writing. We set out to make that kind of movie.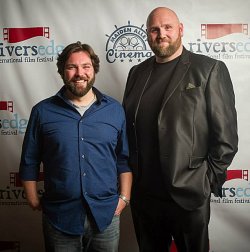 John Holt, Christopher Bower
at the Dooms Chapel Horror-premiere
What can you tell us about your director John Holt, and what was your collaboration with him like?
John and I get along like brothers. Meaning we fight and laugh a lot. I love working with John. I have had experience working with other directors and he is by far the most focused, caring and dedicated director Iíve ever worked with. He truly cares about guiding the ship to the dock in regards to story and performance from his actors. Heís old school, which I like and respect. I would definitely like to work with him again.
What were the major challenges when producing The Dooms Chapel Horror? And as a producer, to what extent were you involved with the creative decisions when shooting?
Well as a producer I am very hands-on throughout the entire creative process. I love the story development and pre-production processes. The Dooms Chapel Horror had one major challenge. How to get a well-written character-rich story out of a documentary style film. We wanted to stay true to the short film that came before it which was found footage. We explored all the ways to do found footage for The Dooms Chapel Horror but it just didnít tell the story the way we needed. So we decided to shoot The Dooms Chapel Horror differently, not found footage, not cinematically but its own flavor and style. It was a major undertaking but in the end, that is how the story needed to be told, and it works.
You also appear in front of the camera in The Dooms Chapel Horror- so what can you tell us about your character and performance?
Well, Iíve learned in the past to not bite off more than I can chew performance wise while producing. I played a lead and produced my last film and that was a ton of work. So for The Dooms Chapel Horror I read the script and found a cameo role. My characters name is Cheezberger. Heís a big dumb redneck who doesnít take kindly to the lead characters return. It was a lot of fun doing the scenes and stunt work, and I got to drive a big truck.
What can you tell us about the rest of your cast of The Dooms Chapel Horror, and did you at all have a hand in casting?
Yes, I had a casting director, but I was involved in the entire process. Because I knew what kind of movie we wanted to make, just any old typical horror film cast wasnít gonna cut it. We needed actors with range to be believable and real in a fictional environment. We spent 3 months casting the film. I saw auditions from actors all over the US, coast to coast. I was surprised that I found over half my cast in my own city and in Nashville. Iím always amazed at the acting chops and talent that keeps popping up here in Paducah, KY. I also cast several actors from LA including my friend and horror icon Bill Oberst jr [Bill Oberst jr interview - click here]. Bill is always a total pro and gives you great performances that leave you wanting more. One scene in particular we filmed at a working police department. It was a pivotal scene and Bill brought his A game. John Holt called cut and walked out of the room. And I found him outside with tears running down his face, Bill just knows how to bring it out of you, he really is amazing. We had several other moments on this flick when the actors performances left the crew in silence after wrap.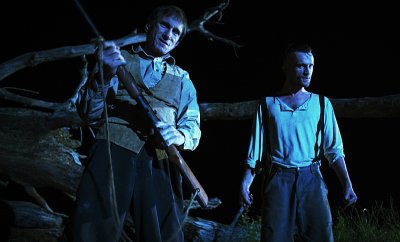 Do talk about the shoot as such for a bit, and the on-set atmosphere?
I always try and keep a light mood on set. I find if you can joke with and feed your cast and crew well, there will be a lot of smiles at the end of the day no matter how late you worked. Because there was a series of night shoots on this film we had to keep the energy up and make the sets fun to be around. It was very common for actors and crew that werenít working that day to still show up and lend a hand or just share a laugh off set. We also were faced with the challenge of shooting a movie in the woods during one of the hottest Kentucky summers on record. Chiggers and ticks were a real problem but we soldiered on. Although, I think my next movie will be entirely in a city, no more woods!
As far as I know, the film premiered only recently - so what can you tell us about critical and audience reception of the movie so far, and any idea when and where it will be released onto the general public?
We premiered the film at the Rivers Edge International Film Festival. We sold out and had some people standing at the back the entire screening. It was a real shot in the arm for us. Weíve heard some great feedback from the audience, but everyone thatís seen it loved it. We are setting up several screening dates between now and January. We hope to secure distribution soon and have a release date sometime early next year.
Any future projects you'd like to share?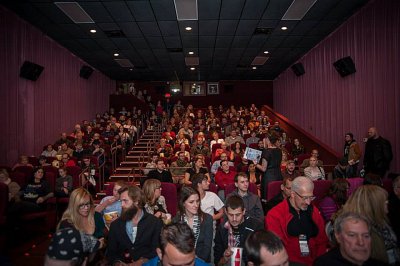 The Dooms Chapel Horror world premiere
Nothing set in stone yet but our next film will probably be a modern western called The Gunmen Of Solider Creek. Itís an action packed thrill ride of a script. We made a short film version to raise money with and it is getting a lot of buzz. I have several other scripts and projects that are ready to go as well.
What got you into the filmworld to begin with, and did you receive any formal education on the subject?
I never went to film school or even thought about making movies till I was 30. Then in 2007, I got into producing and acting by making a Star Wars fanfilm called Fanboy, in which I play the title role. We made several short episodes which can be found on YouTube. We even had 2 actors from the original trilogy do cameos. Once I did those I was hooked. And Iíve been making films ever since.
What can you tell us about your filmwork prior to The Dooms Chapel Horror?
Well, Iíve acted and produced almost 20 short films and I made 2 feature films before The Dooms Chapel Horror. I produced and starred in a buddy cop comedy called What A Pair and then an action film called Clock Out that was picked up by Industry Works.
Producers, actors, filmmakers, whoever else who inspire you?
Robert Evans is a big influence for me as a producer/actor, and so is Scott Mosier. Iím a big fan of Fincher, Spielberg, Howard and Iíll watch anything written by Aaron Sorkin. Michael Moore is another favorite, and we are both from Flint MI.
Your favourite movies?
Star Wars (OT only), Blazing Saddles, Young Frankenstein, Drive, The Godfather, Jaws, Close Encounters of a Third Kind, The Shining, Full Metal Jacket, Halloween, Troll Hunter, Miami Connection.
... and of course, films you really deplore?

Feeling lucky ?
Want to
search
any of my partnershops yourself
for more, better results ?

The links below
will take you
just there!!!

Find Christopher Bower
at the amazons ...

amazon.com

amazon.co.uk

amazon.de
Looking for imports ?
Find Christopher Bower here ...
Something naughty ?
(Must be over 18 to go there !)

Star Wars Prequels, Red Tails, Michael Bay-movies, and remakes of 80ís movies that were already perfect.
Your/your movie's website, Facebook, whatever else?
You can follow The Dooms Chapel Horror on Facebook @:
https://www.facebook.com/TheDoomsChapelHorror
And you can watch trailers and see our other films at:
Anything else you are dying to mention and I have merely forgotten to ask?
Just that I hope everyone gives our film a chance, I think youíre going to like what you see.
Thanks for the interview!