Your new movie Inoperable - in a few words, what is it about?
A woman trapped inside of a hospital as hurricane approaches. The area is being evacuated and all that is left inside is our lead, Amy, and some deranged hospital staff, with some unlucky patients.
How did the project come into being in the first place?
Jeff Miller [Jeff Miller interview - click here] and I met on another project, Clowntown, and there we began the discussion of making another horror film. He gave me some thoughts about what he felt was interesting generally and what he felt would ďmove the needleĒ so I took the ball and ran with it. I drew on an experience I had (years and years ago) in a hospital while an actual hurricane was threatening the general area where this hospital was located. My mind began to wander and I felt it was such a great ďworldĒ in which to create a narrative to operate inside of.
What were your sources of inspiration when writing Inoperable?
The time I too was stuck inside of a hospital many years ago, while a hurricane threatened the general area. There were talks of evacuation and whatnot, and I felt this would be a fun/creepy way to tell a horror story. I felt how vulnerable someone would be if they are in a hospital as a patient as staff is evacuating, then throw in a twist where the staff become evil and decide to do their worst on patients trapped within.
Do talk about your co-writer/producer Jeff Miller [Jeff Miller interview - click here], and what was your collaboration like?
Jeff is wonderful. He knows this genre inside and out. He had great ideas from a narrative perspective but was also very dialed into who viewers might want to see as a lead actor in the film.
What can you tell us about your movie's approach to horror, and is that a genre at all dear to you?
Thatís a great question. Iím not sure how you would really categorize Inoperable, meaning Iím not really sure if you can identify it as a horror film specifically. I think of it more as a psychological thriller meets a horror film. One has to pay some attention and think about what is actually happening inside of the film to really be rewarded with the ending. I love films which cause the viewer to think and to envision themselves in a similar situation and how they might handle it.
Historically, Iím not a huge fan of the horror genre. I mean, I like it and appreciate it, but I have other genres that I typically gravitate to. However, I love a challenge and I think that my interest in other genres might have lent itself to giving the viewers a different kind of ďhorrorĒ film, one which leave a lasting impression (hopefully) and one where people will definitely want to watch it again. I will say, however, that I have grown to really like the horror genre, especially during and after Inoperableís production.
With Inoperable's rather looped narrative structure, what kind of a strain was that for you as a director in terms of continuity and such, and also to keep things interesting?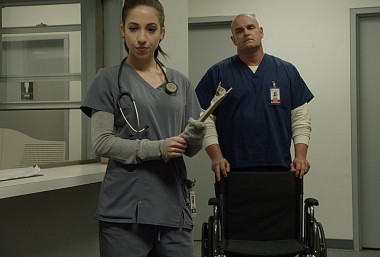 You just hit the nail on the head! It was very difficult to keep everything correct and keeping continuity accurate in the filming. The AD (Ashley Eberbach), the DP (Giorgio Daveed) and I decided to shoot the film in chronological order, which helped. But, as you mentioned, even then it was very difficult because the timelines were intentionally confusing and for wardrobe, hair/makeup and production design, we had to really be on our toes with keeping everything in its proper order. Even during editing, you have to really have your head in the game to pay attention to all the normal nuances of continuity and editing, but throw in there a totally messed up timeline, and things can get away from you pretty quick. Having said all that, we had such an amazing crew and cast that we were really able to concentrate and get it done. As a director, its very important to have a good script supervisor (Laura Coconato) and 1st AD (Ashley Eberbach) to help stay organized.
Do talk about your overall directorial approach to your story at hand?
Since there was a good bit of action/movement in the film, I wanted to have the DP be very involved in the actor blocking and movement to help the camera department help me really tell the story. So, there is a lot of coordination between the DP and the actors, especially for the running/movement scenes. With Inoperable, we are moving the camera a whole lot. But, from my direction toward the actors, I liked to elicit more drama from them so slowing down the pace of the off camera/set work was very important to me. I spend a large amount of time, way before shooting, with the DP, 1st AD and production designer really planning out what we are trying to accomplish, so by the time we are actually shooting, everyone is on the same page with the storytelling and things go pretty smoothly.
What can you tell us about your key cast, and why exactly these people?
Danielle Harris is incredible. She is an accomplished actor and director and really knows this genre and it shows. Katie Keene and I had worked on Clowntown together along with Jeff Denton and Chris Hahn. We liked working with them so much, with their work ethic and talent, that we really wanted to work with them again. Crystal Cordero (Ophelia) and I had worked on another project together, and I felt that she would be perfect for the part. Iím sure there are other actors who could fit the bill, but we had good experiences with them in the past (other than not working with Danielle in the past) that we knew that they could handle the project. It is also comforting working with actors (and obviously crew) from before as you know that they can perform, otherwise you wouldnít be working with them again.
You of course also have to talk about your hospital locations for a bit, and what was it like filming there?
It was actually an empty building and production design (Bobby Marinelli) and his team turned it into a hospital. At one point, many years ago, the location had been a functioning hospital, but then was a government administration building, and then finally vacant. We resurrected it and with proper production design, turned it back into a ďhospitalĒ. After shooting, it was slated to be demolished.
It was fun shooting there. The building had character and one could feel the eeriness and loneliness in simply being inside. Personally, I felt really connected to the building since we were likely going to be the last real bit of ďlivelinessĒ and activity this old building would ever see again. The building, in my opinion, really helped sell the story.
A few words about the shoot as such, and the on-set atmosphere?
The shoot went very well. Of course, there are always issues caused by various things outside of our control, like weather, ambient/invasive exterior noise and such, but over all I would say it was a smooth shoot. The on-set atmosphere was great, and everyone was very lively and energetic, which is sometimes difficult on a feature. There were some real troopers on set, who just embraced the film and made it what it is. I really love operating in this budget level because everyone comes together to work on a project that they really believe in and I think it shows in the finished product.
Anything you can tell us about critical and audience reception of Inoperable yet?
From what Iíve been told, the non-critics who have seen it (in theaters) really liked it and felt rewarded at the end. Overall and for the most part, the critics were pretty accurate in their summaries and description. Of course, critically, some liked it more than others. I think the most accurate were from true horror critics. They were pretty much happy with the film, it seemed to me, and had some really great things to say. Some of whom I had interviews with told me they were very excited to see the film and really enjoyed it. There were a few others, whom werenít a big fan of the film, but hey, thatís how it goes!
Any future projects you'd like to share?
Actually, as I respond to this interview, we are half way through another horror feature! Itís going to be really cool and different, but I canít share too much at this time. Secret, secret!
What got you into making movies in the first place, and did you receive any formal training on the subject?
My stepfather when I was growing up, had, in the past, been a photographer in the Navy during the Korean War, then went on to work as a producer for NBC during the Mercury, Gemini and Apollo programs. So when he became my stepfather, he taught me how to use cameras, both still and video (along with some sound equipment), and I think I became interested in production. I have written a few novels, one has been published, and I love writing. Additionally, I used to act in theater when I was much younger. Iím also a lawyer and have managed some decent sized projects, so if you combine photography, writing, acting and project organization into one thought, you get filmmaking.
What can you tell us about your filmwork prior to Inoperable?
I produced a few shorts and a few features (along with some television sizzle/concepts), and directed a short and a feature, so I already had some experience with the process. It is fun, but stressful, ramping up for production, especially after having gone through it a few times in the past, and knowing what to expect and what to get excited about.
How would you describe yourself as a director?
Oh wow. I really donít know. I like to take my time with the actors and get them to ďfeelĒ their characters and know them inside and out. I love it when actors tell me ďÖI feel like (insert character name) would think (this) or do (that),Ē and have reasons and rationales to support their thinking. Iím happy when they love their characters as much as I do, and I get to see and help make them come to life. Itís such a huge compliment to me when actors embrace their character and keep a little bit of the character (hopefully just the good traits) with them until long after the film has wrapped. I try not to get too stressed out while filming, and I try to make cast and crew feel as though they are really part of the production and its success and not just a job for a few weeks. I really want them to love the project and take pride in its outcome. I also really like working with cast/crew who normally work on commercials because to them, a feature film, is more about their passion for the art of film making and they are actually getting to be part of a bigger story.
Filmmakers who inspire you?
Thatís a challenging question because I love ideas and concepts. Iím not well versed on styles of famous and successful filmmakers and what makes them critically great and highly regarded. I know I appreciate films by many directors, but honestly, I am more intrigued by ideas.
Your favourite movies?
My favorites are Inception, Blazing Saddles, Moon, Interstellar, The Bridges of Madison County, Hitchhikers Guide to the Galaxy, Grand Budapest Hotel, Solaris, Raiders of the Lost Ark, Star Wars Episode 4-6, but I also really love well done World War Two era movies, like Downfall, Anthropoid, A Bridge Too Far, Allied, and Dunkirk.
... and of course, films you really deplore?
Oh jeez. Well, since you asked, Iím not a fan of remake after remake and sequel after sequel. I mean, I get it, because studio execs and board members need to fund films with a greater chance of success so they bet on film which have already had successes and have a built-in audience. I just think the creativity is lacking and they are cheating the public and moviegoers out of better films and creativity. I will say, I did not like Baby Driver at all, The Fast and the Furious films, Gone in 60 Seconds, The Rock, and Iím not a fan of mafia films, cop drams, and sports movies. I just donít really know how to describe it, but you and/or some of your readers will understand better than I do what sort of thing annoys people about those types of movies. I think itís the general cheesy nature or formulaic approach to those films, but I just know I donít like those style of films.

Feeling lucky ?
Want to
search
any of my partnershops yourself
for more, better results ?

The links below
will take you
just there!!!


Your/your movie's website, Facebook, whatever else?
http://zoryafilms.com/inoperable/
Also, check out Akhlys.com, which is another film/film support company I started.
We are on Facebook and Instagram too.
Anything else you're dying to mention and I have merely forgotten to ask?
As of the time of this interview, we have over 21 million views on the Inoperable/Zorya Films YouTube trailer.
Check out Clowntown, which is out now on VOD/Walmart/Amazon, etc., and The Accident, which is on iTunes and Amazon along with some other platforms.
Thank YOU! Thanks to writers like you, our story gets told. I really appreciate you all and what you do, and I wanted you to know how much I appreciate you telling our story.
Thanks for the interview!