Your new movie Inoperable - in a few words, what is it about?
A young woman wakes up in a seemingly abandoned hospital in the middle of a hurricane and soon realizes it's inhabited by malevolent forces and that she needs to escape before the storm passes or she will be trapped there forever.
How did the project come into being in the first place?
Chris Chapman [Christopher Lawrence Chapman interview - click here] and I met doing Clowntown, which we both produced. During that he said he had access to medical locations and wanted to do a hospital thriller, and it so happened I'd been tossing around ideas for one as well and had a title I liked, Inoperable.
What were your sources of inspiration when writing Inoperable?
It was largely Chris's idea. I think he knew (which we all know) that hospitals are creepy.
What can you tell us about your movie's approach to horror?
Chris wanted to do a different take on it and not just another typical slasher film. I think we succeeded at that.
Do talk about Inoperable's co-writer/director Christopher Lawrence Chapman [Christopher Lawrence Chapman interview - click here], and what was your collaboration like?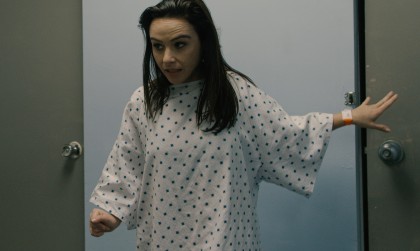 On the writing side, Chris had very specific ideas about the whole time looping thing. I never quite understood it 100% to be honest, haha. I helped translate Chris's ideas into screenplay form as well as added some ideas and suggestions of my own, based on my own interest in wanting to do such a film. On the producing side, Chris got access to a great filming location near his hometown of Tampa, FL. He had a lot of local crew there he'd used for a short. I helped secure Danielle Harris as the lead, and we got some other actors on board that we'd worked with on Clowntown. I got David Greathouse, who'd done makeup FX on Clowntown, to come in for this one too, and he and Barry Aslinger did a great job on set. Chris obviously focused on directing during the shoot. I helped with some of the organizational stuff as well as marketing and distribution.
A few words about your hospital locations for a bit, and what was it like filming there?
It was an abandoned sheriff's office in Dade City, FL, and had formerly been a hospital. It wasn't too big, but the winding, empty hallways made it seem more so. I think everyone got lost more than once, and it was a little creepy especially if you were walking around alone. Bobby Marinelli, our production designer, did a great job painting and propping it out to make it look more like a working hospital. Otherwise, there was no hospital equipment and almost no furniture there.
What were the main challenges bringing Inoperable to the screen from a producer's point of view? And how hands-on or hands-off a producer are you, actually?
I always knew we'd sell it. All of my movies have gotten distribution, and I knew we had Danielle Harris, an interesting story, and a creepy location. I just wanted to make sure during the shoot we had enough scares and blood and gore for the horror crowd. How hands-on or off I am depends on the project. On this one, we had a great production manager (Philip Jessen) and 1st AD (Ashley Eberbach) who kept things running smoothly. On some smaller productions I do much or all of their work. I typically deal with a lot of the financing (though not on this one), organization, casting, and paperwork and often deal with SAG and insurance and contracts and marketing and so forth.
What can you tell us about your key cast, and to what extent were you involved in the casting process?
I secured Danielle Harris as the lead, and we also got Katie Keene, Jeff Denton, and Chris Hahn, all of whom Chris Chapman [Christopher Lawrence Chapman interview - click here] and I had worked with on Clowntown (and actually Chris Hahn played Paul Bunyan in my film Axe Giant: The Wrath of Paul Bunyan, so he and I went further back) . I also helped cast Cher Hubsher, one of the evil nurses – I'd met her a month earlier at a wrap party in L.A. for another movie and found out she was from Tampa and had actually been a nurse! So that was a cool coincidence.
A few words about the shoot as such, and the on-set atmosphere?
It was in January/February in Florida, and I remember it being chilly for much of the shoot. It was a professional atmosphere. I thought Giorgio Daveed, our D.P., got some inventive shots. One day we had real cow or pig guts for the freezer scene, and it smelled terrible and I think someone threw up. I insisted on smearing them around the freezer because otherwise they were sitting in Tupperware containers and didn't look particularly nasty.
Anything you can tell us about critical and audience reception of Inoperable yet?
Because of its quirky time-loop nature, I think some people don't know what to make of it! But I think others have enjoyed it for all the right reasons. Danielle Harris is a total pro, never missed a mark, and she won Best Actress at FearNYC fest.
Any future projects you'd like to share?
The past couple of years have been crazy productive and busy. I've been fortunate. The Russian Bride (with Corbin Bernsen) and The Toybox (with Denise Richards and Mischa Barton), are recently completed and should be coming out this year. Bug (my first drama) is coming out this spring. A few that I helped executive produce – Strange Nature, Mandy the Doll, and Angels Fallen – should also come out this year. Ouija House (with Mischa Barton, Tara Reid, and Dee Wallace) is in post-production. Death Kiss, an action-revenge thriller co-starring Daniel Baldwin and Richard Tyson, is currently filming.
What got you into the movie world in the first place, and did you receive any formal training on the subject?
I always had a creative mind and wrote my first screenplay at age eighteen. I graduated from the Media Arts program at the University of South Carolina. I wanted to be a screenwriter and was mentored by James Lineberger, who had co-written the movie Taps, starring Timothy Hutton and a young Tom Cruise. I wrote a bunch of scripts and actually got paid for one, but nothing was getting made, so I got into producing kind of out of necessity and soon found I enjoyed it. Freakshow, an anthology horror film shot in South Carolina, was my first feature credit.
What can you tell us about your filmwork prior to Inoperable?
I had a fair number of writing and producing credits prior to it. My first three movies were made in South Carolina before I made the move out to Los Angeles. My first credit in L.A. was for a script I created and co-wrote (with Gary Jones) and sold to The Asylum called Jolly Roger: Massacre at Cutter's Cove. It's a fairly cheesy film but ended up selling to the SyFy Channel. I wrote and produced a few more after that before Chris and I met during development on Clowntown. It turned out he and I had gone to the same college (University of South Carolina), so we shared a lot of stories the first time we met, which was kind of awkward for the others at the meeting.
Going through your filmography, one can't help but noticing that many of your films are of the horror variety - is that a genre at all dear to you, and why (not)?
Yes, horror movies scared and fascinated me as a kid – that power to make you look under your bed at night or turn away from something disturbing on the TV. Most of my films have been horror, and that's perfectly fine with me.
Writers, producers, filmmakers, whoever else who inspire you?
What I call the "holy trinity" – John Carpenter, Wes Craven, Tobe Hooper. Lately I really like Mike Flanagan's work. As a producer, I love Roger Corman [Roger Corman bio - click here].
Your favourite movies?
Raiders of the Lost Ark, Halloween (1978), Scream, Rocky, Angel Heart, The Texas Chainsaw Massacre (1974) …
... and of course, films you really deplore?
Nothing comes to mind offhand, and even if it did, there's a chance I may work with that filmmaker someday, so I'd rather not say!
Your/your movie's website, Facebook, whatever else?
www.facebook.com/millmanproductions

Feeling lucky ?
Want to
search
any of my partnershops yourself
for more, better results ?

The links below
will take you
just there!!!


Anything else you're dying to mention and I have merely forgotten to ask?
If you like – or think you may like – Inoperable, check out some of my other movies on Amazon Prime (since we get paid by view!) or wherever fine movies are sold: Clowntown, Edgar Allan Poe's Lighthouse Keeper, Axe Giant: The Wrath of Paul Bunyan, and The Burning Dead. Kill 'Em All (starring Jean-Claude Van Damme) is also worth a peek
Thanks for the interview!
You're welcome.