Your upcoming movie Brimstone Saint - in a few words, what is it about?
In the Old West, a preacher turned gunslinger must find and stop his childhood friend from continuing her rampage of violent witchcraft before she is beyond saving. Joining him is legendary African-American Marshall, Bass Reeves, who is caught up in an adventure beyond anything he's ever faced before. Madness, blood and magic ensue, but the steadfast love of a faithful friend may yet save the day.
With your film being a western/horror hybrid - why western, why horror, and are these genres you're especially fond of?
I am a fan of those genres but not exclusively. It was the mix of the two that I liked because you just don't see it very often. I am aware that there have been films which mixed those genres but I have to say none of them have really excited me. When I decide to make a movie it's usually because as far as I know, no one else has done it and I'd like to see it.
(Other) sources of inspiration when writing Brimstone Saint?
The female antihero originally was a straightforward villain. For a while now I've been somewhat fascinated with the New Orleans folk tales about Madame Lalaurie, a socialite of the mid 1800's who supposedly tortured her slaves in an upstairs floor of her house before being found out and having to flee for her life, never to be brought to justice. Because of the hideous things she supposedly did, I used to fantasize that she was a Lovecraft style cultist trying to appease the elder Gods in return for magical powers. I imagined that when she escaped, her evil practices began again in other towns, maybe even several. The witch who is in the story now is only tangentially similar to the historical Marie even though they share the same name.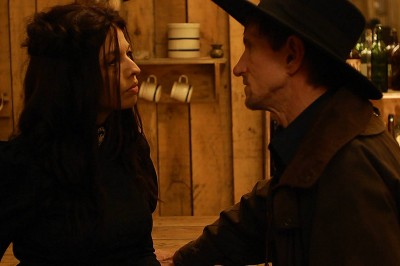 Then I started thinking how cool it would be if there was an Old West version of Supernatural the TV series. Supernatural tries to highlight uniquely American monsters and I've always been a fan of American ghost stories from the 1800's and earlier. I thought it would be entertaining to have people going from town to town fighting monsters, except it would be spirits, demons and creatures from around the 1860's. Once I started writing the actual script, it took on a life of it's own and the relationship between Kane and Marie took precedence. Should the film become popular or if I simply come up with another adventure for the protagonists, the Route 666 idea may become more prominent over time.

The main character Kane was influenced by Robert E. Howard's Solomon Kane stories. In that series, Kane is a puritan who fights supernatural creatures, so his attitude is unrelentingly self-righteous. I found that extreme and unwavering personality trait to be very interesting. My Kane is n where near as belligerent, but he is just as persistent in accomplishing his goals and retains the Christian core beliefs.

As I did research for the script I was also reminded of the famous African American Marshall Bass Reeves. He was a real legend of the Old West, arresting over 3,000 outlaws and killing 14. He spoke several Indian languages and was an accomplished detective as well. This character seemed like a great contrast to the rigid and dogmatic Kane, so I made him an unwilling participant to this paranormal adventure.

Lastly there are hints at Lovecraftian horrors but I don't delve too deep into that this time around. It's there if people are aware of it, and it was in my mind as I wrote, but I didn't want to turn the entire story into a direct homage.

After working in various positions on quite a number of films, Brimstone Saint is your first feature as writer and director - so what prompted you to assume these positions, and why exactly this movie?

I've wanted to make movies since I was very young. After many years of doing corporate work I realized I had decades of experience and skills but had never done something for myself with them. I reached out to filmmakers and actors through social media and film festivals in order to build a body of work. I worked with people like Bill Oberst jr [Bill Oberst jr interview - click here], Jerry Pyle and Len Kabasinski [Len Kabasinski interview - click here] to name a few. Eventually I had enough practical experience to feel comfortable producing my own film.

I keep a running list of ideas for scripts, short stories and novels, so I have several other possible films in the queue, but this story seemed special to me. It feels like the movie wants to be made. You wouldn't believe the number of doors that have opened and opportunities that have presented themselves. Good talented people with impressive skills and resumés have come out of the woodwork to help. So I sometimes feel like the movie is driving me to make it.

What can you tell us about your movie's approach to horror?

I'm a big fan of horror and no matter what I write it tends to skew that direction in some way. There is one scene that is fairly gory and establishes what the Red Witch is capable of. However, this film is, at it's core, a story about two star-crossed lonely friends who can never be together but can't live without each other. Ironically, I would never pay to see a film with that tag line, but I also can't stand horror movies that are just about bad things happening to people I don't care about. It's when you put the two together that I get interested. Mama and El Orfanato are two of my favorites and they are very emotional films. I think I'm really a big softy at heart and am drawn to stories that are romanticized in the classical sense.

Neither horror nor western are genres that are necessarily violence-free - so anything you can tell us about the gory bits in your movie yet?

Brimstone Saint doesn't shy away from gore but it's not a major feature either. The witch makes her presence known in the town with a public display of gory violence that's fairly graphic, and the shapeshifter brutally attacks and kills a few people but other than those elements the violence involves gunplay and some black magic. It's safe to say the film hovers between PG-13 and a soft R rating.

As far as I know, Brimstone Saint was filmed in an authentic Old West town - so do talk about your location for a bit, how did you find it, why there, and where do you see the challenges filming there?

I discovered Dogwood Pass a couple of years ago when I was asked to help as a lighting tech for a local film called Dead Husband In A Western Town. I didn't know it existed before then. I learned that the owner, Mike Montgomery, built it up one building at a time as a hobby. Eventually he had made an entire town, which has turned into a tourist attraction. They have live shows and other events all year round.

The benefits of shooting there far outweighed any challenges. It's really an entire set surrounded by virgin forest and fields. So almost every scene in the film is a few yards away. A lot of the extras perform there, so they already had their own costumes, firearms and even horses in some cases. Mike is a certified firearms instructor and expert horse trainer. The only setback was that the location was about two hours away for most of the local cast, But I had several people coming in from other states so distance didn't seem to matter all that much, especially since there was a large bunkhouse and other sleeping spaces available.

I can say without reservation that Brimstone Saint could not have been made without the extensive and generous help of Mike and Sharlene Montgomery, the owners of Dogwood Pass. They worked tirelessly to provide us with horses, costumes, extras, and countless other services for the entire shoot. They were collaborators in every sense of the word.

What can you tell us about the overall look and feel of your movie?

My original cinematographer Sean Coffman and I discussed keeping the light as natural as possible. In particular, we discussed the cinematography of Jack Green (Pale Rider, Unforgiven). The idea of starting with darkness and only bringing in light until you can see the most important elements. Sean was unable to make it due to health issues but luckily Chance Madison stepped in at the last minute. After seeing some screen-grabs from principal photography, Sean remarked that he could see my vision in the images, which just goes to show what a good job Chance has done. I feel particularly fortunate to have had him as my director of photography.

I'm also very partial to iconic imagery. Chance and I both believe that the lighting and composition of most shots should be informed by the feeling or message you're trying to convey to the audience, that there are no unimportant shots. I reached a point where I didn't need to see a preview monitor to know Chance was getting what I wanted. In fact he frequently surprised me with footage that I didn't even know I wanted.

I also had help during the one day Chance was not available from Rick Davis, a videographer and producer I've worked with professionally. Not only was his contribution sympathetic to the look we had established but he proved to have a good cinematic sensibility. Lastly Matt Swanson traveled all the way from Jamestown, New York to be on the set for two days. He filled in the gaps left by Chance and Rick as well as capturing the very important last shot in the film, quickly and beautifully.

Horror mainstay Bill Oberst jr [Bill Oberst jr interview - click here] plays the heroic lead in Brimstone Saint - so why him, and how did you get him?

Bill was the first professional in the business to give me a foot in the door. I had connected with him through Twitter over our shared interests and experiences. When I saw he was working on a personal project called Lord Bateman, I offered to create the preproduction art. Following that experience I worked on posters and art for several others including a couple of years as DP and post production supervisor on several Len Kabasinski films [Len Kabasinski interview - click here]. But during this whole time Bill and I stayed in touch through email and phone conversations.

One time Bill confessed he had always wanted to play a preacher, maybe an exorcist. A more heroic character than the usual bad guy he is known for. About that time I was thinking about Madame Lalaurie and her flight from justice in New Orleans. The idea of a Solomon Kane style pursuer came to mind and the rest kind of wrote itself. I mentioned it to Bill and he said he'd be interested. When it came time for me to get serious about shooting dates I approached Bill again to confirm. He agreed and I proceeded to fill out the rest of the cast. I've told Bill several times that without his involvement I would not make this movie, since the character of Kane was written specifically for him. I really don't think it works with anyone else.

Why did he say yes? You'd have to ask him. But I'm definitely honored. I feel great pressure to be worthy of the time and effort of so many talented people in front and behind the camera.

What can tell us about the rest of your cast?

The only auditions I held for this film were to cast young versions of Marie and Kane. Most of the other roles were based on people I already knew to some degree. For the children I had several talented kids to choose from, but Chase Anderson and Jaylen Stoneburner proved to be more than perfect. They were so good that myself and several of the crew found ourselves with lumps in our throats during the final emotional part of their shoot.

Fred Williams (Bass Reeves) [Frederick Williams interview - click here] was among the first actors I asked to be in the film and he has been a staunch supporter ever since. I would not have included Bass Reeves in the story without him. He even set aside time from work to be on set for the entirety of the shoot. This was a great help considering his character was in more scenes than anyone else. I appreciate his commitment and positive attitude throughout production.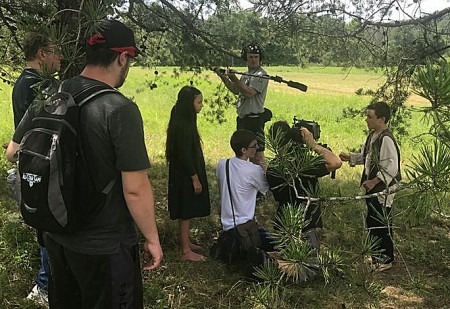 Concerning the character of Marie, the only person who could make that role work was JoAnna Lloyd. I had met her a couple of years previously on the set of another film and had asked her then if she would consider being in this western. At the time I didn't know what I would cast her as, but I could tell there was something special about her. As time passed and I moved forward on the script it became evident to me that she was the one to play Marie. I met her for lunch to present the film and ask her to play a part that would have to stand up to the tremendous skills of Bill Oberst jr for many scenes. Fortunately for the film she accepted. To my great delight her performance is more than good, it's transcendent. She has made a truly memorable and wholly unique character I expect to become a favorite for many people.
I knew Dave Campbell would be great as Sheriff Pike and his tireless support was deeply appreciated. Hunter McKenrick was impeccable as Kid Barton and it's only a matter of time before he hits it big somewhere. Tim O'Hearn [Tim O'Hearn interview - click here] brought real feeling, menace and nuance to his performance as the Brute/Beast who protects and serves Marie, stunning the cast into silence during one pivotal scene. The talented, award-winning director and actor Michael Boyd was kind enough to spend time on the set as Jasper the saloon owner when he wasn't helping us transport Bill Oberst jr from the airport or equipment to the set. David Gaylor and Greg Steele provided memorable turns as the Mayor and Doc, respectively. Chris Rowley came on just days before the shoot and gave a fantastic performance as Coop, making me wish I'd had more for him to do. Tré Lykins did a great job as Tucker the bartender and made himself available at a moment's notice throughout the shoot. Mike and Sharlene Montgomery played Rufus and the saloon madam, roles that included important stunts including riding a horse into the saloon and body doubling Kane and Marie for a late night escape on horseback. Jeff Grennell also acted as a stunt double for Bill Oberst jr and played the part of Aaron. I can't think of a time he was not available and willing to do anything we needed.
There were many others and I would recommend that people visit the official website and social media to find out more about the army of talented people who played an invaluable part in making the film possible. We will be updating it regularly.
As far as I know, Brimstone Saint is still in post-production as we speak - so what's the schedule?
We finished principal photography at Dogwood Pass August 10th of 2017. The next six to nine months will be spent in post production. I will be editing myself, M.K. Smith will be doing the sound design, and I will be feeding all the effects plates to VFX Central Paper Plane. I will also be integrating the original score already being composed by Brian Lee. I can't overemphasize the significance of these people to the success of Brimstone Saint.
Any idea when and where the movie might be released yet (however tentatively)?
I should have a locked film by this time next year. I will release it for streaming services while also providing discs for purchase.
Any future projects beyond Brimstone Saint you'd like to share?
I intend to tell more stories with Kane and Marie. I have a short list of ideas and actors I'd like to use in further installments. But that will ultimately depend on public interest in this first chapter since a period film with numerous characters has been costly and I'm not in a hurry to hand control over to investors. I also have two other films in line for the next couple of years that take place in modern times. They both have elements of horror adventure and drama, much like Brimstone Saint. I can promise that if people decide to come along for the ride, they're going to be in for some nice surprises and familiar faces.
Your/your movie's website, Facebook, whatever else?
You can stay up to date by following us on Facebook, Twitter or the official website:
https://www.facebook.com/brimstonesaint/
https://twitter.com/BrimstoneSaint
Anything else you're dying to mention and I have merely forgotten to ask?
Brian Lee is the composer for Brimstone Saint and general support for social media and promotions. From the moment I met him I was impressed with his work and reliability. I've been a huge fan of movie soundtracks since I was a teenager and scoring is very important to me. I don't think there's a soundtrack style he can't compose and the motifs he's been developing during preproduction have been stellar. People are going to want his music as a digital download, for sure.
M.K. Smith was on hand to record sound for the entire shoot, supplied most of the lights, a van load of miscellaneous supplies and will act as sound designer throughout post production. If he ever gets fatigued or demoralized he hides it well. I'm overwhelmed by his many contributions. He's also full of good ideas and I've told him he should be directing his own movie. I'll be first in line to see it when he does.

Feeling lucky ?
Want to
search
any of my partnershops yourself
for more, better results ?

The links below
will take you
just there!!!


Candace Matsuda and Biz Jarvis listened to my incoherent ramblings about what I wanted for Marie and gave me makeup and hair stylings that were even better than I had imagined. I'll never forget the evening they first put the wig and makeup on JoAnna, it was a complete transformation. They also supplied gore, bruises and blood and were on set for several days.
Another lifesaver was "Coach" Carl Bailey. He replaced another actor two days before he was scheduled to shoot and traveled all the way from Texas, not only perfectly becoming my ideal for that role but also acting as stunt coordinator and second unit director. His problem solving skills are without peer and made one particularly troublesome scene doable. He is on my short list for any future projects.
Lastly, if someone wants to make a film or do anything that really matters to them, they shouldn't wait for permission or a handout. Hollywood won't come knocking. Take risks, put yourself out there, make mistakes, and most importantly, support others who do the same.
Thanks for the interview!