Your upcoming movie Hellcat's Revenge - in a few words, what is it about?
Hi, thanks for having me. Hellcat's Revenge is basically an action picture that involves a female biker club (The Hellcats) that ends up battling a criminal male biker gang after the death of the Hellcats' club leader.
With Hellcat's Revenge being a biker movie, is that a genre that at all appeals to you, and some of your genre favourites?
In terms of decades, for the 70s I like Nam Angels, Savage Abduction, and my favorite being David Carradine's You and Me. Into the 80s I like Gary Busey's Eye of the Tiger and into the early 90s Stone Cold and Beyond the Law. I'd say those are my top favs in the "biker picture" genre. So those are some of my fav's for sure.
(Other) sources of inspiration when writing Hellcat's Revenge?
I try not to be overly influenced going into something. But what me and my editor (Chris Young, www.cyoungmedia.com [Chris Young interview - click here]) discussed what we wanted to do with the movie and of course you say "biker film" and most people think back to the 70s biker film era. So we wanted a simple story/theme that would reflect that genre, push the action, but also incorporate some stylistic elements like steampunk costuming, loud colored hairstyles at times, things that would deviate from the "down & dirty" style biker flicks.
Hellcat's Revenge seems to require quite a bit of action - so how are you planning to go about that aspect of your movie, and having done quite a few action flicks in the past, how do you feel you're evolving as an action director?
I think as an action director it obviously depends on what kind of picture you're shooting and of course you choreograph to the setting, story, characters etc.For Hellcat's Revenge there's mostly "more real" kicks & punches, scrappy stuff, brawling stuff, but then of course some martial arts put in there as that tends to separate my indie level of production with some others. So in terms of planning to go about it, I approached the film with "what happens & how often", meaning there's a "fight or death" X number of times in our 42 scenes etc, and I didn't want too many scenes or gaps without a death, a fight, a nude scene, I had it all mapped out, lol. Action, like any other element in the film is all about pacing and pushing the story. In Angel of Reckoning the characters pushed the story, not the action in that film, in Hellcat's Revenge it is what you would expect and that's action pushing the characters to our story.
What can you tell us about the film's intended look and feel?
The feel is to have the simple, direct story be indicative of 70s biker films but have some stylistic elements and fight scenes that would differentiate the film and make it more "ours".
Anything you can tell us about your projected cast yet, and why exactly these people?
Our lead in the film ("Kat") is played by Playboy Centerfold Lisa Neeld [Lisa Neeld interview - click here]. Why Lisa? Lisa knows how I work and move things along, so at this point having worked with her a few times (she lives near me as well which makes it nice) she knows how I like to run my sets. Playing a lead is also demanding work, obviously having tons of scenes and not a role where I can get you down in a day or two. Lisa has the talent and work ethic to be a lead and in this film? She'll prove it. Rounding out my cast, I wanted to bring in my strongest performers I've worked with: Donna Hamblin ("Rosie") [Donna Hamblin interview - click here] is simply a great actress, super prepared, super dedicated to not just herself but the whole cast/crew. Donna plays a tattoo shop owner who gives information to both "gangs". It's a fun role and I was really hoping she'd say "yes" to - and you know her answer, lol. Debbie Dutch [Deborah Dutch interview - click here] is one of the lead "Hellcats" in the film, and when writing the script I had her in mind as i figured she would have alot of fun with the role of "Asia" and she has the perfect look for a biker picture! I myself play the role of "Snake" the criminal leader of "The Vipers", a male motorcycle gang. Seeing how well Angel of Reckoning turned out, I really wanted to stay mostly behind the camera for Hellcat's Revenge, but a lot (and I don't mean one or two) of "fans" (hate that word), but a lot of cast, crew, fans, etc we're expressing that it was time I do a leading role. At first I was reluctant, but I'm glad I decided to do it and it's been a fun character for me to play. So if anyone likes my performance in the film - thank my cast, crew, and KillerWolf Films fans! But yeah, it's been fun and a great few months for me since I started writing it in early May. To round out my cast, I like to round up strong local theatre actors, especially top shelf ones who also have seen the way I work before. LOOK OUT and REMEMBER the name Hunter McKenrick, this kid's got all the tools to be a great actor for a looooong time to come. Hellcat's Revenge is no exception as I brought in Frederick Williams (soooooo good in Angel of Reckoning) [Frederick Williams interview - click here], Jawn Gross (the same, lol), Adele Crotty-Gross, Mark Kosobucki (pulling double duty as our special FX coordinator and actor), Beard Joe and several others. But I'd like to take a moment to thank ALL my boys & girls who came out to the "clubhouse shoot" days for the "Hellcats", "Vipers" and "Strip Club". Extras (another term I hate) really make the scenes the best they can be and I thank you all, this movie really is nothing without you giving us your time and efforts! Thank you!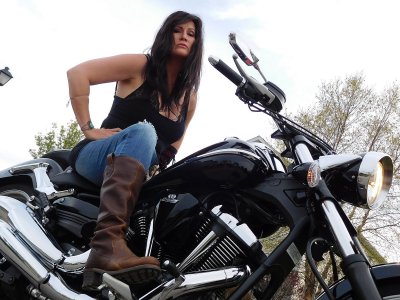 As we speak, your film's still in pre-production - so what stage are you in, and what's the schedule?
Right now, we have about a dozen scenes shot or so. By the end of August here, we will be down to just 2 scenes left to shoot and those film out in the 2nd week of September. So we'll be done with principal photography the 2nd week of September. From there, Chris Young (also my editor on Angel of Reckoning and also the DVD coordinator for the Apocalypse Female Warriors special edition DVD that came out last November) [Chris Young interview - click here] takes over and starts working his magic. As for the finished product, I'm hoping near end of the year-ish so we can possibly get a release to DVD in the spring before another Kickstarter is to be launched for a much more high profile project (which I am not writing, but the gang over at Red Letter Media has those duties). That way before we launch a mummy film project, I will have 2 released films that potential fans, donators, etc can see in Angel of Reckoning and Hellcat's Revenge.
Even if it's waaay too early to ask, any idea when and where the movie might be released onto the general public yet?
As I said above, I'm hoping for maybe a local premier around January-ish and really hoping for a finished product around December-ish as when I sign a film to a distribution deal it generally is at least a 4-5 month wait from signing to actual release.
Any future projects beyond Hellcat's Revenge you'd like to talk about?
Not to get to into it but Bite of the Mummy I think may be something some people may want to see, I don't know. I wouldn't be launching the crowdfunding campaign for it or the writing, but I will produce it, cast it, and direct it. If the backers of this kind of project want to see myself and the Red Letter Media guys in roles, I'm sure we'd make that happen. This project is all about the fans more than any other picture I've done. Normally I just develop stories and start writing my next feature, but with this one I'll get a script and start moving with locations, casting, etc immediately. If the funding turns out successful, I WILL give the fans what they want here - without a doubt.
Your/your movie's website, Facebook, whatever else?
www.facebook.com/len.kabasinski is my Facebook page and in the search box just type in "Killerwolf Films", or "Angel of Reckoning", or "Hellcat's Revenge", and those film-specific pages will pull up. I try to answer ALL my mail though I'm sure some get lost in the avalanche of the be-all-end-all of communications (Facebook), lol. And I'd love for people to check out our brand new KillerWolf Films website designed by Chris Young at www.killerwolffilms.com.
Anything else you're dying to mention and I've merely forgotten to ask?
First up, Hellcat's Revenge still has a "funding" campaign going on for those individuals who would like to chip in, get some cool perks, etc etc on the project. I appreciate it! 100000% of ALL funds goes right to the film. The site for it is www.gofundme.com/hellcatsfilm
Second up, Angel of Reckoning comes out to cable services/on demand sites next month (September)!!!! The DVD for the film comes out in November and is a LOADED DVD with tons of cool features. So I hope people check it out. It is by FAR my best work, my other films aren't even remotely comparable. A very different style picture for me and I hope viewers see progress in what I'm doing with my films. My associate producer Ruth Sprague, editor/post-production coordinator Chris Young, and special FX coordinator Mark Kosobucki have worked very hard to advance KillerWolf Films. I like to think of my gang as the "NWO" of indie filmmaking. So I hope people check out Angel of Reckoning and I certainly look forward to some feedback on it J
Thirdly, Apocalypse Female Warriors has still been going strong especially on Amazon. Again the edition released last November is loaded with bonus features. So hope people consider checking it out. The DVD even has a Red Letter Media audio commentary track.

Feeling lucky ?
Want to
search
any of my partnershops yourself
for more, better results ?

The links below
will take you
just there!!!

Find Len Kabasinski
at the amazons ...

amazon.com

amazon.co.uk

amazon.de
Looking for imports ?
Find Len Kabasinski here ...
Something naughty ?
(Must be over 18 to go there !)

Lastly, Angel of Reckoning & Hellcat's Revenge at the end of the day are "Len's films" for better or worse and put it on me, I'm cool with all that. I write, I direct, I executive produce them all, but I'd like to say in the last two films I have worked with my BEST group of people and have honestly met people I hope to call friends for the rest of my life. I truly care about my ladies and gentlemen and hope they know this 2000000 times fold. Me, Chris Young, Ruth Sprague, and Mark Kosobucki have all upped our game for Angel of Reckoning and Hellcat's Revenge and I hope you all consider checking them out and getting in on the www.gofundme/hellcatsfilm campaign. Thanks for reading the interview everyone and I hope to hear some feedback on our new films soon! Thanks for having me Michael!
Thanks for the interview!