Your new movie Amused - in a few words, what is it about?
Simply stated, I wrote Amused with the idea that with isolation comes terror.
Here's the trailer: http://vimeo.com/48641544
Amused quite successfully turns the typical idyllic peaceful countryside into a place of threat - would you like to elaborate on that, and is any of this based on personal experiences? And what can you tell us about your location as such?
I come from a small town in upstate New York, lots of farmland, open territory and it's easy to isolate yourself if you wanted to. Many people there live on huge properties, their house surrounded by nothing but acres and acres of land and forests. Typically it's very nice, a very peaceful and serene place to live. Your neighbors can be a mile away, there's no traffic since your house is set so far away from any roads.
As nice as all this can be, I find it a bit terrifying. What if something happens, an emergency, and you're left alone, no one can hear you scream, no one around to help in any way? That's what I wanted to be the heart of the story in Amused. The emergency of Amused of course being a plagued creature of a man, perhaps a zombie-like creature. One woman on her own way out in the country with no one but herself to rely on to get out of her situation.
(Other) inspirations when writing Amused?
Yes, definitely. Stephen King used to have a column in Entertainment Weekly, and he wrote about why he thought Hollywood horror films were lacking and what he wanted to see more of. He mentioned that so many times Hollywood depends on scare tactics like sound effects, silly plot turns, etc to conjure up the scares. He mentioned how these horror flicks 'demand explanations' - characters in the stories, aliens, killers, monsters, etc - all have some kind of rambling back story that made them into the murderous beings that they are - and Stephen King doesn't like that idea. I agreed completely. Mr. King made me ask, 'Why can't someone simply be crazy?" So the creature in Amused has no backstory, no reasoning for his state of being, no explanation - the creature just is. Here's a link to the Stephen King article: http://www.ew.com/ew/article/0,,20210538,00.html
Amused is a film without dialogue. To ask quite bluntly: Why?
I didn't intend the film to have or not have dialogue when I first sat down and created the story. And in the early versions, there actually was a single line near the end of the film, our heroine uttered 'Amused?'
But the whole film as you said is sans-dialogue and it just didn't feel right when we were filming to get that line of dialogue - mostly because it's a lot of action when the character was going to say it, plus I thought it took away from the overall creep factor of the film. Not to mention there are only two characters in the film and one is trying to eat the other so there's not really much to be said there - 'Don't eat me!' - 'I want to eat you!' - 'No, Don't eat me!' Hahaha!
So far you have been known mainly as an actor - so what prompted you to go into directing for Amused, and how would you describe your directorial approach?
I've wanted to direct a film for a long long time. I didn't think I was ready though for a long long time either. I didn't have any experience in the industry before I started acting and I literally learned everything about movie making from being on movie sets. Sometimes I get really bored on sets as an actor, there's so much waiting and whenever that happens, I want to jump in and help set up lights, set the scene, check the camera, just something more active and creative than waiting to act. After years on set as an actor and slowly figuring out who does what, how sets work, how actors, directors, producers work - I had to try it out for myself. Plus, I'd seen so many bad movies in video stores and on Netflix that I knew I could do better than that crap.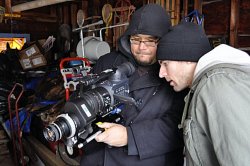 DP Colin Rivera, Cuyle Carvin
My directorial approach is a combination of methods that I've stolen from directors that I've worked with who have directed me. Plus, coming from an actor's background, I do think I tend to think like an actor or from an actor's perspective more so than other directors. I suppose that could be an asset or a liability though. But I do think it allows me to talk to actors in a way that is more relatable than a straight-up director.
A few words about your key cast, and has it at any point itched you to act in Amused yourself?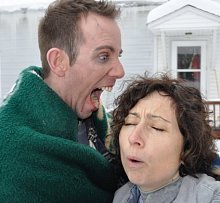 Ryan Metzger, Elise Rovinsky
I hired actors that I've worked numerous times with and also whom I love as actors and humans. Elise Rovinsky and Ryan Metzger are awesome friends of mine, personally and professionally, and in a way, they were the first actors to come to mind to play these parts when I wrote the film.
I didn't want to be in Amused - I'm not convinced I'll want to be in anything I direct honestly, but maybe a cameo here and there would be quite chilly.
What can you tell us about the actual shoot and the on-set atmosphere? And are there any anecdotes you'd like to share?
The crew was bare bones. Besides the actors, it was me, the DP, and two others who did everything else that needed to be done. We shot in the middle of winter in upstate NY. Lots of snow and temperatures in the zero - ten degree range. But everyone was great - of course we all complained about the cold but we warmed up whenever we needed to. The DP, Colin Rivera was a true champ - he had bare hands on the camera at all times, I at least had gloves on! I owe Colin a snow cold brewski!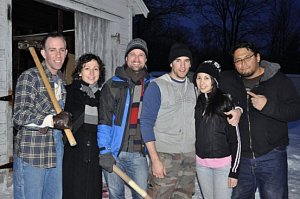 On the first day of filming we shot about 3 hours of footage that never made it into the film and actually changed the script. Long story short, we shot a bunch of footage of a particular vehicle for one of the characters in the film and then on the final location for that vehicle - it got stuck in the snow and couldn't be driven to the location we needed it to end up in for the film. So we had to scratch that part of the script, rewrite a bit and on top of that, also lost a lot of our day shooting a bunch of worthless crap.
The $64-question of course: When and where will the film be released onto the general public?
Amused just started playing at festivals in the US. So far it's played in Atlanta at the HorrorQuest Fest and in Michigan at the Three Corpse Circus festival. On October 27 it will be playing at two different festivals on the same day - LA Horror Film Fest and also ZED Fest. I'm attending both as both are in Burbank, CA and hope to see your bloody shining smiles there!
Outside of the festivals Amused will be released on my production company site www.BytheCProductions.com - I plan on releasing it October 31 (my favorite day of the year). I'm also selling a DVD version with special features. I'm encouraging people that watch the film online, if they enjoy the film, to buy the DVD and help support future projects.
After your experiences filming Amused - will you ever be tempted to direct another film?
Of course! I'm already working on a few, including one horror film that I believe is so unique I can't mention it to anyone because I really don't want someone to steal the idea and make the movie first. It's not completely unique but the story and character have never been done as far as I'm aware - it's still a horror flick and falls within somewhat of a recycled plot - but the overall idea of the film is unique and I think it will be a real charmer among the audiences. As always, for any updates, we keep our website up to date pretty well: www.BytheCProductions.com.
And I'm working with Bear Claw Films and Michael Coulombe on an awesome new short, AX, which is going to be incredible.
Filmmakers who inspire you?

Feeling lucky ?
Want to
search
any of my partnershops yourself
for more, better results ?

The links below
will take you
just there!!!

Find Cuyle Carvin
at the amazons ...

amazon.com

amazon.co.uk

amazon.de
Looking for imports ?
Find Cuyle Carvin here ...
Something naughty ?
(Must be over 18 to go there !)

M. Night Shyamalan, Ron Howard, Peter Jackson & James Cameron for their unbelievable imagination and vision - mostly small indie guys that no one knows or hears of - many of the filmmakers I've worked with have great talent.
Your/your movie's website, Facebook, whatever else?
www.BytheCproductions.com/Amused.html
https://www.facebook.com/BytheCproductions?ref=ts
https://twitter.com/BytheCProds
http://vimeo.com/bythecproductions/videos
Anything else you are dying to mention and I have merely forgotten to ask?
Yeah, if any movie reviewers are interested, I'd love to send copies of Amused and any future films to them for online reviews. Please contact me at info@bythecproductions.com
Thanks for the interview!
No my friend, Thank you!!!