Your new movie The Three Sisters - in a few words, what is it about?
The Three Sisters is about a young couple who have recently split up, and are brought back together as they attempt to unmask a killer who is targeting the girl's family. It also contains will readings, mild drug-taking, a sex scene and Giovanni Lombardo Radice.
The Three Sisters was quite obviously inspired by classic giallo cinema in both style and story - so what do you find so fascinating about these movies of old, and your genre favourites?
I think - without getting too deep into it - the best gialli are just really entertaining. The classic giallo film combines inventive set pieces with a mystery angle, so it's like watching an episode of something like CSI with showstopping murder scenes every fifteen minutes, or watching an American slasher film with a far more interesting plot. It's a combination which on paper should be incredibly commercial, but the best gialli, probably because of the production circumstances in which they were made (multi-national casts, post-dubbing, quick production schedules but very competent technicians) have a very weird atmosphere, which a lot of people dismiss or mock. They're generally not particularly scary, but can have a delirious, extremely cinematic quality that I just love.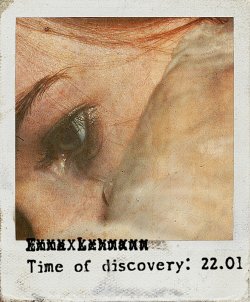 As for my favourites, off the top of my head: Deep Red, Tenebrae, The Bird with the Crystal Plumage, Opera, Torso, The Strange Vice of Mrs Wardh, All the Colours of the Dark, Blood and Black Lace, Deadly Sweet, Don't Torture a Duckling, The New York Ripper, Perversion Story, The House with Laughing Windows, The Night Evelyn Came out of the Grave.
Other sources of inspiration when writing The Three Sisters?
Can't really think of many to be honest. I was watching Twin Peaks when I first started conceiving the film (well, kind of - the film is an extensive rewrite of another, unmade film I wrote years ago), and I had the idea of pitching it to the Irish national broadcaster as a six episode series, with each episode ending with a character being murdered. Then I started thinking about what my options would be when that pitch was rejected, and I decided to just jump straight to Plan B, which was to shorten it into a film and make it myself.
How would you describe your directorial approach to your story at hand?
I approached this film differently compared to my two previous features. I shot both of those in the traditional manner, with an intense period of production, followed by a few months of post. This time, mostly due monetary restrictions, but also because I wanted to have more freedom and less time constraints, I shot the film over a two year period, from May 2012 to July 2014. I also didn't write a script, and worked initially from a spreadsheet, and then an eight page treatment. I wanted to allow space for my actors to improvise, so, particularly early on, we'd improvise scenes a week or two before shooting them, and I'd write up a rough script based on the improv sessions. Because the film has a fairly dense plot, I then had to find the balance between allowing the actors as much freedom as possible, while still ensuring that they hit the relevant story points.
I also edited as I filmed (well, right afterwards), and tweaked the plot a fair bit along the way, especially early on. I also reshot a couple of things, which I've always tried to avoid, as once I shoot a scene it's marked as 'done' in my mind. When you're filming over a two year period though, it becomes quite hard to justify not going back to fix something that's bugging you in the editing. Saying that, there are still lots of bits that I should probably reshoot, but don't want to.
The Three Sisters features a few quite violent scenes - so what can you tell us about these, how were they achieved, and were there any line you refused to cross?
I've never been a massive gorehound (I'm a big Fulci fan [Lucio Fulci bio - click here], but more for the atmosphere he created in his best films than the visceral violence), so I didn't necessarily set out to make a violent movie. I did make sure to splash a bit of (fake) blood around as I felt that the core audience for the genre would expect it, but didn't try to do it excessively; just what I felt the scene required. The violent scenes were all planned out well in advance, and were all done using practical effects designed by myself. I actually feel like I dropped the ball on a couple of the scenes, which could have been a lot more effective in retrospect. There are a couple - and one in particular involving a knife, a head and a head's mouth - which I think worked ok. A large part of it too comes from the sound effects; a good foley effect can be incredibly effective, if you'll pardon the excellent pun (it's not really a pun, but still).
The Three Sisters features veteran Italian horror actor Giovanni Lombardo Radice in a supporting role - so how did you get him even, and what was it like to work with him?
I filmed with Johnny (as he likes to be called) in June 2013. I had shot around 20 minutes of the film at that point, and for pretty much the first time on any of my films, actually started thinking about what the process of marketing the finished product would be like. I thought that having someone who'd previously been in gialli and genre films could generate a bit of attention down the line, and Johnny immediately came to mind. I knew he was still active, and he had the right age and look for the part he ended up playing (plus he's a great actor). I got him on board just by emailing him, and he asked to see the film's script. As I've said I didn't actually have a script, and at that stage I was working off a spreadsheet which listed the scenes, plus I had about 3 pages of the treatment written. I quickly wrote the rest of the film into the treatment, and sent it onto him. Once we'd cleared up one or two things that were unclear in the treatment (I'd forgotten to include any reference at the end to why and how the killer had committed the murders) he was happy to come on board.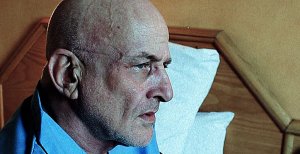 Giovanni Lombardo Radice
It was very surreal to work with him, given that he's been in so many iconic films over the years, and here he was in a hotel room in Dublin, with a crew of three (that was actually one of about five days on the film where there was something resembling a crew, and it wasn't just me plus actors). He'd clearly read everything I'd sent him, and done some prep work, which was pretty awesome to see. The filming actually went incredibly smoothly, and we finished about an hour ahead of schedule. In some ways the only difficult thing about directing him was having to have the confidence to say "great, same again next time" after a take, because there's always a part of you that wants to impress people with your amazing directorial talent (there's a part of me anyway). In this instance the actors immediately got into their groove and pretty much nailed every take, so I just had to resist any temptation to needlessly mess with what was already a winning formula. Fortunately, as I don't actually enjoy being on set and generally want to get it over with as quickly as possible, it was easy to resist.
A few words about the rest of your key cast?
Apart from Johnny, I've worked with almost everyone else before (apart from two of the actors, who were the sister and friend respectively of Gillian Walsh and Elliot Moriarty, the two leads). Most of the people who are in the film are friends and family, who took part with varying levels of enthusiasm (my mother, who plays Johnny's wife, would regularly tell everyone how much she hated acting, often mid-scene). Because we shot the film over such a long period of time, it was a big challenge for the main actors, who began and finished many other projects while still working away at this on the side. The three main actors (Elliot, Gill and Neill Fleming, who plays the Detective) were amazingly patient, and their performances, especially given the time period involved, stand up really well (even if the wildly-varying length of Elliot's hair doesn't).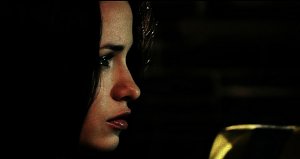 Gillian Walsh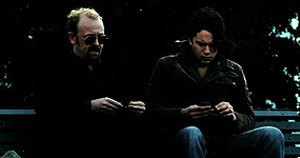 Neill Fleming, Elliot Moriarty
I am really grateful to everyone who was a part of the film, in any way, shape or form. And, even though several people acted in the film under duress, the fact that you referred to the cast in your review as 'very competent' shows what a good director I am. I mean, what good actors they were.
What can you tell us about the shoot as such, and the on-set atmosphere?
As I've said it was a long, drawn-out shoot, initially because I wanted to work free from time pressure. I also worked 90% of the time with literally no crew, just myself and the actors. And, because pretty much all the cast are friends of mine, or related to me, it was a fairly relaxed shoot, at least when my mum wasn't pissing me off by moaning to the other actors about me. In some ways it's actually hard to get my head round the fact that I've just made a feature film, because it was made in such small increments.
It was definitely difficult for the main actors, as I've mentioned, because they had to achieve some sort of uniformity of performance over such a long period of time. I remember the first big dialogue scene we shot involved three uninterrupted ten minute takes of Elliot and Gill talking (well, about four minutes of talking and six minutes of awkward silence in each) and there was a feeling of the whole improv approach not really working, but once I had a rough cut of the scene done I knew that it would all be ok. Because I wasn't recording live sound for most of it, I was able to reassure actors who were worried about their performance by telling them that they could give better performances in dubbing, and that we could even rewrite any line for which their mouth wasn't on screen (we barely did that at all though, I mostly said it so Elliot would stop asking to do more takes of stuff).
The $64-question of course, when and where will the film be released onto the general public?
I have no idea at all. I'm still polishing off the audio, and regrading the odd shot here and there. Plus, the film doesn't even have end credits yet. I've entered it into a few festivals, and depending on how successful or otherwise that is, will decide on what to do re: distribution. It'll hopefully be accessible to the public within a year anyway.
Any future projects you'd like to share?
Nothing specifically in the works at the moment, although I have ideas for about twenty films, and concrete story outlines/scripts for about six or seven. I kind of like the idea of doing the next one in a concentrated five or six day period, just to have a completely different experience to this one. Then again, what I'd really like is for another person/company to put up the budget, so I'm not investing all my money into, so far, extremely unprofitable films.
I've been working on and off (mostly off, but we'll hopefully pick up the pace soon) on a sitcom for the past year or so with my friend Ben, and I also started a book about gialli last summer (2013). I haven't written anything for that for pretty much a year, but I'd like to dig it out and get stuck into it sometime soon. It'll give me an excuse to rewatch a load of gialli, but against that the feeling that I absolutely have to write something every time I watch one might actually put me off watching them. It definitely did when I started the book. So, some tough times ahead, with big decisions to be made.
How did you get into filmmaking in the first place, and did you receive any formal education on the subject?
I wanted to be a sportsman when I was younger, but after trying and failing at football, golf, snooker and cycling, I realized that whereas in those sports you're either good enough or you're not (and I wasn't), and there's an age limit in terms of having a breakthrough, in film you can keep trying for your whole life if you want. So I started writing scripts when I was around 15 or 16 (always feature-length ones), and decided that I'd try to be a filmmaker.
I went to Trinity College in Dublin, and did a degree in Film Studies and English. The Film Studies course involved a small bit of practical filmmaking, but I was also an active member of the college filmmaking society, which was pretty important in terms of getting a grounding in the basics. I'd made some shorts with friends before going to college, and I made six more in Trinity, with one of them winning the main prize at the National Student Film Festival (which was actually the first time anything I'd made had even been accepted to a festival).
What can you tell us about your filmwork prior to The Three Sisters, and your evolution as a director?
I've made two other feature films, the first of which was a horror film called The Farm, and was made a year after I left university. It was released on DVD across North America in 2010, to middling-to-terrible reviews. The sound quality was pretty shocking on the release, which was mostly my fault for over-filtering the dialogue, but the DVD authoring wasn't great either. I think the big mistake I made with 'The Farm' was not working enough on the script. I put most of my directorial energy towards creating a documentary-type feel for the film, which basically involved a lot of planning to try and make it look like there had been no planning. This was fairly successful, but it's maybe not the smartest approach for a first-time director who's trying to get themselves noticed.
My second film was called The Gingerbread Men, and is a dark romantic comedy/musical. It didn't do very well, as it was quite hard to market (the 'dark romantic comedy/musical' market isn't fully developed yet). It also looked crap, which was the cinematographer's fault. I think it's a decent film though, and definitely rewards viewers who stick with it til the end. The problem is that there were basically no viewers, and no company was even remotely interested in distributing it, so I had to do that myself. It's available online and in shops in Ireland, and will hopefully find an audience some day. Again, I didn't do anything to draw attention to myself as a director, as I hoped that the film itself would garner enough attention and plaudits to do that. It didn't though, and that's one of the reasons why I chose to make The Three Sisters next, as it had more scope for flashy self-indulgence. In an admirable display of benevolence and forgiveness, I also retained myself as cinematographer.
Filmmakers who inspire you?
I could come up with a huge list here, but in the interests of brevity I'll keep it short. My top five influences would probably be Michael Mann, Darren Aronofsky, Paul Thomas Anderson, Nicolas Winding Refn and Jess Franco. Well, they're actually my favourite five directors, but they've probably influenced me a fair bit too.
Your favourite movies?
Again I'll try and keep it short. My favourite film is The Assassination of Jesse James by the Coward Robert Ford. I am also partial to (in no particular order): Heat, Once Upon a Time in the West, Boogie Nights, Suspiria, Apocalypse Now, Synecdoche New York, The Life and Death of Colonel Blimp, The Texas Chainsaw Massacre, Pulp Fiction, The Fountain, Black Sabbath and Festen.
... and of course, films you really deplore?

Feeling lucky ?
Want to
search
any of my partnershops yourself
for more, better results ?

The links below
will take you
just there!!!

Find Dáire McNab
at the amazons ...

amazon.com

amazon.co.uk

amazon.de
Looking for imports ?
Find Dáire McNab here ...
Something naughty ?
(Must be over 18 to go there !)

I'd be a bit reluctant to go on the record slagging off other people's films, as I know how much blood, sweat and tears can go into them (not much of any of those in my case, but I do put a lot of effort in). There was an Irish film called Charlie Casanova that made a minor splash a couple of years ago that was a terrible, terrible thing. I'm fairly sick of superhero films at the moment, and find it a bit chilling that Marvel have their slate sorted until something like 2028. Oh, and I hate any modern movie that lazily tries to associate itself with the grindhouse/exploitation fad, but reduces the subject matter to a cheap joke, which the original movies never did. Sharknado, and stuff like that.
Your/your movie's website, Facebook, whatever else?
sistersfilm.weebly.com (hasn't been updated in months; will be soon, I promise)
gialloreviews.weebly.com (excerpts from the giallo book I'm writing; hasn't been updated for about a year, will be soon though. That's not a promise, but I'll try)
Anything else you are dying to mention and I have merely forgotten to ask?
No, that's pretty much everything. I suppose I should say thanks again to everyone who chose to give their time to The Three Sisters, and my family and girlfriend, who were forced to give their time.
Thanks for the interview!
Thanks for the interview!
I just said that.