Your upcoming movie The Package - in a few words, what is it about?
It's about the delivery of a package, or a macguffin as George Lucas likes to call these things in films, which goes a bit pear shaped. We join it in the aftermath of one guy having taken it from his partner and friend and what lengths the friend will go to in order to get it back and complete the delivery. The narrative surrounding it is drawn out through the conversations between our protagonists.
You're very adamant about the fact that The Package draws no clear line between good and evil - want to elaborate on that?
Like I put on the IndieGoGo page, I've long been fascinated by the way we react to an incident based on the knowledge we have of what is going on. So I want to put the audience in the middle of a situation where they don't know what's happened and see if the opinion they form of the characters remains the same at the end as it did at the beginning. It may well do as I haven't written it to push people one way or the other. You know when you join a scene in the film and the first line is "right let's go over that one more time" so that they can drop you in the middle of something that's been going on but tell you what happened. This is one of those scenes except not as direct and obvious as the "lets recap" style.
What were your inspirations when writing The Package?
The main inspiration behind the way it developed was very much Tarantino. But not one particular film. It has the element of the suitcase from Pulp Fiction, the set up will feel like it's a bit Reservoir Dogs, and there's the blend of horror/gangster that he did with From Dusk till Dawn. Although this won't be the vampires and excess of that, merely the blend of genre. I also wanted to scale it back from The Tour, which had the fantastic house to work in, the three main protagonists and a number of extras. It meant a large set up but gave us the results we needed for a haunted house. For this I wanted something that was a bit more tension based and, for want of a better term, simple. What that means for me as the director is the ability to make the camera a third person. Almost voyeuristic. The Tour I felt was very filmic and this one I want to feel a lot more personal.
To use your film's tagline on you - how far would you go?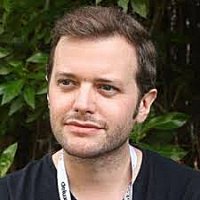 Dan Palmer
Great question. I guess it depends on what is at stake. If it was for my family then I would go as far as I needed to. If it was for a peanut butter sandwich then pretty far - I love peanut butter. But if it was for the Twilight movies, well I wouldn't even bother getting out of bed.
From the looks of it, The Package might feature some quite gruesome bits - so what can you tell us about those, and how far do you plan to go in that direction?
There will be one or two that will hopefully make the audience go "ouch". A seasoned horror fan may not flinch but then it would probably need to be levels of gruesome up there with Martyrs for them! Haha. I don't want to say too much about them as I want to keep what happens secret. But I can say that it's not going to be all about the gore. I want it to be more of a character piece with a splash of violence and gore and maybe even a scare. I don't want people to leave it only talking about one moment. I still want to do a film which people remember something very specific from and it keeps them talking as that isn't easy to do, and I have an idea on that but it'S not for this film. I know that may disappoint some people who are after lashings of the red stuff; but I want the chatter after this to be where they stood rather than what made them feel icky. However its not going to be suitable for a 15 rating.
What can you tell us about your movie's indended look and feel?
It's certainly going to be grittier than my previous outing. I am going for a slightly under-saturated look and as I said, a bit voyeuristic. Therefore the intention behind the shots will be to tell you where to look and what to look at. So I will be making a lot of use of the focus to draw people's eyes to where I want them to be.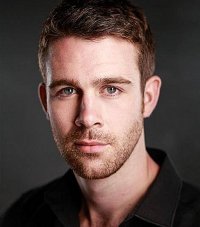 Tom Gordon
Anything you can tell us about your projected key cast and crew yet, and why exactly these people?
The cast and crew is in place and it's a great set-up. We have Stalled's Dan Palmer and The Tour's Tom Gordon in the lead roles. I went for these guys as they're both quality actors and also you don't look at them and make assumptions about their character. If I wanted you to think one of the roles was the bad guy I could have gone for a big burly guy with an angry face but that's not what this is about. These are two guys caught in a situation which drives them to do things they wouldn't normally so i don't want them to look like guys that would do these things.
The crew consists of a few from The Tour. My director of photography is once again Richard Bell. Richard is a stand-out talent and I know the look of the film is safe in his hands. We've also brought back Eric Elick for the music. What can I say I loved the work he did for me last time and I'd be foolish not to get him back on board. And Guy Pearson is back doing any FX we need. Again he pulled a proverbial rabbit out of the hat with some of the things he did on The Tour - most of which were so good they went unnoticed unfortunately for Guy. I've also brought in Paul While to do the on set FX. Paul will be long remembered for his work on She, which was exceptional. And I'm delighted to have Katie Bonham as our 1st AD. This is great news for me as Katie is a great director in her own right and I'm actually currently producing her new short film Keepsake. Katie is going to have a very good year this year so keep an ear out for that name.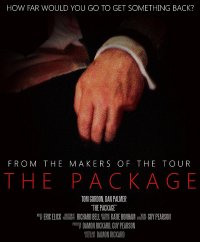 As far as I know, The Package is still in its fundraising stages as we speak - so what can you tell us about your fundraising efforts?
The fundraising has only been live a couple of days as I write this. And as I've been busy on two productions I haven't fully got myself stuck in yet although we're almost 10% there already which is fantastic. Keepsake shoots this weekend so I'll be busy promoting The Package in the next few days and then after the Keepsake shoot I'll be even more on it! I plan to do a press release this week as well as approaching some local newspapers. I've also designed and got printed some special The Package mugs and pens for the perks and a limited to three pack of horror top trumps that I designed. The recent release of horror ones from the Top Trumps brand were so poor I made my own. They include some classic and lesser known horror icons. There's also going to be contributor only t-shirts, chances to have your photo on set, DVDs, posters and more. I feel it's a great bunch of perks that I've put together. Someone can even get one of the icky prosthetic bits as memorabilia.
www.indiegogo.com/projects/the-package-2/x/2929504
Once your funds are raised, what's the schedule ... and though it might be waaay too early to ask, any idea when and where the film might be released onto the general public yet?
The schedule is already locked in for April 11th and 12th. The fundraising goes beyond that as we have payments that we can make down the line and also there will be cost of post production. So it's credit cards in the meantime for anything we can't pay later for! Which the crowdfunding will enable me to pay off. I'm still paying off the The Tour haha. The plan is to do the festival circuit again with the optimum to release as a world premiere at Fright Fest in August. But that all depends on the Fright Fest boys liking it and selecting it. So fingers are well and truly crossed. Words can't describe the feeling I had when we premiered in August with The Tour.
Any future projects beyond The Package you'd like to share?

Feeling lucky ?
Want to
search
any of my partnershops yourself
for more, better results ?

The links below
will take you
just there!!!

Find Damon Rickard
at the amazons ...

amazon.com

amazon.co.uk

amazon.de
Looking for imports ?
Find Damon Rickard here ...
Something naughty ?
(Must be over 18 to go there !)

Well I think I might be getting ahead of myself with what I'm planning but I am currently writing a different take on a slasher as a feature, one which is more drama that is based around a single horrific incident and we're still working on bringing The Tour to you as a feature. And as I mentioned I am producing a short with Katie called Keepsake.
Your/your movie's website, Facebook, IndieGoGo, whatever else?
The Facebook page is currently the website. Which is www.facebook.com/thepackagemovie2015. We are currently getting a Raedar Productions website designed which will feature our projects on there. The IndieGoGo is www.indiegogo.com/projects/the-package-2/x/2929504 and our Twitter is @thepackagemovie
Anything else you are dying to mention and I have merely forgotten to ask?
I think we've covered it.
Thanks for the interview!
Thank you! Always a pleasure, never a chore!