Your new movie Serial Kaller - in a few words, what is it about?
Dan Brownlie: Serial Kaller is about about the pursuit aesthetic beauty in the modern age and how it effects people. Some use it to get a money and status, others use it for freedom, we used it to sell a film. The end of the film really drills the point home for me. The whole film shows the (kinda) glamourous side of it all but the end shows how that pursuit can lead to tragedy and really mess someone up.
Dani, from what I know, you had the idea to Serial Kaller when you worked at a company similar to the one shown in the movie - care to elaborate on that?
Dani: I worked on a daytime version of the show so it wasn't naughty calls, it was mainly guys who didn't have the social skills to speak to girls in real life so called the show for a chat and mainly talked about football and movies etc although you did get the odd weirdo.
There is a scene in Serial Kaller when the girls are in the dressing room getting ready for the show and talking about the weird callers and the Ewok guy was actually based on a real call I once took.
So what kicked off the project then, and how would you describe your collaboration when developing the script? And also do talk about your co-writer Paul Chaplin!
Dan Brownlie: I first met Dani on a Gorezone celebrity ghost hunt where I was filming and faking ghostly activities (not saying everyone was, but I certainly was). It was around this time I was executive producing the horror anthology Three's a Shroud so she got involved in that and we became friends.
At the wrap party she approached me with a script called "Call Girl Massacre" and asked if I wanted to direct it. After hearing the basic premise I said sure but I want a stab (no pun intended) at the kills and to change the ending, I also changed the title to "Call Me" which is it's title on the teaser trailer.
Paul Chaplin was very easy to work with. He loved the idea, completely got it and was very supportive. The only two things we didn't see eye to eye on was I wanted more gore and wanted the killer to wear a teddy bear mask, apart from that we got along fine. He was also very easy to work with from a directing point of view, took direction easily and only really needed one or two takes per shot. It was a shame the company folded as I was looking forward to working with him on the next one.
With Serial Kaller being a slasher movie, is that a genre you're particularly fond of?
Dan Brownlie: Yeah, I love killer toy and clown films and have a passion for creatures and haunted houses, but there's something so simplistic about slashers that it just plain works.
Dani: I'm a big slasher fan, I first really fell in love with horror in the 90's, movies like Scream, I Know What You Did Last Summer and Urban Legend, I loved that whole era of horror film, The Craft, and Final Destination are also favourites of mine from that time.
I love the odd creature feature, vampires, werewolf a etc and supernatural horror films but the slasher will always be my favourite within the genre I think.
For the gorehounds among my readers, you also have to talk about the bloody bits in your movie for a bit, and how were they achieved?
Dan Brownlie: The film was originally a hell of a lot bloodier, but the exec thought if there was all this blood about that someone would stumble on it. So a lot of the outrageous blood soaked deaths turned into strangulations ect. I do like my gore but I gotta admit the plastic bag over the head is very effective.
Dani: Yes originally there was a lot more blood and my character Tanya was meant to stumble across some of that blood and the dead bodies during the middle of the film leading to a lot more tension but we lost a little creative control there ...
Dan, what can you tell us about your directorial approach to your story at hand?
Dan Brownlie: My directorial approach was very different to my execution haha. It's a kind of well know fact that 3 days into production the company funding the project went under and 80% of the crew walked out, so Dani, Geoff Crown (my bullet proof 1st A.D) and I had to fill in not only our own roles but also rewrites, recasting cast and crew as well as sorting all the other problems that come along with indie film. So my directorial execution for this film was to try and get as much coverage as possible while maintaining a sense of my own style. Death scenes took priority as that's why people are watching a horror and the end was reworked a few time for our limited time/crew scale. I tried to create a sort of funhouse feel to the location but a kind of worn down funhouse, I didn't want it to look real. I wanted to mirror the glamour you see on the screens to the reality of the real world.

Dani, you also play one of the leads in Serial Kaller - so have you written the character with yourself in mind, and what did you draw upon to bring her to life?
Dani: I love those bitchy mean girl characters that you get in American teen and slasher films so I wanted the girls to have that kind of vibe and I think the premise around the glamour industry for that well.
Tanya was kind of leader of the pack.
Serial Kaller also stars US scream queens Debbie Rochon [Debbie Rochon interview - click here] and Suzi Lorraine [Suzi Lorraine interview - click here] - so how did you get them, and what was working with them like?
Dan Brownlie: I worked with Suzi on Three's a Shroud, and finding out she is one of those rare just plain wonderful people I had to work with her again. I also found out that she was good friends with Debbie Rochon (long story). I had been a huge fan of Debbie's since I saw American Nightmare, her performance just blew me away and as soon as I read Serial Kaller and Dani agreed to let me rewrite certain sections of it, it was specifically for Debbie. I actually can't imagine else pulling it off.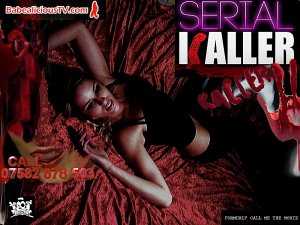 Suzy Lorraine
What can you tell us about the rest of your key cast, and why exactly these people?
Dan Brownlie: I'm going to start off by saying glamour models are fucking nuts. I was so careful before every death scene and go through it through them to make sure they felt safe and comfortable, and every one of them said "aaah sod it, just go for it" haha. Pampered princesses they ain't.
We had a great cast to work with, I can't go on about all of them as I could fill this interview with their praises but stand out was Jessica Ann Bonner (who is now my wife, it was a good performance ;)), Stewart Brennan and Brad Glenn were amazing, Ashleigh Jane did such a harrowing take that she got a standing ovation from cast and crew when I yelled cut. My nephew who played the child. I'm sorry for not mentioning everyone by name but they were all amazing.
As for why them, well a myriad of reasons. I had to get Debbie and Suzi involved because they are amazing. Jessica (who is a trained actor) was working on a babe show with Dani at the time she was writing it so she dragged her along. Stuart I had wanted to work with for a while, Brad was a last minute stroke of luck (we'd lost the actors details for that character when the head of casting walked out on that legendary third day). The guy in the club with the coke was one of our runners as we also lost that guy due to the walk out. As I said, tons of different reasons.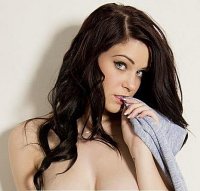 Jessica Ann Bonner
Dani: Yes we got to make most of the decisions regarding cast bar a few that were cast by the casting dept from the exec's company (before they walked out) Reality TV Star (BB8) and also good friend of mine, Aisleyne Horgan Wallace played her part as a wild child party girl perfectly, sometimes a little too perfectly (coming in hungover one morning after a bank holiday, let's put it down to method acting) and Jess Impiazzi, a former glamour model but also trained actress, was amazing in her death scene and Lucinda Rhodes cancelled a holiday to join the cast when somebody dropped out a week prior to filming and did a great job a spoilt rich bitch Claudia.
What was the collaboration between the two of you on set like, actually?
Dan Brownlie: Originally it was very straight forward, Dani was in charge of dialogue, I was in charge of kills and end scene. Once the chaos hit it was more like: Dani "Dan where are you?" Me: "I'm trying to get the spark to light this scene why" Dani "Well ... has turned up puking up blood and we need to rewrite her out of the scene, what do you think?" Me: "Bollocks, how about me spread her dialogue between ... and ... and then just leave her out of the next scene". It was chaos, bloody loved it, but it was chaos.
Dani: Yeah it was definitely chaos, but we got through it and we knew how each other worked so we were able to solve any problems between us. Big learning curve for sure.
Do talk about the shoot as such, and the on-set atmosphere?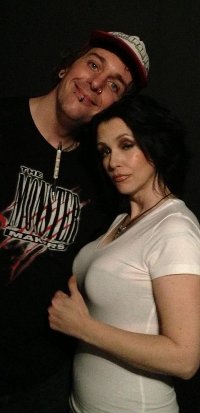 Dan with Debbie Rochon
Dan Brownlie: It was tough, very tough, even for an indie film. There were some people who rose above and helped make this film a reality. I have to mention my 1st A.D. as when Dani and I were acting and directing he was the one who was holding it all together, Debbie Rochon who was like my life coach for the whole experience, and assistant camera Steve Giles who made what little down time we had an extremely educational one (long story).
Dani: Our runners rose way above expectations and were such a massive help, as we lost a lot of the crew. When I wasn't physically filming I was running around covering all sorts of jobs which wouldn't have been possible if it wasn't for their help, one even stepped in for a cast member that didn't show in the party scene!
Anything you can tell us about audience and critical reception of your movie?
Dan Brownlie: We've had mixed reviews to be honest, someone referred to it as a "turd that should be flushed down the u-bend", others thought it was fun, some got the point of the film, others just watched it for the indie slasher madness that it is and liked it for it.
I'm the first person to admit it has its faults, but it is what it is. And what that is is indie slasher horror filled with fun deaths, hot women and an amazing ending. Yeah we lost 80% of the crew, yeah it turned into a very tough shoot but that's indie film for you. Feel free to hate it, I hate multi million pound films, but it is finding its audience who appreciate the intention and execution of an exceptionally hard working horror fan who got to direct another film.
Dani: Yes it has good and bad points, I'd actually like to remake it the way we originally wanted to without having to compromise our story with the higher powers that be ...
Any future projects you'd like to share?
Dan Brownlie: I have sections in the following anthologies that are getting ready for distribution: Virus of the Dead (section 29 Days Crossed), Grindsplotation The Movie (section The Ugly Duckling) and Snuff Anthology (section 2 Girls 1 Victim) and am working on a feature with Templeheart Film called The Tombs: Rise of the Damned which will be shot at the London Tombs scare attraction.
Another anthology I produced which got picked up by Wild Eye Releasing called Self Induced Nightmares Part 1 and of course my first joint directed anthology that I executive produced called Three's a Shroud (out now).
Dani: I currently have Bad Moon Rising in edit which I wrote produced and acted in.
Acting wise I have a few in the pipeline and a couple due for release this year including Cute Little Buggers and I just shot a little cameo in Carnivore so that should also be out this year.
Your/your movie's website, Facebook, whatever else?
https://www.facebook.com/brandBfilms/
https://www.facebook.com/serialkaller/
https://www.facebook.com/ThreesAShroud/
https://www.facebook.com/thetombsmovie/

Feeling lucky ?
Want to
search
any of my partnershops yourself
for more, better results ?

The links below
will take you
just there!!!

Find Serial Kaller
at the amazons ...

amazon.com

amazon.co.uk

amazon.de
Looking for imports ?
Find Serial Kaller here ...
Something naughty ?
(Must be over 18 to go there !)

http://www.facebook.com/bloodsweatandglitterproductions
http://www.facebook.com/danithompsonofficial
http://www.facebook.com/badmoonrisingmovie
Twitter:
@bsgprod
@danitofficial
@badmoonmovie
Anything else you're dying to mention and I have merely forgotten to ask?
Dan Brownlie: Yes go out and buy, rent (do not stream or the indie film gremlins will cut off your toes) and if you like it spread the love. If you don't like it then just shut up, I have no time for your misplaced misery and contempt.
Thanks for the interview!
Dan Brownlie: Thank you!