Your new movie Dry Spell - in a few words, what's it about, and what can you tell us about your character?
Dry Spell is a romantic comedy and was written by Travis Legge [Travis Legge interview - click here] and Kyle Hoskins [Kyle Hoskins interview - click here]. It is loosely based on a real relationship that Kyle had gone thru. He mentioned that writing the screenplay was extremely cathartic. I met Travis and Kyle at the NYC premiere of their last film called Raymond Did It. That night, Travis proclaimed that we would indeed work together one day. About a year or so later, Dry Spell came to fruition, and I happily accepted the lead role of Sasha. The film is based on a recently divorced couple who are still friends, but yet trying to move on with their lives (and love lives) despite the fact that they clearly had deep feelings for each other. Sasha steps into the dating pool, as it were, and realizes that she can't seem to get turned on anymore.
She feels she is experiencing "dry spell" of sorts, and soon comes to the conclusion that she won't be able to move on and date with a clear conscience until Kyle is able to do the same.
So she embarks on a quest to basically get him laid. All kinds of hilarity ensure, as she sets him up with the craziest and most unhinged "women" you could imagine.
I really welcomed the chance to step out of the horror realm, even though it is my first love.
The entire shooting process was a blast, and we laughed so hard, often until tears were running down our cheeks. The hours were all over the place, but it honestly didn't feel like work.
To what extent could you identify with the humour of Dry Spell, and in private life, do you at all fancy yourself a humourous person?
When I read the script, I thought many scenes were hilarious. Really brilliant comedy - much verbal, and even some great physical comedy/slapstick. It also errs on the side of raunchy, which definitely sets it apart from your typical weepy romantic comedies! We went with 90 to 95% of what was written, but I did change a few of the lines to make it within the realm of what I thought a chick would actually say. For the most part though, it was spot on.
I think everyone who has dated and cared about someone and also had bad dating experiences (or in this case, dates from hell!) can relate to the humor in this movie.
In terms of my humor, I'm a bit of a goofball. I'm pretty quirky and I don't know if it always applies but I would use the word "whimsical" - like a whimsical, mischievous little gnome. Maybe a bit of child-like humor thrown in there too for good measure.
In terms of acting and life, I have no problem making fun of myself and being self-deprecating, particularly if it gets a laugh.
What did you draw upon to bring Sasha to life, and is there a part of you in her, or of her in you?
I think that when you play a character, you are always drawing upon parts of yourself. Of course you're channeling "someone else" to a greater degree, but when your character needs to cry in a scene, for example, you need to draw upon your own personal emotions and experiences to get to the point where Suzi can cry, rather than Sasha.
Acting is such a personal thing - you really expose yourself to the audience.
What can you tell us about your director Travis Legge [Travis Legge interview - click here], and what was your collaboration like?
Travis has this calming way about him, and he makes actors feel totally comfortable to experiment and develop the character as they see fit. He has a contagious laugh - as soon as he laughs, immediately everyone else does. You can't help it. He's also really encouraging and supportive as a director. He gives the actor valuable feedback and notes - truly helpful suggestions to add to the performance or tweak something here and there to make it that much better. There were a number of Murphy's Law incidents that came up while filming, but he handled everything really well, and was always able to find solutions. We had a few supporting cast members drop out a bit late in the game, and Travis kept his cool and was able to re-cast in the nick of time. And the laughs, oh the laughs!
One day, we were shooting at a bar. We had access to the bar after the bar closed, so that meant starting at like 5am. We wrapped the bar scenes, and then just a few of the cast and crew needed to head over to a second location, down by the courthouse in NYC...
We got to my car, and realized there were 5 of us, but only 4 seats (and little seats at that - it's an Integra). So we all stood around the car, realizing this conundrum... Drew courageously volunteered to ride in the trunk, given that the courthouse was only like 5 miles away, according to GPS.
So he hops in the trunk, rather he contorts his body to fit in my trunk, and we hit the road. It's NYC traffic, so it's pretty wild and wooly. Within like 3 minutes, the car in front of me stops short, which forced me to stop short. The car behind me blared his horn, and you could hear tires screech. Drew commented later that, at that moment, he thought he was going to die. And then he started thinking about the specifics. Imagine if he died in the accident. The police arrive, and we proceed to tell them, "No, officer, he was ALIVE before we put him in the trunk".. Hahaha!!!
He's getting jostled around in there, and we're all making jokes to bust his chops. Travis knows I'm a gun enthusiast, so he goes, "Yeah, Drew, make sure not to move. She's got a rifle back there with a hairline trigger!"
Haha, gives a whole new meaning to the term driving shotgun!
Hahaha - good one! Anyways, to make matters worse (for Drew at least), I began to smell smoke. I was like, "Guys, do you smell that"? It was just one thing after another. But then the capper came - the grand moment of hilarity and absurdity... so he was in the trunk for over an hour. We could not find parking to save our lives. Finally, we decided to park it in a lot, where they gouge you at like $60 a minute. Anyway, we arrive, and pull into the garage. The first thing the attendant says is, "we need to check your trunk". Apparently, it was some kind of police protocol since we were near the courthouse...
As soon as the attendant asked to check the trunk, I froze. Silent. I must have looked like the cat who swallowed the canary. I just looked at Travis and Kyle, pleading with my eyes: What the fuck are we gonna do? I was trying desperately to contain my laughter. Finally, Kyle spoke. "Sir, you can check the trunk, but there's something you should know. There's a human body in there." After a beat, I added, "But he's alive!" At this point a few other attendants had gathered round, eyeing us suspicously. I got out, opened the trunk and Drew popped out. It was a sight to behold. All of us, attendants included, broke out in laughter like little schoolgirls. After we finished filming that afternoon, the attendant asked us if we'd like to take an SUV instead of my Integra.
We had many such moments on set. It was a privilege to work with every single member of the cast and crew.
Based on your experiences with Dry Spell, could you ever be lured back to doing another romantic comedy? And can any of your cast- and crewmates on any set ever be persuaded to drive with you again?
I would definitely consider another romantic comedy. I'm interested in any role in any genre, really. As long as the script is solid, thought-provoking, and makes you think or feel.
And yeah, I'm pretty sure Drew would not offer himself up to my trunk after that madcap adventure! I don't blame him one bit. My driving reminds myself of that scene in Family Guy where the female Asian driver is on a 5 lane highway, and says at the last possible moment, "Oh! There's my exit. Good luck everybody!" as she proceeds to cross 4 lanes of traffic without looking.
You have recently also starred in Debbie Rochon's highly anticipated directorial debut Model Hunger [Debbie Rochon interview - click here] - so what can you tell us about that movie and your character?
It was a true honor to work with Debbie on this strange and unique film. It is one of the most original projects I've ever had the pleasure of being part of. The script was written by my good friend James Morgart [James Morgart interview - click here], who also wrote Won Ton Baby! Not only is the script disturbing and wildly entertaining, but it has one of the most profound messages I've seen in indie horror. It is deep, and affecting. It is not Twilight Zone-esque, per se, but it reminds me of Twilight Zone in terms of the powerful moral message that is presented in the film.
James, or Jersey J, as he is known to friends and family, actually wrote the character of big Suzi with me in mind, knowing my sensibilities and love of off colour humor...
Suzi is the host of a wildly popular TV show called Suzi's Secret, which allows her to hawk her line of plus size clothing, and revel in all things big and mighty. She eschews skinny women, and spends much of her show mocking these "emaciated aliens" and empowering large women.
Developing this character was a challenge, as I really needed to step outside myself and transform into a completely different person. Debbie worked with me during rehearsals to perfect the character. Let me tell you, Debbie is one of the top directors I've worked with. She is an actor's director, as she's able to convey information and suggestions so that an actor can grasp it. She had so many wonderful suggestions, and she even gave me homework assignments: watch certain scenes in Braveheart and also Network. She worked hard to get the best performance possible out of each actor. It was a privilege to work with her. She is such a class act, and an incredible human being.
How did you approach your character in Model Hunger, and did you have any personal experiences to help you get into this one?
Yes! I tried to channel a strange combination of Nancy Grace, Bette Davis in Whatever Happened to Baby Jane? and "Crazy Suzi" herself as Jersey J calls me. And certainly working with Debbie during rehearsal to get some mannerisms and body language down pat and a certain speech style was incredible helpful.
When I was in the fat suit, I had no concept of my size, and I kept bumping into everyone. Ingrid Okola, my friend and talented sfx guru made the fat suit for me. She even added a brilliant shelf ass to the costume. You could literally rest your drink on it, it was so rockin'
And of course, once I got into full costume, I felt myself transform into Big Suzi. It was phenomenal.
And I can't say enough about James Morgart's writing talent. He is truly one of the most talented writers I have ever met. He has a knack for fleshing out these incredibly complex, robust, fascinating, human characters that really make you feel and think.
He really understands the human condition. And he has a knack for dark comedy and satire.
So what can you tell us about the actual shoot and the on-set atmosphere?
We shot my scenes at the School of Visual Arts (SVA) in NYC, as our line producer Greg Lamberson (Siime City Massacre [Gregory Lamberson interview - click here]) had contacts there and was able to land this incredible location. It was tight, as we only had the space for limited hours each day, but everyone worked together really well (no drama at all) and did some incredible work.
You're also starring in Gerontophobia: Fear Of Aging, an episode of In Fear of's second season - you just have to talk about that one for a bit!
Oh yes! Scott Perry wrote Fear of Aging and sent me the script about a year ago. Again, here we have a talented young filmmaker who really has a knack for writing. Scott never writes "fluff", there is always this great depth to his work, and it is always incredibly clever. He also knows how to write material that packs a punch. Beyond simple twists and turns, he hits you with these well crafted surprises from out of left field that really make you think. What I love about Scott's work is that there is often a supernatural or otherworldly feel to it, and often with a fitting moral message. I've told him his films remind me of Tales from the Crypt meets Twilight Zone.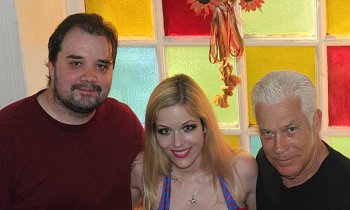 Scott W. Perry, Suzi, Doc Dougherty
In this particular episode, Fear of Aging, I play Annabelle, a super bubbly and sweet woman (albeit a bit odd) who looks much younger than her actual years. The episode begins with a "date" of sorts - Annabelle phoned her old flame Sean (from several decades past, and played brilliantly by Doc Dougherty, who I worked with on Bleeding Hearts) and invited him to come over. Sean realizes Annabelle is caught in something of a time warp - from her "retro" home decor to her "traditional" values. What happens next will put a whole new spin on the quest for eternal youth. Sean will soon learn about the lion's den he has inadvertently stepped into.
So in private life, are you at all afraid of getting old?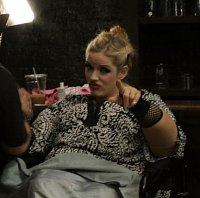 Suzi in Model Hunger
I'm not afraid of getting old, as long as I have my physical and mental faculties. I think what's tough about getting old for many is the onset of illness or disease. Many Americans don't take care of themselves, which leads to their bodies aging faster than they should. It really is "use it or lose it" - excercising your body and mind is key to staying vital. I met a couple who are in their 90s (originally from Italy but they have been living in the US for some time), and they were absolutely inspiring. Full of life, full of energy, and amazingly healthy. I asked them what their secret is, and they said they always eat organic, non GMO, non packaged/canned stuff. They grow a lot of their own food in their backyard, so they avoid all the poisons that are inherent in many store bought foods. I remember reading an interview with Jennifer Aniston, and she said the secret is, "Just don't eat crap". Of course that's pretty general, but she's exactly right, and we know what she means.
Now if you want to talk about the fear of losing beauty, that's another topic entirely. As the old saying goes, "age is kind to no one". If you were a beauty pageant queen at 20, you're going to need to find another line of work at 55. It's just the way it is. And that's not to say you can't look and feel fabulous at 55, because you can. It's just so important to keep evolving and reinventing yourself and to not get stuck in a rut. I remember being at a convention some years back. There was a woman there who had been a successful and popular entertainment icon in the 80's. She was beautiful and feisty and smart. She arrived at the convention (and her autograph signing) about 4 hours late, dressed like a hoochie mama with those stereotypical collagen filled fish lips. She settled in, and was happy and engaging, signing autographs and interacting with her fans. Not 20 minutes later, I hear a crash, followed by sobbing and screams. She had fallen off her chair and was lying on the floor screaming and crying "I need my meds". It was incredibly sad. She was always known for her beauty, and valued mainly for this reason. Problem was, she never learned how to evolve. She never became anything other than the "ex beauty queen". And when she found she could no longer compete with 20 year olds, she began to self-medicate, and it went downhill from there.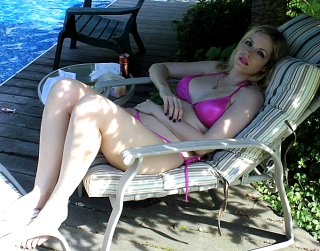 So my advice to young models and young actresses is to diversify, diversify! Have a back up plan. That doesn't mean you have to do something you don't want to do, but think outside the box. Some of the most valued people are those that have many talents - not just one. One of my friends who has been in the indie acting realm for many years is now a well respected director and writer. She doesn't need to appear in a bikini and play "hot chick at the beach" anymore, which is probably kind of refreshing - rather her roles have evolved into more meaty and more satisfying fare.
What's a recognized scream queen like Suzi Lorraine afraid of in real life?
Ahhh, without getting too political, I'm afraid of the future of our country and of the world. Consistent bad decisions are being made by the US government, and they have far-reaching impacts. Our national deficit is almost too big to fathom, and yet the government just keeps printing more "money" which waters down the value of the existing Gollars. This is the kind of situation, combined with bad and loose fiscal policy, that if left unchecked can lead to economic collapse. I'm also worried about the erosion of our civil rights and personal freedoms. Our Constitutional rights need to be upheld and not violated or chipped away little by little.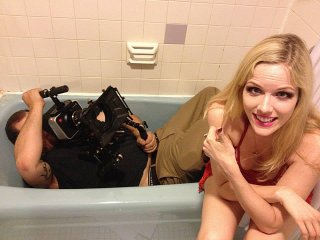 For example, over the 2012 holiday break (when no one was paying attention), the President quietly passed one of the most insidious bills of all time: The National Defense Authorization Act (NDAA). This bill gives the government the power to arrest any citizen at any time without any reason, and to detain them indefinitely and WITHOUT TRIAL. This means, they can come to your door, break it down if they want, shoot your dog (many, many reported cases of this), and then arrest you because they "suspect" you may have terrorist leanings. Better watch out what websites you search. Who knows - perusing any sites that challenge the government may now brand you a "terrorist". This bill is indeed terrifying and Unconstitutional. And it is an example of just one of many ways in which our civil liberties are being crapped on every day.
I'm also afraid that given all of the above, many people just don't care! They would rather watch the football game, drink a beer and talk about Kim Kardashian and Justin Bieber. There is a phenomenon called the "normalcy bias": Since nothing "terrible" has happened during their lifetimes - meaning no hardship or diminishing resources or serious devaluation of currency or economic collapse - they falsely believe that it will NEVER happen. Many, many powerful countries (and kingdoms) of years past thought the same way...
I think we need to make some serious changes, and fast. Whether this happens is yet to be determined... I urge people to realize there are not just two candidates - the democrat and the republican that the media spoon feeds you, for really, they are nearly one and the same. I have not voted for one of the "primary" candidates in any election in my entire voting career. Please dig deep, do your research and get your news and facts from all media, not just CNN or Fox.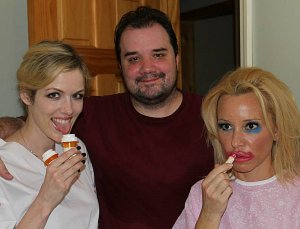 Suzi, Scott W. Perry, Rachael Robbins
Another In Fear of-episode you're in: Dementophobia: Fear of Insanity - what can you tell us about that one? And even if you don't play her, to what extent could you identify to the B-movie actress driven towards insanity?
I co-produced this episode with Scott, and I play Samantha's (Rachael Robbins [Rachael Robbins interview - click here]) assistant Beth. I loved this one from the moment I read the script. Again, we have a witty and clever script (written by Scott), with a dramatic Twilight Zone-type twist at the end. The episode is quite relatable on many levels, and I know Rachael had a ball playing a character who slowly becomes unwound. We had a ton of laughs on this set. Scott plays a squirrely, creepy guy who interviews Rachael. All of his nuances, from his shaking hand when he introduces himself to his lecherous leering at her boobs to his stuttering, is simply priceless. Rachael's reactions to the inappropriateness was hilarious and spot on.
I think this episode, despite all of its levity, takes a hard look at the objectification of women in film. It takes an unflinching look at the way in which actresses are often treated and how they are viewed. Scott just told me that this episode will screen at the Macabre Faire Film Festival next month in New York, so here's hoping all NYC natives will join us!
You also were in the series' first season episode Thanatophobia: Fear of Death - so why don't you talk about that one for a bit? And how did you get involved with the project in the first place?
I got an email from Scott asking me if I'd like to be a part of it. He mentioned he had worked with Debbie Rochon [Debbie Rochon interview - click here], so I reached to her and she had wonderful things to say about Scott. He had emailed me a few months before that about a different episode, but it just didn't speak to me and I passed on it. I really enjoyed his writing, however, and asked him to keep me in mind for future shoots. When Thanatophobia: Fear of Death came up, I was blown away by the script. It was so tragic and sad. It addresses topics that young people can relate to, namely the false sense of immortality that many people feel. There is no dialogue in the film yet I think it conveys a wide variety of emotions that many people can relate to, as it touches on some universal and powerful topics.
Any future projects you'd like to talk about?
I'm working on a book project. Rather than an autobiography, it is a collection of articles I've written over the years for Horror Mania (Italy), Gorezone (UK), Shock Horror (UK), and VIRUS (Germany), along with a selection of photos from my favorite horror themed photo shoots from the past decade. I'm hoping it will be complete and available for sale by February or March.
Also, I'm currently in production on Rock Story produced by Kenneth Del Vecchio [Ken Del Veccio interview - click here] and directed by Dylan Bank, who I worked with on Bleeding Hearts and Scavenger Killers (Charles Durning, Eric Roberts, Tony Todd). You can watch the trailers for both films here:
http://www.justiceforallproductions.com/
capturedheards.php
http://www.justiceforallproductions.com/
scavengerkillers.php
Rock Story is a drama starring Joyce De Witt, Dominique Swain, Eric Roberts, Mandy Bruno, Rob Bogue, me, and more. It is about a struggling rock band who has been together for many years and seems right on the cusp of fame. Things soon change when Mario Cash, the lead guitar player, receives several mysterious CDs in the mail, containing some incredible and almost otherworldly vocals. The identity of this mysterious musician is revealed, and her troubled past and history is far more than the band bargained for.
We're currently filming this movie in the Hudson Valley, NY area. I play Jessie Brown, who is one of the singers in the band. Mandy Bruno who plays the lead, Danielle Kelly, is an accomplished and super talented singer in real life. She wrote and performs many of the songs included in the film.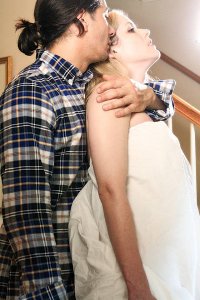 James Duval and Suzi
in Stockholm
It's a fantastic opportunity to be reunited with Ken Del Vecchio as well. Not only is he an accomplished filmmaker, but he is the founder and chairman of the Hoboken International Film Festival, and he is also an attorney and former judge. Ken is incredibly talented and accomplished and he has a knack for uniting amazing talent and for creating incredible, award winning films. I have learned so much from him and I am proud to call him my friend. It is an honor to be working with him and also with Dylan Bank again.
I also want to mention Stockholm - a fantastic short film written and directed by Corynn Egreczky [Corynn Egreczky interview - click here]. I co-produced this little gem along with my bud James Morgart (Won Ton Baby!) [James Morgart interview - click here] and Keryn Thompson. The film stars James Duval (Doom Generation, Gone in 60 Seconds, Independence Day) and Rachel Jane Conn (Model Hunger). Look for a spring 2014 release.
https://www.facebook.com/StockholmTheMovie?fref=ts
Your website, Facebook, whatever else?
www.suzilorraine.com - (official website)
https://www.facebook.com/pages/Suzi-Lorraine/25242709515?fref=ts - (Facebook fan page)
https://www.facebook.com/suzi.lorraine.3 - (Facebook personal page)
Anything else you are dying to mention and I have merely forgotten to ask?

Feeling lucky ?
Want to
search
any of my partnershops yourself
for more, better results ?

The links below
will take you
just there!!!


I volunteer for an animal shelter in NYC. I would just like to stress the importance of getting your pet spayed or neutered. There is a chronic overpopulation problem in the US, and it leads to the unnecessary murder (although the shelters like to call it "euthanasia") of many wonderful and loving animals. If you have it in your heart to adopt a cat or dog, please go to your local animal shelter rather than to a breeder. And if anyone has any questions about adopting or would like to adopt in NYC or the surrounding area, please reach out to me anytime. I also volunteer for a great service which transports pets free of charge so they may get to their new home, so distance is not a problem. Thanks!
Thanks for the interview!