Your new movie Dead Meet - in a few words, what is it about?
Dead Meet is a short action-comedy about a lonely professional assassin called Cleo going on a date. Ryan, her date, has no idea what she does for a living and she wants to keep it that way. Unfortunately, her professional life is about to crash the party and she has to keep Ryan out of the crossfire.
With Dead Meet being an action movie of sorts, is that at all a genre especially dear to you, and some of your genre favourites?
I love action movies. I think thereís something universal about them. No matter what language you speak or what culture youíre from, action movies just work. Drama relies on language, romance and comedy rely on cultural touchstones, but action just seems to cross all borders and boundaries. Itís a shame that itís largely looked down on by many filmmakers and cinephiles as being somewhat simplistic and for uncultured audiences. But it isnít, I think itís the hardest genre to get right in terms of filmmaking craft and itís also kind of unique to film as a medium because of how visual and temporal it is.
Some of my favourite action films come out of Hong Kong. John Wooís Hard Boiled and The Killer are fantastic examples of how to do gunplay properly and thereís a certain romanticism to them as well, to all of John Wooís work really. Jackie Chan is also amazing - heís the Buster Keaton of Asia [Buster Keaton bio - click here] - and his American movies arenít a patch on the stuff he made in Hong Kong throughout the eighties and nineties. I also love the work of Sammo Hung and Ching Siu Tung. On the other side of the pond, we seem to be experiencing a revival in US action movies with John Wick and some of the Marvel movies. But the heyday for American action films seems to have been the late 80s through to the mid 90s. A lot of the great Arnie films and Jean Claude Van Damme flicks were made then and youíve also got undeniable classics like Die Hard. In their own way, all of these films have contributed to my understanding of shooting action, but if I have to highlight one or two it would be Christophe Gansí Crying Freeman, Steve Wangís Drive and Robert Rodriguezí Desperado.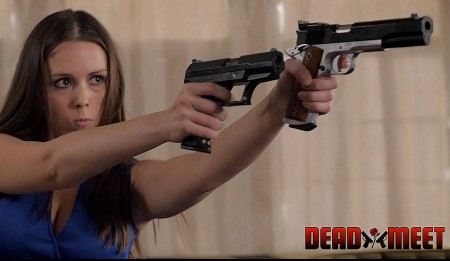 (Other) sources of inspiration when writing Dead Meet?
Dead Meet started out as a list of things I wanted my next film to include. I wanted to direct a short film that I could use as a calling card. It needed to have comedy elements - primarily black comedy -, quirky characters, have the opportunity to build tension and suspense, a bit of pathos and of course, action sequences. Iíd come up with a number of scenarios, but the one that stuck was the idea of putting an extraordinary character, like an assassin, in an ordinary but socially awkward situation, like a date. I think the biggest, single inspiration in this regard was the film Grosse Pointe Blank. Itís a really quirky black comedy, but towards the end, there are a couple of really well put-together action scenes and it balances the two styles really well.
Do talk about the action scenes in your movie for a bit, and how were they achieved?
We didnít have much of a budget for this film, so big, explosive action scenes were out. But we could do hand to hand fights and gun battles. With both of those, the key to getting something that works is planning.
When they shoot action scenes, most filmmakers will approach it the same way they shoot dialogue scenes - with coverage. So they film the whole scene (or big chunks of it) from a wide shot, then they move in for character Aís close-ups and reactions, then they switch the lighting and camera over to get character Bís close-ups and reactions. Then they grab some inserts and cutaways and hand the whole lot over to an editor and hope they make something out of it. Even professional action directors do this. But in my opinion, itís not the best way to do things, even if itís the simplest.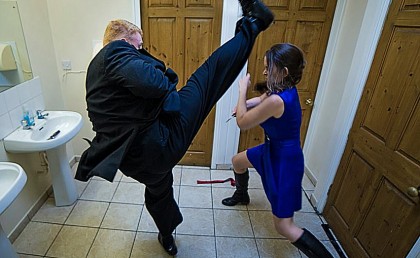 Firstly, with all these long takes, your actors are going to get tired. Secondly, a good fight scene relies on the camerawork selling the hits - if youíre only using the wide shot and a bunch of on-axis close-ups, a lot of those moves arenít going to be filmed from the right angles to sell the impacts. Thirdly, youíre filming a lot of footage that youíre just not going to use and finally, your edit is liable to get pretty dull and repetitive, using the same angles again and again. So I use the Hong Kong approach to filming action - where the camera is choreographed with the movements and designed with the edit points in mind. This way, youíre only filming the bits of the action youíre going to use, the camera is positioned to sell the hits and everything is designed to edit together in a way that works. It does require a lot of preparation though, so while we were choreographing the action, I was using storyboards to block out each shot and design how it cuts together. That way, when we got to set, we could essentially just run through the shots and know that we had something that would work. The actors could throw themselves into the ten or so moves that made up that slice of choreography and go full speed and with control because each take was like a sprint rather than a marathon.
We did a similar thing with the gunfight, but actually for a different reason. We didnít have as many extras and bad guys as Iíd have liked and not everyone could make the same day for filming. We were also running out of time and needed to prioritise the shots we needed for the scene to function. So we shot bits and pieces of the gunfight on different days and not everyone was in the same space at the same time. To make that work, we had to storyboard it and know how it was going to cut together. When you watch the final action sequence, it looks quite seamless, but everyoneís there on different days and reacting to nothing - itís a great example of the power of editing.
You of course also have to talk about Dead Meet's brand of humour?
Dead Meet has a comedic side and I suppose itís a black comedy, really. I think a lot of the filmís humour comes from the situation - an extremely efficient, borderline sociopathic professional killer going on something as socially challenging and normal as a date. Cleo is an assassin and a single woman and as she says at the beginning of the film, just because she shoots people for money doesnít mean she has to be lonely. Thereís a bit of witty back and forth with Cleo and her date Ryan and even more between Cleo and her handler, Charlie. I wouldnít say the film is an out-and-out comedy, but the comic elements are a good balance for the action sequences.
What can you tell us about your overall directorial approach to your story at hand?
My approach was to take the somewhat "out there" plot and ground it a bit, make the characters and situations feel real. The only time the film breaks into unreality is with the action scenes and even then there's a certain logic to things - Cleo runs out of ammo, everyone takes cover behind things... I generally focus on nailing the performances with the actors when I'm on set and do all the camera or design decisions beforehand.
Do talk about Dead Meet's key cast, and why exactly these people?
Often when youíre casting an action film you have to make a choice. Do you cast an actor and try to teach them how to perform the action scenes or do you cast someone who has the martial arts experience and try to coax a performance out of them? We were lucky with Dead Meet because we managed to get the best of both in our leads.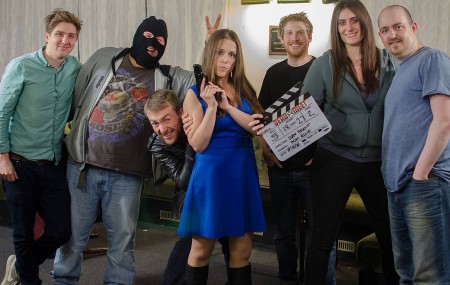 Francesca Louise White [Francesca Louise White interview - click here] plays our lead character, Cleo. When we were looking for someone to play her, we were going through the online casting directories looking for an actress with either a martial arts or dance background. Preferably both - martial arts for the techniques and knowing their applications and dance for the rhythm and timing. Francesca stood out on the CastingCallPro website because not only was she a dancer and she was learning martial arts but she had an action/stunt reel as well as a showreel! She was actually the only person we approached for the role. Francesca nailed the character and got the conflicting sides of Cleoís personality and Dean (the stunt co-ordinator) and I were always surprised at how quickly she picked up the martial arts choreography. We kept pushing the boat a little further, trying to find techniques for her to use that we previously thought were out of her reach.
On the subject of Dean Williams, he was a suggestion of Francescaís. Theyíd worked together on a feature film called Enter the Cage and she recommended him. I asked him to play Anderson because of his screen fighting ability, but heís also a pretty decent actor, so I expanded the part a bit to give him more to do dialogue-wise. What I love about Dean is that heís such a well-rounded martial artist and action film nut that I can reference some obscure kung fu movie or 90s action flick and he knows exactly what Iím talking about and how to make that happen for us.
Reuben Williams was also a recommendation of Francescaís. We needed someone to be the comic foil to Francescaís Cleo and Reubenís a great comedy improvisor. There are multiple takes when he throws in little one-liners and comic reactions and it gave me a lot of choice in the edit.
Richard Usher is the last of our cast and he played the voice of Charlie. Charlie is Cleoís handler and something of a boss and father figure for her. I wanted someone who could convey all this and more with just his voice. Richardís a great actor and voice actor and his posh British military voice worked wonders for Charlie.
A few words about the shoot as such, and the on-set atmosphere?
Being a very low budget production, no-one was getting paid so I think itís important on these types of shoots to make sure the experience is fun. It should be a group of people collaborating, doing what they love and trying to make something worthwhile. So it was a very light-hearted shoot.
One of our sound recordists, Cassandra, and our stills photographer, Aaron, are Australian so it became something of a running joke to occasionally break into an Aussie accent for no real reason. Reubenís Australian accent was stellar, but I think the award has to go to Dom the DoP. Just the way he described the Ronin stabiliser system we were using as the ďfuckíní stay-buh-ly-zerĒ got me every time.
Another running joke was the pun-tally. Dean has some of the worst puns and jokes known to man and heís relentless at unleashing them. So much so, we had to keep a tally - on the back of the clapper board of all places! - of all Deanís bad jokes. On a bigger shoot, that mightíve been a full-time job for some poor assistantÖ
Anything you can tell us about audience and critical reception of your movie?
So far, reactions have been largely positive. Going in, you never really know what sort of audience your filmís going to have - you just have to run with the idea that if you like it, then there might be others out there that will too. Dead Meet is a bit of a mix in terms of content - thereís the dark sense of humour, the action, the suspense and the female lead - which is something of a rarity in this genre. Usually, if you have a female lead in an action film, sheís dressed in leather trousers and crop top and over-sexualised, but we tried to avoid that with Cleo and just present the character as a real person. I think our audience has responded positively to that. Weíre submitting Dead Meet to festivals, so itíll be interesting to see what the wider filmmaking world thinks of the flick.
Any future projects you'd like to share?
I've got a couple of comedy micro-shorts I'm directing in the next few months, then towards the end of the year I'm looking to get back on the action train with a film called Subject 17. I'm still writing it at the moment, but I'm hoping all this work will push my career in the right direction!
What got you into movies in the first place, and did you receive any formal education on the subject?
I always loved movies as a kid. Occasionally, I'd see these behind the scenes type shows, usually on late night Channel 4, and always found them fascinating but it never occurred to me that it was something you could do for a living! Strangely, it was my interest in martial arts that really got me into filmmaking. My friends and I used to train in martial arts and watch kung fu movies and if a bunch of teenagers who love martial arts have access to a camcorder, it's inevitable what's going to happen! So I borrowed my Dad's hi8 camcorder and we started filming little mini action movies and fight scenes. To begin with I used to edit with the camera and a VCR (an informative but frustrating experience!) but I saved up some money and got myself a miniDV camcorder and forced the under-powered family computer into becoming an editing machine. I learnt a lot shooting fight scenes, including lots of editing tricks and the nuts and bolts of filmmaking.
A couple of years later, I went to university and studied Video Production. Spent three years learning to operate a camera, light a scene, record location sound, write, edit, mix and direct. And it was the latter that I found I enjoyed the most and I managed to direct a bunch of shorts whilst I was there. It was a good background and I learnt a lot, but I probably learnt more from the first few shoots I did after I graduated, if I'm honest!
What can you tell us about your filmwork prior to Dead Meet?
After I graduated, I pretty much went for any film jobs I could find. I did a bit of runner work and because I could operate a camera and had an entry level pro camcorder, I got a bit of low-end camera op work. I started to produce my own projects for clients and myself under my own company name and freelanced when I could. In the last couple of years, I've started to focus again on directing. I co-created and directed a sci-fi web series called The Collector's Room and I directed a couple of storylines for an app-based drama series called Persona. I've also directed several music videos and showreel scenes for actors. Dead Meet is something of a return to the directing chair for me.
How would you describe yourself as a director?
I like storytelling, so thatís always my priority as a director. I love pre-production because thatís when the storyís the most malleable. And I love working with the actors because, along with the script, theyíre the most important element the audience connect with when it comes to the story.
Iíve never really thought of myself as an artist or an auteur director. You have to have a singular creative vision for that and I think Iím much more collaborative in nature. Good ideas can come from anyone, so I feel a good director has to encourage a set where cast and crew can suggest things. In terms of filmmaking craft, I'm a bit of a jack-of-all-trades as well so I know a little bit about most aspects of production - from camerawork and editing to production design and acting. I wouldn't say I'm great at any of those things but a little knowledge in these areas helps me to communicate better with the cast and crew and get what passes for my vision across!
Filmmakers who inspire you?
Even though I donít like all his work, I have to say that Robert Rodriguez is one of the biggest influences on me as a filmmaker. His do-it-all-yourself, creative and technical attitude was very inspiring when I started out and still is today. Steven Spielberg is also a big influence on me - I'd love to be able to tell a story and engage an audience the way that he does. But there's one director who's influenced me a lot and I didn't even realise it until I watched one of his films again recently, and that's Christophe Gans! He's most well-known for Brotherhood of the Wolf and the first Silent Hill movie, but it's his earlier action film Crying Freeman that seems to have been a big influence on the way I like to do things as a director. I watched it again recently and was like "this is exactly how I'd direct things!"
Your favourite movies?
Wow, this could be a really long list... from an entertainment perspective, Back to the Future, Hot Fuzz, The Empire Strikes Back and Raiders of the Lost Ark rank pretty highly, but the filmmaker in me also loves Memento, Double Indemnity, Road to Perdition and Blade Runner. In fact I think Blade Runner might be the perfect mix between the two for me.
... and of course, films you really deplore?

Feeling lucky ?
Want to
search
any of my partnershops yourself
for more, better results ?

The links below
will take you
just there!!!


There are definitely films that, due to content or genre, just aren't for me (art-house stuff, war films and most American comedy movies for instance - I generally can't stand them!) but there are only a few films I can say I truly hate. Gone With the Wind, Requiem for a Dream and anything directed by McG spring to mind! But even bad movies often have something to redeem them and an observant filmmaker can usually learn something from their mistakes, so if I do come across a film I don't like, I try to use it as an educational opportunity.
Your/your movie's website, Facebook, whatever else?
The Dead Meet Facebook page is www.facebook.com/deadmeetfilm and my production company is www.enborneriver.co.uk
Thanks for the interview!