You've recently shot a music video, Breaking Point, with your band Darkness Visible - so do talk about the video for a bit, what it is about and the like!
Breaking Point is the 9th Darkness Visible video, so I decided to pull out all the stops and go for broke. This time I decided to go all the way and not worry about whether something was going to be too heavy for TV. I also didnít put a limit on the budget, so that was pretty much my savings all gone. The video is bad taste all the way and stars some of the top indie movie industry actors of Melbourne, two of the top Burlesque performers (both are in the top 5 of Queen of Burlesque), two of the top carnie performers (one has a Guinness book of world records for sword swallowing) and some strange personalities from the local fetish scene. I would describe the video as Benny Hill meets Troma, although for Australia, it fits into the genre of Ozploitation.
How did you all come up with the visuals for Breaking Point, and did you have a fixed script and or storyboard you worked from or did you just make things up as you went along?
There was a fixed script. It was broken down by the co-director, Stewart Fairweather, into the shots, with the list of cameras, lenses and lights to be needed. We stopped short at storyboarding though, so as to leave some room for change. All up, there was over 4 months of pre production and some very dangerous stunts so it couldnít have been winged on the day. Everything from costume to make up to props had to be worked out in advance and we visited the venue a few times to work out the shot list.
The script was created over a couple of months too. It started when I met Whitney Duff on the set of Cult Girls. Whitney is one of the stars of The Sheborg Massacre and quite a few other indie feature films. I knew that I needed her as the star of my video but needed to know if she would do the various scenes I was scripting. I was messaging her on Facebook to run ideas past her, and in thinking back, I am surprised that she never blocked me. Sheíd get a message like ďwould you eat poo in the video?Ē, then we would discuss a scene involving giant syringes, anuses and bucket loads of poo. Next, she would get a message like ďwould you jelly wrestle, wearing paisties, with another girl in a torrent of vomit?Ē Iím not saying that those particular scenes are in the video, but the script was eventually put together by cutting and pasting our conversations. I believe that the co-director is even going to credit Whitney as one of the writers.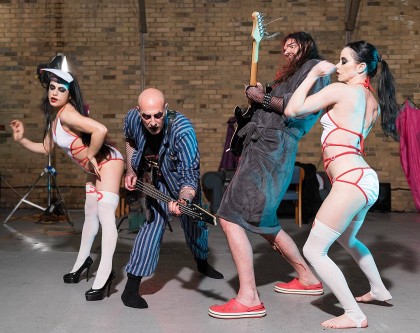 From what I know, at least some of Breaking Point is quite over-the-top - so do talk about those aspects of your video for a bit, and was there ever a point where you figured you might be going too far?
From the very first moment I knew I was going too far. In fact, I would never have been able to do this in the past. I was very much a part of the music industry for the last 8 music videos but for this one, I had become involved in the local indie movie industry, and amongst the bigger horror movie people here Ė there is just no such thing as too far. So with all the boundaries removed, it was full steam ahead!
The video for Breaking Point, like many of Darkness Visible's videos, features quite a few performers from the carny and burlesque scene - so do talk about your predilection for performers from that scene for a bit, and what do they bring to the table?
Thatís a very good question. The first time I had a burlesque performer in one of my videos was in Flesh. At that time, I was running a night called The Third Degree, which was a combination of bands, burlesque and carny performers. Iíd noticed that the average band video coming out of Melbourne at the time would have the male singer surrounded by girls, or the female singer trying to look hot and mysterious. It was boring, repetitive stuff, and it is still common for bands to do that. Iíd been watching the talent I was booking and was amazed that Melbourne had so many crazy, talented performers. I felt that they should be the stars of my videos instead. At the end of the day, if my band ends up being thought of as crap, I will at least have put in film a record of some of the top underground performers of Melbourne.
From what I know, you and the band also appear in front of the camera in Breaking Point - so do talk about your and your bandmates' performances, and to what extent do you all enjoy doing videos compared to recording music or performing live?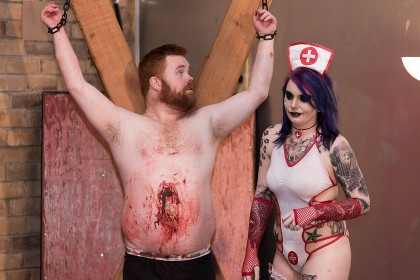 The current line-up of the band is me, Axle Gunn, Kent Ross and Ben Benton. The line ups nowdays are just brought together for a recording and music video. Axle is mainly known as an actor so he just loves being in front of the camera. He has been doing movies for so long that he even has his own section on Fizzy.tv. I met Kent Ross when he was in the band Catwitch, which was a theatrical horror rock band, like Darkness Visible. We were both playing live to the same crowds and the two bands ended up becoming friends. Kent didnít actually make it onto this video or the previous one due to scheduling conflicts, but he is fine with shows. He conducts the orchestras for a few of the musicals that show in Melbourne. Ben did his first stint with the band on this video, so I canít say how he is with videos, but I will find out when we have him back on our next one Ė Masada.
Do also talk about the video's crew for a bit, and why them?
The crew were all chosen by the co-director, Stewart Fairweather. The only exceptions to that were Guy Jukes and Mike Young, who had done most of the past Darkness Visible videos between them. Fortunately, Stewart had worked with both of them before and kept them on. Stewart is one of the hardest workers in the local indie movie industry and has been involved with many of the local features of the last 6 years or so. Itís best to just look at his IMDb to get the idea http://www.imdb.com/name/nm3749317/
It seems that everyone had worked with him or owed him one, so once he came in, we ended up with 4 camera crews and around 4 trucks worth of equipment on loan. Things were so hectic on that first shoot that I can only pick out Karl Redgen, who was director on Evil Fred, to mention. He did the call sheets and kept things running. I was running around so much that day that I was constantly covered in sweat and out of breath. I think there was a team of 5 make up artists, a costuming dept, 3 rooms for filming and a documentary crew in a fourth room Ė and my assistant hadnít arrived, so I just canít comment on seeing Glen Cook, Jackson Tipping and the others at work on that day. I have worked with most of them before and since and they are considered skilled enough that some have done their own interviews on movie shows such as The Magic Box (Pulse FM) and Subculture Radio.
What I can talk about though is the pickups day. There was a scene where Whitney Duff loses consciousness and Darby Heaysman filmed that by circling around her, backwards, on roller skates. That was one of the rare times I have seen a whole room of people stop to give a cameraman applause. The crew were pretty much as big as stars as the people in front of the camera and it was only by having Stewart Fairweather as the co-director in charge of crew that attracted such talent. I just wish I could tell you more about each one, but until that shoot, I hadnít realised how much blood, sweat and tears that they put into their projects.
What can you tell us about the shoot as such, and the on-set atmosphere?
The on-set atmosphere was fantastic. We had people mixing in from various scenes that donít normally cross paths and they were loving it. Quite a few had never been in a fetish club before, so it was the first time they had seen walls full of whips and handcuffs, and equipment such as stocks for genitals. They werenít all sitting around doing nothing and waiting for their scenes though as there was a booth photographer doing photoshoots for everyone in one room, a documentary crew doing interviews in another room and a team of makeup artists. Most made a lot of new friends, which is normal for the indie movie industry here. Hopefully, this video will be the catalyst to help raise the bar in a number of related scenes as people start working together on projects.
Having talked about the video shoot for quite a bit, what can you actually tell us about the song Breaking Point, and how was it conceived?
The song is about someone reaching their breaking point and being about to go over the edge. I think that was where I was at when I wrote it. I was still recovering from cancer and just getting my energy back. It had taken a lot longer than expected and I might have been depressed. I somehow thought that no one wanted to work with me anymore and that it was all over. I was wrong, but that was where my head was at the time.
The $64-question of course, when and where will the film be released onto the general public?
The video is going to be released on YouTube. Iím hoping it will go viral and that can be the catalyst for future projects. We are either 2 weeks from it being released, or 6. Itís in post production with animations being put into it and the animator is either going to get it finished before he goes on holidays for 3 weeks, or it will be finished soon after he gets back.
How did Darkness Visible come together in the first place?
The original line up came together in July 1994 at a gothic nightclub called Apocalypse. It was in the days when people dressed full on goth and used false names, such as Azrael or The Dark Lord and actually expected you to believe those were their real names. In fact, I didnít even see most of the people in that first line up without makeup for over 6 months after the band got together.
What had happened was that I was so drunk that I could barely walk. I was fully gothed up and staggering all over the place when a guy asked me if I was in a band. When I told him that I wasnít, he said that was a shame as I looked like I should be. He then told me he was doing Australiaís first ever darkwave CD compilation and gave me a piece of paper about it. When I finally managed to get up the stairs to the table full of goths Iíd been getting drunk with, I told them about it, expecting them to laugh their heads off. It seems everyone at that table fancied themselves as musicians, so I ended up signing the piece of paper and giving it back to the guy. In sobriety, I realised that I now had to write a song, record it and get it sent off within a month. Somehow I did. Iíd been in a punk rock band ten years before and had remained involved in the music industry as a cartoonist that did flyers for bands and clubs, so I did get a lot of pro help to manage that. The song went out on Candles and Intrigue, was very popular and the band ended up getting into Mick Mercerís book The Hex Files Ö and so a legend was born. It was all a case of being in the right place at the right time.
Do talk about Darkness Visible's preferred musical style(s) for a bit, and their influences?
The original influences for the band were second wave gothic rock bands, such as Christian Death, Sisters of Mercy and Nosferatu. All being guitar based goth bands. You can barely hear any of those influences in the latest song though. Its more like a late 70ís to mid Ď80ís rock song with lots of lead guitar and a bit of shredding. Itís in a minor scale but still has that 12 bar blues structure. Basically, you wouldnít need to be goth to like it Ė itís just a damned good rock song.
What are a Darkness Visible-recording session and live performance respectively usually like?
The recording sessions since 2008 have all been professional and done at Incubator Studios. The ones before that were chaotic, with members turning up in full goth makeup and playing up. They were a bit debauched and I found them to be a nightmare. If that had kept going, we would have run out of recording studios anyway. The show was also insane. It was getting too wild and had to come to an end. The props would end up all over the stage, we had girls jumping up, ripping off their tops and pouring the bowls of fake blood all over themselves and rubbing up and down each other. I had a wireless system on my bass so that I could get around and was often getting off the stage and going to the back of the room to play for my own safety. One of the props was a chainsaw, which the chain had been take off of, and it burst into flames on one show because the guitarist refused to put chain oil on it. Basically, the live line up was out of hand and the shows got too wild to continue. I couldnít work with them anymore, especially as I was losing energy while going through chemotherapy. They were the real deal rather than actors playing at being crazy, so it was bound to come to an end eventually. They were fun shows though and very memorable.
Any future projects, both on your own and with Darkness Visible?
The future plans are to keep recording one song a year and doing a video to accompany it. The next song is already half written and the video planned. Itís called Masada and will be a move toward a more stripped back, punk song. The past songs were getting very thick with the number of instruments and tracks in them and the videos were getting way too big. There are indie feature movies that have been produced in Melbourne with less money that was spent on Breaking Point.
Since this is a film site, your favourite movies?
If Iím allowed to mention local Indie movies, then Tarnation by Daniel Armstrong and Chocolate, Strawberry, Vanilla by Addison Heath are two of my favourites. I believe Tarnation to be the best Ozploitation movie made to date. If we are talking classics, then the original Dawn of the Dead and The Exorcist are in my top ten. Both raised the bar in horror and brought new things to the genre. If we are talking recent, then Django Unchained would be the most stand out one. Maybe because I am into classics and the Sergio Leonie feel of that just got me.
... and of course, films you really deplore
There really are only a few that I deplore. I suppose that it would have to be Eraserhead if I had to mention one. For some reason, I still end up watching that one every few years. I canít stand it but there is something that forces me to go back and watch it as though there is something I am trying to figure out. It certainly has a vibe to it and draws you in, but it still makes no sense to me.

Feeling lucky ?
Want to
search
any of my partnershops yourself
for more, better results ?

The links below
will take you
just there!!!


Your/your band's/your video's website, Facebook, whatever else?
The Facebook site for Breaking Point, where we will announce when it goes live is https://www.facebook.com/BreakingPointVideo
The one for Darkness Visible is https://www.facebook.com/DarknessVisible
And you can find 8 of the past Darkness Visible videos on I Bleed Indie at http://ibleedindie.com/category/music-videos/
Anything else you're dying to mention and I have merely forgotten to ask?
I do have a few other movie projects going, but we can chat about them another time, if you feel that they are of interest. Some are on my IMDb as in pre production http://www.imdb.com/name/nm8084129/
Thanks for the interview!