Your new documentary Good Virus - Kindness Is Contagious - in a few words, what is it about?
Good Virus is a feature length documentary that profiles cutting-edge scientists and authors from UC Berkeley to Harvard and everywhere in between as well as real life people whose lives illustrate their incredible discovery: That kindness IS contagious and that nice guys do indeed finish first!
What made kindness as a subject so appealing to you that you wanted to make a film about it?
It just kind of grew on me. My wife was giving me a hard time because I was doing a lot of dark projects so I told her that I was going to do a film all about being nice. Then I started really thinking about it and with the world in such a sorry state these days, it became very appealing do do a film about kindness.
Ironically, altruism is not too popular a topic in today's culture. So how easy or difficult was it to get Good Virus off the ground and to find the right crew?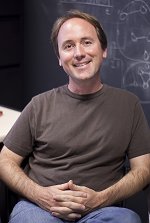 James Fowler
I disagree, I think altruism is more popular than ever. I never had an easier time putting together a team or raising money. I was a little surprised myself, but once I got started I noticed altruism everywhere. I think there is a lot of manipulation going on in the media... This whole culture of fear thing... But I think it's a very small group people promoting that. Most people don't know this, but crime is down, murder rates are down (even if you include all the people killed in 911) and philanthropy is up. I think people are reactionary by nature and all this intense focus on the bad stuff that is going on right now is turning people around. To quote Dacher Keltner from the film, "We are in the midst of a revolution". I believe that.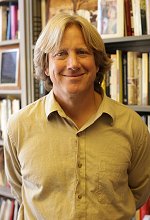 Dacher Keltner
A few words about the experts on your film, who deliver the scientific backbone? And how did you find them?
From the beginning I wanted to take a different approach to the subject matter. I'm not a terribly touchy-feely peace and love kind of person. I need facts. I was reading this article in Discover Magazine, a science magazine, about James Fowler and Nicholas Christakis who had scientifically proven that kindness was contagious just like a virus. I found that amazing. And these guys were heavyweights from Harvard University and UCSD with facts and data to back it up. One of the things people keep telling me is nice guys finish last, but here is proof, scientific proof to the contrary. So I had my producer, Sara Glaser, ring him up and she was able to set up an interview. Then when we had that under our belts it gave us access to many other very smart people.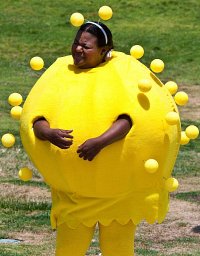 Chane't Johnson
What can you tell us about the late Chane't Johnson, who in her virus costume is pretty much the life of Good Virus?
Chane't was the life and the soul of Good Virus. It started out as a very small project and then she got involved and it exploded. She brought a lot of resources to the table besides just wearing the suit. She WAS the Good Virus (I think that's why having her in the suit worked so well) and her passing was a shock to everyone. We had a lot more scenes with her in the suit planned. That part of the movie was supposed to be like an anti-jackass. We were going to have her do lots and lots of kindness pranks. We even talked briefly about replacing her, but it was impossible, no-one could fill her shoes.
You just have to talk about that guy holding his one-man peace walks for a bit, as I find his story so weirdly inspiring?
It's funny because when Chane't booked him I thought it was just some nut-job that lurches out in traffic with a sign and I didn't want to do the interview. But she insisted and I'm glad. He is such a contradiction because he's a very conservative middle-class person, an insurance adjuster, yet he does this totally wacky thing every Friday night. I think that's what makes it so good, the combination of sanity and insanity. He's an absolutely adorable person and I think one of the best interviews in the movie. I especially like it because he shows that you don't have to have some huge organization to do nice things. In his own words "every small act of kindness has an effect."
How did you find all those interviewees on your film, and could you also talk about some of those who didn't make the cut?
The interviews just kind of snowballed. It started with James Fowler and then people would mention this guy or that and we would pursue the lead and since everyone we interviewed gave us many suggestions, it expanded exponentially. Basically we had so many people on our interview list, that we just stopped after filming for a year. It's amazing how many VERY kind people there are in the world. I think because the media always brings attention to the bad ones we have a tendency to think everyone is that way. Conversely, one of the best parts about doing this film is the opposite happened, it shifted my point of view and I started thinking that everyone is so nice. It's quite powerful. The dream interview list is so long now that I think we will do a Good Virus 2 at some point.
Now that's a good question! About the ones that didn't make the cut!!!! I won't mention any names. But there was this one guy who we cut because he just talked about money. He wanted to know all about our budget, how we were stupid for financing our film ourselves and how he wanted a cut of the distribution. Money was an obsession for him. He was angry bitter and mean and even though he ran a charity it really detracted from what Good Virus is all about. I don't think being kind is about money. I think it is about time and taking the time to help people. Money can help people of course, but it really is secondary in my opinion. So we decided not to put him in the film. All the other ones that we cut were cut simply because all we had was an interview and because of logistics were unable to film them doing what they do. You need to get action in a documentary or it becomes boring very fast.
Let me turn the tables on you for a bit:
What is the nicest thing that anyone has ever done for you?
LOL! I'm going to take the easy way out of this one: My wife just gave me a brand new baby boy!!!!
What is the nicest thing that you have done for someone else?
I made a movie about all the nice things that people have done for other people!
On a scale from one to ten, how nice a person would you consider yourself?
I'm probably a 5. After all I did sell someone's soul to the Devil. That's got to drag the average down a bit. But I'm working on it. I don't think you have to be a nice person to do nice things, but you do have to do nice things to be a nice person, so I have a lot to do before I can measure up to the people we interviewed in Good Virus.
You told me in our last interview [click here] that Good Virus is the polar opposite of your last movie I Sold My Soul to Satan. Would you like to elaborate on that statement for a bit?
There are distinct areas where I Sold My Soul to Satan and Good Virus are opposites. The most obvious difference is that I Sold My Soul to Satan was all about selfish people doing things entirely for themselves with disproportionate expectations of personal gain. Good Virus on the other hand is about people doing things for others with no expectations whatsoever. Beyond that, I Sold My Soul to Satan was a critique of this culture of celebrity, instant gratification and many of the things that are wrong with our culture right now. Good Virus is a celebration of what is right with our culture. That also posed significant challenges because it is hard to create drama when within the movie everything is good, gets better and turns out alright in the end. From the beginning Good Virus was to be a film that shows only the good in people, which I think is very different than a great deal of documentaries out there. Most docs I find are very critical. Not that that is bad, someone needs to point out problems, be the whistle-blower, but we wanted to provide solutions when we made Good Virus. That's why we included so many people talking about the nicest thing that anyone has done for them. We want people to watch the film and say, "Hey I could do that!"
To oversimplify the matter, with I Sold My Soul to Satan you have explored the dark side and with Good Virus you have explored the bright side of humankind. Which did you find more intriguing, not ideologically but merely from a filmmaker's perspective?
While doing both these films, I found the dark side and the bright side intriguing, but from a filmmakers perspective, I found it much more challenging to do Good Virus. It's relatively easy to make someone cry, but it's hard to make someone smile, especially if life is hard for them like it is for a great many people right now. The target audience for Good Virus are the beat up people. People who have lost their money, their job and their house. For those people it's hard to see the bright side and it's challenging as a filmmaker to convince them that there is hope. Lots of hope.

Feeling lucky ?
Want to
search
any of my partnershops yourself
for more, better results ?

The links below
will take you
just there!!!

Find David Gaz
at the amazons ...

amazon.com

amazon.co.uk

amazon.de
Looking for imports ?
Find David Gaz here ...
Something naughty ?
(Must be over 18 to go there !)

The $64 question of course: When and where will Good Virus be released?
It's way too early for this one. We haven't even finished the film. We still have to complete the animations, finish the score and balance the color and sound. Let's reconnect in a few months on this.
Any future projects you'd like to talk about?
A nice long vacation with my wife Annelie and brand new son Lothar.
Your website, Facebook, whatever else?
Everything is at www.goodvirus.org.
Anything else you are dying to mention and I have merely forgotten to ask?
I think that we're good. The biggest problem with Good Virus is that I am often tempted to get up on a soap-box and preach to people on the virtues of kindness and that's not good. I cut all the preaching out of the film so I don't want to do it here either.
Thanks for the interview!
Thanks for the amazing questions!!!!