Your new movie The Algebra of Need - in a few words, what is it about?
The Algebra of Need is about communication or more precisely our inability to communicate in the modern world. In the film an unnamed woman who is in Buffalo for the weekend to shoot a movie that is never made meets a unnamed man whom she may or may not know from some time before. Unwilling to reveal anything about themselves, or perhaps having forgotten how to communicate at all, they instead recite pieces of classic arthouse cinema dialogue, fragments from Burroughs and Sartre, and a series of non sequiturs. So the film is a sort of homage to 60s French New Wave and classic European arthouse cinema as well as offering a few nods to American underground film - The Algebra of Need plays with space and time, continuity and the conventions of filmmaking and story. The first two lines of dialogue really set the tone. The male character says to the female character, "Oh, you waited for me" and she replies, "No, why would I do that?" So we are never really sure if they do know each other or not. He seems to know her or thinks he does. She doesn't seem to know him or maybe she's playing a game or... we never really know. And that ambiguity is on purpose. The man spends much of the film trying to understand her. And I think the audience might spend much of the film trying to understand the film but that would be a mistake. Because it's... we really tried to tell a story without telling a story. It's really a film made up of feelings. I think Jillian, who plays the woman, had the best reaction to the film when she said "It was uncomfortable and unique. It felt false and real and mostly I just felt sorry for those two people. I'll probably have a totally different reaction next time I watch it!!" So it's a puzzle without a solution. A story that is told more by way of mood and feeling than by plot. Wait... you wanted a few words? (laugh)
Your film is an intentionally obvious hommage to yesteryear's arthouse cinema, to the point where all the dialogues were lifted from the likes of Jean-Luc Godard, Ingmar Bergman, Michelangelo Antonioni, Alain Robbe-Grillet, Alain Resnais, William S. Burroughs, Jean-Paul Sartre and Marguerite Duras - so what was the idea behind that, and to what extent do you consider yourself influenced as a filmmaker by these masters of old?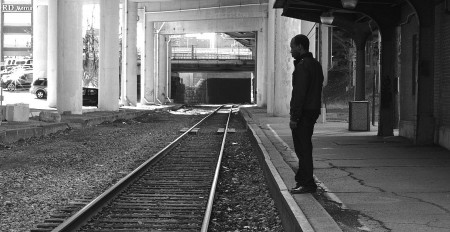 Very very influenced by classic arthouse. It really goes back to, I was in Los Angeles in the late 70s and, I believe KCET their public television station was screening an Ingmar Bergman film festival and somehow I stumbled upon that and here was where I saw for the first time The Seventh Seal, Wild Strawberries, The Silence, Persona and I believe The Virgin Spring and it was... I was gobsmacked. These films were such a revelation. I had never seen anything like them before. I did not know you could make films like this. Then when I returned to Buffalo, our public channel was showing classics of world cinema. So here I saw Jerzy Skolimowski's Barrier and Rashomon and The Seven Samurai amongst others and that experience deeply influenced my work ever since. Even in my horror films you can see echoes of it. A friend of mine once said, "You make b-horror movies with arthouse pretensions" and I think he was exactly right. But I'd never attempted a true arthouse film till now. But to bring things more recent, two years ago I was reading a massive 700+ page book on the life and work of Jean-Luc Godard and at the same time reading an equally as massive tome on the life and work of William Burroughs and at the same time I started watching MUBI which is a sort of online film festival where each day a new festival film is added and you have 30-days to watch it. They screen everything from classic to modern arthouse, world cinema, experimental cinema... just everything and anything. So all that came together. I had just finished Disintegration with Angelina Leigh and I was looking about for a next project and I really did not want to do horror. I just had no interest. The world didn't need another zombie film or werewolf film or possession film... I mean just thinking about doing something like that made my eyes glaze over. I wanted to do something different. Something modern. Yet something classic at the same time. And both Godard and Burroughs used the cut-up method where they would take various works from various sources and cut those works into pieces and then rearrange those pieces into new works. So I started playing with that concept. Also through MUBI I had finally seen works by Bela Tarr and Apichatpong Weerasethakul and that whole long take slow cinema movement, stretching the concept of mise-en-scène as far as it would go. So all these elements came together to form the basis for The Algebra of Need... which by the way, the title is based on a study of Burrough's work which used the same title and refers to Burrough's drug addiction.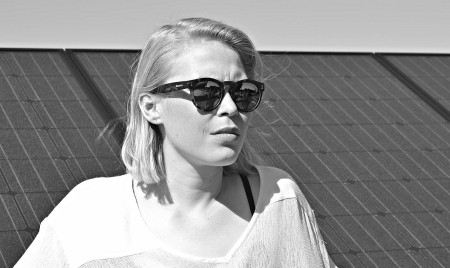 Other sources of inspiration when dreaming up The Algebra of Need?
I think I hit most of those above =)
The Algebra of Need features no more than two actors in speaking parts - to what extent was that limiting but maybe also liberating to you as a director?
Right from the beginning of the project I wanted a very small cast and a very small crew. I knew we would have a very limited shooting schedule, and actually we had three days, we shot the entire film in three days with the exception of the "city montage" which myself and Charles Carter, my assistant and our sound guy, shot over a series of several days. I wanted a minimalist film and so by having this small cast that really allowed me, actually forced me to focus on only what was important. Having a small crew allowed us to be light on our feet and make quick decisions. And imposing such a tight shooting schedule forced us to do the same. So the limits were actually artificially imposed. Although the budget was also a factor as that was practically non-existent. So I had a very narrowly defined space within to work but allowed me to focus on that space without distractions.
Speaking of actors, do talk about your cast, and why exactly these two?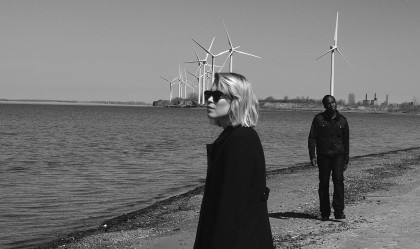 If the film is any success at all, that is due almost entirely to Jillian Geurts who plays the woman and Alexander Sloan McBryde who plays the man. I knew going in that finding the right actors was key and that finding those right actors was going to be difficult. I believe I found Jillian through a Backstage casting notice I placed. She is originally from Australia, now working in New York and involved in all sorts of really interesting projects. She sent me a link to a short film she had done, and the moment I saw that I knew she was the one. And through our conversions, our emails, the kinds of questions she would ask, I immediately knew that she understand exactly what I was trying to do here. She understood when I said, I don't just want you to recite the dialogue, I want you to play with it, to make it your own, but more than that I want you to take what is on the page and use that as a starting point and go off on your own tangents, explore whatever spaces you care to explore, explore the spaces between the sentences, between the words, even between the letters. She got that. Jillian is incredibly talented, I would say fiercely talented. And deeply intelligent. And not afraid to take chances, and she took a big chance on this film. I was clear from the start that this was an experiment and that it would either succeed or it would fail miserably. She wasn't afraid of that. And because of her the film is what it became. But once casting Jillian I knew I would need an actor who could go toe to toe with her so to speak. An equally talented, equally intelligent, equally brave actor. I immediately thought of Alexander whom I had worked with numerous times before in smaller parts. I knew he could do this, and also, being a person of color, I knew that added an additional layer to the film. I think he's amazing in the film. He's funny. He's strong. He's caring... even during those scenes where Jillian has like, 99% of the dialogue and he is just listening, you can see the thought process going on beneath. That's just great acting. And together, they look so good together. They feel right.
You do use some quite impressive locations in your movie, so do talk about those, and what was it like filming there?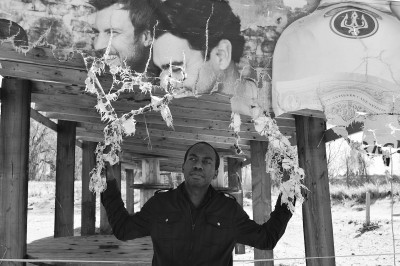 Buffalo is experiencing a bit of a renaissance, and I really wanted to surround the characters with striking visual environments. Most the film is shot in a large old house we rented for the film. It actually did double duty as abode for Jillian and Bill Schweikert, our DP who both came in from out of town stayed there as well. The house was built in the late 1890s and for all practical purposes nothing had been changed. Just beautiful woodwork and pocket doors. Amazing leaded crystal windows. Very impressive. The old Victrola record player was already there and I quickly added that to the dancing scene. We shot at the Buffalo train station in downtown Buffalo near Canalside. We shot at Canalside which is where Jillian walks through after leaving the bar. The cafe, the city montage and all other scenes outside the house were shot at the Amherst campus of the University of New York at Buffalo or UB as we call it around here. I wanted to really make the city part of the film.
What can you tell us about your overall directorial approach to your story at hand?
Because we had such a short schedule, and because I like to hit the ground running, and because I hate standing around discussing and not shooting, I spent a considerable amount of time prior to the shoot making sure that we were all on the same page, cast and crew. That including having them watch certain films such as Godard's Breathless and reading various articles on slow cinema. I had Jillian watch a number of short films featuring Edie Sedgwick because I wanted her to use Edie as a model, as an influence on her movements and her sense of style. I was very clear that, we were going to shoot entire scenes in one take. That they were to never stop. If they missed a line or flubbed a line, well we were going to go all Godardian on that and jump cut around it. So there was no pressure there, just let the words flow and don't be afraid to go off on tangents to explore your own thoughts, needs, obsessions, fears, whatever. And having worked with Bill before, I knew that he would capture it all and give me what I wanted as well as what I needed. And he did. So really in that, I put together the talent and let them do what they do best. I might make a suggestion here or there. I might suggest we move the camera one way instead of the other... but essentially, I was there to put out fires. We also shot some very very long takes. I think the one bedroom scene ran for about 15 minutes. So there's none of that cutting back and forth. There's the actors playing within the confines of the frame.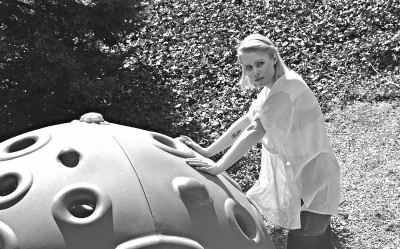 Do talk about the shoot as such, and the on-set atmosphere?
Again great cast and great crew. We all knew were we doing something different, something that might crash and burn or might actually be worth watching. That said, everybody put in ten thousand percent. Jillian made french press coffee each afternoon and that was a delight. So really, for the three days we were shooting, it was like a family. A family making a movie.
The $64-question of course, when and where will The Algebra of Need be released onto the general public?
We're doing the film festival circuit first, then the film will be available VOD on Vimeo.
Anything you can tell us about critical and audience reception of The Algebra of Need yet?
Of the first four film festivals we've submitted to, we received the Jury Prize from the Monkey Bread Tree Film Awards, we are an official selection of the Blow-Up Chicago Arthouse Film Festival, and we received Honorable Mention from the LA Underground Film Forum. The one festival we didn't get into was the Buffalo International Film Festival. The main reason that did not happen is that we submitted the 2 hour and 7 minute and 42 seconds rough cut as a work in progress. We thought we would be able to get that down to about 90 minutes for the festival but unfortunately we couldn't promise that and because they've got limited venues and limited time available, just couldn't risk scheduling our film and us not being able to make that happen - which was the right decision after all. But they did really enjoy the film and said many nice things about it. They also invited us to submit for 2017.
Any future projects you'd like to share?

Feeling lucky ?
Want to
search
any of my partnershops yourself
for more, better results ?

The links below
will take you
just there!!!


I'm working on the script for The Geometries of Desires which is the second in a planned Buffalo Monogatari trilogy of films that began with The Algebra of Need. It covers some of the same basic territory as The Algebra of Need but takes a decidedly darker slant. I hope to shoot in May 2017 with much of the same cast and crew. I believe Manifestation, my horror script that Shawn Anthony is directing with Jessica Felice starring will finally go into production. Looking forward to seeing what he does with that and I know Jessica is going to be amazing.
Your/your movie's website, Facebook, whatever else?
https://www.facebook.com/AlgebraOfNeedFilm/
Anything else you're dying to mention and I have merely forgotten to ask?
Big shout out to Alex Murur who designed the opening and closing credits as well as edited the "city montage" - amazing work by a great friend. I also ought to mention the score by Frederic Mauerhofer [Frederic Mauerhofer interview - click here] who I have worked with for years and who never disappoints. And also Aaron Weese the editor who was essential in forming the final narrative.
Thanks for the interview!