Your movie Cleric - in a few words, what is it about?
High concept, Cleric is Blade Runner meets Apocalypse Now without either film's budget. It takes place in a dystopic future society ruled by a corporate theocracy... much like what we have in the United States now. Simply, the Ministry of Control uses genetically enhanced males known as Heretics to fight off-world wars. Heretics are not allowed to come to Earth but sometimes they do. When that happens, the Ministry employs Clerics - female warriors who have the ability to see into the future and manipulate reality so that they are guaranteed the best outcome in any battle. When the film starts, Samara, one of the best of the Clerics who has gone into retirement is brought back to track down a renegade Heretic named Jah who may also posses the ability to see into the future. That's about as short as I can make it.
What were your inspirations when writing Cleric? And with a fictional world as complex as Cleric, how easy or hard was it keeping track of the main narrative?
Sean and I were shopping around a script titled Iron Halo that was sort of a cross between Gibson's Neuromancer and Lovecraft's Old Ones-tales. We had some money people in Thailand interested and even had our passports ready, but that fell through at the last minute. We didn't have the budget to do Iron Halo but we still wanted to do something cyberpunky. I'm not sure who came up with the original idea but I'm usually the high concept guy, so maybe it was me. But regardless the concept as said was "Blade Runner meets Apocalypse Now". I believe Sean came up with an outline that ran to about twelve pages. I added a few bits and off we went. Although what was on the page was actually very slight in terms of background and explaining this world itself, we ourselves had a strong idea on how we wanted this world to look and to work. And I believe we successfully imparted that vision to our cast who completely brought it to life and sold it. Keeping it all straight wasn't that hard as we just followed the outline - and because Clerics have the ability to alter reality, we didn't need to worry too much about continuity - we'd just chalk it up to Samara tweaking time to achieve the optimum outcome.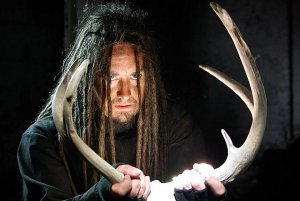 Sean-Michael Argo
What can you tell us about your co-writer/co-director/star Sean-Michael Argo [Sean Michael Argo interview - click here], and what was your collaboration like?
Sean and I work very well together. I think as we both very much shared the same vision for this film, there was no conflict I can think of. For the most part Sean directed the action scenes while I focused more on the drama. But I don't believe that unless you know who directed what, looking at the film as a whole, you can tell where Sean ends and I begin.
Your movie features quite a few quite elaborate action sequences - so how were they achieved?
Slowly and carefully. Most action scenes were shot multiple times from multiple angles so as to give the editor as much material as possible. All fight scenes were choreographed by Sean and we'd break those down step by step so basically... Jah does this... cut... then Samara does this... cut... back to Jah... cut... back to Samara... etc. Carefully because we had no stunt doubles for the main actors. So in some cases, particularly with the sword and knife fight between Gia and Jah, we actually had them fighting in slow motion knowing we would then be able to speed up the footage and put it together with jump cuts to give the action that kinetic feel it has.
You of course have to talk about your key location for a bit, and how hard was it to create the "Below"-feeling there - and what were the advantages and challenges of filming there?
The Below was actually two locations. One was an old grain mill in South Buffalo. The fight scene between Samara and Jah was shot there as was the scene between Samara and the Rat Shaman. The rest was shot at an old warehouse owned by Bryan Lohr who was good enough to let us shoot there after we got kicked out of the mill because the guy who was supposed to get us permission to access that space... well it turned out he didn't. Both were awesome locations, really million dollar sets you'd be hard pressed to recreate on a sound stage. Filming in places like that... there's a sense of desolation and despair, or time long gone and forgotten corners. You've got layers and layers of time. You can't build that digitally. You can't achieve that feel, that aesthetic on a stage. It makes the film more real.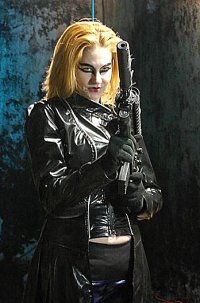 Seregon O'Dassey
Do talk about your key cast for a bit, and why exactly these people?
It's been a while, but Seregon O'Dassey [Seregon D'Assey interview - click here] plays Samara the Cleric. I did meet with her in New York where we attended a party at the Explorer's Club so that was cool. I don't remember exactly how we first hooked up, but getting to know her this way prior to the shoot was a joy. She understood the character immediately and took full ownership of Samara. Seregon is Samara. There's both a toughness and a tenderness she brought to the character that shines through, especially her scenes with Gia.
Sean I'd known since shooting Red Scream Vampyres and we really enjoy working together. He made the perfect Jah and like Seregon, he embraced the role and made it his.
Aaron Krygier is a wonderful local actor. He wrote most of his own dialogue and worked closely with Seregon on their scenes together. There's a real power in those scenes. You can tell that Samara, who basically fears nothing nor has any reason to, is clearly terrified of Sholokov, and that he, knowing he is in full control, relishes her fear. I like that basically we know nothing about Sholokov, and yet, we know everything about him. We know he is to be feared.
What can you tell us about the shoot as such, and the on-set atmosphere?
It was fun. We were a bunch of sci-fi nerds playing post-apocalyptic cosplay in the most wonderfully decrepit surroundings with all these marvelous toys... steampunk inspired revolvers and chainsaws fused with alien technology.
From what I know, Cleric has actually been shot about 5 or so years ago - so why the delay?
You know, at this point, there's no point in pointing fingers and naming names. Sean did what he could with the resources he had and then passed the film to me this year to finish. I did what I could with my resources and, well, it is what it is. Could it be better? Sure it could, but I don't have another six months of time to invest in it. I think it works. You certainly liked it. That meant a lot.
When and where will the film be released onto the general public then?
Amazon is currently reviewing the files. Assuming all goes well Cleric should be available for VOD and on DVD by end of August or early September.
Any future projects you'd like to share?

Feeling lucky ?
Want to
search
any of my partnershops yourself
for more, better results ?

The links below
will take you
just there!!!

Find David R. Williams
at the amazons ...

amazon.com

amazon.co.uk

amazon.de
Looking for imports ?
Find David R. Williams here ...
Something naughty ?
(Must be over 18 to go there !)

Manifestation finally goes before the cameras in I believe September. I wrote the script and get a producer credit. I will also be heading up the marketing. Shawn Anthony is directing with Jessica Felice in the lead. We're targeting the film festival circuit first. If we get a decent distribution deal we might go that route or we can distribute ourselves and keep control. I'm just starting work on a new script that may or may not morph into Red Scream Vampyres: Levana, which would be a sort of sequel to Red Scream Vampyres - this to also star Jessica. Too early to tell where my writing will take me this time. I'm also doing some post production work on Sean's film Sineaters with Melantha Blackthorne [Melantha Blackthorne interview - click here] and Tim O'Hearn. In between I run my own online marketing company and help raise my family.
Your/your movie's website, Facebook, whatever else?
The Cleric FB page: https://www.facebook.com/pages/Cleric/108832542829
Anything else you are dying to mention and I have merely forgotten to ask?
I think we covered it all. I really appreciate your interest in our work. Best wishes as always.
Thanks for the interview!
Thank You!