Your movie Cleric - in a few words, what is it about, and what can you tell us about your character in it?
I play a character referred to in the film only as "The Heretic", who is a tortured soul, taken as a child and subjected to a lifetime of tests by the Ministry of Control in the attempt to create a new breed of super-soldier. A side effect of his training is that he develops a certain prescience, that allows him to get glimpses of the future, and made adjustments to his actions to suit. It's much like the recent film Edge of Tomorrow or the classic Groundhog Day, the Heretic can 'blink' back in time and change what weapon he uses, or where he steps, and ultimately any choice he makes he can modify. The Heretic peers into the future and sees that the Cleric Samara has come to dominate all of the available future possibilities, and he realizes that she is the key to his revenge and ultimate release.
What were your inspirations when writing Cleric? And with a fictional world as complex as Cleric, how easy or hard was it keeping track of the main narrative?
I was always a fan of the Warhammer 40k novels and miniature games, which portrayed a very gothic and grim future, and I've always been a fan of Blade Runner and Apocalypse Now. In many ways, this is what I would call "low-fi sci-fi", in which we used our disadvantages as advantages, so our world is very dingy, grimy, and much of the aesthetic of the film is a blend of science fiction gadgets set to a backdrop of urban decay.
What can you tell us about your co-writer/co-director David R. Williams [David R. Williams interview - click here], and what was your collaboration like? And how did you two first hook up even?
Working with David is like working with a shark.... he has a goal, and if you step between him and his goal you're going to get your arms ripped off. However, the thing about David R. Williams is that his goals are badass. He has this "gore drenched arthouse" style of filmmaking, whether he is making sci-fi or horror, and every film I've worked with him on has turned out to be a bit of a grindhouse film meets acid trip, and I wouldn't have it any other way. He is a unique voice in micro-budget filmmaking, and I'm glad to have participated in a number of his films, looking forward to the next one! We connected quite at random, through distribution efforts on one of his older films, Frightworld, and from there we just kept finding that our ideas and styles mesh. If it's a good thing keep doing it, right?
You're playing one of the leads in Cleric, a most powerful mutant ... so how do you even prepare for a role like this, and what did you draw upon to bring him to life? And did you write the character with yourself in mind?
I'll admit that I wrote the character with myself in mind. I'm a weird looking dude, and am in no way the portrait of what Hollywood typically considers "leading man" material, so when I get the acting itch and want to scratch it I pretty much have to create roles for myself. Not being in SAG, and being on the fringes of even micro-budget filmmaking, there aren't a ton of auditions for a guy like me. Since I'm writing for myself, I end up writing roles that I really want to play. In this case I was very interested in running around abandoned buildings, shooting sci-fi guns, and battling a gorgeous female nemesis. So, truth be told, this film was a bit of a dream role for me. My preparation process was to stay acceptably fit (which I did ok with, no rippling abs but I made it work) and be mentally and physically prepared for my psycho director to put me through a series of challenging situations. We did everything from 12 hour days of running, jumping, climbing, and fighting to torture scenes in sub-basements, and most all of it during a pretty cold month in Buffalo (I wasn't always fully clothed).
You were also the stunt coordinator on Cleric - so what can you tell us about the stunt work on the film?
Most of it was on-the-spot kind of work. With films at this budget level you don't have much in the way of choreography time, and often not a ton of access to the location before you do your work. Generally we would just do a safety scout of the location, get a general idea of the kinds of action sequences we wanted, and then we'd let the cameras roll. Sometimes we would get it in one take, others I'd be hurling myself into walls five or six times before we'd nail it. Certainly not the kind of answer you'd want from a big budget stunt coordinator, but it works for us indie guys.
You of course have to talk about your key location for a bit, and how hard was it to create the "Below"-feeling there - and what were the advantages and challenges of filming there?
We had two primary locations, the Buffalo Central Terminal and the Burnwood Studios, and both are temples to urban decay in the best of ways. The biggest challenge for the BCT was access to power, so we had to lug a generator around all the time.
The disadvantage of Burnwood is this thing we call "the pit", which is the basement level of the building. It is vast, dark, wet, and filled with a variety of junk piles and molds. In other words... it's perfect for filming. The problem with the pit is that once you go down there everything is harder and takes longer. What would normally take you three hours to shoot will take you all day, and it will be difficult. The pit has a price, but it's worth paying to get the kind of footage we get down there, for Cleric and other films we've done there.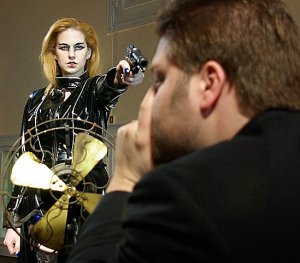 Seregon O'Dassey, Aaron Krygier
Do talk about your key cast for a bit, and why exactly these people?
The two people I'd like to talk about the most are Seregon O'Dassey (Samara) [Seregon O'Dassey interview - click here] and Aaron Krygier (Sholokov). Seregon had worked with David and I on our previous collaboration (Fable: Teeth of Beasts) and after that she'd always had a place in our imaginations. It's tough, in my opinion, for film (esp micro-budget films) to find an actress who is able to be convincingly badass while also being (let's face it) a sex symbol, and Seregon has both in spades. When David R. Williams [David R. Williams interview - click here] and I started kicking around ideas she became the natural choice in a very organic way as the story unfolded, in fact we had her on board several months prior to the script being completed.
Aaron is a strong actor who I felt I had underused in my last Buffalo film, and I wanted to pull together a character that would allow Aaron to really show his stuff portraying a character that is a complex blend of father figure, adversary, and mentor. Aaron and Seregon both actually worked hard on the set to write much of the dialog for their pivotal interrogation scene.
Honorable mention should go to Bob Bozek, who played the Rat Shaman. Bob is a versatile actor capable of just about anything you throw at him, however he has established a bit of a brand delivering a specific sort of frenetic madman performance, and is so blasted good at it that everyone wants him for those kinds of roles (I've used him 3 times as that guy, and lots of other Buffalo filmmakers have as well).
What can you tell us about the shoot as such, and the on-set atmosphere?
My favorite thing about micro-budget filmmaking is the camaraderie, it's like being on a summer camp with friends and strangers all at the same time. On larger budget films there are good times of course, but with the paychecks things can sometimes be a bit, well, overly professional. When you are working for peanuts, or usually free, you're there For The Love Of The Game, and that is guaranteed, so everyone on the crew and the cast is there to tell the story, and the story becomes the priority. It feels good to be part of a team that is coming together, through thick and thin, to tell the story, because that's the point (if the paycheck is the point, then story takes a backseat).
From what I know, Cleric has actually been shot about 5 or so years ago - so why the delay?
Without pointing fingers, let's put it this way... we have had several editors (including yours truly), several audio designers, soundtrack producers, and VFX artists all work on this film, and it's still not done. Some folks didn't get it across the finish line because their work sucked, others just did half the job and ran off with their paychecks, others did what they could but after awhile couldn't donate any more time (I'm one of those). At the end of the day this film was never going to be a big money-maker, and the longer it burned in post-production-hell the less and less inclined anyone was to put more money into finishing it. I'd put in a little here and there when I could, but at the end of the day it wasn't until David Williams got his hands on it (5 years after he directed it) that it got done. He is the reason (and his team) that this film is finished.
When and where will the film be released onto the general public then?
David knows this juicy secret.
Any future projects you'd like to share?
As of now I don't have any new projects on the table. I've been writing fiction novels mostly for the last few years, my latest being The Wasteland Survival Guide and Gladiators vs Zombies. I'm a storyteller, and when I don't have a film budget I just sit down and start typing. Now that Cleric is nearing the end of its journey I've actually re-kindled my filmmaking bromance with David and am hoping to get up to Buffalo (really that town is my filmmaking second home) and dive into another blood-soaked arthouse film one of these days soon.
Your/your movie's website, Facebook, whatever else?

Feeling lucky ?
Want to
search
any of my partnershops yourself
for more, better results ?

The links below
will take you
just there!!!

Find Sean-Michael Argo
at the amazons ...

amazon.com

amazon.co.uk

amazon.de
Looking for imports ?
Find Sean-Michael Argo here ...
Something naughty ?
(Must be over 18 to go there !)

The Cleric FB page: https://www.facebook.com/pages/
Cleric/108832542829
Anything else you are dying to mention and I have merely forgotten to ask?
I have a great day job that allows me to have a wide open calendar during the spring/fall/winter on an annual basis. I want to shoot guns, swing swords, battle monsters, get stabbed, thrown through things, and generally abused for low/no pay on indie films. Get in touch, send me a script, and let's have an adventure.
Thanks for the interview!
Thanks for the chance!