Your new movie Blaze of Gory - in a few words, what is it about?
Blaze of Gory is an anthology piece featuring nine nightmare tales all written by one twisted mind. Each story has elements of leading female characters and emotion driven acts of revenge and mayhem.
How did the project fall together, and how did you first meet the writer of the source material, Blaize-Alix Szanto [Blaize-Alix Szanto interview - click here], who I understand was still a rather young girl when you started working on this?
I was between film jobs working part time in a shop and became friends with the staff of a neighbouring store, one of the staff there mentioned her daughter had written some horror stories and would I be interested in reading them. Long story short, Blaize let me read them, I loved them and she agreed and took faith in me that the stories were deserving of being turned from page to screen. It took a long time and during which one year it was all put on the shelf as I dealt with the loss of a family member and relocated but then the film was finally finished in June of this year and now begins the promo.
Did you remain religiously close to Blaize's source material, or did you take many liberties? And other than her stories, what were your sources of inspiration?
Some of Blaize's stories were synopsis only so she allowed me some artistic licence when turning the originals into screenplays, they were then given to her for approval before being given to the chosen directors who made a few changes and then again given approval by Blaize. Some of what she wrote was a little too disturbing and there was no way some of that could be brought to the screen.
One of the screenplays was inspired by David Cronenberg's Eastern Promises as it fit to the original story quite well and gave it a grounding in a reality that was different from the others.
The story I tackled underwent a few drafts before we shot but this was mainly due to the difficulty in obtaining the right cast and also remaining within the non-existent budget.
Overall I feel we definitely kept 90% of Blaize's original vision in the film and I hope we did her proud.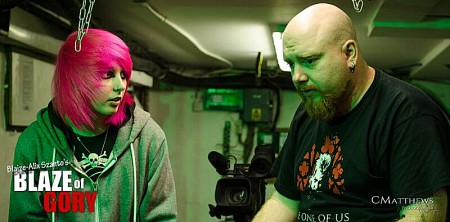 David with Blaize-Alix Szanto
You decided to share directorial duties on Blaze of Gory with quite a few of your colleagues - why was that then, and do talk about your fellow directors on the film, and why exactly them?
I used to work for a horror magazine and while there I met a few independent film makers whose work I valued. When I left the magazine and began toying with the idea of bringing together like-minded people for a website idea, those contacts were kept in place and then this film idea happened and I put it out there, I didn't want to direct it all myself as I know there are people more talented out there looking for such a project and I was overwhelmed with the responses and interest on the film. Some people I had never worked with but had admired from afar as well as people I knew and wanted the chance. I feel we were very lucky with the overall team and I really hope I get to work with these talented people again.
Did you give your fellow directors on Blaze of Gory any guidelines regarding look and feel or whatever of their segments, or did you just send them their respective scripts and let them do what they wanted with them?
I think all I ever said was, here's the script, let me know of any additions and have fun with it, I'll help with funds and props where I can and do not hesitate to ask for help.
I ended up being present on 5 of the films and it was a wonderful experience.
Let's talk about your own segment in Blaze of Gory, Snow, for a bit - what is it about, and why did you choose exactly that story for yourself?
I've been a fan of fantasy for a long time and this was the first story Blaize gave to me so I felt it was very fitting that I be the one to make the first segment and get the ball rolling. It also was a pleasure to be able to turn such a story in to a film, I loved it all.
Blaize and I did make a few changes and combined a few characters. It also enabled me to film in a wonderful location in the middle of nowhere in a cabin in Norway. Credit cards definitely came in handy there but it looks amazing.
Do talk about your segment's approach to horror for a bit!
Blaize wrote in some amazing imagery and it was all gore, no doubt about it there was no way to shy away from it and I feel I learned a lot while making the film, her characterizations were amazing and I'm truly grateful to my cast and in fact all the segments' castf for doing a great job.
Snow does of course draw strong inspirations from Snow White - so did you let these fairy tale origins at all consciously influence the look and feel of your segment?
Snow was written by Blaize as a modern horror version of Snow White and I'm particularly fond of the original fairy story so certain elements had to stay in play. I did watch a few different incarnations of Snow White during the screenplay adaptation but also drew from my own ideas wanting to keep the film very true to its central character of the stepmother rather than Snow herself. The one thing I did add was in Blaize's story we never found out who was getting the stepmother to confess so I made a link to a previous film I had made and set the story in an asylum, we also added that asylum to one of the other segments to add a slight link.
What can you tell us about your directorial approach to your story at hand?
I wanted to have an element of both claustrophobia as well as setting the film in the wide open spaces of Norway. I hope I achieved that with camera angles and lighting. By having such a small cast and zero crew and with all dialogue very important it was essential that the actors harness the inner character so I made a point of working on detailed character development with them.
Do talk about your cast, and why exactly these people?
The cast for my segment pretty much fell in my lap, I put out a post on Facebook stating I was to be shooting a film in Norway and the responses that came in first are the cast we used. Susan Adriensen [Susan Adriensen interview - click here] was amazing. I met her in Indiana at a film-fest and said we would eventually work together and I intend to do so again. Vikki Spit and Zion I've known for a few years and despite limited acting experience, their past as musicians gave them the on screen presence required. Duff Eynon I've also known for a while and we never had the chance to work together so I was thrilled our diaries allowed for this collaboration.
As for the cast of the other segments, I did make a few requests of people I was eager to have in the film and am very pleased we managed to have them all on board for this.
A few words about the shoot as such, and the on-set atmosphere?
Each film was pretty much tackled over three days but spread over an 18 month time span, the times I was on set I feel every one got on very well and some great friendships have been made in the process. Even in Norway when we nearly slid off the road and died, we all kept it together and still talk to each other to this day so something went right (LOL).
I recall at times members of the crew being nauseated by the graphic gore but that spurned us all on and with every spill of blood there was a smile in someone's eye. Jenny took great pleasure in being able to work our makeshift blood canon in Abort. I like to think every one had a bit of fun, if it's not fun, it's not worth doing, right?
The $64 question of course, when and where will Blaze of Gory be released onto the general public?
All going to plan it will be released this Halloween, I am launching the film at a horror con (fingers crossed) a couple of days before.
Anything you can tell us about audience and critical reception of Blaze of Gory yet?
So far those who have seen it have given great responses, a few films are emerging as audience favourites but that is to be expected with such variety. We also submitted all the shorts independently to festivals during the latter part of 2016 and first half of 17 and have had some great response as well as some nominations so I am over the moon.
Based on your experiences with Blaze of Gory, could you ever be persuaded to make another multi-director anthology film - and/or other future projects you'd like to share?
I've done a few features in the past but I feel more comfortable in shorts. I know I will be doing more. I've just been signed on to make a short for an anthology in pre-production now so I'm sure they'll be links about that on my site once it's become more public knowledge. I'm also writing a few short web series so we'll see how that goes.

Feeling lucky ?
Want to
search
any of my partnershops yourself
for more, better results ?

The links below
will take you
just there!!!


Your/your movie's website, Facebook, whatever else?
I'm on Facebook (@FTShadowsUK) and Instagram (@FTShadows) and a bit less frequent on Twitter (@FTShadows).
Anything else you're dying to mention and I have merely forgotten to ask?
The making of Blaze of Gory book is available now from Amazon: https://www.amazon.co.uk/exec/obidos/ASIN/1545388792
Thanks for the interview!