Your upcoming movie The First Film - in a few words, what is it about?
It was released in the UK last year. It comes out world wide in two weeks time. It is about my 33 year quest to prove that the world's very first film was made by Louis Le Prince in Leeds, England on 14th October 1888.
What got you interested in Louis Le Prince in the first place, and where and when did you first learn about him?
I am from Leeds and learnt about him at school. But I was baffled over the years when no one else I ever met, not from Yorkshire, did know the story. In all these years they only person I have even come across who did know of Le Prince was Martin Scorsese. Even very well-known British film historians had never heard of him.
Before we go any further, do talk about the actual "first film" for a bit, is it actually still in existence, have you seen it, and what does it show?
There are three films, all now on YouTube. All that remains is a few seconds of each films.
1) An interesting little film of four people in a garden in Roundhay Leeds.
2) His son Adolph playing an accordion in the same garden.
3) A documentary of traffic crossing Leeds Bridge.
Let's return to Louis Le Prince then: What kind of a person was he even, and what could you find out about his private and professional life? And what led to his invention of a movie camera?
He was a chemist, an inventor and an artist and very successful. His work is in a time capsule under Cleopatra's Needle. We don't know exactly what led to him trying to capture the moving image. There was man also from Leeds, Wordsworth Donisthorpe, who patented a camera some years before Le Prince. I can't 100% prove they knew each other but they moved in all the same circles. I think he might have got the idea from him. No one knows that answer. They might think they do but it is not recorded. All anyone can do is guess. I am the only person I think who found the link between Le Prince and Donisthorpe so I don't know if others agree or discount that.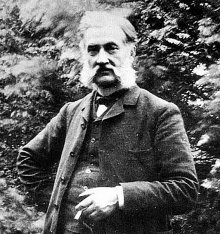 Louis Le Prince
Let's give in to speculations for a moment there: What do you think happened to Louis Le Prince on that fateful journey?
I don't want to give away my film. Sorry.
From what I know, you've done research on The First Film for over 30 years now - so where were the obstacles there, and what kept you going, actually?
The biggest obstacle of all was that no one believed me… at all. This changed around 2007 when the films were put up online and then people started to add details on Wikipedia. Although members of my team would have to keep changing details as people got the facts wrong.
What can you tell us about your directorial approach to your story at hand?
This was the hardest part. With so many docs, ones I have made and ones made by others, you know the beginning the middle and the end before you start filming. The people putting up the money usually insist on knowing what story they are investing in. I did not want to do this. It felt wrong. When it became apparent that I would be the biggest single investor then I had that kind of control. That is very rare. I only researched the story up to a point. I wanted the rest to be discovered on camera. There are 42 scenes in the film in which I am learning that information on camera. They are all one take only. No reshoots. You can notice some of them if you watch carefully because I stumble on words or don't finish sentences or mispronounce names, like we do in real life. I am not sure this way of working is noticeable but for me it was vital that the audience discover the information with me.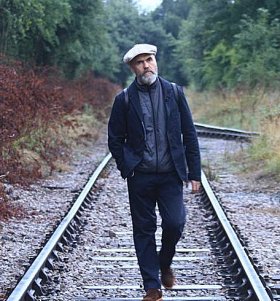 David on the set of The First Film
I never intended to direct. I did have someone else at the very start but he wanted to make a film about me making the film, which was flattering but totally wrong. My film was all about the truth… whether I liked it or not, and people do disagree with me in the film. Irfan Shah my co-writer and researcher who worked with me on the film for 5 years, and I wanted the film to be about the truth WE found, warts and all, out of respect to Le Prince's memory. Towards the end of the editing I found out something which deflects me in the quest. Many said I should not include as it muddied the waters. I had to add it, even though it made the film a bit too long. The other director left early on and I kept trying to find someone else. In the end it was obvious to all that I should direct so I just took over. I was the only person who had the ongoing passion and understood the story. Apart from two locations Irfan chose I selected all the others and all of the participants, so without really knowing I was already directing even before I took over the role.
The $64-question of course, when and where will your movie be released?
As I say above it came out in the UK last year. It will open in an interesting screening in New York on 8th September 2016. Had Le Prince lived he was due to screen his films at the Morris-Jumel Mansion in November 1890. The films will be shown there, for the very first time, when The First Film plays there - 126 years late.
I will release it worldwide on my site 12th September online and iTunes, Googleplay, Amazon will have it online in North America and UK from the same date.
Anything you can tell us about the critical and audience reception of The First Film yet?
The UK press reviews were 87.5% above average which was far better than I had hoped for. So far the majority of people I have met, via the 50 odd Q&A's I did think I am correct. A few however do disagree with me.
Any future projects you'd like to share?
I am working on a film about the Holocaust no one has made before and a film about blackface. And a few others.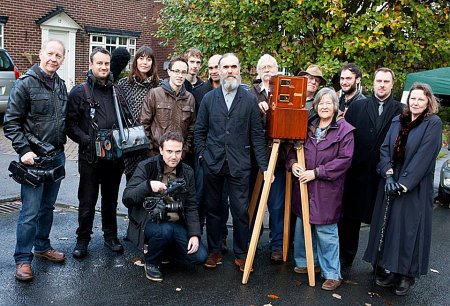 David and crew with a replica of Louis Le Prince's film camera
How did you enter the filmworld in the first place, and did you receive any formal training on the subject?
I started as a professional actor in 1970. I was the BBC's first real true independent producer back in 1982. I am also a distributor and writer. Now I am a director. I have never received any training at all for any of the above.
What can you tell us about your filmwork prior to The First Film?
I have been involved in over 100 films as either a distributor, producer or writer… and now as a director. It's hard to make a living in films so you do whatever you can.
When it comes to film, you've worked pretty much every position, including acting, producing, directing, you chaired film festivals, ... so what do you enjoy the most, what could you do without, and how do all your different functions influence one another?
What is most interesting is that I was in my late 50's ( I am now 60) and I had the most enjoyable experience ever with The First Film. I was the producer, presenter, co-writer, distributor and of course director… I was also production and location manager for most of it, cleared all the archive and did lots of other jobs. I loved that totally immersive part.
Having worked in film for over 40 years, how has the industry changed over time?
Everything changes. Back in the day few films were made. The unions and establishment controlled everything and it was then hard for young people to get into. These days it is far easier but there are now just far, far too many films. At least with the internet they can now get them out there. The young are, as always innovative and come up with fresh ways of doing and seeing things.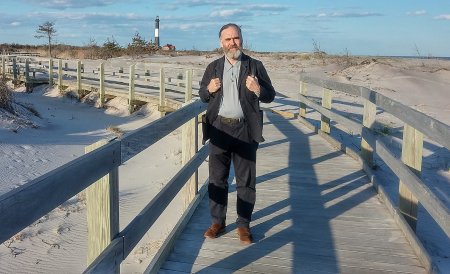 filming on Fire Island, NY
You of course have to talk about your company, Guerilla Films, and the philosophy behind it!
I set it up to distribute all the British & Irish films that no other distributor wanted. Foolhardy and ultimately money losing but very worthwhile spiritually. Over 40 films that we released would not have come out if it were not for us.
Filmmakers, writers, actors, whoever else who inspire you?
I can't answer that. It changes all the time.
Your favourite movies?
Billy Liar is my favourite British film. The star is of course in The First Film. I got to know the director and writer very well. Much of that of course is shot in Leeds, but mostly in Bradford. I also stole a Bradford location from in for The First Film… it'a my trick ending in the credit sequence.
I have never been able to formulate my other favourite movies. There are just so many good films. How can anyone choose ?
... and of course, films you really deplore?

Feeling lucky ?
Want to
search
any of my partnershops yourself
for more, better results ?

The links below
will take you
just there!!!

Find David Wilkinson
at the amazons ...

amazon.com

amazon.co.uk

amazon.de
Looking for imports ?
Find David Wilkinson here ...
Something naughty ?
(Must be over 18 to go there !)

That is a hard one to answer too. What I hate to see is when you watch a half good film.
There is one I distribute. I won't mention its name. The director, producer, writer were all early 20's and found a group of people to give them £1 million to make the film. They thought they were invincible and made it on a first draft. They sought no advice from anyone with a track record. I released it because no one else would and they gave me most of the P&A money but it is not as good as it should be. So many first timers do this and then they wonder why they never make another film. I deplore the arrogance. Filmmaking is collaborative. Their insecurity stops them seeking help from others for fear of being found out for not knowing that much. 46 years in the business and I still have so much to learn.
Your/your movie's website, Facebook, whatever else?
Anything else you're dying to tell us and I have merely forgotten to ask?
At 60 I am only just really beginning to learn, learn and fully understand.
Thanks for the interview!
Special thanks to Richard S Barnett, founder of IIWYK!!!