Your new movie Dracula: The Impaler - in a few words, what is it about?
Dracula: The Impaler takes the connection of Vlad the Impaler to Dracula and asks the question "How did he become the world's first vampire and how does that have any affect on us today"? Not only did we want to explore the Dark Prince's mysterious end and ties to Bram Stoker's classic, but we wanted the danger to be relevant to our time and not stuck in the past.
How did the project come into being in the first place?
Steve Snyder, the cinematographer and co-writer, and I were approached by Daniel Anghelcev and Diana Busuioc about making a micro-budget film dealing with Vlad the Impaler. This was obviously a huge undertaking to attempt to pull off without pissing off a million Dracula/horror fans and maintaining a minimal budget. We knew right off the bat that we would need to be very clever, but we were certainly up for the challenge.
According to my information, you co-wrote the script with Steve Snyder, based on a story by your star Diana Busuioc - so what can you tell us about the writing process, and did you take many liberties with Diana's story?
Diana and Daniel first approached us with a script that had some of the core elements within it: Vlad as a religious (or anti-religious, depending on your perspective) icon, the seven sins template, teens visiting the prince's castle, etc… but we all knew it had a way to go. There were norror-genre elements that we knew we had to add without letting it go into the camp-land that most low-budget horrors fall into, whether consciously or not. Everyone was highly involved with the formation of the script and story through all six drafts.
Storywise, the film is deeply rooted in the Dracula-lore - so how much research did you invest in that aspect of your story, and is Dracula (or Vlad the Impaler, if you may) a character who you're particularly fond of?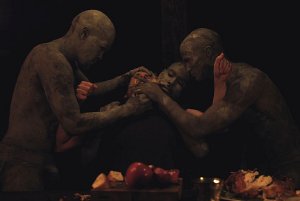 I have always been fond of vampires. But the scary ones, not this Twilight garbage. Stoker's Dracula is mesmerizing, manipulative, and elegant in a way but he is also scary as hell. I suppose what has always fascinated me with Dracula is that he is the first "named" vampire in mass-popular culture. Now while the reference to Vlad by Stoker is thin at best, we wanted to run with it. You have a tyrannical highly religious ruler whose death and final resting place is still a mystery, then turn him into the world's first vampire. Take away all the "rules" (no daylight, holy water vulnerability, transforming into bats, etc…) and what's left is an incredibly strong and fast, nearly immortal, demon-like human with a serious hankering for blood. So we asked ourselves, "How would one gain this power?" Most of the research I did for the film focused on Vlad Tepes and his history in Wallachia. He was a seriously tormented guy and when you get to know what he went through you start to somewhat understand why he did the terrible things he is known for. In the film, Vlad is a tragic character and I think that rings true to his history.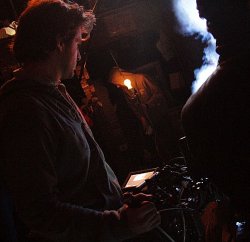 Do talk about your directorial approach to your story for a bit?
Directing any micro-budget movie is a challenge but I always like to start with a visual. For this movie, I saw a hideous black centipede winding along black dirt between stonewalls in bright moonlight. I wanted the tone, pacing and feeling of the film to emulate that. I also wanted to maintain a certain reality to the film (yes, even though it's very fantastical), which meant working with the actors to create characters that weren't cardboard and collaborating with Steve to make all the lighting based around moonlight and fire. We only had time for one or two highly visual shots per day, so we had to make them count.
At times, Dracula: The Impaler turns quite bloody and violent - so what can you tell us about that aspect of your movie, and was there any line you refused to cross?
I wanted all the death scenes to be practical, meaning we veered away from CG effects as much as possible. Again, this was an attempt to retain reality in the film and I think it shows. There wasn't necessarily a line we refused to cross, but we wanted to make sure each character's death said something about that particular character and that decision somewhat dictated the violence.
You of course have to talk about your impressive locations for a bit?
We researched hundreds of castles in the US but kept running into the same problem: Nearly all the castles are built to look like they might have in their nobility heyday, gorgeous and untouched by war. What we needed was a castle that looked like it was falling apart and touched by war some 500 years earlier. We were very lucky to find the perfect castle just 40 minutes away from LA, so we could use our local crew and not worry about the cast travelling. However, everything comes at a price. The castle we used had numerous modern and American discrepancies (including a motorcycle sticking out of a wall ten feet above the ground) that we were forced to hide or shoot around.
What can you tell us about your cast, and why exactly these people?
All of the cast (with the exception of Diana) was auditioned over a three week process. Each of the cast members pulled off fantastic auditions and the chemistry between them was very apparent. I felt very lucky to have found each of them.
Do talk about the shoot as such and the on-set atmosphere for a bit!
We had a lot to accomplish and not much time to do it, so there were definitely some tense moments and just about everyone was running to get where they needed to be at all times. We could not have pulled off what we did if everyone on set wasn't giving everything they had to the project, but they did and it shows. That being said, I think everyone really enjoyed shooting in a castle.
Any future projects beyond Dracula: The Impaler you'd like to share?
I currently have a number of projects in the works including a hallucinogenic horror and an action/thriller. I can't divulge much about them, but stay tuned for more info soon!
Let's go back to the beginnings of your career: What got you into filmmaking in the first place, and did you receive any formal training on the subject?
I was always obsessed with film and its ability to tell stories that impact so many people in so many different ways. I studied Acting for Theatre and Directing for TV/Film at Pepperdine University.
You obviously have to talk about your first feature Hemingway for a bit?
Hemingway was another micro-budget challenge. I was basically handed a script and told that I have one week to make any changes, then six days to shoot on the following week. Regardless of the challenge, I do think we were able to pull off a certain visual style that shows in the film. I had also always been a fan of Alan Thicke's work, so it was a pleasure to work with him on my first feature.
How would you describe yourself as a director?
I try to focus on feeling, rhythm, and tone first and foremost because each project needs a different amalgamation of those elements. That equation will then dictate visuals, acting style, and story pacing. Of course, every story evolves as you move through the different stages whether its pre-pro, production, or post. Usually, when developing a story, a single image sticks in my mind that I will then use advise the choices that need to be made.
Filmmakers who inspire you?
Too many. Burton, Kazan, Kurosawa, Shadyac, Del Toro, Tarsem and Kubrick to name a few.
Your favourite movies?

Feeling lucky ?
Want to
search
any of my partnershops yourself
for more, better results ?

The links below
will take you
just there!!!

Find Derek Hockenbrough
at the amazons ...

amazon.com

amazon.co.uk

amazon.de
Looking for imports ?
Find Derek Hockenbrough here ...
Something naughty ?
(Must be over 18 to go there !)

Again, many. Edward Scissorhands, Pan's Labyrinth, Boondock Saints, Eternal Sunshine of the Spotless Mind and Tombstone always tend to be around the top of my list.
... and of course, films you really deplore?
Well, I'm not generally one to bash movies but I suppose I've already thrown some punches at the Twilight-saga. So I'll go with that.
Your/your movie's website, Facebook, whatever else?
Anything else you are dying to mention and I have merely forgotten to ask?
Just a thank you to everyone who has taken time to support the film. Thank you!
Thanks for the interview!