Your new movie The Amityville Legacy - in a few words, what is it about?
The film follows a cursed antique toy monkey from the original DeFeo home as it's gifted at an annual family reunion in smalltown Nebraska 40 years later.
The Amityville Legacy taking place during a family gathering going horribly wrong - is any of this based on real life experiences?
Ha! Well, do family gatherings typically not go horribly wrong? Just kidding, not really based on my own life, rather the traditional Amityville storyline. The original story is about a dysfunctional family so we thought it appropriate to incorporate that element in this film.
(Other) sources for inspiration when writing The Amityville Legacy, and to what extent were you inspired by the original Amityville Horror film and its sequels as well as the book and actual murder case it's based on? And speaking of the actual murders, did you do any research on the subject?
We actually collectively did a lot of research for this project. The last thing I wanted to do was piss off anyone directly connected to the real crimes. We tried to keep the "true story" part as accurate as possible, while still providing a lead-in to our spin-off story. Our film was made in the tradition of Amityville: The Evil Escapes, Amityville 1992: It's About Time, Amityville: A New Generation and Amityville: Dollhouse. Those later sequels are a lot of fun and took the storyline in different and interesting directions. The "cursed item" element always appealed to me because you can do so much with it. I wanted to make a film that felt very much an Amityville sequel, while still paving it's own path. While heavily inspired by the film series, we also attempted to create something we could really call "our own". It was also important to make a film that wasn't a "cash in" on the name, but rather make a movie that comes from the heart of a fan of the series, and made for fans wanting a 'true' Amityville flick.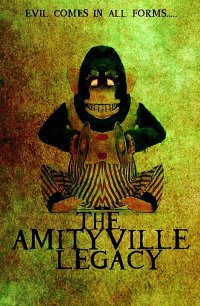 What can you tell us about your co-writer and co-director Mike Johnson, and what was your collaboration with him like, both during writing and during the shoot? And how did you first meet even?
I've known Mike for a few years. We first worked together on a music video for Velvet Acid Christ called "Maldire". He played the priest who dies at the end. Johnson is a filmmaker himself and I had seen some of his shorts and music videos prior. With The Amityville Legacy it was important to make a film that was not only visually appealing, but professional as well. Nobody wants an Amityville movie that looks like it was shot in some dude's backyard. It needed to look legit, and everything I've seen from Mike I consider top notch, in terms of low budget filmmaking. He was the magical touch this film needed. We both have very different directing styles, but I think we really balanced each other out on this and created something everyone was really proud of. The writing part was fun. Basically, I came up with like a 20 page outline of essentially what I wanted to happen in the film and then handed it to Mike and told him to go wild with it. He brought back a really solid script that really expended on the outline in so many great ways. After a few minor changes we quickly had our final script and we went right into production.
Do talk about your movie's approach to horror!
While we went with a more traditional "pot boiler" approach with the story, the horror is very much there throughout. What starts as a typical family function dissolves into utter madness in the course of 70 minutes. We kept a few things for the fans like the "buzzing" sound, doors closing on their own and a cursed item all to help create suspense. But there's also parasitic worms, incest, gun violence and ghosts. While not too heavy on gore, we rely on the mood and atmosphere to really creep out the viewer, much like the original films. The final 10 minutes are truly "edge of your seat" material.
What can you tell us about your overall directorial approach to your story at hand?
A story like this is often tough for me to handle. When left to my own devices, I usually direct more standard "killer in the woods" type flicks which are way easy to shoot. You can do them fast, cheap and don't need that many takes. However, a film like this really required me to "slow down" a lot and spend a lot of time on set-up, lighting and preparation. That's why I needed both Mike Johnson and cinematographer Mark Thimijan to join me. Each of us has our own special trademark that when combined worked really well. Mark spent a lot of time making sure the frame was always dazzling, while Mike focused a lot on the actors emotions and the way the scene played out and I spent most of my time keeping everything moving along and on schedule. Also there was so many actors, crew, FX and locations that it was really like "managing" the film more than I'm used to. It was a great learning experience for me, even 26 films into my career.
Do talk about your key cast, and why exactly these people?
Mark Popejoy was our lead. I've worked with him a little in the past on music videos and films like Gloved Murderess and Die Sister, Die!, but this was his biggest role for me. Popejoy has a very distinct persona that I thought would be perfect for "Father". Cheyenne King plays his slutty, drunk sister-in-law. She literally "nailed it". This was my first time with her, but her natural beauty and impressive talent got her the role. The kids are all played by either Dustin Ferguson film veterans or fans of my work. Since this was my "love letter" film, I wanted to involve everyone who really makes my films what they are. Julia Farrell, Jennii Caroline [Jennii Caroline interview - click here], Breana Mitchell [Breana Mitchell interview - click here], Schuylar Craig [Schuylar Craig interview - click here] and Britany Dailey are actresses that have appeared in tons of my other films and have been building their own fan followings. While Tony Brown [Tony Brown interview - click here] and Jade LaFont [Jade Michael LaFont interview - click here] were not only die-hard fans of my previous films, they were also big fans of the Amityville series as well, so it felt right to include them... especially since they both had prior acting experience. Jeanne Kern plays Grandma (perfectly tongue in cheek), she was in Silent Night, Bloody Night 2 and Cheerleader Camp 2 The Death, and Colby Coash, who plays Mark's ghost-father in the film is actually one of the Nebraska Senators! He's a big fan of horror and has appeared in many of my films previously, with a starring role in 2015's Blood Claws. Finally, Daniel Stier is my "newcomer". He's had minor roles in Tales For The Campfire and Shockumentary. I love working with him, he's got a great attitude and natural acting ability.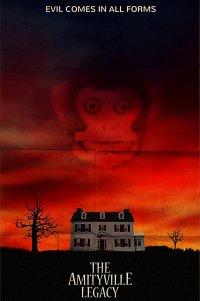 You of course also have to talk about your location, and what were the advantages and challenges of filming there?
We had 2 main locations. The exterior of the house and the interior of the house. Since the house needed to be in the country for the film, we used fellow filmmaker Pete Lipin's place for the outdoors, then once they enter the house, we are in Sara Moshman's house. We previously filmed Silent Night, Bloody Night 2 and Die Sister, Die! there. What it boiled down to was having all the things we needed for the film. We needed an open big yard in the middle of nowhere that had a big shed and wood to chop, but also needed a house with lots of rooms and a large dining table. So while it got a little complicated, we were able to pull off the house we needed for the film. We also had short scenes at a gas station and on the road, but those were much easier to shoot. We even scored a drone for the road and house exterior shots that really added a lot of production value.
What can you tell us about the shoot as such, and the on-set atmosphere?
My shoots, while often crazy fast, are usually pretty relaxed. I go with the flow, don't let things upset me and maintain a positive attitude. This film offered some new challenges, such as male nudity, working with a co-director and having to crunch 3 days of shooting into 1 at the end of production. However, while it got stressful, it was still a lot of fun and everyone had a really positive attitude on set. Everyone bonded really well, as most had worked together prior.
The $64-question of course, when and where will the movie be released onto the general public?
First it's premiering on June 7th at The Ross Theater in Lincoln, NE. It should hit Amazon Prime shortly after that. We are still securing DVD and Blu-ray distribution, but have several interested distributors.
Anything you can tell us about critical and audience reception of The Amityville Legacy yet?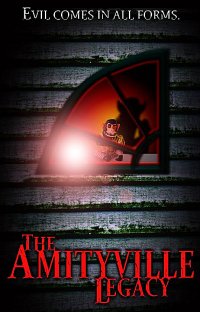 Feeling lucky ?
Want to
search
any of my partnershops yourself
for more, better results ?

The links below
will take you
just there!!!

Find Dustin Ferguson
at the amazons ...

amazon.com

amazon.co.uk

amazon.de
Looking for imports ?
Find Dustin Ferguson here ...
Something naughty ?
(Must be over 18 to go there !)

This is the first film I've made that hasn't been met with immediate negative criticism (at least yet, lol). We've had 3 public reviews so far, all glowing. The Amityville Saga fansite said it was the best film to bear the name since the 2005 remake. That says a lot, considering the slew of recent films in the last few years to slap Amityville in the title.
Any future projects you'd like to share?
In late July I start production on The Dummy 2, a sequel to the 1995 film by Todd Jason Cook. After that I'll tackle Meathook Massacre 2 and later this year in November I hope to do Tales For The Campfire 2. The Dummy 2 will be available thru Screamtime Films, and the other 2 will debut on my upcoming Sinister Studios Vimeo channel. Also, Faces of Dying is now available on VHS from Manor Video, with Meathook Massacre coming next.
Your/your movie's website, Facebook, whaever else?
Facebook: https://www.facebook.com/42ND-street-films-451815011576883/
Website: https://sinisterstudiosblog.wordpress.com/
Anything else you're dying to mention and I have merely forgotten to ask?
Public appearances! The newest episode of the Trash Video Podcast is now available, I chat more about making The Amityville Legacy. I have a radio interview on the Keith Harris Radio Show on June 24th, I'll be discussing a lot of my films there. Also, I'll be live in person with Brinke Stevens on June 26th in Omaha, Nebraska at the Dark Hearse show – signing & selling Die Sister, Die! posters and DVDs. Finally, I'll be appearing in the upcoming UK documentary called VHS Lives: A Schlockumentary as one of the featured directors, which should come out later this year!
Thanks for the interview!