Your new movie The Amityville Legacy - in a few words, what is it about, and what can you tell us about your character in it?
The Amityville Legacy is a fun and thrilling throwback to how the franchise used to be with such sequels as It's About Time, A New Generation (a personal favorite of mine), and Amityville Dollhouse. I play the only son of Mark Janson (Mark Popejoy), and I am traveling back home to celebrate my father's 50th birthday with my four sisters, aunt, cousin, and senile grandma who is still living with my father and one of my sisters. My character is gay and extremely nervous about introducing my family to my boyfriend, Jade (played by my real life fiancé, Jade LaFont). My sister, Julia (Julia Farrell), gifts an antique toy monkey to our father while everyone is gathered together one evening after dinner. The toy monkey is exactly like one our father owned as a child - except one thing... it came from the original DeFeo house in Amityville... and is CURSED! The cursed Amityville object slowly possesses Mark, and he begins to see his dead father - my grandfather - (Colby Coash) who urges him to do away with his family. Then, without giving away too much, all hell breaks loose when Mark starts to pick us off one by one!
How did you get involved with the project in the first place?
I have been good friends with director Dustin Ferguson [Dustin Ferguson interview - click here] for years. I have been a supporter of his film career from the very start, and I have always wanted to work with him. Dustin approached Jade and I with roles written for us, and we didn't take a moment to hesitate - especially being the avid Amityville fans that we are. Plus, I look up to so many of the cast and crew Dustin works with (and that we had the pleasure of working with) - and I knew we could not turn down such an awesome opportunity.
What did you draw upon to bring your character to life, and how much Tony can we actually find in Tony?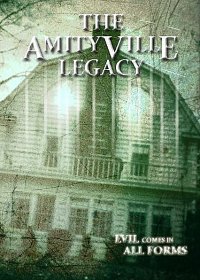 When you first see my character in the film, I'm composing myself in a gas station bathroom while Jade waits for me in our car outside. I am so nervous to have my father meet my boyfriend - so in this particular scene, I actually channeled Betsy Russell's bathroom scene from Cheerleader Camp (silly, I know - and totally unrelated to my scene, but I love that film so much). It's little things like that which inspired me to bring my character to life. Thus far, I have been told my character was a bit "sassy" in the film and even funny at times - which I suppose is a good thing! Haha! I simply chose a naturalistic approach to bring my character to life and ad-libbed/improvised whenever the opportunity arose. I believe my character was a bit similar to myself, actually. We all have "personal demons" that we battle, and the family in the film is quite the dysfunctional one. Dustin Ferguson and Mike Johnson were very supportive with suggestions on how to play the part, so it was fun to "go there" with my character and have fun with it.
In The Amityville Legacy you actually play the boyfriend of your real life fiancé Jade Michael LaFont [Jade Michael LaFont interview - click here] - so how did that influence your performance (if at all)? And while we're at it, how did the two of you first meet even?
The fact that Jade and I are actually a couple in real life obviously helped our performances. It made our chemistry believable, since, well... we're a real couple! We first met as extras back in 2008, on the set of Night of the Demons (the 2009 remake) in New Orleans. We were best friends for two years before starting to date - and both share a big love for the horror genre. Jade has been acting for years, and is one of the biggest motivations to get me in front of the camera, as opposed to just doing behind-the-scenes work.
What can you tell us about your directors Dustin Ferguson [Dustin Ferguson interview - click here] and Mike Johnson, and what was your collaboration with them like?
Dustin was on a very tight time schedule but maintained his composure very well. It's amazing how fast he shoots, and I am always so excited to see the finished product of every new project he works on. He and Jarad Allen were also very accommodating to Jade and I while we were in Nebraska and made our visit a very nice one. Mike had a slightly different approach to directing, with taking a bit more time on certain scenes - and was a big help on some of my bigger scenes in the film. He, along with everyone else, was very concerned about our safety during certain scenes. They were both a delight to work with, and I would do it all over again. Mark Thimijan, our cinematographer, was also very helpful - and I enjoyed our discussions about David Lynch. ;-)
What can you tell us about the shoot as such, and the on-set atmosphere?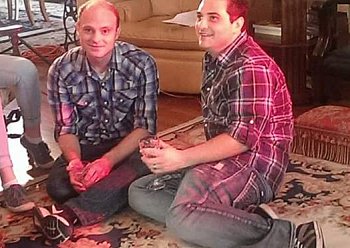 Tony with Jade Michael LaFont
It was very fast paced and fun. I loved getting to meet and work with everyone. We "kids" in the group were all taking pictures together, Snapchatting with one another, and even partaking in some on-set wine during down time. Everyone was great and very professional. A very talented cast and crew, indeed.
Any future projects you'd like to share?
I will be appearing alongside Jade, in Reuben Rox's Lurking Evil - which should be out sometime next year, I believe. I can't say too much about the project at this time, but my character will not be so nice this time around - and I like that. I don't wanna be typecast as the "nice guy" or "quiet guy". I'd also love to work with Steve Sessions (Shelter in Place) again, if given the chance.
According to my information, your initial filmwork consisted of behind-the-camera functions mostly - so what can you tell us about those early days of yours?
I assisted as associate producer and writer for the documentary, Sleepless Nights: Revisiting the Slumber Party Massacres, and moderator of commentary tracks for all three Slumber Party Massacre films - both projects part of The Slumber Party Massacre Collection, released by Shout! Factory. Those films have always been a big passion of mine, and I actually run the "official" unofficial website for them @ www.hockstatter.com - also, my Facebook group is located @ www.facebook.com/groups/hockstatter
I also worked as an associate producer on Screaming in High Heels: The Rise & Fall of the Scream Queen Era - which is a documentary about scream queens Linnea Quigley, Brinke Stevens, and Michelle Bauer. I provided my friend, Jason Paul Collum, [Jason Paul Collum interview - click here] with tons of archival and interview footage which was used in the documentary. You can also see me briefly interviewed in both Sleepless Nights and Screaming in High Heels.
Furthermore, I have assisted as camera operator for a few projects Jade has been involved with - such as Evil Deeds: Full Circle, Indestructible (reshoots), Reuben Rox's The Slayer, and Gory Graduation. I also help with anything else I'm able, like assisting with supplemental material for the Blu-ray release of Sorority House Massacre or helping people locate obscure/hard-to-find actors for interview purposes.
What made you pick up acting eventually, and what can you tell us about your filmwork prior to The Amityville Legacy?
Jade was a major catalyst in getting me involved with acting. My first actual "acting gig" was on a still-unreleased anthology film, entitled Terrorphobia. I play a very meek Angela Baker (Sleepaway Camp) type character in one of the segments, and I actually live in that one...! I am not terribly happy about my acting in that particular film, but it was my first time having actual lines in a movie. I was also in a short film directed by Steve Sessions (Dead Clowns, Torment, Zombie Pirates), titled Shelter in Place, and I am very proud of how that turned out - you can watch that @ https://www.youtube.com/watch?v=ve1ITb1ljrQ
Going through your filmography, one can't help but notice that most of your movies are of the horror variety - a genre at all dear to you, and why (not)?
Horror has always, and always will be, my favorite genre. Horror films are one of my biggest passions in life.
How would you describe yourself as an actor, and some of your techniques to bring your characters to life?
I would definitely say that I utilize a very naturalistic approach. I am still learning as an actor with every project given to me, but I just try to perform in the most convincing and realistic way possible. Also, I learn a lot from watching bad movies and knowing what NOT to do... haha! I am self-taught and work to improve from one project to the next.
Actors (and indeed actresses) who inspire you?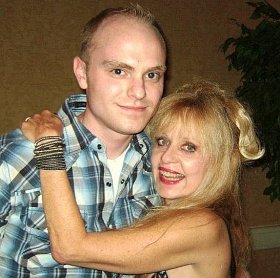 Tony with Línnea Quigley
My favorite actress has always been scream queen, Linnea Quigley. I also love Tiffany Shepis [Tiffany Shepis interview - click here], Linda Blair, Jennifer Connelly, Jamie Lee Curtis, Traci Lords, and Brinke Stevens. All of the aforementioned actresses I have either met or worked with - with the exception of Blair, Connelly, Curtis, and Lords, unfortunately... haha! Oh, and let's not forget Cassandra Peterson aka Elvira, Mistress of the Dark - in person, she's exactly what you'd imagine her to be! I hope I'm not forgetting anyone at the moment. I can't exactly pinpoint any male actors that "inspire" me. I've always really had a bigger interest in female-oriented horror films and the "final girls", therefore explaining my love for the Slumber Party Massacre franchise and "scream queens". I do love Robert Englund [Robert Englund bio - click here], however. I have had two opportunities to meet him and somehow chickened out or just wasn't able. I'd also love to meet Kane Hodder and Tim Curry.
Your favourite movies?
My favorite movies is a list that could go on and on and on... but here are a "few" - mostly horror and some comedy (in no particular order): Slumber Party Massacre (series), Sorority House Massacre (series, including Hard to Die), Halloween (1978 - duh), Romy and Michele's High School Reunion, Killer Party (1986), A Nightmare on Elm Street (1984 - again, duh), Friday the 13th 1 & 2 (TIE), The Initiation (1984), The Trouble with Barry, Phenomena (Dario Argento, 1985), Hell Night (1981), The Mutilator (1984), Cheerleader Camp (1988), Chopping Mall, Slaughter High, Don't Tell Mom the Babysitter's Dead, May (2002), Messiah of Evil, Suspiria, The Stendhal Syndrome, Final Exam (1981), The House on Sorority Row (1983), Night of the Demons (1988), Sorority Babes in the Slimeball Bowl-o-Rama, Vice Academy (the entire series), The Exorcist, The Beyond, The House by the Cemetery, Cheerleader Camp: To the Death, Gloved Murderess, Hello Mary Lou: Prom Night II, Curtains (1983), Happy Birthday to Me, Heathers, Little Darlings, The Rocky Horror Picture Show, Labyrinth, Jawbreaker, Mean Girls, Just Before Dawn (1981)
Night of the Comet, Lisa (1989), Sleepaway Camp (1-3), To All a Goodnight (1980), Mother's Day (1980), Witchboard 2: The Devil's Doorway, Child's Play, Tourist Trap (1979), Black Christmas (both original and remake - GASP!), Sorority Row (yup, I loved the remake, too!), Demons (1985), Savage Streets (1984), The Last Slumber Party (so bad that it's good).
... and of course, films you really deplore?
The Manipulator (1971) with Mickey Rooney is quite possibly the most boring movie I have EVER seen. Mardi Gras Massacre is also pretty horrible, and the only saving grace of Psycho from Texas is an early appearance from Linnea Quigley. I have a high pain threshold with movies, so I can't really think of many that I absolutely hate.

Feeling lucky ?
Want to
search
any of my partnershops yourself
for more, better results ?

The links below
will take you
just there!!!

Find Tony Brown
at the amazons ...

amazon.com

amazon.co.uk

amazon.de
Looking for imports ?
Find Tony Brown here ...
Something naughty ?
(Must be over 18 to go there !)

Your/your movie's website, Facebook, whatever else?
The Amityville Legacy (Official Facebook Page) - https://www.facebook.com/The-Amityville-Legacy-1701781906718536/
My IMDb filmography - http://www.imdb.com/name/nm4151115/
Facebook - https://www.facebook.com/tonyb86
Website - http://www.hockstatter.com
Facebook group - http://www.facebook.com/groups/hockstatter
Anything else you're dying to mention and I have merely forgotten to ask?
Can't think of anything at the moment. Thanks for the opportunity, and I hope you enjoyed The Amityville Legacy!
Thanks for the interview!